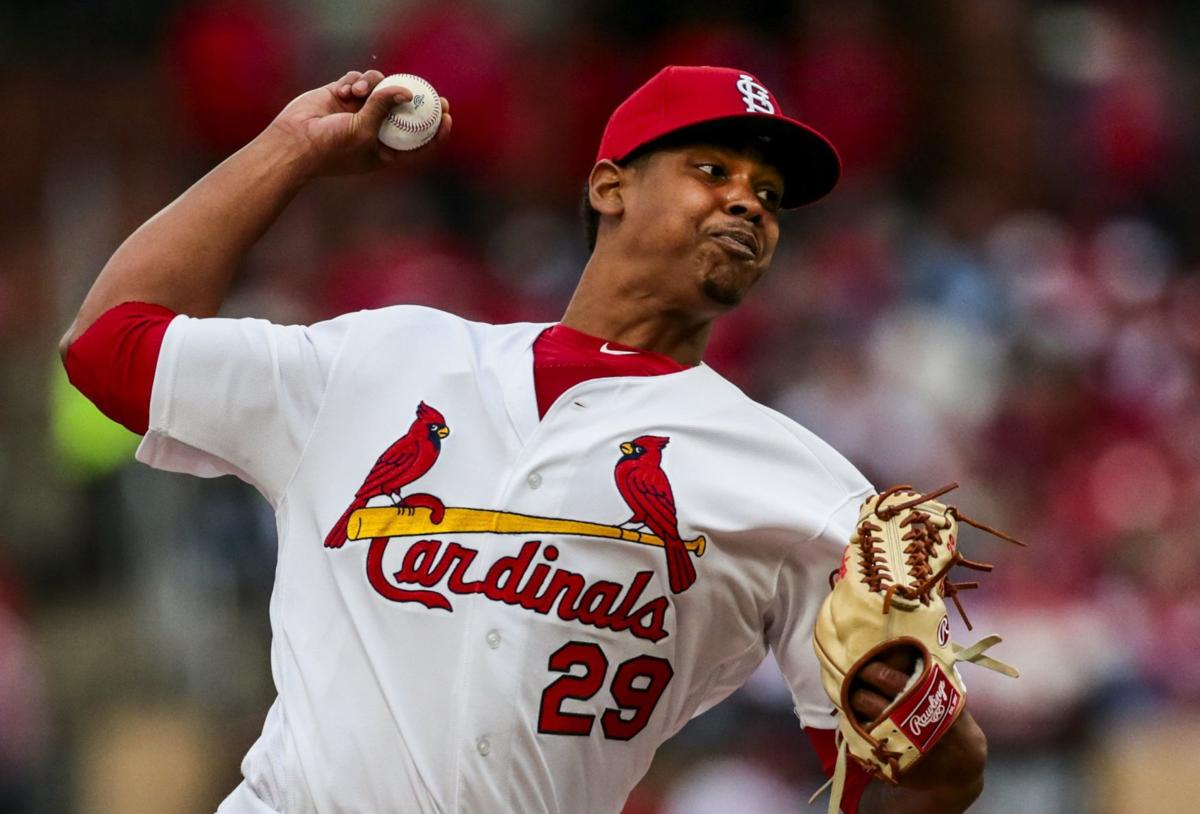 The rethinking and reclaiming of Alex Reyes' role with the big-league Cardinals began, in earnest, with a 99-mph fastball Thursday night on the Gulf Coast of Florida.
A month after fracturing his left pinkie in a fit of frustration at Class AAA Memphis, Reyes made his first game appearance — and began his route back to the majors, this time as a starter. Reyes pitched five innings for High-A Palm Beach on 70 pitches, struck out six, and his fastball, according to TheCardinalsNation.com, hummed at 97 mph and touched 99 mph. Of his 70 pitches, 40 were strikes.
Reyes' traveled to Port Charlotte, Fla., with the Cardinals' Class A affiliate for the first start of what effectively is a rehab assignment. It's not unusual for the Cardinals to plot a player's rehab schedule based on what affiliate is at home, rather than level of competition. Carlos Martinez, for example, home-hopped from Peoria to Memphis to Springfield based on what team was home, or closer to it. Reyes had to hit the road.
The reason for this, as explained by general manager Michael Girsch, is to protect the left hand. While Reyes is cleared for game-speed fielding with some protection with his glove, the Cardinals are being cautious when it comes to having Reyes swing a bat.
Palm Beach has a designated hitter.
Girsch outlined how the Cardinals intend to get Reyes two starts with Palm Beach to take advantage of Florida State league rules, increase his pitch count, and then begin advancing Reyes toward the majors and looking at his results. In the past the Cardinals have used both Class AA Springfield and Class AAA Memphis as a gauge for a pitcher's readiness, and a pitcher can leap right from that level to the majors. (Aside: Reyes has been technically assigned to High-A Palm Beach. It may look like a demotion on his transactions, it's really just paperwork. While the Cardinals can designate him for a rehab assignment, he can also move freely through the system because he's already on an option.)
The fractured pinkie that came as punctuation to an appearance for Memphis gave Reyes and the Cardinals the chance to do what they wanted to at some point this — find the starter within their talented righthander and give it a chance to build strength and emerge as a factor.
In his outing against the Stone Crabs, Reyes allowed one run in the first inning, and it scored on a sacrifice fly. He retired the final eight batters he faced, and starting with the back end of Charlotte's lineup he struck out the side in the fifth.
Reyes had been throwing simulated games behind an L-screen at the Cardinals' facility in Jupiter, Fla. In his final controlled-setting start this past Saturday, Reyes threw 70 pitches and simulated around four innings. He was able to duplicate that workload in competition, which the Cardinals wanted to see, and he got better and stronger through it. The first two Stone Crabs of the game reached base against him — via a groundball single and a walk, respectively.
Two groundouts and a sacrifice fly later, Reyes was out of the trouble.
He struck out two in the second inning and faced the minimum, and both of the singles he allowed in the game were on groundball singles.
Fourteen of his 15 outs came within reach of an infielder or catcher.
Reyes has been perpetually returning from injury for the past 2 ½ seasons. He had elbow surgery that cost him the 2017 season, and shoulder trouble that led to surgery interrupted his first start of the 2018 season for the Cardinals. Manager Mike Shildt recently admitted that the organization, him included, should have been "more patient" coming out of spring training. Reyes created some excitement and enthusiasm during spring training with his pure stuff that Shildt and others advocated him to start the season in the bullpen as a multi-inning reliever. Reyes struggled to remain sharp, maintain his feel for his pitches, and the consensus was that several years away from competitive position had led to rust.
Reyes walked six and struck out one of the 17 batters he faced in the majors to start the season.
"He's in a better spot," Shildt said recently. "He's moving forward in a positive direction. Really glad to hear he's doing better, where he is with the feel for his pitches."
Reyes appears on the horizon at a time the Cardinals are auditing their rotation in the majors after seeing its troubles and inconsistency fuel a losing May. Michael Wacha said this week that he has to pitch better to maintain a spot in the rotation. The off day Thursday and another off day on Memorial Day gives the Cardinals ample opportunity to rearrange the rotation and because of a rainout Tuesday not lose the extra day of rest for the starters. They won't need a fifth starter until the first week of June. The Cardinals have Jake Woodford or Daniel Ponce de Leon as readily available options, though Woodford would have to be added to the 40-man roster. (They have a spot open; he has to be added this year anyway if they intend to protect him.) Lefty Austin Gomber (biceps) was advertised as being back by the end of this month.
If the Cardinals stick with the plan to keep Reyes in High-A for another DH game, he'll next start Tuesday or Wednesday for the PB-Cards.
That game will be at home.
Looks like he would begin the home-hop to the majors from there.
Keep up with the latest Cardinals coverage from our award-winning team of reporters and columnists.