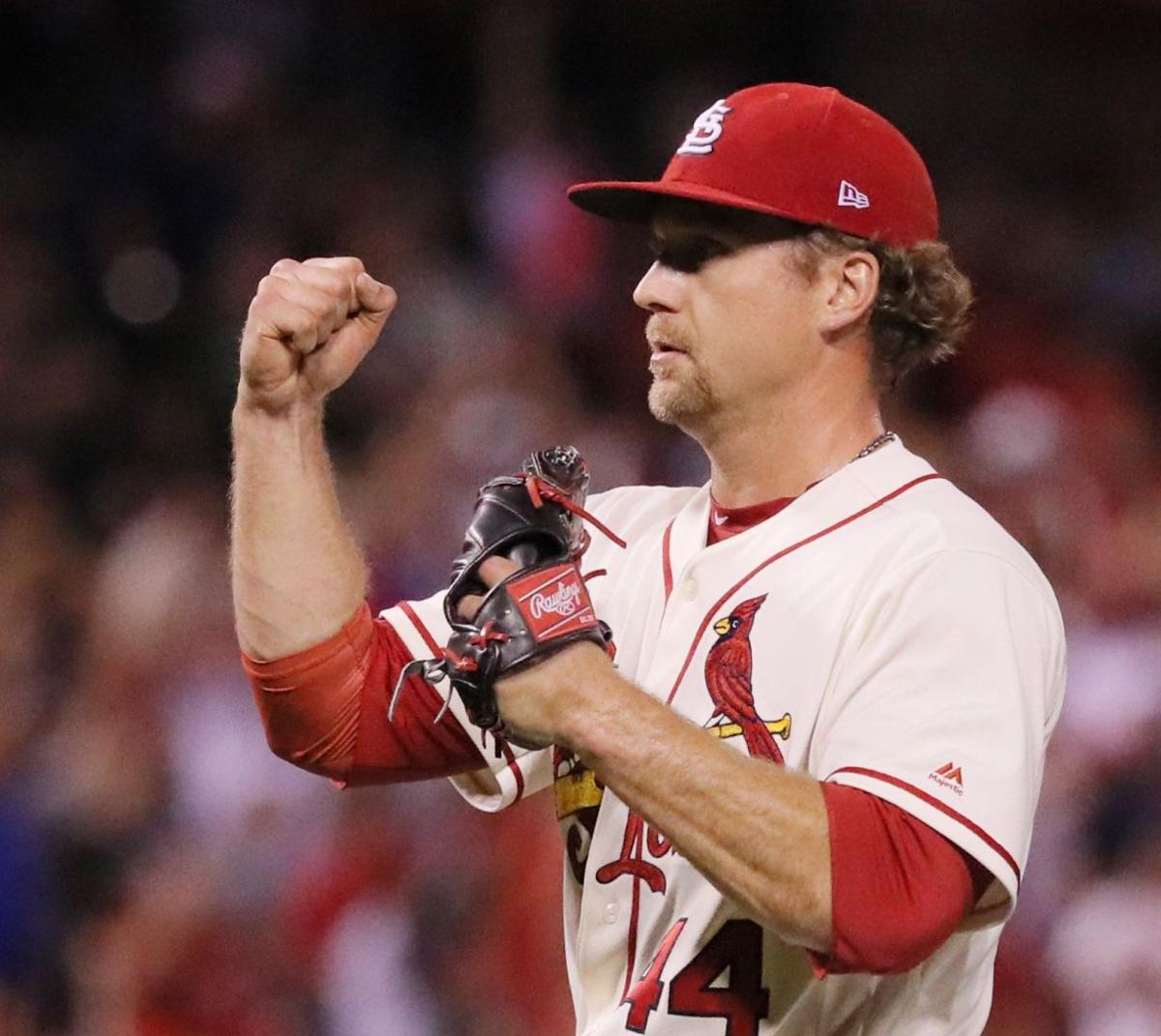 PITTSBURGH • As they've sorted through various options for the ninth inning all season, Cardinals manager Mike Matheny has been asked a few times for a name or two that might get consideration for save opportunities in the near future.
His implication: Any reliever available.
That was the answer Matheny went back to Thursday afternoon at PNC Park as the team braces for news on closer Trevor Rosenthal. The righthander is back in St. Louis awaiting the results of an MRI on his right elbow, and the team has already braced itself for his absence by moving him on to the 10-day disabled list. He has irritation of the posterior elbow -- the area where the UCL bends and operates and sometimes frays or tears and needs Tommy John to repair.
It is also an area where impingement happens and can cause drops in velocity and a sense of instability.
Rosenthal has told the team that he has felt tightness and discomfort in the general area of the right elbow. That's what he told them last night. That's what they knew going into the ninth inning as he tried to close out a 4-2 lead (which the team eventually squandered). Rosenthal's velocity dropped, and the Cardinals urged him to go see a doctor and he flew home for the exams.
"Just didn't look right while he warming up before the game, thought he was fine and ready to go after giving him three days, but, it was pretty obvious as he got on the mound that something wasn't right, and unfortunately it will be a little setback," manager Mike Matheny said. "It's unfortunate."
What that leaves the Cardinals with in the ninth is Seung Hwan Oh to face righthanded batters and Tyler Lyons to face lefties and righties.
Luke Weaver has joined the team and could be reserved for long relief, but the Cardinals don't want him stuck in taht spot. John Mozeliak, the team's president of baseball operation, said that he would like to see Weaver used in late innings and that he has pitched well enough to even see some high-leverage spots.
Finding a reliever outside the organization will be tougher at this time of year. Many of the best available relievers have not cleared waivers and have been pulled back after being claimed.
Some other quick notes from pregame:
Chris Carpenter has joined the team for three days just to be around the pitchers, talk with the hitters, and even spend games in the dugout. The former ace has a standing invitation from Matheny and suggested this series as a time to visit.
The Cardinals expect to hear from Major League Baseball at some point about a penalty for Matheny after his run-in with umpires in the ninth inning Wednesday night at Fenway Park. It could wait until Monday -- the day after the Cardinals appear in the Little League Classic at Williamsport, Pa.
Cardinals place Rosenthal on 10-day DL, recall Weaver from Memphis
3:45 p.m. Thursday update:
The Cardinals placed closer Trevor Rosenthal on the 10-day disabled list because of right elbow irritation. The club also recalled righthander Luke Weaver from its Class AAA Memphis team -- the third promotion since early July for Weaver, who will be in uniform for tonight's game against the Pirates.
Derrick Goold will have more on this developing story. Here is his earlier story:
PITTSBURGH • The Cardinals were concerned enough about closer Trevor Rosenthal's arm "tightness" during the ninth inning Wednesday night that they readied a replacement as he was leaving the bullpen.
Now they await word as their reliever leaves the team to undergo tests.
Rosenthal felt discomfort in his right arm as he prepped to throw the ninth inning of what became a 5-4 loss at Fenway Park. He described to the team a sensation that sounded similar to what he went through in spring training -- and inability to get his arm completely loose.
The results revealed something was wrong.
Rosenthal, one of the games top velocity relievers, mustered 91 mph on a fastball that was hit for a home run, and he did not throw a pitch swifter than 95 mph. Rosenthal departed Pittsburgh and is headed to have a battery of exams down on his right. A source said that the team hopes to know more about Rosenthal's issue Thursday evening as the Cardinals open a four-game series against the Pittsburgh Pirates.
The Cardinals are considering what roster move to make.
UPDATE: Luke Weaver is expected to be activated, though the exact nature of the roster move has not been made clear.
A year ago, Rosenthal also went through a series of exams and second opinions to determine if there was some sinister injury within his arm causing trouble. He met with a specialist in California, and left that review encouraged by the fact that the elbow's integrity was intact. This past spring, Rosenthal experienced soreness and tightness around his shoulder, and that prompted the Cardinals to ease him into the season and carefully manage his innings at the start of the schedule.
Rosenthal's return to the ninth inning was a pivotal part of the team's recent winning stretch.
In his eight appearances before Wednesday, Rosenthal did not allow a run and struck out 18 in 10 2/3 innings. He converted seven consecutive saves during that stretch. Xander Bogaerts home run in the ninth inning at Fenway Park was the first allowed by Rosenthal in 27 appearances, dating back two months. He faced two batters Wednesday night against Boston and did not retire a batter.
In the meantime, here's the lineup backing Adam Wainwright: