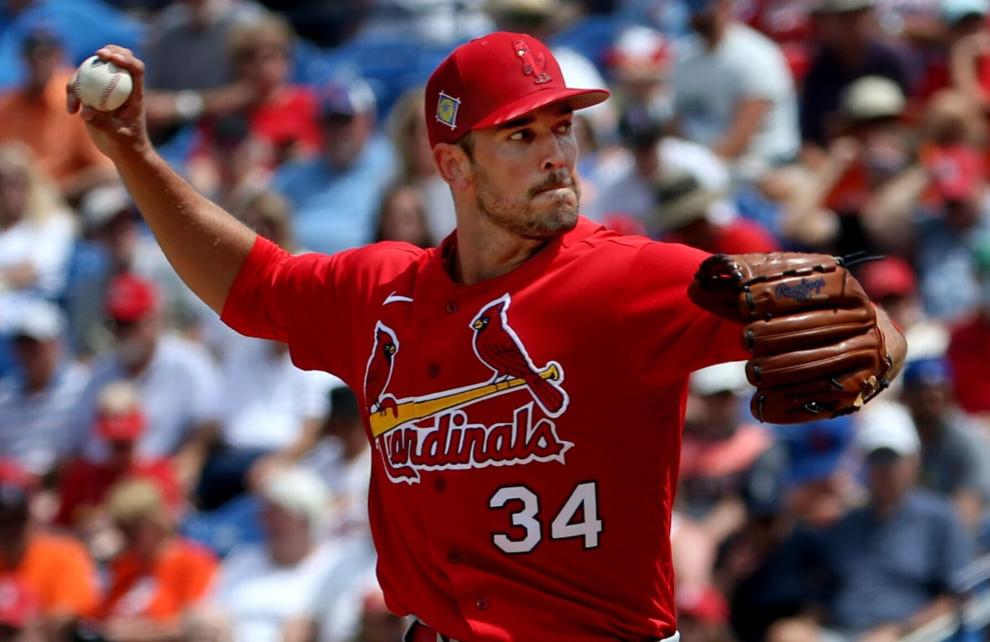 What was true with his health and his role in his first year with the Cardinals, right-hander Drew VerHagen also felt with his fastball.
He was, in his words, "caught in between."
A sinkerballer since he was 12, VerHagen reached pro ball by slicing two-seam fastballs in on hitters and getting groundballs at a goofy rate. He had a four-seam fastball in his pocket, but didn't have much use for it until he went to Japan and dealt with contact hitters who poked that sinker for base hits. So, he countered with a four-seam fastball up and in. And that's where the Cardinals got interested. That's where he's focused as an essential season nears.
All throughout spring training, the Cardinals felt the data from VerHagen's bullpens suggested better results on the field.
His curveball flickered with readings like Adam Wainwright's.
His fastball had the high spin rate all teams are chasing.
"New role, injury, didn't know how to use my pitches in a short stint," VerHagen said. And then, at the end of the inconsistent results, hip surgery.
"The new normal is not healthy," he said.
In 19 appearances for the Cardinals in 2023, VerHagen had a 6.65 ERA and allowed 27 hits and 18 runs (16 earned) in 21 2/3 innings. The results reflected the lack of feel for his pitches and lack of feel for how the Cardinals suggested he use them. And between those two was the sensation that his sinker – that 95-96 mph pitch he built a career on – had flattened out, lost its bite, and found barrels instead of missing them. VerHagen traced that back to the trouble he had with his hip and the glitch in the delivery that created.
Right before he surrendered to the hip injury and surgery, VerHagen started focusing more on the four-seamer in bullpens.
"A true four-seam," he said.
Where last year ended is where this one begins.
The idea for VerHagen is to use a four-seam fastball with a high spin rate that comes from the same eye level as his sharp curve. That will allow the pitches to play off of each other – drawing the hitter to the release point of the fastball and then uncertain whether the curve will plunge or the fastball will hug that plane. The Cardinals, along with new pitching coach Dusty Blake, presented VerHagen a plan that a more reliable four-seam fastball will increase the effectiveness of his curveball and slider.
At the same time this offseason, while throwing bullpens in Dallas, VerHagen is trying to regain the feel for his sinker or distinguish it from his changeup. Both are firm. Both drift away from left-handed batters. And he thinks he may ultimately choose one.
VerHagen, 32, signed a two-year deal with the Cardinals as he returned from a successful spin in Japan. Before the hip surgery, he expressed a wish to the Cardinals of getting a chance to start when he returned at full strength. There is no guarantee. But with so many pitchers away for the World Baseball Classic this spring, the Cardinals do plan on giving VerHagen a starter's schedule and perhaps some Grapefruit League starts. He was a few hours away from being named the team's fifth starter last spring before the first glimpses of his struggle with the sinker appeared at Roger Dean Stadium.
"I'm excited to be back to full go," VerHagen said. "I want to fit wherever they need my arm. If I had my preference I want to start."
Second year back from a few seasons abroad.
Final year of his contract before free agency.
A reinvention of how he uses pitches.
He's no longer between. He's in the pivotal season of his career.
"It definitely determines where I go from here," VerHagen said. "And I'm here for it."