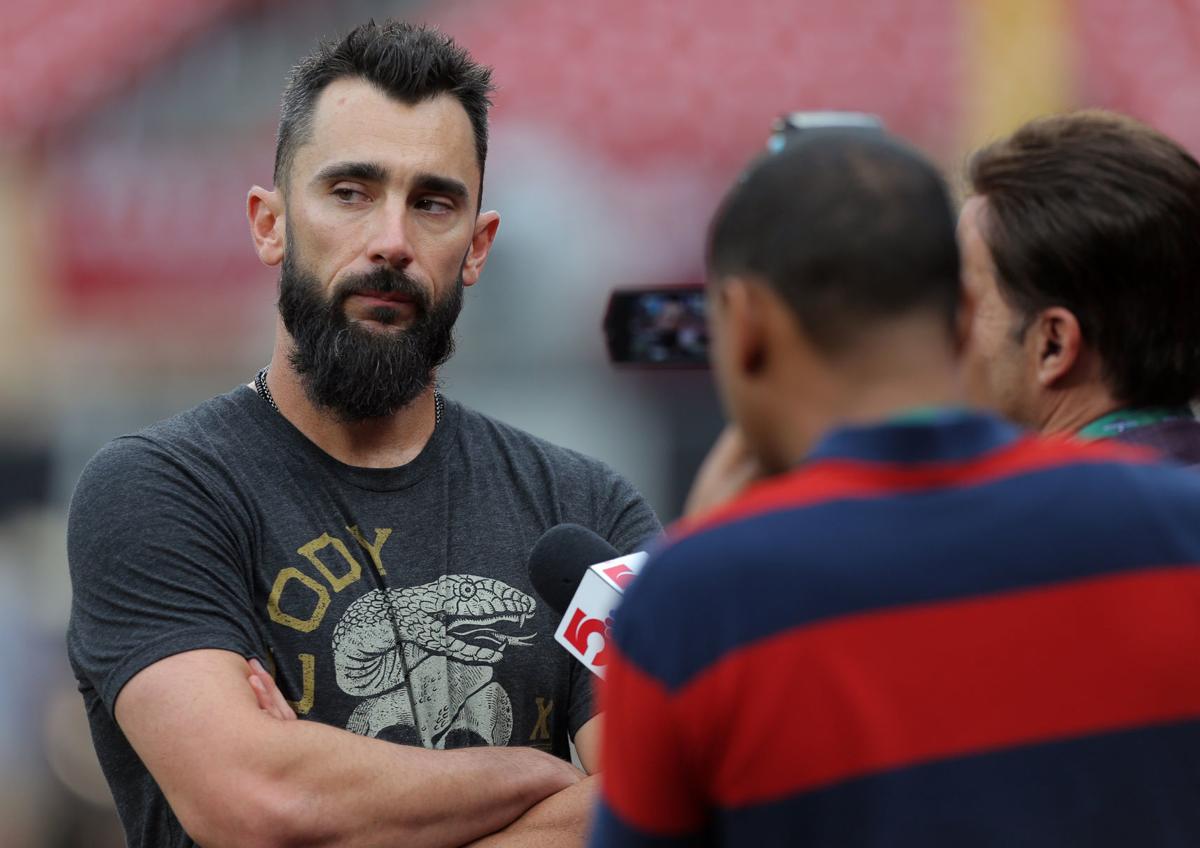 SAN DIEGO — The offseason plan Matt Carpenter and the Cardinals put together for him to rebuild strength, to regain his bat speed, and to reset after the most disappointing season of his career started by dropping a weight before he began lifting them.
"Another side of this is just me," Carpenter said in a phone interview Tuesday afternoon.  "I could go out and make excuses and search for them, but I have to chalk this up as not having a good season, and just not putting it together at all. I started to struggle and didn't get it back. We can talk about the strength, the exit velocity, but I have to look at how I also could have done a better job mentally of making adjustments."
Still in the opening weeks of December, Carpenter has started baseball activities at his ranch in Texas, and he's weeks into a program geared toward adding weight and strength that the Cardinals felt he lacked throughout the previous season.
Carpenter, who turned 34 in November, had moved away from weightlifting in the past year or two as a way to avoid some of the back trouble that interrupted spring training. Instead he focused on getting his shoulder healthy and – a year ago – his return to third base.
"I had some fear of jumping right into back squats and heavy lifting when I was going back to a position, when I wanted to focus on moving around well and having a healthy arm," Carpenter said. "We're going back to some of that. There's more of that work that my back can handle. I want to get some of that back under my belt."
Carpenter has long struggled to maintain his weight during the season, and this past year an illness sapped him of weight that he was never able to regain. He hasn't altered what he eats too much this winter, but he said with the lifting and the workout plans he's taking in more calories.
Immediately after the National League Championship Series, the Cardinals had Carpenter go through a battery of physical tests in St. Louis. They used his previous ratings on the test as a baseline to compare against the new results, and then the performance department traced what indicators, if any, could be related to his slip in production – or how he felt during the season.
In the same way the Cardinals showed support for Dexter Fowler a year ago, the team has advertised Carpenter as their starting third baseman for 2020. For the overall offense to improve, the Cardinals would like to add production from the left side of the plate, and Carpenter is the in-house candidate to bring that back.
This commitment to him traces back to the start of the season when the team preemptively signed Carpenter to a two-year, $39-million extension months before they even had to consider his option for 2020. That early signing, along with other extensions completed at the start of this season, have limited the Cardinals this winter.
"One of the reasons I'm optimistic, to be honest, is it couldn't be worse," Carpenter said. "It was a big thing for me that the team still found a way to win while I struggled, and really while some of us had seasonsthat weren't normal (offensively). Considering what I did, how that season went – I'm an extremely motivated player. Always have been. We have a plan and I'm motivated as much as ever to right the ship."
Cardinals starter Jack Flaherty was voted onto the second team of the first All-MLB team. ... The featured manager's press conference Tuesday evening will be Houston's A.J. Hinch. With the sign-stealing scandal looming over them, the Astros executives have been scarce at the meetings. ... Agent Scott Boras held court with the media Tuesday afternoon and compared teams a variety of birds. "Anybody who wants to win is going to be in contact about our players," he said of the stable of talent that he represents in this winter's free-agent market.  
Was it a mistake to pursue Goldschmidt instead of Harper? Is Carlos bound for the bullpen — or another team? No turning back on the Carp commi…
Keep up with the latest Cardinals coverage from our award-winning team of reporters and columnists.