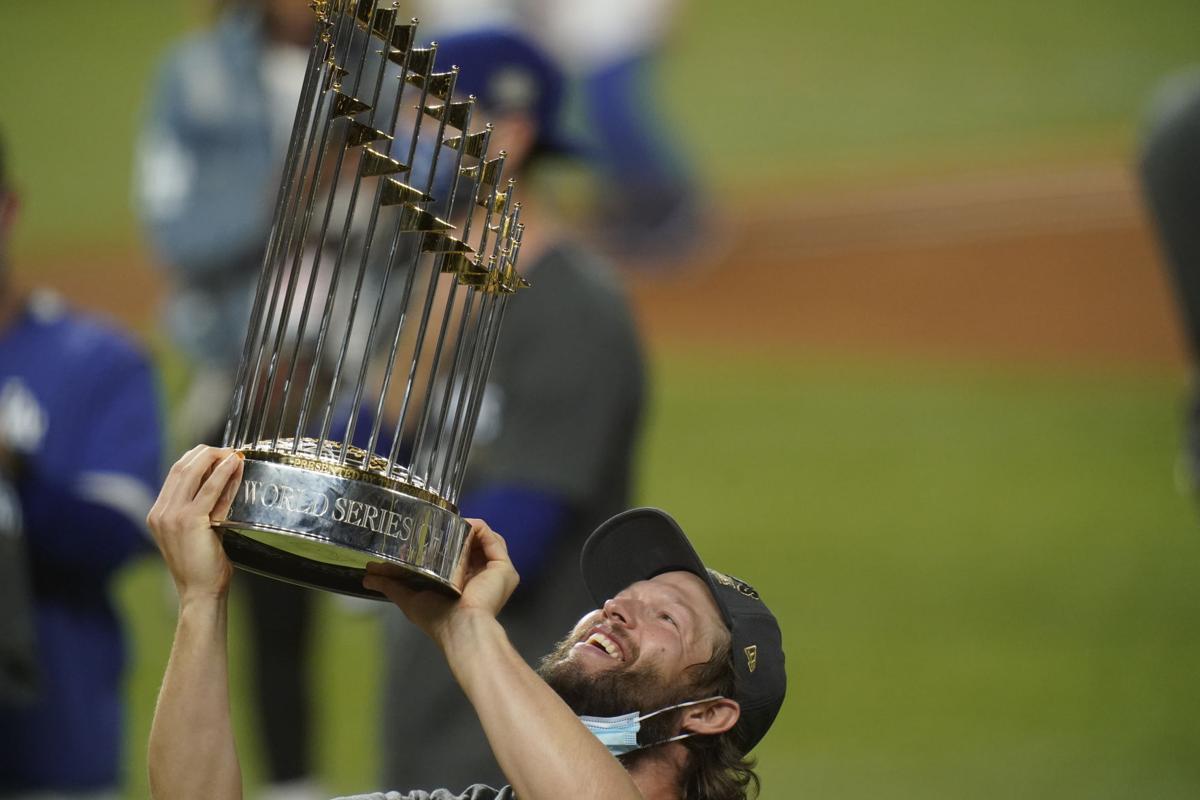 ARLINGTON, Texas — Atop the stage Tuesday night and atop the sport that had, in previous Octobers, thwarted his team's many recent attempts to claim a championship, Los Angeles Dodgers manager Dave Roberts repeated a promise he made earlier that was now a fact forever.
"This is our year!" he shouted.
Roberts might not be thinking big enough.
This is the Dodgers' decade.
The only question is whether it's ending or another is starting.
With a 3-1 victory against Tampa Bay on Tuesday in Game 6 of the World Series at Texas' Globe Life Field, these Dodgers did what the previous others had not — claimed the franchise's first title since 1988 and seventh overall. The club with the best record in baseball's pandemic-shortened season, three NL pennants in four years, and the most division titles in the past 10 years finally … (deep sigh) … won its final game of the season. The seven previous years had ended in a playoff loss. Mookie Betts, arguably the best all-around player in the NL, scored the go-ahead run and hit a home run in Game 6 to finish his first year with the Dodgers as a champion, and he now starts a 12-year, $365 million contract in 2021.
Welcome to baseball's blue period.
And not just because of the economic chill that's in the air or the cold snap in the forecast for labor relations. No, the Dodgers are the monster Moneyball never intended — a team that led the league in homers and ERA and has a front office as nimble with analytics as its wallet is fat. They're small-market savvy with big-market bravado, and from the beginning of the year they didn't see this World Series, at the end of a shrink-to-fit 60-game season, as a diminished title.
"Winning the World Series is winning the World Series," third baseman Justin Turner said in the opening days of the 116th Fall Classic. "I know there is a lot of talk if this is a normal season and what winning a World Series would mean. If there is a championship to be won we're going to go after it, and we're going to try to run it down. A difficult format. Not playing at home. Being in a bubble. There are a lot of challenges that go into winning a championship this year, and it's still going to be special."
The questions about an asterisk were overwhelmed Tuesday night by Turner's actions after learning of his positive test for COVID-19.
Having tried what the NHL and NBA didn't in a pandemic — hold a regular season, complete with travel between cities — and succeeding to reach a trophy presentation, Major League Baseball was about to take a victory lap when it tripped on the first positive test in six weeks. Turner was removed from the game after the seventh inning, but he broke from isolation and rejoined the team for celebration. The whole Turner decision, complete with the Dodgers' clumsy defense of his presence on the field, discolored a World Series loaded with captivating games, some of which teetered toward classic.
Less than two hours after leaving a game because of a positive test, Turner posed for a team photo. He sat beside the trophy and between baseball ops president Andrew Friedman and manager Dave Roberts, a cancer survivor. All three of them wore smiles. Those were obvious because not one was wearing a mask.
Major League Baseball issued a statement Wednesday that said Turner "emphatically refused to comply" with MLB security. Protocols took a backseat to his photo op.
"If there are people around him without masks, that's not good optics at all," said Friedman, one of those people around him without a mask. "Justin wanted to come out and take a picture with the trophy and did."
Friedman added as a motivation for Turner's break from MLB policies his upcoming free agency. Turner headlines a group of contributors to this dominant division run by the Dodgers who became free agents long about the time they posed with Turner for photos.
Joc Pederson, the Dodgers' platoon power outfielder, along with lefty Alex Wood and relievers Blake Treinen and Pedro Baez are also free agents from the World Series roster.
There remains an atomic nucleus, tightly packed and powerful, on the roster.
Clayton Kershaw, a ring to go on his Hall of Famer career, and World Series MVP Corey Seager are signed through 2021. Former MVPs Betts and Cody Bellinger along with rising ace Walker Buehler are all under control through at least 2023.
On the other side, from the AL, the Rays' roster is even more secure. Of the 28 players on Tampa Bay's World Series roster, 27 of them are under control for the 2021 season. Only lefty reliever Aaron Loup is a free agent. They have four players, including Game 6 starter Blake Snell, under contract through at least 2021, and postseason standout Charlie Morton has a $15-million option. Outfielder Randy Arozarena, the former Cardinals prospect, rewrote the postseason record books with 10 homers, 29 hits, and 14 total bases, and his home run was the Rays' only run in Game 6. He's still rookie eligible for 2021 and under control for another six seasons.
Rays manager Kevin Cash spoke about the experience the younger players got during their playoff run and some prospects had by accompanying the team and said how "they're going to impact us at some point."
The Dodgers feel they had the same force multiplier for their young players.
Before calling it their year, Roberts was already saying this is Betts' era.
"I'm so grateful that deal got done," Roberts said of the winter trade with Boston for the Red Sox right fielder. "It's not just going to help us this year. It's going to help us for the next wave of young players and really enhance what we have as a culture. It's going to affect players who haven't even been drafted by the Dodgers yet. That's what I'm really excited about."
Throughout the season, its turbulent times and its abbreviated schedule, and again through the World Series, the Dodgers referenced a moment from spring training, way back in February. Betts, new teammate, called pitchers David Price and Kershaw to get their blessing to speak to the clubhouse. Betts challenged them to win a championship, to increase their urgency after years of having a title slip from their fingers the baseball from the manager to the next reliever.
The Rays, small-market savvy without the big-city stars, may still have had that similar moment.
Snell, yanked from Game 6 in the midst of a dazzling outing, and replaced by the reliever that would give up the tying and losing runs, had a message for his teammates before leaving Globe Life Field on Tuesday.
"I hope the guys understand that we should not be OK with taking second or losing," Snell said. "We should not be OK with that. Come into spring hungry. Getting this far and losing should be the worst feeling in the world. Get ready for a championship season next year. We've got to win it all. This losing stuff is not fun. When you have this kind of opportunity and you lose to a great team it really does (reek). I hope guys in our clubhouse — we come out to win this.
"Hopefully this can fuel us."
Keep up with the latest Cardinals coverage from our award-winning team of reporters and columnists.