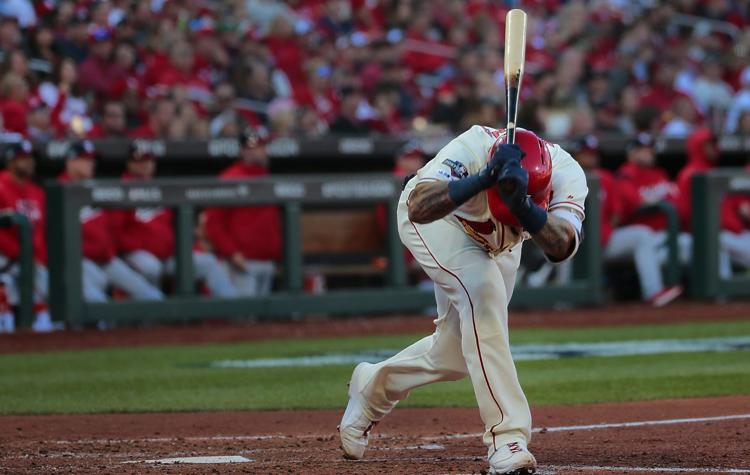 When the Cardinals set out on their 2019 campaign to return to the postseason and win the National League Central Division, they believed pitching depth would be the engine of their contention, they insisted their fundamentals in the field and on the bases would be vastly improved and they imagined a storm-front lineup, with thunder in the middle and the occasional dashes of lightning.
Two out of three was good enough to win the division.
The facet that too often went 0-for-four proved their undoing in the fall and now has their attention entering this offseason, their winter of discernment.
On their way to 91 wins, a return to the postseason and their 11th division title in the 25 seasons of the NL Central, the Cardinals were led by budding ace Jack Flaherty and one of the best pitching staffs, and leaned on second baseman Kolten Wong and, by several measures, the most reliable defense in the league.
Mike Shildt is a leading candidate for the NL's manager of the year award. Flaherty will begin his run as preseason favorite for next year's Cy Young Award by receiving Young votes this season.
As catcher Yadier Molina said, "Any time you win the division it's a good year. Obviously you want to go all the way (when) we've got a good enough team to win the World Series."
What held them back was Washington's juggernaut run through the Cardinals for the NL pennant and an offense too inconsistent, too prone to vanishing, too potholed by subpar performances to support the superb pitching that yanked them out of a .500-rut at the All-Star break.
"There was never a time when everybody got down and we thought we couldn't turn it around," starter Adam Wainwright said. "The whole narrative of the first half was how we weren't playing up to snuff, we weren't playing up to our abilities, and we knew that. That was something we knew very well. Then everybody started playing a lot better, and you saw what happened."
What happens next is the question.
As the Cardinals look back and plan ahead, changes to the roster will be forced upon them. Starter Michael Wacha is bound to leave as a free agent. Cleanup hitter Marcell Ozuna could, too. In the previous three offseasons, the Cardinals have added a new hitter for the lineup — Dexter Fowler for 2017, Ozuna in 2018 then Paul Goldschmidt — and will try the same this winter. But they also will seek a new look to the lineup.
Coming out of 2019, here are nine decisions facing the Cardinals — and what they learned from this season will be revealed in their moves for next season.
Hindsight is 2020.