BY DERRICK GOOLD • Post-Dispatch Baseball Writer
CARDINALS' 2020 VISION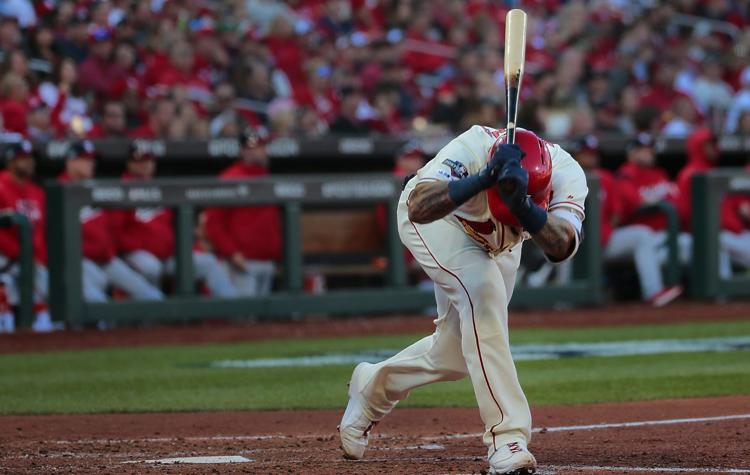 When the Cardinals set out on their 2019 campaign to return to the postseason and win the National League Central Division, they believed pitching depth would be the engine of their contention, they insisted their fundamentals in the field and on the bases would be vastly improved and they imagined a storm-front lineup, with thunder in the middle and the occasional dashes of lightning.
Two out of three was good enough to win the division.
The facet that too often went 0-for-four proved their undoing in the fall and now has their attention entering this offseason, their winter of discernment.
On their way to 91 wins, a return to the postseason and their 11th division title in the 25 seasons of the NL Central, the Cardinals were led by budding ace Jack Flaherty and one of the best pitching staffs, and leaned on second baseman Kolten Wong and, by several measures, the most reliable defense in the league.
Mike Shildt is a leading candidate for the NL's manager of the year award. Flaherty will begin his run as preseason favorite for next year's Cy Young Award by receiving Young votes this season.
As catcher Yadier Molina said, "Any time you win the division it's a good year. Obviously you want to go all the way (when) we've got a good enough team to win the World Series."
What held them back was Washington's juggernaut run through the Cardinals for the NL pennant and an offense too inconsistent, too prone to vanishing, too potholed by subpar performances to support the superb pitching that yanked them out of a .500-rut at the All-Star break.
"There was never a time when everybody got down and we thought we couldn't turn it around," starter Adam Wainwright said. "The whole narrative of the first half was how we weren't playing up to snuff, we weren't playing up to our abilities, and we knew that. That was something we knew very well. Then everybody started playing a lot better, and you saw what happened."
What happens next is the question.
As the Cardinals look back and plan ahead, changes to the roster will be forced upon them. Starter Michael Wacha is bound to leave as a free agent. Cleanup hitter Marcell Ozuna could, too. In the previous three offseasons, the Cardinals have added a new hitter for the lineup — Dexter Fowler for 2017, Ozuna in 2018 then Paul Goldschmidt — and will try the same this winter. But they also will seek a new look to the lineup.
Coming out of 2019, here are nine decisions facing the Cardinals — and what they learned from this season will be revealed in their moves for next season.
Hindsight is 2020.
1. BACK IN THE SWING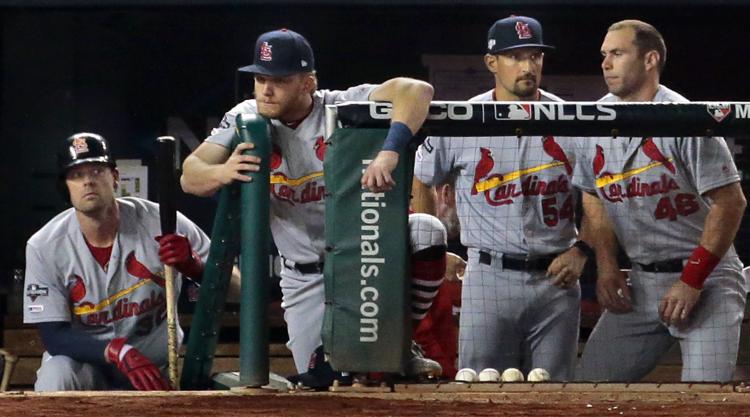 At the outset of the 2018-2019 offseason, Cardinals manager Mike Shildt commissioned an audit of what proved to be that team's undoing — its defense. Coach Ron "Pop" Warner, assistant video coordinator Ben Bultmann, and others reviewed all 133 errors committed in 2018. From that dissection, Shildt's staff plotted specific ways to improve the fielding. And, with the addition of Paul Goldschmidt at first and shifts galore, did. Call it a return to fundamentalism.
That's the model for the offense this winter. There's no need to pick apart all 5,449 at-bats or the club-record 1,420 strikeouts, but hitting coach Jeff Albert and his colleagues will revisit why the Cardinals did not take part in baseball's power euphoria this season. Instead, they hit so often from behind in the count, slugged a puny .393 with runners in scoring position, and invited opponents to crop-dust them with off-speed pitches.
The Cardinals scored more runs in April than any other NL team and did so with a varied, versatile offense that powered a 20-10 start to the season. The slow leak began in May. By June, the Cardinals' pitchers had a 3.65 ERA, second-best in the majors, and that wasn't enough to overcome an offense that averaged 3.54 runs a game that month. A revival in August sped the Cardinals toward the division title before being unplugged by Washington. Twenty-four innings into the NLCS, pitching coach Mike Maddux had twice as many hole-in-one swings in one round of golf — a 67 million to 1 chance — as the Cardinals had runs, which only felt like a 67 million to 1 shot.
The Cardinals promise Albert's offensive approach has taken root and will eventually flourish, revealing a tech-boosted lineup with a nose for strikes and "quality contact." Whatever the identity, it must take a cue from the defensive revival.
Consistency matters most.
2. THE OZUNA QUESTION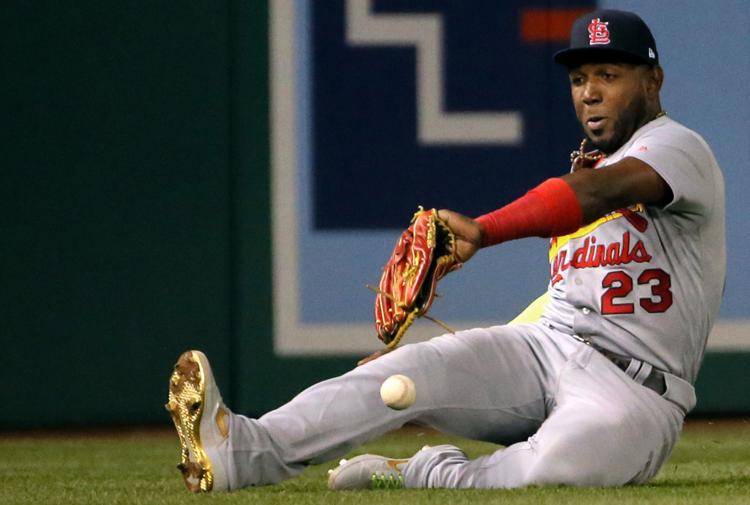 Even in the moments after the Cardinals' season ended, left fielder Marcell Ozuna took a moment to assert his wish to return to the club.
"I like it. I love it!" he said. "The fans – they are a good crowd. My teammates — I want to be in this clubhouse. We'll see what happens. Maybe I can be back."
Ozuna, who turns 29 next month, has worn his day-glow interest in returning to the Cardinals on his sleeve, but despite the invitation the team did not engage in contract discussions during the season. Within five days of the end of the World Series, the Cardinals will present Ozuna with a qualifying offer — good enough for a one-year deal or to assure they get a draft pick if he signs elsewhere.
While inclined to decline the QO, Ozuna and his agent hope it sparks conversation with the Cardinals about a longer-term deal for the left fielder who fell shy of 30 homers and 100 RBIs because of a fractured hand. The QO cannot be easily dismissed because it would allow Ozuna to reach free agency a year from now, at 30, without the bothersome draft pick attached to signing him. He has 10 days to accept or hit the open market.
The Cardinals are positioned well — to get a cleanup hitter on a one-year, $17.8-million deal or get a draft pick and assure a new look to the lineup.
Ozuna has preference where he ends up, and a promise no matter where that is.
"I'm going to be good anywhere I go," he said. "I'm ready."
Cardinals free-agents-to-be
Tony Cingrani, LHP
Marcell Ozuna, LF
Michael Wacha, RHP
Adam Wainwright, RHP
Matt Wieters, C
(Cardinals and players have no options to exercise for 2020)
3. OPEN FOR BUSINESS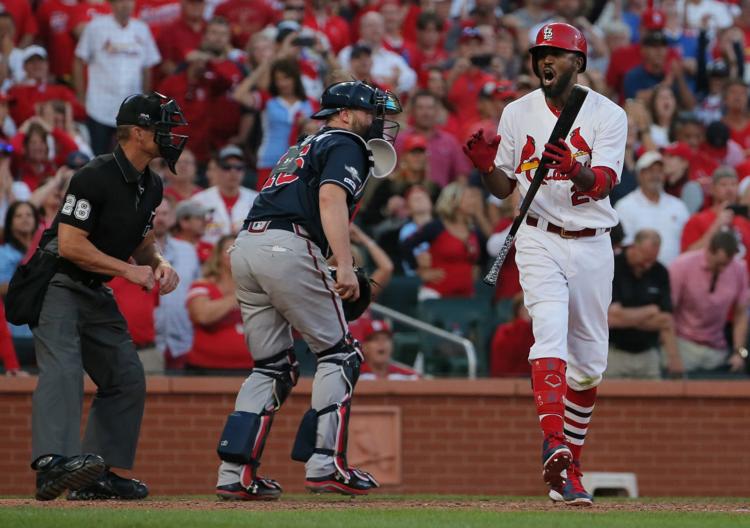 While Ozuna's pending free agency gives the Cardinals opportunity to open one spot in their lineup, their inclination to consider others is a tad trickier. Entering the winter, the Cardinals intend to look at how to improve production at third base and the corner outfield spots. Two of those spots are manned by decorated veterans, Matt Carpenter and Dexter Fowler. Combined they're owed $35 million in 2020. Both performed below their career average this past season. Both have full no-trade clauses. Both did not start the final game of the season. Neither has publicly expressed an interest in a trade.
A year ago, the Cardinals committed publicly to Fowler's bounce back after a difficult 2018, and Carpenter's past success will invite similar comments this winter. His versatility will play into what the Cardinals can do at third, in left, or if they look to right field and center field. At the trade deadline, a Cardinals official used a word to describe what they would have to find to move or replace incumbents, and it applies here: "Upgrade."
4. ANGLES IN THE OUTFIELD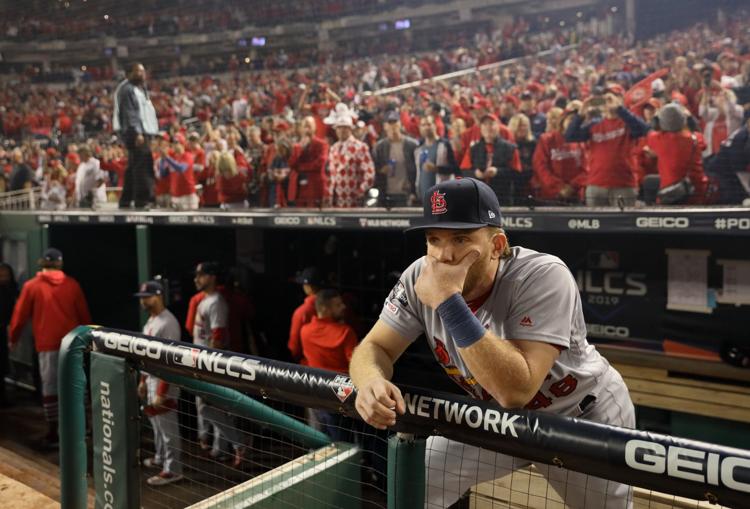 Once again the Cardinals reach an offseason with an abundancy of outfielders on the roster but not clear answers on who will play where or well. If Ozuna departs, there isn't an obvious cleanup hitter coming from the group, and yet the Cardinals could shove quantity at the opening and see if quality emerges. At the trade deadline, the Cardinals were reluctant to part with Tyler O'Neill or Harrison Bader as part of a deal for a starting pitcher, and yet both had reduced playing time in the second half and postseason. The Cardinal will explore offers to address the redundancy of outfielders.
The outfield, as a whole, was a drag on the Cardinals' production, a cause of the offensive inconsistency. Not one of the three spots had an OPS better than the NL average; Ozuna's left field came closest, .794 to .796. In right, the NL average was .815 OPS. The Cardinals' right field had a .753 OPS.
Bader brought elite defense to center, but the Cardinals plan to open up at least that position for auditions this spring. Top prospect Dylan Carlson, a switch-hitter and Texas League MVP, headlines a group of challengers that also includes Lane Thomas, Randy Arozarena, Justin Williams, O'Neill, and possibly others. It's possible that the Cardinals will start 2020 with three different outfielders or three outfielders in different positions than they finished this year. From competition, they seek clarity.
5. WHAT ABOUT WAINO?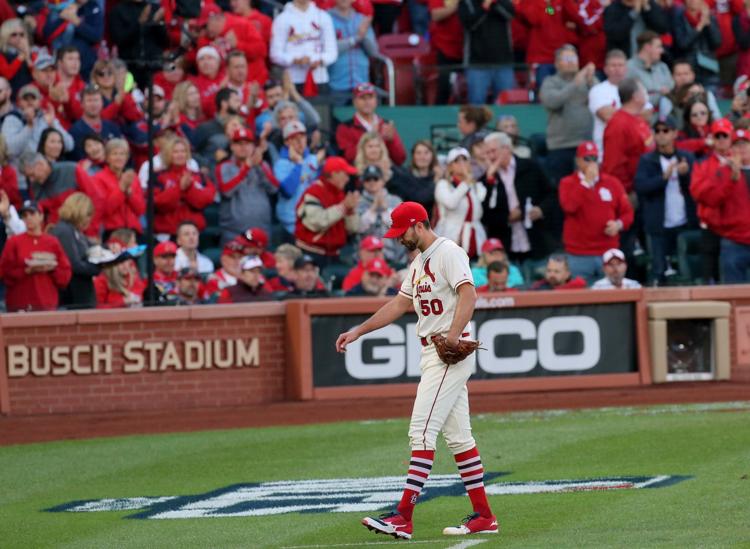 The winningest pitcher in Busch Stadium III history, future Cardinals Hall of Famer, and cornerstone of this era, Adam Wainwright returned on a one-year, incentive-laden deal to try and finish his career on his terms, healthy and strong and productive. Mission accomplished. But career complete? Wainwright said he was purposefully unsure — "I haven't thought about it, really" — as he left the clubhouse after the NLCS loss. He wanted time to discuss the decision with his family and his mentor, and meanwhile the Cardinals were hopeful for a phone call in this coming week. They would like to discuss his return .
At 38, Wainwright made 31 starts, missed one, and finished the season 14-10 with a 4.19 ERA. He has long planned to leave the game and throw himself into charity work, which will include farm he'll run to feed hungry families and clean-water relief missions abroad. He has described how eager he is for his next act, just as he's been intrigued by the talent returning to the Cardinals and what they could do for an encore.
Like the team that was .500 at the All-Star break, Wainwright got better as the season got later. He had a 2.97 ERA in his final six starts and 16 2/3 innings in the postseason that included only three earned runs and 19 strikeouts.
"There was never a time when everybody got down and we thought we couldn't turn it around," Wainwright said. "The whole narrative of the first half was how we weren't playing up to snuff, we weren't playing up to our abilities, and we knew that. That was something we knew very well. We just weren't doing it. Then everybody started playing a lot better, and you saw what happened."
What happens next is his to answer.
6. UP IN ARMS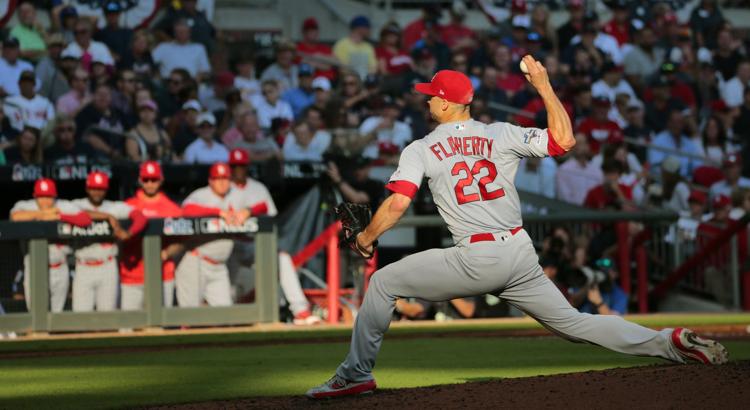 The Cardinals and the Dodgers were the only NL teams to rank in the top five in starter ERA (3.78) and bullpen ERA (3.82), and yet the Cardinals pulled that off despite getting zero starts from Carlos Martinez, Alex Reyes, and Austin Gomber and losing fire-breathing closer Jordan Hicks before the Fourth of July.
Independent of Wainwright's decision, the Cardinals have three starters returning to the rotation: Flaherty, Dakota Hudson, and Miles Mikolas. Martinez, who had 24 saves, has expressed an interest in going to starting, but he'll have to prove his health and commitment to a starter's regimen to win back the role he once starred in. The Cardinals have options — and so does the free-agent market. The Cardinals acknowledged a wish to add a starter at the trade deadline, and will have far better opportunity to do so this winter.
The free-agent market is rich with starters, from Gerrit Cole seeking a record-setting deal to lefties Madison Bumgarner and Cole Hamels, maybe even David Price. The available pitchers also include these three who have interested the Cardinals before: lefty Dallas Keuchel, righthander Zack Wheeler, and Breese, Ill., native Jake Odorizzi.
The Cardinals see the appeal of adding a lefty to the rotation — their four division rivals had a combined .439 winning percentage vs. lefty starters in 2019 — and adding another helping of quality innings to the group. They don't need a starter, but if they find what they want it will fortify the strength that won a division.
7. COMING UP SHORT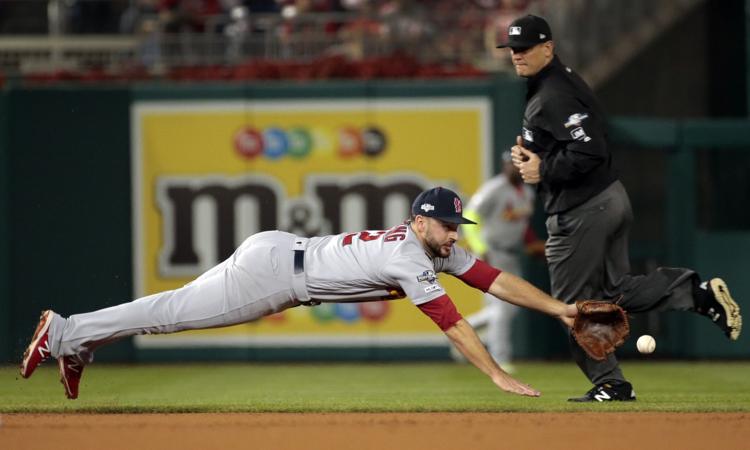 Shortstop Paul DeJong reset his own record for the position with 30 homers and is a finalist for a Gold Glove Award at his position, and between those two gleaming fixtures sits a season that included an All-Star Game appearance and the longest, deepest slump of his young career. DeJong hit .202 after the break, and his on-base percentage slid from .343 to .318. A contributing factor could have been workload. He'd never had a season that long at that demanding position. Only five players in the majors had more innings in the field than DeJong, and he played the deepest into October of that group to finish with 1,451 innings at shortstop. Including the playoffs, he started 85 of the Cardinals' final 89 games – revealing how valuable his overall game was to the team and their view of alternatives Yairo Munoz, Edmundo Sosa and Tommy Edman.
Finding a fielder to spell DeJong would help DeJong. Edman being that fielder would help the Cardinals.
The switch-hitter, who played mostly third and right to get his bat in the lineup, is a natural second baseman with a background at short. Despite playing only 92 games, Edman's 3.8 Wins Above Replacement ranked fourth on the team, snug behind DeJong's 4.1. If the Cardinals' reposition Edman as a utility starter — everyday player without an everyday position — his proficiency at shortstop will open up more at-bats as a lefthanded-hitting complement to DeJong as well as give DeJong a chance to catch more than grounders, his breath.
8. ROSTER WRANGLING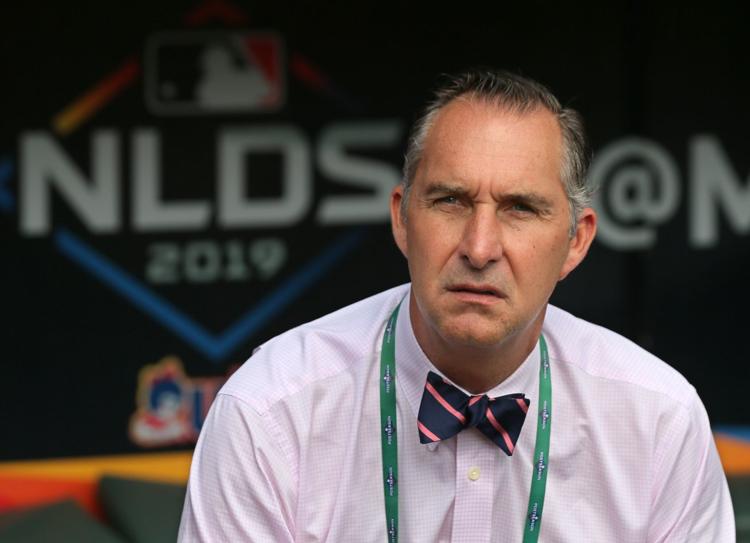 What John Mozeliak, president of baseball operations, has referred to as "roster churn" will begin within hours of the final out of the World Series. Free agents will drop from the 40-man roster and three players — Brett Cecil, Hicks, and Thomas — will come off the 60-day injured list and onto the 40-man roster. The Cardinals have only two players, John Gant and Dominic Leone, eligible for arbitration, and either could be traded, designated for assignment, or non-tendered by Dec. 2 to free a roster spot or reduce cost.
By Nov. 20, the Cardinals will want to carve open a few spots in the 40-man roster to protect prospects like Jake Woodford, RHP; Elehuris Montero, 3B; and possibly Alvaro Seijas, RHP, or Conner Jones, RHP. Second baseman Max Schrock must also be protected or he, like any of the others left off the 40-man roster, can be selected by another team in December's Rule 5 draft. By not promoting Carlson this season the Cardinals kept open a spot on the 40-man roster, and he'll come to camp as a non-roster invite.
Hemming the Cardinals in as they massage the roster is the financial commitments already made. They have $142.5 million guaranteed to 11 players for 2020, including the start of extensions given Goldschmidt ($26 million), Mikolas ($17 million), and Carpenter ($18.5 million). Money potentially coming off the roster in Wacha and Ozuna — roughly $18.6 million — is essentially reallocated for raises already set for Goldschmidt and Mikolas. The Cardinals have room to move, but perhaps less than in recent years.
9. CLOSING ARGUMENT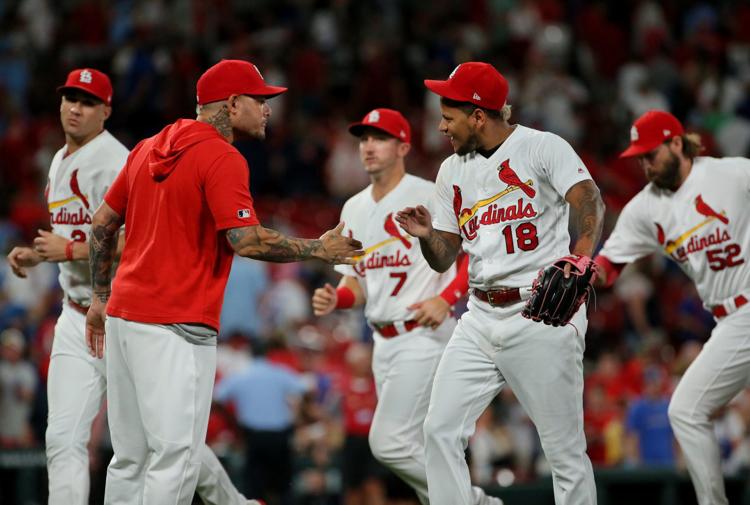 With Hicks and Martinez combining for 38 saves, the Cardinals' converted 71.23 percent of their save opportunities this season, and no other NL team did better than 66 percent, or two out of every three. Martinez led the majors with 21 saves in the second half as the Cardinals pulled into the division race and claimed the title on the season's final day. The relievers who shepherded a lead to Martinez in the ninth give the Cardinals options to replace Martinez in the ninth. Rookie Ryan Helsley could start or relieve in 2020 and emerge as a closing option, as could righthanders Giovanny Gallegos, a revelation in relief, and John Brebbia. Both excelled at setup.
The Cardinals have $18.3 million committed to lefties Andrew Miller and Cecil, and the team's return on recent spending on relievers has been sunk. They're better at creating relievers, not purchasing them. That will guide their hands this winter, as will be the power they hope to have returning. Reyes, another power righthander, will be prepped for relief work. Hicks, who had elbow surgery in late June, is expected to return by the All-Star break.
The bullpen was the constant for the Cardinals in 2019 because of depth, surprises like Gallegos, and velocity. Its returning cast has the ability to repeat.
All they need is a lead.
In the end, an improved offense will determine how the Cardinals will finish.