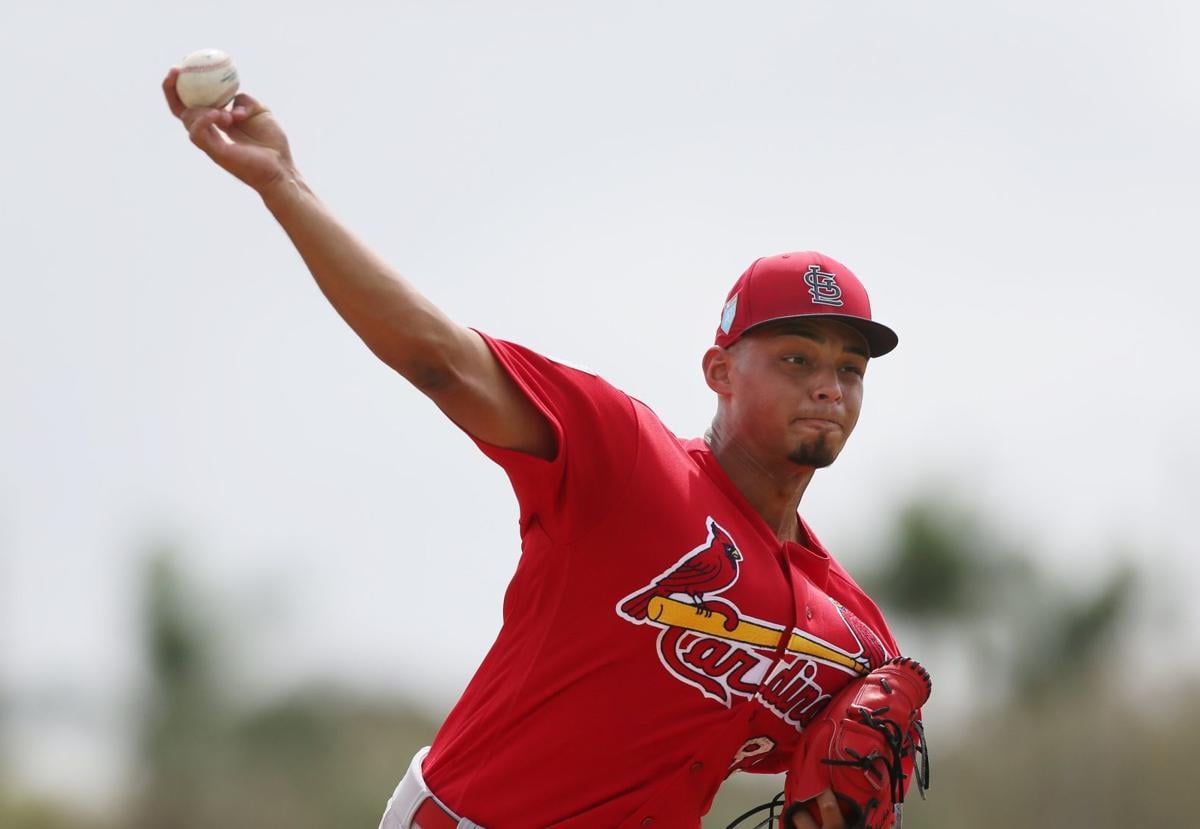 The Cardinals wondered if he was closer to the majors than planned.
They've decided he wasn't just close -- he was ready.
In a stunning 11th-hour change to the roster, the Cardinals will promote Hicks on Wednesday or Thursday morning for the opening day roster. One of the quickest departures from spring training camp will now be an early arrival in the majors, leaping all the way from High-A to Citi Field in a single week. The righthander will take a spot in the Cardinals bullpen.
To make room for him on the active roster, the Cardinals optioned John Brebbia to Class AAA Memphis. The decision was finalized Tuesday afternoon, an official confirmed to The Post-Dispatch.
The front office, coaching staff, and even catcher Yadier Molina had conversations about whether Hicks was ready to leap from High-A to the majors.
"Stuff is stuff," manager Mike Matheny said.
Hicks, 21, has a fastball that was clocked at 102 mph during spring training, and he throws a fastball at 99 mph that has sink to it. He offsets that pitch with a slider that he can throw for a strike and a changeup that showed greater command and depth this past spring.
The righthander was demoted from big-league camp early because he had failed to be punctual for at least two mandatory team functions. His teammates even took to social media to chide his lateness, and Matheny said no matter what he brought to the mound they couldn't have rules and let any of the players' missteps go unnoticed.
The Cardinals still wanted to give Hicks a taste of Grapefruit League play and show the major-league staff what he was capable of doing. He didn't disappoint. When he was thrust into Sunday's start in place of Adam Wainwright (hamstring), Hicks pitched four scoreless innings and struck out two. Half of his outs came on groundballs, and he allowed only one baserunner. In 7 2/3 innings this spring for the Cardinals, he struck out eight. On Sunday, showed a mix of 100- and 101-mph fastballs to go with a breaking ball that he can locate inside the strike zone -- and sweeping outside of it.
"We're a talent-based industry," Matheny said. "When you have a unique talent like that and we have a need in our bullpen, right, we're trying to figure out how we can use him in that spot. There is opportunity there. How that looks is yet to be determined."
Hicks will join the team in New York.
To make room for Hicks and backup catcher Francisco Pena on the 40-man roster, the Cardinals will have to make two corresponding moves. They intend to designate a player for assignment, not place Alex Reyes on the 60-day disabled list. Doing that would push Reyes' return back to May 28, at the earliest. The Cardinals expect him in the majors several weeks before that.
Keep up with the latest Cardinals coverage from our award-winning team of reporters and columnists.