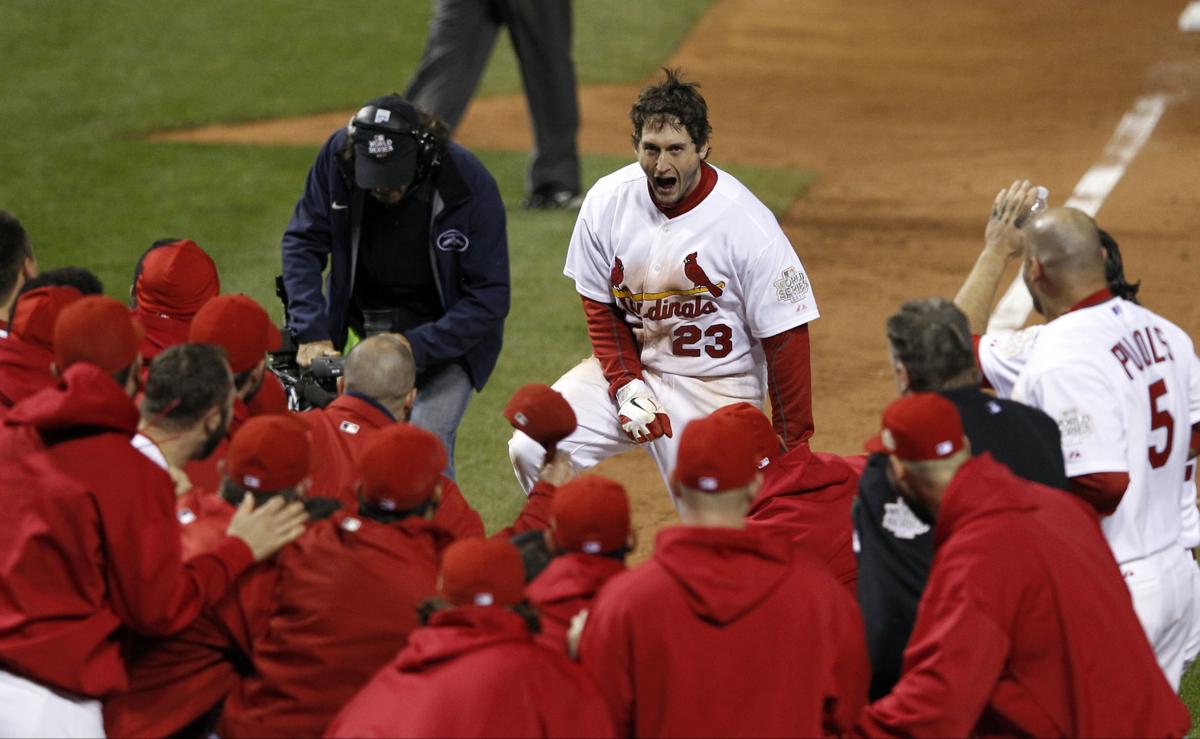 In the ninth inning Friday as the Cardinals tried to conjure, magically, a rally against the Washington Nationals in Game 1 of the National League Championship Series, the scoreboard at Busch Stadium did its best to wake the spirits of Octobers past by playing highlights from Game 6 of the 2011 World Series.
David Freese's triple and then his walk-off homer to force a Game 7 the Cardinals would win has become more than a moment for the organization.
It's a touchstone, a talisman.
And when next Freese's sees it, he'll likely be in the seats, too, with the fans.
Freese, the St. Louis boy who played for St. Louis' team and became a St. Louis legend, announced his retirement Saturday morning, thanking the fans and the clubs he played for in a message on Twitter. Freese, 36, had been indicating this season would be his last, even going so far to describe how eager he was to take his young son, Kai, to a ballgame in St. Louis — and sit in the crowd, perhaps even wearing a Cardinals cap.
"It's going to be cool when Kai understands and I show it to him, and he says, 'Is that really you on the TV?'" Freese described to the Post-Dispatch in August. "He understands it's me now if he's watching and there's a closeup of me hitting or something. It is going to be cool (showing him the World Series ring). Look at that damn squirrel. He might not care, which might even be cooler."
The NLCS and World Series MVP in 2011, Freese had considered retiring after the 2018 season but was reinvigorated by a trade to the Dodgers and a chance to return there for 2019. LA's season ended shy of a third consecutive NL pennant, with a loss to Washington in a division series. Freese leaves October with the big-league record for total bases (50) and RBIs (21) in a single postseason. All in 2011.
Freese's triple and walk-off homer in Game 6 of the 2011 World Series forever will be part of the Cardinals' highlight reels, lasting for generations in the same way Enos Slaughter's dash or Bob Gibson's 17 strikeouts have.
"Padres, Cardinals, Angels, Pirates, and Dodgers — you took a 23-year-old kid out of college and pushed him to 36," Freese wrote on Twitter on Saturday. "Can't thank you enough for that. Needed it. Will never stop thinking about the days I got to be around such wonderful people playing this game."
After a college career that started at Mizzou, wound though Meramec, and  eventually led to South Alabama, the Lafayette High grad was selected by San Diego in the ninth round of the 2006 draft. He came to the Cardinals from the Padres in exchange for Cardinals Hall of Famer Jim Edmonds in 2007 as part of John Mozeliak's first trade as general manager. Freese made his major-league debut in 2009 and would spend 11 seasons in the majors.
He finished with a .277 batting average, 113 homers, and 535 RBIs.
The recent loss to the Nationals kept Freese from what he once called a "storybook ending" and a chance to play one more October in St. Louis — as an opponent, though. He finished his career as a .299 hitter in the playoffs with 36 RBIs in 69 games. His impact in postseason games and production ranks among some of the game's greats.
Last August, Freese described how his initial retirement plans are living in Austin, Texas, with Kai and his wife, Mairin. He already has checked the schedule of direct flights to St. Louis and plans to take Kai to a Cardinals game or a few, mingling, if he can, with the crowd in the standings. Someday he'd like to find a way back into baseball, as a coach, or, he mused, even as a manager.
"I'm so thankful for it," he said in the Dodgers' dugout one afternoon. "It's taught me a lot. My years in the Padres system, St. Louis, Anaheim, Pittsburgh, here — I am the man I am today wanting to keep growing because of baseball. As hard as I've made it for myself sometimes, man, it's the most beautiful thing in the world. It can change you. It can allow you to grow. Have some sweet memories. And make some really good friendships."