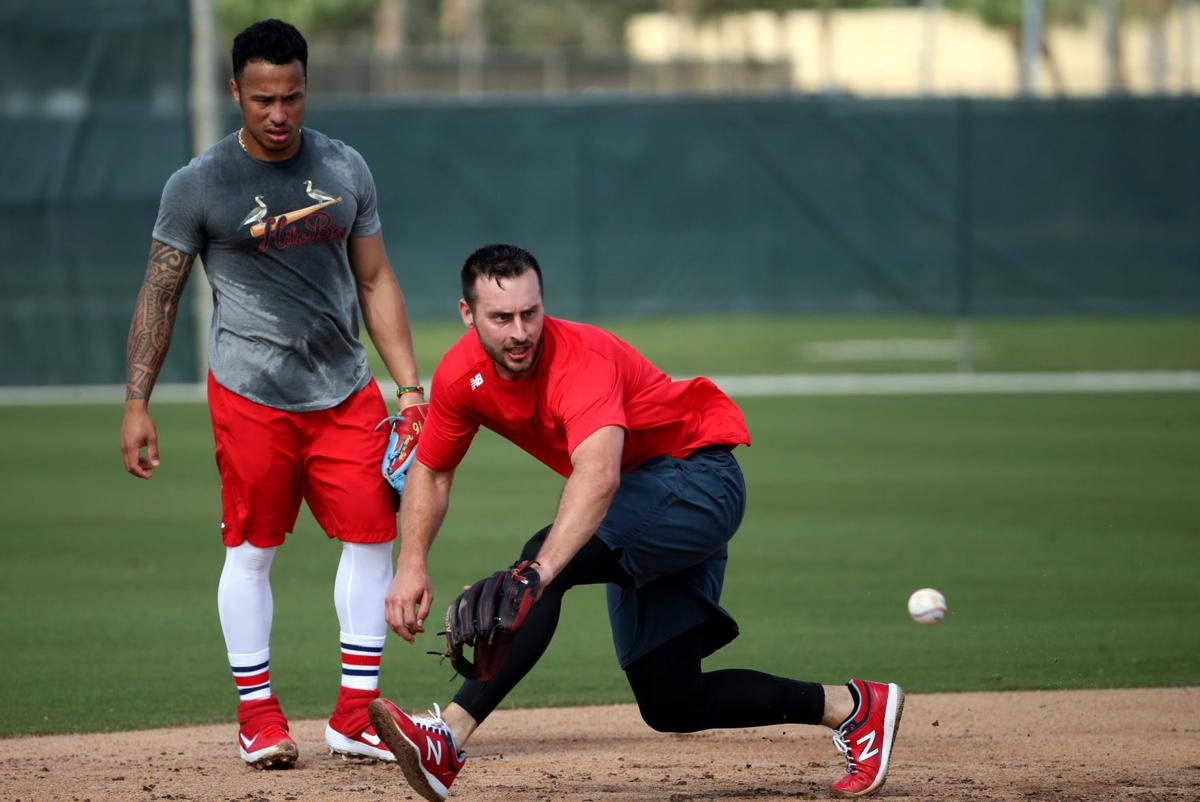 Within a week at Busch Stadium, downtown's empty reminder of a major-league absence, there will be baseball activities in limited, controlled migrations of players as the Cardinals move to ease open facilities and ready for the potential of a regular season.
The Cardinals reopened portions of their spring training complex Thursday and began notifying players that they can work out there or, as of next week, at Busch Stadium in small, scheduled groups. Center fielder Harrison Bader was the first to return to the Jupiter, Fla., facility, an official confirmed, and a handful players already in St. Louis, including infielders Paul DeJong and Kolten Wong, intend to shift some of their activities to Busch.
"We're all expecting a season," DeJong said, adding about the rising optimism he senses: "America's pastime can't be held down forever."
The Cardinals also notified full-time employees, including coaches and scouts in baseball operations, that the club will pay their salaries and benefits through the end of June with no pay cuts or furloughs. John Mozeliak, president of baseball operations, said the club continues to review their plan "month to month," especially as Major League Baseball begins its third month without games and game-day revenue. Other organizations, including the Cubs, Reds, and Angels according to various reports, have instituted pay cuts or furloughs starting in June. The Phillies are among the teams who have announced they'll cover employees through the season. The Cardinals' pledge is for full-time staff, which does not include all game-day staff.
Mozeliak said he felt a sense of "relief" from employees as the announcement went out and uptick in morale "just based on emails, texts, and calls I've received."
All of this happens in the foreground as negotiations between Major League Baseball and the players' union continue on a proposal to start the 2020 regular season in early July. The thorny issue of salaries and revenue sharing remains the larger hurdle to clear for a season after the COVID-19 crisis indefinitely postponed the year. In the meantime, safety protocols are paramount. The union gave a response Thursday to the 67-page proposal delivered to clubs and some government officials within the past week. The proposal details a widespread testing program, alterations to game play, and guidelines for travel, dugout practices, and clubhouse usage – all with the intent of being as proactive as possible to keep the coronavirus from snaking into the league and forcing a second shutdown and perhaps a lost season.
The proposal ranges from substantive policies such as limiting the use of taxis and Uber and testing of family members to the visual arresting plans to outlaw spitting, licking fingers, communal water coolers in the dugout, and high fives.
"The at the field stuff – it's going to take some trust," DeJong said. "For your teammates to understand we want to be here and we're doing everything we can to stay healthy so we don't infect the others. … One guy gets it in the clubhouse, then three guys are going to get it, then nine – it's just going to keep going like that. It's about stopping that one guy. We'll still be under some risk no matter what we do just being together."
DeJong, Wong, and utility fielder Tommy Edman have been working out in the St. Louis area, doing so by following the local social distancing policies – but still able to take groundballs and get workouts in.
When MLB closed all facilities two months ago, Wong and DeJong initially stayed in Jupiter. Other players have, though that complex has been closed to all baseball activities. Players, like Paul Goldschmidt and others, have been able to visit the facility on a scheduled basis to meet, one on one, with trainers and continue to rehab. Pitchers Adam Wainwright and Kwang Hyun Kim have paired up to play catch – anywhere from a socially distant 60 feet to 120 feet – in St. Louis. The Cardinals' progressive reopening of the facilities allows for players to meet at the Roger Dean Stadium facility or, next week, Busch for small-group workouts.
Most likely, the plan will be to have players able to throw bullpen sessions with a catcher and a pitcher and two staff members. Or for players, like the St. Louis-based infielders, to meet, maintain their distance, and practice while adhering to local government mandates.
The Cardinals intend to coordinate schedules and usage of the facilities to avoid any large groups. The club has also authored plans to hold a training camp at Busch Stadium with staggered workouts and regulated groups if Major League Baseball is able to relaunch the season and do so with a two- or three-week "spring training 2.0." The Cardinals have expressed preference to do as much as possible in St. Louis – and if a regular season starts to have home games at Busch Stadium.
"Baseball players want to play," DeJong said. "We're going to have to go out there. I think the game is bigger than all of this. We have to do everything we can to preserve the game in its most natural state. If this means a temporary season like this year where we have to try out some new measures, I'm all for it because I know I want to play. Once we get out there, we'll adjust. We want to stress that we're ready to play, ready to go out there."
Keep up with the latest Cardinals coverage from our award-winning team of reporters and columnists.