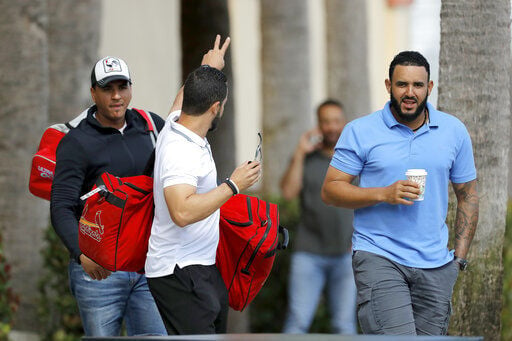 In the previous two June drafts, the Cardinals have selected a total of 81 players, some of whom signed and went right to work and some of whom have already emerged as top prospects for the team.
Nearly a fifth of them were released on the same day last week.
In a series of sweeping transactions the Cardinals, like many Major League Baseball clubs, reduced the size of their minor-league rosters by releasing a total of 33 players this past Wednesday. The transactions posted officially on June 1 and they include players at every domestic affiliate, from the Gulf Coast League to Class AAA Memphis. The Cardinals' Low-A Peoria affiliate had the highest number of releases (nine) in the Midwest League.
The Cardinals released eight players drafted as recently as 2019, and eight other players released were from the 2018 draft. Only one of the players released, outfielder Kevin Woodall, was drafted in the top 10 rounds of those two drafts.
The timing of the releases comes on the eve of the Cardinals committing to pay active minor-league players a $400 per week stipend through the end of June. The promise made in March by all teams to pay that weekly allowance expired Sunday. It also comes as a prelude to next week's draft. It's not uncommon for teams to have releases at this time of year in order to clear space for an infusion of new acquisitions – either through the draft or the international signing period that usually starts on July 2.
The release of minor-leaguers rarely gets as much attention as it has in the past few days, in part because of the magnitude of these moves by teams. Multiple reports had the Yankees releasing around 45 minor-leaguers, and the Mets released 37. These moves usually trickle out on the transaction pages over time, not appear all at once like a Friday news dump.
This past week, I wrote that the Cardinals were expected to have around 20 releases. That was an estimated number that I could confirm, but I was able to confirm two or three names from the group released. The names proved right. That number was wrong, making what I wrote incomplete and wrong. There were more. The Cardinals' official transactions had 33 releases on May 27.
UPDATE: The Cardinals other four transactions in May were players not being released as originally indicated. These four players were being moved from a roster and remain with the team on the Dominican Republic campus. The numbers in this story have been changed to reflect that correction.
Including the 10 releases that were already reported, that makes 43 total from March through the end of May.
• Cardinals 2020 – 43 releases
• Cardinals 2019 – 19 releases
• Cardinals 2018 – 36 releases
The Cardinals were an outlier a year ago, with fewer than the MLB average of 25 releases during the time period. They were an outlier the previous year, too, with way more than the league average of 22 releases.
Some teams are clearly cutting costs by reducing the number of active minor-league players on the rosters. Other teams, like Kansas City and Minnesota, have pledged to pay their minor-leaguers through the original schedule of the regular season. And Jon Heyman reported Monday that Scott Boras intends to pay the salaries of the released minor-leaguers he represents.
The massive release of players also indicate the growing likelihood of factors other than financial that would prompt teams to downsize: First, that there won't be a minor-league season, not one that comes close to a traditional season or even a shortened season. And, second, the inevitable shuttering of some minor-league affiliates and possibly leagues. Major League Baseball had wanted to contract minor-league baseball months before the leagues and the game had to stop operations because of the spread of coronavirus. The Cardinals could have as many as two fewer affiliates in 2021 and less need of dozens of players as a result.
A lot of the attention is on whether Major League Baseball will find a way to start a 2020 season. A rising question is what minor-league baseball looks like when it returns.
Again, the players released at this time are often featured in agate type – the small print. But to bring some acknowledgement to the players and their careers so far, here are the minor-leaguers the Cardinals released, officially, this past Wednesday, and brief information on each:
Class AAA Memphis
Oscar Hernandez, C – Signed as a free agent to backup at Memphis. Has 22 games in majors.
Chris Ellis, RHP – Acquired from Atlanta in Jaime Garcia trade. Former third-rounder was a Rule 5 pick lost to KC, by way of Texas, and returned this season. Went 5-5, 7.18 at Memphis.
Johnny Hellweg, RHP – Signed as a free agent in 2020, had spent time in Milwaukee and went 1-4 with the Brewers.
Class AA Springfield
Will Latcham, RHP – 17th round (2017). 8-7, 4.30 in 93 games, all in relief, and 16 saves.
Michael Baird, RHP – 23rd round (2018). SIU alum 5-6, 2.00 in 29 games, 100 Ks in 94 1/3 innings.
Zach Kirtley, 1B – 5th round (2017). .244/.338/.353 in 233 games played in organization.
High-A Palm Beach
Perry DellaValle, RHP – 27th round (2018). 5-8, 2.84 in 31 games, 26 starts.
Michael Perri, SS – 21st round (2018), .241/.291/.343 in 136 games.
Wadye Ynfante, CF – International free agent in 2014. Received a $125,000 bonus. .252/331/.365 in 365 games for the Cardinals' organization. Did crack some prospect rankings earlier in his career.
Low-A Peoria
Brandon Riley, CF – 14th round (2018). .245/.349/.316 in 164 games.
Scott Politz, RHP – 29th round (2019). Yale alum went 4-3, 4.63 in 14 games (13 starts) during his pro debut.
Parker Kelly, RHP – 20th round (2018). 7-9, 4.01 in 41 games (nine starts) and 103 1/3 innings.
Alexis Wilson, C – International free agent in 2014. .245/.339/.363 in 199 games.
Kevin Woodall, RF – 10th round (2018). .240/.336/.492 in 49 games.
Connor Coward, RHP – 26th round (2018). 6-0, 1.14 in 26 games (six starts), for 63 1/3 innings.
Edwin Figuera, 3B – International free agent in 2014. .259/.330/.315 in 64 games.
Brylie Ware, 3B – 23rd round (2019). .197/.299/.266 in 51 games.
Adrian Mardueno, RHP – 20th round (2019). 3-2, 3.59 in 13 games (11 starts) and 52 2/3 innings.
Short-season Class A State College
Liam Sabino, 3B – 35th round (2018). .272/.371/.449 and .820 OPS in 97 games, at age 24.
Martin Figueroa, IF – Minor-league free agent in 2018. .282/.360/.460 at State College.
Cameron Dulle, RHP – 30th round, 2019. Mizzou alum went 4-2, 3.38 in 19 relief appearances and 26 2/3 innings during his pro debut.
Jeremy Randolph, RHP – 26th round, 2019. 3-2, 4.04 in 16 games (three starts) and 42 1/3 innings.
Rookie Class A Johnson City
Walker Robbins, LHP – 5th round (2016). Outfielder reclassified as a lefthanded pitcher and going into his first full season in the role after three seasons in the field.
Tyler Peck, RHP – 28th round (2019). 2-3, 4.84 in 14 relief appearances and 22 1/3 innings.
Dylan Pearce, RHP – 31st round (2019). 1-2, 4.35 in 14 relief appearances and 20 2/3 innings.
Carlos Soler, CF – International free agent in 2016. .271/.350/.397 in 152 games.
John Witkowski, RHP – Undrafted free agent (2019). Boston College pitcher went 4-0 with a 2.81 ERA in 15 relief appearances and had 27 strikeouts and only four walks in 25 2/3 innings.
Gulf Coast League Cardinals
Saniel Santana, RHP – International free agent in 2017. 0-2, 5.06 in 28 relief appearances.
Yowelfy Rosario, SS – International free agent in 2016. .230/.322/.358.
Jeffrey Abreu, RHP – Acquired in the Jedd Gyorko trade with the Los Angeles Dodgers late in the 2019 season. Abreu was on the 60-day injured list and never played for Cardinals.
Freddy DeJesus, 1B – International free agent in 2016 .249/.375/.391 in 20 games.
Anthony Green, RHP – 33rd round (2019). 1-2, 5.04 in 10 games (four starts) and 30 1/3 innings.
Pablo Gomez, SS – International free agent in 2016. .252/.318/.366 in 20 games.
In the weeks after spring training ending, the Cardinals released 10 players and then later four members of the Dominican Summer League teams were released.
The 10 players released soon after the camps closed were: RHP Akeem Bostick, RHP Martin Cordova, RHP Blake Drake, RHP Mitchell Osnowitz, RHP Zach Prendergast, 1B Chris Chinea, 2B Yariel Gonzalez, 3B Shane Benes, OF Stanley Espinal, OF Andrew Warner. And the four players released from the DSL on May 9 were RHP Roberto Bautista, RHP Randel Clemente, RHP Bruno Lopez, and RHP William Reyes.
Keep up with the latest Cardinals coverage from our award-winning team of reporters and columnists.