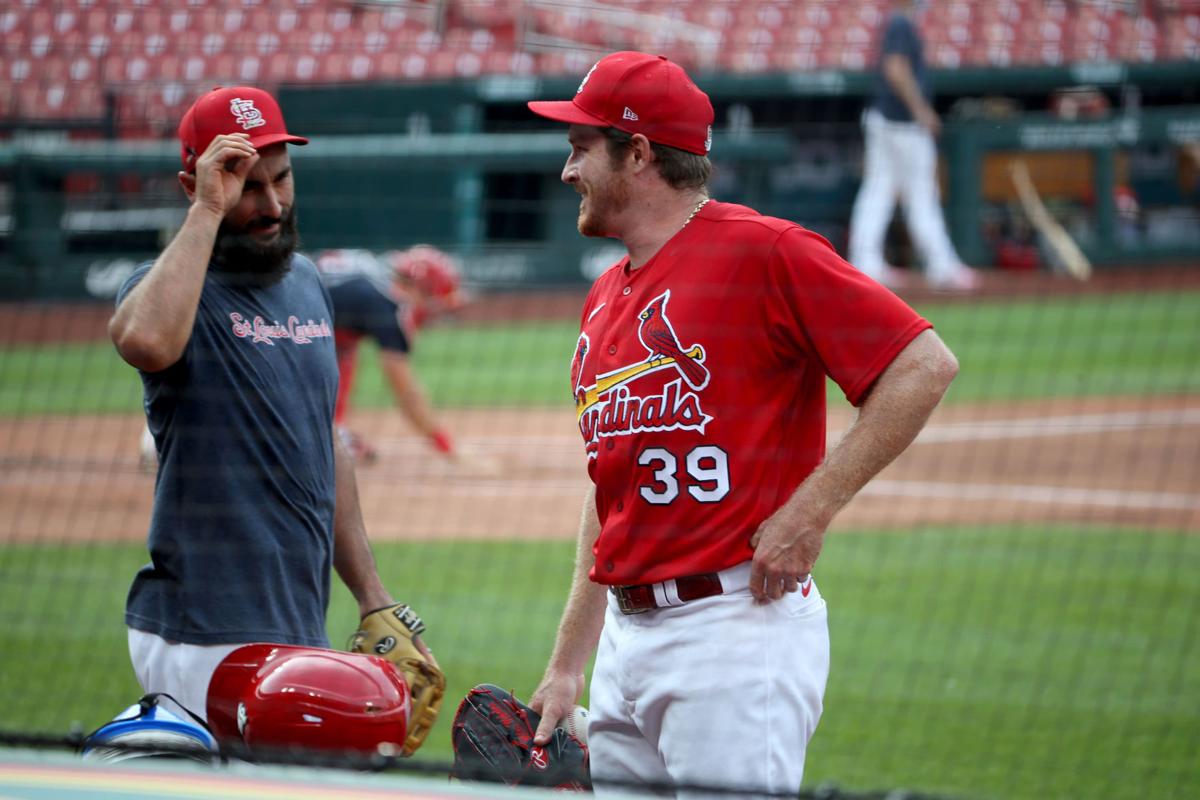 JUPITER, Fla. — Cardinals starter Miles Mikolas will go at least a week without throwing so that he and the team can further gauge the cause and best treatment for soreness and inflammation within his right shoulder.
The righthander went through a battery of scans and exams the past several days and met with doctors to determine why he has had discomfort and difficulty recovering from aggressive throws this spring. A plan for the next step of his preparation for the season was discussed over the previous several days, while second opinions were sought. An MRI taken of his right shoulder showed the inflammation, confirmed president of baseball operations John Mozeliak, and did not find structural "abnormalities" at the moment.
"I think the strategy is to be to shut him down and see how he's feeling," Mozeliak said. "He'll be re-evaluated. Right now, I would anticipate him not throwing for somewhere between seven to 10 days."
Mikolas will go through additional tests in the next two or three days, once the inflammation has calmed, to additionally rule out any underlying causes.
The Cardinals had previously said they do not expect Mikolas to be with the team as it heads north for the regular season.
The last time he faced hitters was Feb. 25 in a live batting practice session, and by the time he returns to throwing it will likely be a month between his pitches off a mound.
Mikolas expressed frustration with the pain in his shoulder and stressed that he was not "overly worried" about the joint, just looking for an explanation and some assurance that he wasn't going to do more harm by pressing forward in his throwing program.
Manager Mike Shildt said several medical officials within the organization reviewed the MRIs taken of Mikolas' arm and shared the opinion about its integrity. Shildt said that was a cause for "lots of positivity."
A year ago, Mikolas had discomfort ripple through his forearm, and a non-invasive form of treatment got him ready to participate in Summer Camp during July. On the eve of his first scheduled start of 2020, that pain persisted and after having his elbow evaluated, he was diagnosed with a tear of his flexor tendon. He had season-ending surgery and began a rehab process geared toward his availability to open the season. Mikolas wrote in a text message that his elbow and forearm have felt good throughout his throwing program this spring.
An All-Star in 2018, Mikolas led the league with 18 wins that season, his first with the Cardinals since returning from playing professional in Japan. He had a sub-3.00 ERA and carried more than 200 innings for the Cardinals. In 2019, Mikolas made 32 starts for the Cardinals, lost a league-high 14 games, and had a 4.16 ERA. That spring he signed a four-year extension for $68 million that began with the 2020 season.