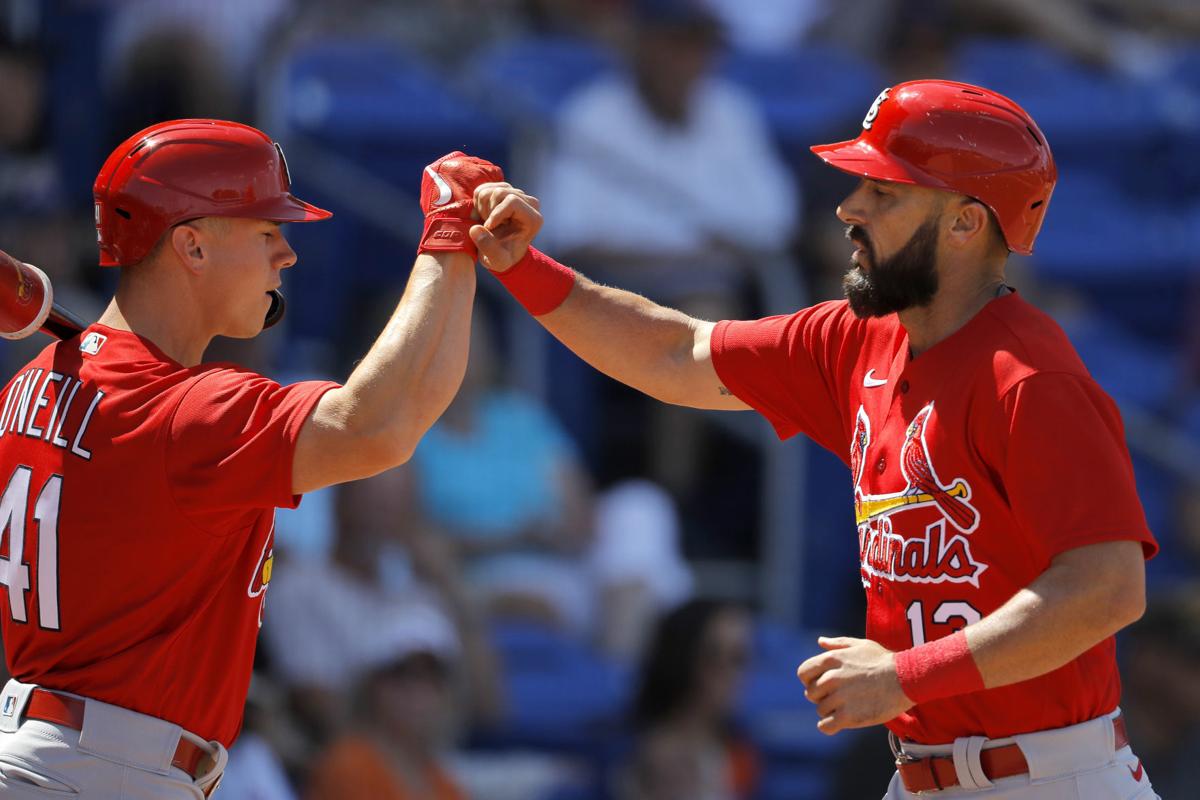 As he readied to face the Cardinals and their veteran starter over the weekend, Oakland lefty Jesus Luzardo, who has 12 innings in the majors, none against a National League foe, and had just turned 9 when Adam Wainwright emerged as an October closer, whispered this scouting report to anyone listening.
"Wonder if he has a curveball in this game," Luzardo said, "like he does in real life."
It didn't take long for Luzardo to get his answer.
He has four games set for Monday evening – starting at 8 p.m. St. Louis time on Twitch, a streaming site used for video games – and three of them are against "teams" ahead of him in the standings:
• at Jeff McNeil's Mets (17-7)
• vs. Amir Garrett's Reds (17-11)
• vs. Bo Bichette's Blue Jays (19-7)
• at Carl Edwards Jr.'s Mariners (7-16)
The matchups, some of them broadcast on an ESPN affiliate and most of them captured on MLB.com, has already given baseball-starved fans some delightful moments. Throughout his game against Carpenter, Luzardo answered questions from fans. One asked him for an opinion on the Houston Astros' cheating scandal ("No comment," he said), and another wondered about the players he's looks up to and the new pitches he's crafting during quarantine.
In a nice touch, Carpenter faced White Sox starter Lucas Giolito in a game this past weekend and started Giolito's high school teammate, Jack Flaherty, against them. Giolito, who can clinch a playoff spot soon, started himself. To his audience on Twitch, the Sox All-Star offered this scouting report on his close friend and now virtual challenger.
"Nasty. Nasty. Nasty," Giolito said.
He then suggested that when baseball resumes, Flaherty's changeup will be much improved – in real life.
In the video game, Yasmani Grandal dropped a two-out, two-run homer into the right-field seats to give Giolito's Sox a 2-0 lead on Carpenter's Cardinals, and that's all it took. Giolito shut the Cardinals out from there in the three-inning game.
Against Luzardo's Athletics, Carpenter got the offense in motion early. New to MLB The Show 20 before entering the tournament, Carpenter said he wanted to take advantage of the virtual Cardinals' speed – and planned to push for extra bases, steal some. Kolten Wong opened the game at Oakland with a single, and Carpenter didn't wait long to give the green light. Wong's break for second created a hit-and-run for Carpenter's No. 2 hitter, Matt Carpenter, and that Carpenter sneaked a single to right field as Wong took third. Luzardo's starter hit Paul Goldschmidt with a backfoot slider, and, with cleanup hitter Paul DeJong, Carpenter (the real Carpenter) capitalized with a two-run double into the right-field corner.
"I don't know why, but I seem to hit really well with Paul DeJong," Carpenter said on the eve of the tournament.
There's the scouting report.
With a 2-0 lead to protect, Carpenter got two innings from Adam Wainwright and turned to Jordan Hicks as the closer with a one-run lead. Yadier Molina got the save. With a chance to tie the game in the bottom of the second, Molina tagged speedy Tony Kemp out at home plate after Luzardo had got Kemp into a pickle between third and home, as if testing Carpenter's dexterity on the game's controller. In the bottom of the third, the tying run got to third against Hicks before he struck out Matt Olsen. With Matt Chapman at the plate, the runner strayed from third on a ball in the dirt – and Molina threw him out to end the game.
For Carpenter, Wainwright improved to 4-1.
Hicks got his third save of the tournament.
At 11-16, Carpenter is tied with Rhys Hoskins of the Phillies and ahead of Hunter Pence's Giants (10-16). Joey Gallo's Rangers (23-4) and Blake Snell's Rays (21-4) have already clinched spots in the tournament's postseason.
---
For kicks, here are some other virtual life simulations running for the 2020 season:
DYNASTY LEAGUE BASEBALL: The Cardinals followed Flaherty to a 5-1 victory against the Miami Marlins to close out a home stand and then zoom west to open a series in San Diego on Monday, in this simulation by Dynasty League Baseball that started in conjunction with STLtoday.com and the Post-Dispatch. The Cardinals are 16-11 and have a 4 ½-game lead in a division that does not feature another team with a winning record. The Cubs are 12-16, ahead of Cincinnati (11-16) and a disappointing Brewers beginning, at 9-19. With four regulars hitting less than .190 on the season, these 2020 Cardinals are a lot like the 2019 Cardinals – obviously – and are relying on pitching, pitching, pitching to stay ahead.
Daniel Ponce de Leon continues to be effective in relief with a 0.84 ERA and 16 strikeouts in 10 2/3 innings. John Brebbia has a 1.80 ERA in 10 innings pitched, and Giovanny Gallegos has converted seven saves to go with his 1.35 ERA.
Jack Flaherty 5-1, 1.14 ERA
Adam Wainwright 0-3, 7.36 ERA
Miles Mikolas 3-1, 3.20 ERA
Carlos Martinez 0-2, 2.16 ERA
Dakota Hudson 2-0, 3.96 ERA
Kolten Wong .260/.330/.380, .710 OPS, 2 HR, 11 RBIs
Matt Carpenter .168/.331/.221, .552 OPS, 1 HR, 6 RBIs
Paul Goldschmidt .255/.397/.469, .866 OPS, 6 HR, 17 RBIs
Paul DeJong .185/.267/.370, .637 OPS, 5 HR, 18 RBIs
Tyler O'Neill .322/378/.489, .866 OPS, 4 HR, 13 RBIs
Yadier Molina .263/.315/.424, .739 OPS, 3 HR, 8 RBIs
Dexter Fowler .155/.294/.226, .520 OPS, 1 HR, 11 RBIs
Harrison Bader .140/.238/.226, 464 OPS, 2 HR, 10 RBIs
Tommy Edman .333/.366/.615, .981 OPS, 2 HR, 16 RBIs
OUT OF THE PARK BASEBALL 2021: At Baseball-Reference.com, the indispensable site for just about anything you could possible want to know about baseball, the 2020 season is being played out, day by day, using the highly regarded OOTP simulation. In this run of games, the Cardinals are 16-12 and trail the first-place Cincinnati Reds (16-11) by a half game. The Cubs are the team that stumbled at the start, sinking to last at 11-17. Dakota Hudson leads the National League with five wins, and once again the Cardinals are leaning heavy on their pitching to carry them to a winning record. No surprise. The sims see what we all expected to see. At closer, Giovanny Gallegos is 0-2 with six saves and a 4.63 ERA. Curiously, Williams Perez continues to be the standout of the bullpen with a 0.73 ERA and 13 strikeouts in 12 1/3 innings. He, of course, is not in the Cardinals' organization for 2020.
The OOTP sim is far more bullish on the offense, though, than Dynasty, and it seems some contributions coming from some strong bounce backs.
Jack Flaherty 3-1, 2.29 ERA
Adam Wainwright 2-3, 4.76 ERA
Miles Mikolas 0-2, 16.20 ERA (just back from injury)
Carlos Martinez 1-1, 2.13 ERA
Dakota Hudson 5-0, 2.97 ERA
Kwang Hyun Kim, 2-0, 1.98 ERA
Kolten Wong .263/.354/.360, .713 OPS, 2 HR, 7 RBIs
Matt Carpenter .231/.286/.442, .728 OPS, 2 HR, 11 RBIs
Paul Goldschmidt .313/.403/.420, .823 OPS, 2 HR, 13 RBIs
Paul DeJong .277/.354/.518, .872 OPS, 6 HR, 20 RBIs
Tyler O'Neill .224/.343/.448, .791 OPS, 4 HR, 8 RBIs
Yadier Molina .213/.267.325, .592 OPS, 2 HR, 9 RBIs
Dexter Fowler .259/.375/.432, .807 OPS, 3 HR, 9 RBIs
Harrison Bader .264/.308/.364, .672 OPS, 2 HR, 10 RBIs
Tommy Edman .351/.414/.558, .972 OPS, 3 HR, 16 RBIs
One of the premises of the Cardinals' offensive theory entering 2020 was that they could get – by committee, by breakthrough, by matchups – improved production from the cleanup spot and left field when compared to what Marcell Ozuna gave them. The example was an .800 OPS. Regardless of the platform or the program, the sims love switch-hitting Tommy Edman. There is of course the small sample size of his excellent 2019 for the sims to draw data from, and that helps. Meanwhile, the virtual Atlanta Braves on Baseball-Reference.com, Ozuna is off to a chilly start in Atlanta with a .222/.294/.352 slash line and a .646 OPS.
And while the curves may break like Wainwright's do, and the changeups will change like Flaherty's will, and the Cardinals may pitch like Cardinals need to pitch to win, it is, as Oakland's 22-year-old lefty reminded, not real.