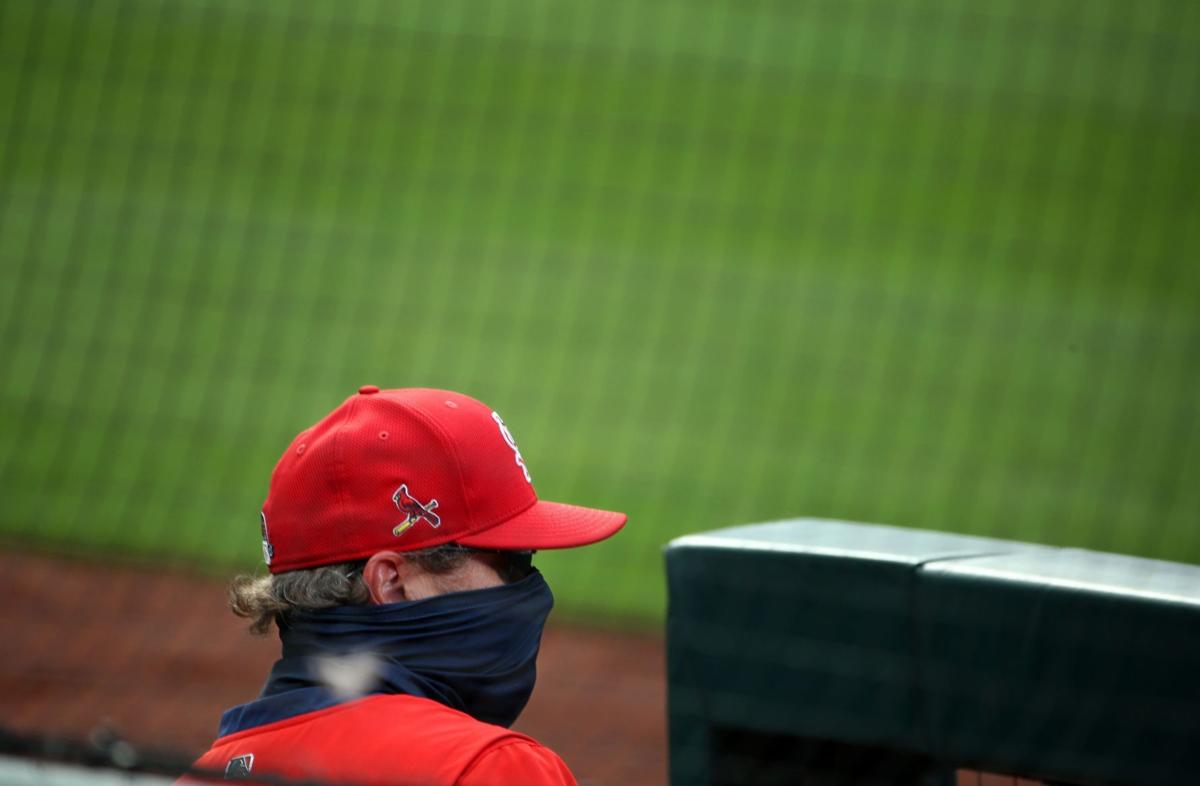 The symptoms of COVID-19 that some members of the Cardinals organization have experienced in the past week have been severe enough that some had to go to the emergency room for treatment and "clarity," manager Mike Shildt revealed on his weekly radio show.
The Cardinals manager, on his way to take his daily test for the novel coronavirus, joined KMOX/1120 AM for his usual time slot and detailed how a few of the 16 personnel who have tested positive for the virus have been dealing with waves and mixtures of symptoms, and that some of them had to seek medical attention to receive fluids. The team has said multiple times the past week that none of the individuals have been hospitalized.
"There are people that have symptoms, and have had a few visits to the ER for some IVs and a little more clarity," Shildt told the radio station. "Nobody has had to stay. But there are people dealing with — I mean, this is real. And people are experiencing a lot of the symptoms that we hear about, that are associated with this. A variety of them. Most of them are experiencing multiple ones. Seems like they rotate with them. And again, nobody is in close to any critical shape, but people are having to deal with some things that aren't comfortable at all. And hopefully we can get that behind them. They're getting great care."
Shildt did not specify if the individuals going to the ER were players or staff.
While players and staff receive their Sunday tests for the virus, the Cardinals are awaiting the results of their Saturday tests. Those results will determine the next step for the Cardinals and give them a sense of when or if they'll return to the field.
The Cardinals' weekend series against the Cubs was postponed Friday when three new positive tests, including two for players, surfaced. The Cardinals are next scheduled to play Monday against the Pittsburgh Pirates, but that game at Busch Stadium is doubtful, and is likely to be postponed officially at some point Sunday. The entire series is in question, but as of Saturday was expected to be handled "day to day." The Cardinals have had 10 consecutive games postponed and are looking at going close to two weeks without a game.
The delay between games has gone on long enough that some of the first Cardinals to test positive can begin their return testing and the protocols to rejoin the team.
Yadier Molina, one of the nine players to test positive and one of the eight to identify himself as positive, is taking a test Sunday, his brother Jose Molina told media who cover the Angels on Sunday morning. After a positive test, players are required to go seven days before they take another saliva test, and each player with a positive test will be out at least eight days.
"He's doing good, man I talked to him this morning. He's going to do one test today," Jose Molina told the Angels beat writers. "Right now he has no symptoms. He just had light symptoms the first day. Besides that he's been doing great. Just looking forward to those negative test and when they start playing again. But he feels very good right now."
Players are required to have consecutive negative tests — taken 24 hours apart — before they can continue on the path back to the field. They must also take an antibody test and a cardiac evaluation exam.
During his regular appearance on KMOX/1120 AM's "Sports on a Sunday" program, Cardinals president of baseball operations John Mozeliak struck a cautious tone about the next 24 to 48 hours for the team.
"I'd like to sit here and tell you everything is going to be great and there's no concerns moving forward," he said. "I'm just not in that position yet to do that. Having a little hope, having a little optimism is all that I ask. It's really hard to make a definitive road map on where we're going and what we're doing because there are still a lot of questions. The unknown is the trickiest thing to deal with. We still have a lot of question marks going forward."
Mozeliak has a meeting Sunday afternoon to determine what the week ahead will look like, and that meeting will hinge on the results of tests taken Friday and Saturday.
The Cardinals and Major League Baseball are trying to determine the length of time the Cardinals need to get control of the outbreak and eradicate it from the roster. Six days of quarantine in Milwaukee did not squelch the spread as hoped, so the team and MLB are left to discuss a lengthier pause to the schedule and the problems that could mean for the team's participation in the 2020 season and their opponents' schedule. As of now, the Cardinals have 55 games remaining on their schedule and fewer than 48 days to do so.
The past week's news has generated ample speculation to fill the vacuum of unknowns.
"The rumor mill concerning the Cardinals has been in full force over the last week and a half," Mozeliak said on his radio appearance. "I think the easiest thing to say is — look, if I had something to share, I'd share it. But right now we don't know what tomorrow will bring. I have a meeting later today which will probably give us a lot more clarity on what everything looks like. But I'm not going to speculate at that because I'm still trying to collect information before I even go into that. Ultimately once we have something to share, we're going to do it. This is not like trying to make a trade or trying to recruit a free agent and I'm trying to do it secretly. It's just there are so many moving parts, I don't want to get out in front of it."
In the days since the first two positive tests and the initial embers of the outbreak that has engulfed the club, there has been a standard battery of questions asked in each Zoom conference call that Cardinals officials have held with St. Louis media.
They range from next steps to timetables.
The reporter who asked the question may change, but the questions do not when it comes to these two, necessary topics:
• Are the people who have COVID-19 feeling any symptoms? Have any been hospitalized?
• Have any players expressed to management their decision to opt-out?
As of Friday, Mozeliak said he has not heard from any player who has decided to opt-out. Mozeliak disclosed on Friday that Ryan Helsley, one of the nine players who have tested positive, did experience a low-grade fever Thursday. About half of the 16 individuals who tested positive have had some symptoms, and many of them experienced the symptoms after the positive test. Those symptoms have ranged from headaches to low-grade fevers and to coughs. At least one unidentified member of the staff had more severe symptoms, a team official said. That was the extent of the answer to the almost daily question.
Shildt's description of ER visits was a new disclosure Sunday.
The Cardinals were quarantined for six days in Milwaukee and they were required to have consecutive days without a new positive to leave their hotel. The 13 people who received positive test results in Milwaukee were transported back to St. Louis, away from the team, and not at the hotel. The Cardinals flew home Wednesday, and Shildt, in the radio interview, described the process of wearing a facemask, a face shield, staggered boarding, spaced seating, and no food or drinks the entire time — all to follow protocols.
He called it part of "an even more stringent normal."
That's what gives the Cardinals pause — is that a positive test came with them from Milwaukee. That forced the team to renew its contact tracing, determine the probability of other positives, and isolate and identify at least one player for a rapid test. And also consider the possibility of a longer layoff before a return.
"There are a lot of lessons to be learned from the last time we went through this, now," Mozeliak told KMOX at the end of his segment. "And can we incorporate some of that to make better decisions? I think that's what we have to do. There is a lot of anxiety on what's going to happen next, what to expect — so we're trying to be as transparent as possible internally just to keep things going. Everything I've shared with you is all I've been able to share with players at this point.
"It's a matter of trying to understand when we have confidence to regather as a group – will we feel safe?"