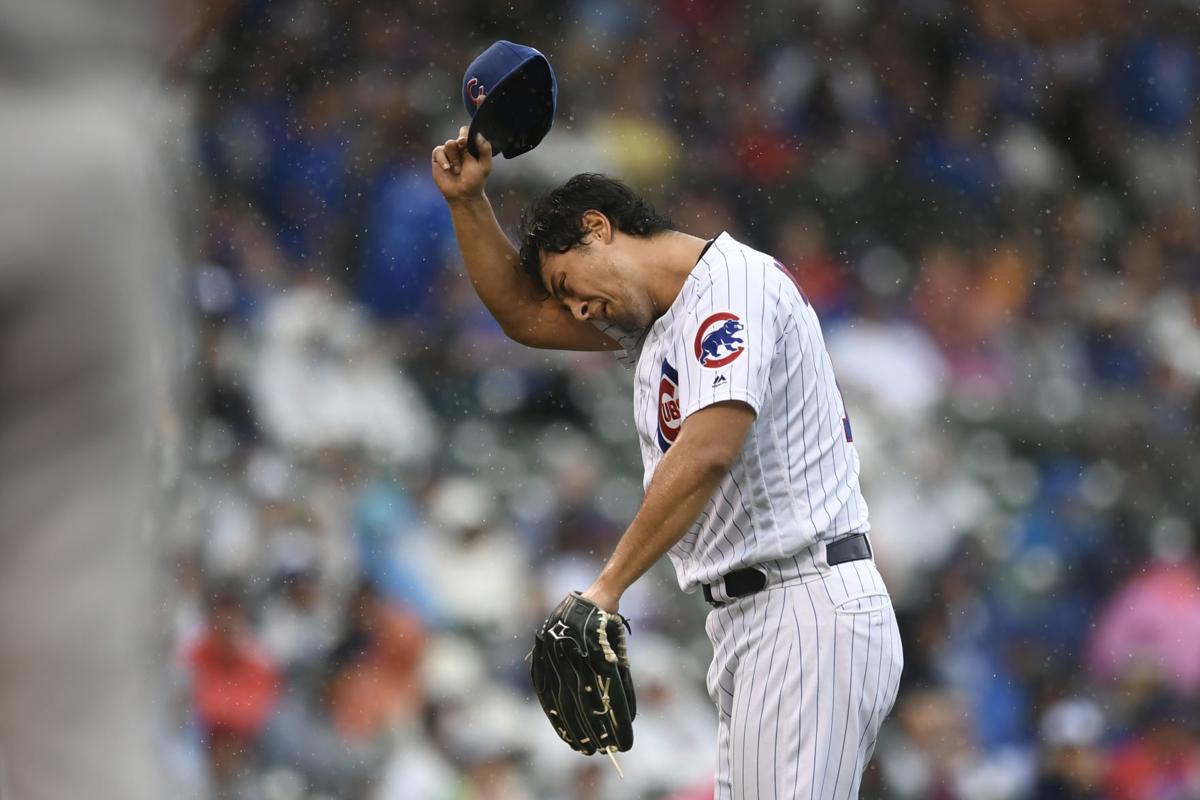 In what has been a whirlwind winter in some corners of Major League Baseball, the Windy City has added a Hall of Fame manager, a needlepoint outfielder, a pitcher with Cardinals ties who has been one of the steadiest starters in the majors, and, already this week, a $54-million closer for the bullpen.
While Wrigley Field has been leaking, the Chicago White Sox have asserted themselves as not just a favorite to win their division, but the most exciting and quite possibly best team in the region.
The NL Central has hit the snooze.
In a series of unrelated moves that clearly have completely related motivates, three different NL Central teams made trades that help fortify pitching staffs in Southern California. Out of the division went a closer with back-to-back 30-save seasons for a losing team, an All-Star reliever who had a sub-2.00 ERA season, and a finalist for this year's NL Cy Young Award. Respectively: The Reds shipped Raisel Iglesias to the Angels, the Brewers traded Corey Knebel to the Dodgers, and the Cubs dropped salary by offering Yu Darvish to San Diego.
By trade, by non-tender, and by free agency, there is a talent drain in the division the Cardinals call home. Many teams in the fly-over Central race are making moves not to claim the division crown but for the bottom line, trimming costs and repositioning their rosters due to reduced revenue and the ongoing uncertainty of a global pandemic. 
With a month to go before the scheduled start of spring training, an audit of the transactions made by the five teams in the NL Central show how many moves they've made to go nowhere in the standings. The Cubs have a frenetic list of transactions that included at least 30 different players involved, ranging from adding former Cardinals like Max Schrock (waivers) and Robert Stock (waivers) to subtracting former Cardinals like Daniel Descalso (free agent) and Jose Martinez (non-tender).
And the Cubs may not be done, as Craig Mish of Sports Grid reports the Marlins have pursued a trade for Willson Contreras, and on Friday the Cubs will exchange salary figures with arbitration-eligible Kris Bryant. Those numbers will give definition, not just informed speculation, to what Bryant will make for a full season in 2021, potentially his last at Wrigley.
If it feels like the Cardinals have made fewer transactions than their divisions rivals, that's the case. They've had the notable free agents leave and remain unsigned (Yadier Molina, Adam Wainwright, and Kolten Wong), and the headline non-tender (John Brebbia). They have added a few free agents with non-roster invites to spring (notably Jose Rondon).
They are the only one of the five without a trade.
But how to measure these moves – not just list them?
To illustrate the movement within the division – and the number of subtractions each team has made from its roster – I've collected a near-complete list of transactions and included them below. (I did not include all of the minor-league moves.) From all of those transactions it's possible to see how much Wins Above Replacement teams have divested from their rosters already this winter. I used FanGraphs.com's fWAR and since 2020 was such a shortened season, I sorted players by their total fWAR from 2019-20. Looking only at the players who contributed a positive fWAR, here is how much the NL Central teams have lost via their moves (leader):
1. Cubs – 19.5 fWAR (Yu Darvish, 5.6)
2. Cardinals – 12.0 fWAR (Kolten Wong, 5.0)
3. Reds – 8.8 fWAR (Trevor Bauer, 3.1)
4. Brewers – 3.5 fWAR (Ryan Braun, 2.1)
Pirates – 3.5 fWAR (Josh Bell, 2.1)
The Cardinals, of course, can reclaim some of that by re-signing any of their free agents, such as Molina (1.7) and Wainwright (3.2).
It's a quick snapshot look at the chill in the NL Central this winter, especially when you consider that there hasn't been an addition close to any one of this individual, high-fWAR subtractions. That's what stands out. Take a look for yourself. Scan the additions for the player that could tilt the division. Three of the Cubs' top four pitchers from 2019-20 have been removed via free agency or trade from their roster.
Like their rivals, the Cardinals have added depth, but the division is still waiting for that impact move, that addition to a team, any team that shudders the standings, that makes other rivals take note for who is coming in, not all this going out.
A quick read of the transactions, and likely gone from the division are the two pitchers who received the most Cy Young Award votes in the NL. You'll see how the Reds traded for Archie Bradley and Brian Goodwin during the 2020 season to buoy a playoff run, and have since set them free to backpedal financially. Clay Holmes is both a subtraction and an addition for the Pirates because he became a free agent – and re-signed. A loss for the Cardinals (Schrock, waivers) is a add for the Cubs (Schrock, waivers).
First the legend for the shorthand, and then the lists:
fa – Free Agent
nt – Non-Tender, some are listed as fa.
w – Waivers
rel – Released
trade – 'Nuff Said
CARDINALS
ADDED: C Tyler Heineman (fa); INF Jose Rondon (fa); P Garrett Williams (r5); 2B Max Moroff (fa).
SUBTRACTED: 2B Max Schrock (w); 2B Kolten Wong (fa); P Adam Wainwright (fa); INF Brad Miller (fa); C Yadier Moina (fa); P John Brebbia (nt); INF Rangel Ravelo (nt); C Matt Wieters (fa).
CUBS
ADDED: 2B Max Schrock (w); INF Patrick Wisdom (fa); P Robert Stock (w); P Zach Davis (trade); P Gary Fenter (w); P James Bourque (fa); P Trevor Kelley (fa); OF Nick Martini (fa); OF Ismael Mena (trade); SS Yeison Santana (trade); SS Reginal Precadio (trade); OF Owen Cassie (trade); P Matt Dermody (fa); OF Phillip Ervin (w); P Jonathan Holder (fa); INF Matt Duffy (fa).
SUBTRACTED: P Yu Darvish (trade); C Victor Caratini (trade); P Jon Lester (fa); P Andrew Chafin (fa); OF Billy Hamilton (fa); C Josh Phegley (fa); P Jose Quintana (fa); INF Jason Kipnis (fa); P Tyler Chatwood (fa); P Jeremy Jeffress (fa); OF Cameron Maybin (fa); INF Daniel Descalso (fa); SS Ronny Simon (trade); P Ryan Tepera (nt); OF Albert Almora Jr. (nt); OF Jose Martinez (nt); OF Kyle Schwarber (nt); P Colin Rea (rel).
BREWERS
ADDED: P Luis Perdomo (fa); INF Pablo Reyes (fa); INF Tim Lopes (w); P Hoby Milner (fa); OF Dylan Cozens (fa); OF Dustin Peterson (fa); P Leo Crawford (trade); C Luke Maile (fa); 1B Zach Green (fa).
SUBTRACTED: OF Ryan Braun (fa); P Corey Knebel (trade); INF Jedd Gyorko (fa); INF Eric Sogard (fa); INF Jace Pederson (fa); OF Ben Gamel (fa); P Alex Claudio (fa).
REDS
ADDED: OF Scott Heineman (trade); P Bo Takashi (fa); P Josh Osich (fa); P Matt Ball (fa); C Delvy Grullon (w); P Edgar Ernesto Garcia (fa); 1B Wilson Garcia (fa); P Brandon Bailey (trade); P Fredy Medina (trade); P Case Williams (fa); P Jeff Hoffman (trade); P Noe Ramirez (trade); INF Cheslor Cuthbert (fa); OF Dwight Smith (fa); SS Leonardo Rivas (trade); P Jesse Biddle (fa); P R.J. Alaniz (fa); INF Robbie Tenerowicz (fa); P Art Warren (trade).
SUBTRACTED: P Trevor Bauer (fa); P Raisel Iglesias (trade); P Archie Bradley (fa); P Robert Stephenson (trade); INF Freddy Galvis (fa); INF Robel Garcia (w); P Anthony DeSclafani (fa); C Curt Casali (fa); OF Brian Goodwin (fa); P R.J. Alaniz (fa); INF Kyle Farmer (fa); INF Jose Acosta (trade); OF Jameson Hannah (trade); P Tyler Thornburg (fa).
PIRATES
ADDED: C Michael Perez (w); P Ashton Goudeau (w); P Clay Holmes (fa); P Luis Oviedo (trade); P Eddy Yean (trade); P Wil Crowe (trade); OF Toby Stokes Jr. (w); P Chase De Jong (fa).