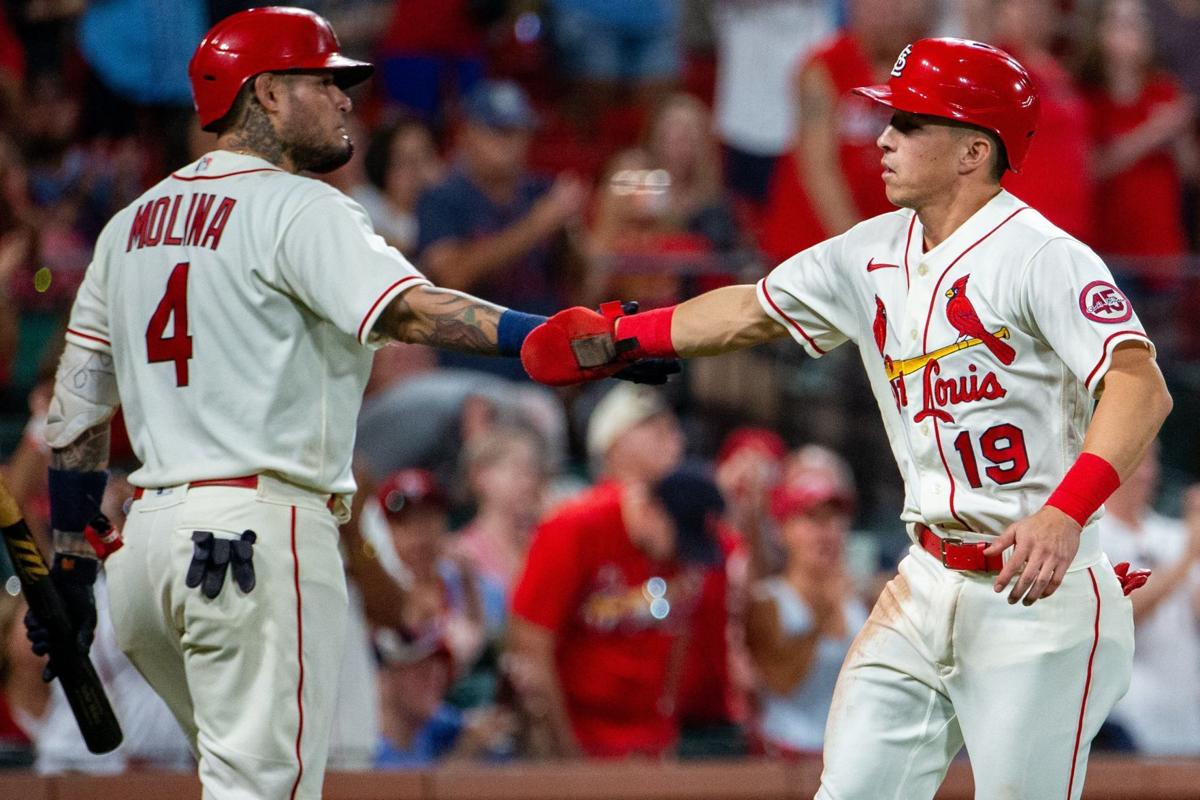 CINCINNATI — There is a footrace developing as the season's final month arrives that does not have anything to do with the wild-card, has a Cardinal right in the thick of it, and really features only one prominent contender from the National League Central within a stride of the lead.
A real run for the title is afoot — that stolen base title.
Cardinals leadoff hitter Tommy Edman was honored Monday with the National League Player of the Week following his performance over the weekend at Pittsburgh. Edman went 12-for-26 (.462) in the past week with seven runs, two homers, and 10 RBIs from the leadoff spot. With a strong 15-game stretch of production since he returned to the leadoff spot, Edman has had more times on base.
That also means more opportunity to steal them.
With two in the past week, Edman has 21 for the season. That's more than twice as many as the next player in the division (teammate Paul Goldschmidt, 10), and it has Edman closing on the league leaders. Two players, San Diego's Fernando Tatis Jr. and Dodgers' Trea Turner, have more than Edman with 24 and 26, respectively.
Edman, on the field Monday to talk about his award, said he would welcome the chase to lead the league in steals. 
The week that won the word is a continuation of what Edman started when he moved back to the leadoff spot a little more than two weeks ago. In the past 15 games, all of them at leadoff, Edman has hit .379/.425/.576 for an even 1.000 OPS. He has 25 hits in those 15 games and as many walks (five) as strikeouts (five) to go with 16 runs scored. 
Some quick notes from the pregame press availability:
• The Cardinals will shift the ninth inning to a matchup-oriented role instead of scripting leads to find Alex Reyes there for the save. The mix to hold a lead will now include Gio Gallegos, Genesis Cabrera, and possibly Luis Garcia, who served as closer for the Yankees' Class AAA affiliate this season.
• The second opinion Jack Flaherty received on his right shoulder echoed the initial diagnosis, manager Mike Shildt said, using that word "echoed." Flaherty will continue to rest the arm and, when he feels comfortable, go through some tests that will reveal when he can resume throwing. He is still in the rest period, though there has not been a minimum days assigned. 
He may join the team Milwaukee later this week to see about advancing in his recovery.
And here are the lineups for Game 1 in Cincy.
Check back later this evening for more updates from GABP and Cincinnati here on StlToday.com and of course there will be the usual, expanded coverage in the pages of the Post-Dispatch.