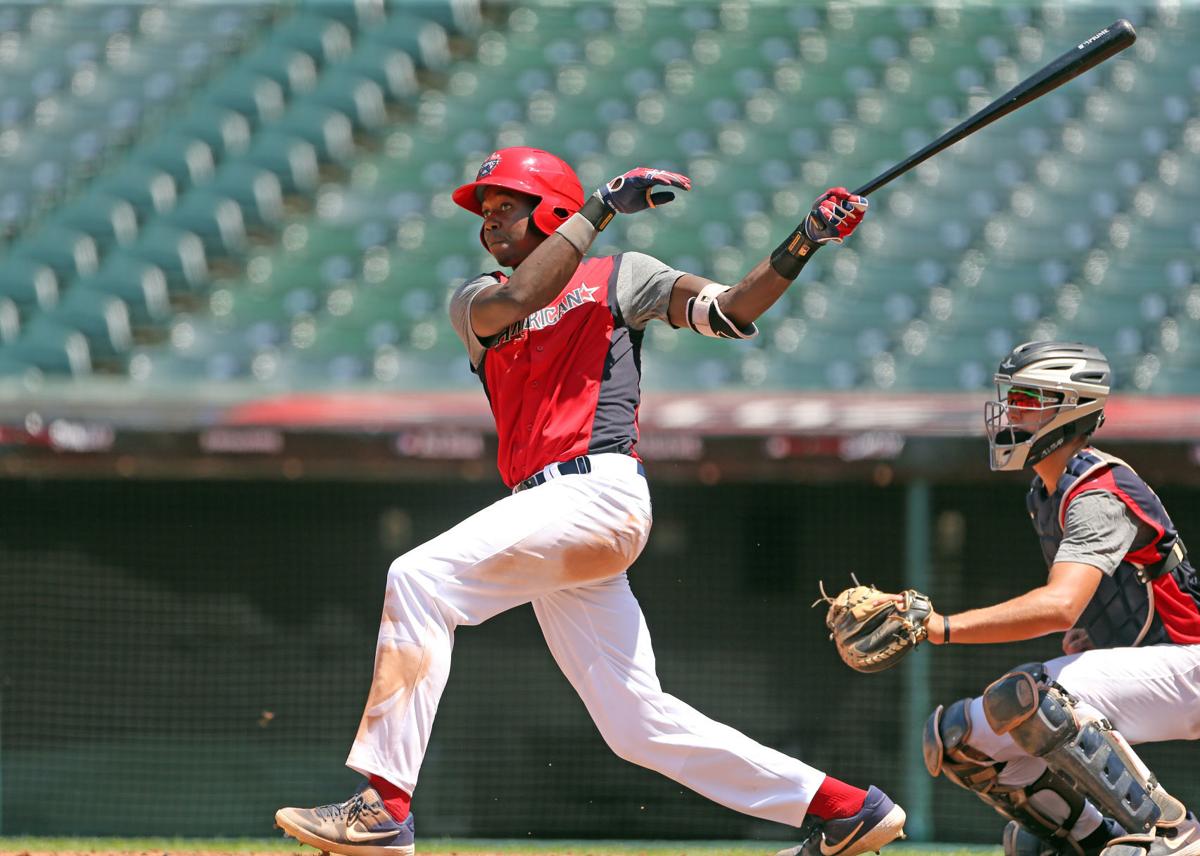 The pitch was up and in and still Jordan Walker got around on it to put it up and out.
As minor league baseball made its return – its welcome, long-delayed, and new-look return – on Tuesday, the Cardinals and other clubs got a chance to debut their 2020 draft picks. Hard to imagine any of them did more with the first pitch of their pro career than Walker.
The 18-year-old third baseman came up third, right after fellow 2020 draft pick Masyn Winn. The bases were empty, and the Reds' second-round pick, righthander Christian Roa, was about to throw his first perfect pro inning. He had struck out the first two batters he faced. His first pitch to Walker looped high into the zone, toward the inside on the righthanded-hitting Walker. At Roger Dean Stadium – a ballpark notorious for suppressing power – Walker pulled the first pitch of his pro career over the wall for a home run.
Welcome back back back, minor-league ball.
Walker, the 21st overall pick in this past summer's draft, finished the game two-for-four with that RBI.
The Low-A Palm Beach Cardinals rallied in the ninth (details below) for a 4-3 victory in their opener win. That was the Cardinals' organizations only victory as minors open. Class AAA Memphis could not hold two leads and lost, 7-5. And Twins' affiliates shut out the Cardinals' Class AA and High-A teams in their openers. That included a 2-0 loss by Class AA Springfield in the first game played by the Wichita Wind Surge. That affiliate used to be the New Orleans Zephyrs – "wind surge," get it? – and that used to be the Denver Zephyrs, and they used to be the Denver Bears … Of course those were Class AAA clubs. It's going to take some time to get used to the new setup in some places.
Relative to all the other shuffling in the minors, the Cardinals were rather static.
Here are some snapshots from opening day down on their farm:
Class AAA: Durham 7, Redbirds 5
In a spring training when chances to surprise were few and most innings were earmarked to prepare specific pitchers, Tommy Parsons forced the Cardinals to give him more opportunities. He began the spring as the rollover reliever – the arm that would come into innings when the starter exhausted his pitches for that one inning, but would (by new rule) return for a second. Parsons escaped those innings a few times by throwing strikes, and quickly he was getting assigned appearances later in games, clean innings, multiple looks, and doing well.
The undrafted free agent made his 2021 debut as Memphis' opening day starter and pitched 4 2/3 innings. He struck out seven and allowed four runs on four hits and a walk.
Two of the runs came on two solo homers.
The Redbirds had a 4-0 lead erased by the runs allowed, and they could not hold two different leads in the game.
Max Moroff, an infielder who also impressed during spring and was one of the final cuts of spring training, started at third and batted second for the Redbirds. His home run snapped the 4-4 tie and gave Memphis the lead it would later misplace. Moroff finished 3-for-3 with a walk and three runs scored. Moroff's homer came off Durham starter Chris Ellis, a former Cardinals' draft pick who was released a year ago during the pandemic.
Some other performances of note: Lane Thomas started in right field and had a double and a triple to finish the opener 2-for-5 with two runs and a three strikeouts. He threw out a runner at third base. … Austin Dean, just back at Triple-A after this week's roster moves, went zero-for-four with an RBI as Memphis' DH. … Connor Jones took the blown save after allowing five hits and two runs. … A member of taxi squad in Pittsburgh, Jose Rondon started at shortstop and went zero-for-five with three strikeouts from the leadoff spot. … A reliever to watch, righthander Jesus Cruz, had three strikeouts and pitched 1 2/3 innings to steady the Redbirds.
Class AA: Wichita Wind Surge 2, Springfield 0
Three of the Cardinals' first overall picks in the draft since 2015 are sharing the same lineup in Springfield, Mo.
Delvin Perez (first round 2016), off his impressive spring training, made his Class AA debut at shortstop and leadoff. He had two hits and two strikeouts. Nolan Gorman (first round 2018), the Cardinals' top position player prospect and one of the top power prospects in all of the minors, batted third and played third for the S-Cards. He went zero-for-four with two strikeouts in his Class AA debut, but he also had a snazzy backhanded play at third base. He has made strides a that position so that scouts believe that he'll be able to stay there as he advances.
If the Cardinals need him to stay there.
Nick Plummer (first round 2015) started in left and batted seventh, going two-for-three with a strikeout. The Cardinals have been encouraged by the Plummer's strides in the past three months. Drafted out of Michigan from a high school league that starter with a 1-1 count, Plummer had some catching up to do with his peers when it came to game experience. That was slowed by a hand injury that delayed at-bats, seasons, cost him that experience. He was one of the players who spent time in the Cardinals' new hitting lab at Jupiter, Fla., during January and February, and that work as well as the time he's already spent in the minors led to the Cardinals starting him at Class AA.
Some other performances of note: Lefty Domingo Robles got the opening start for the S-Cards. The 23-year-old pitched five scoreless innings and struck out five while allowing only three walks. He threw 72 pitches – a strong outing this early in the season – and had 46 strikes. … Catcher Ivan Herrera, the top prospect at his position in the Cardinals' organization, hit No. 5 and went one-for-four. He was caught for an out on base twice. … The S-Cards struck out 14 times.
High A: Cedar Rapids Kernels 7, Peoria Chiefs 0
The highest debut of the Cardinals' most recent draft picks, Mizzou alum Ian Bedell was the opening starter for Peoria as it made a first appearance at a higher classification. The restraints on pro ball found him in the first inning.
The Cardinals have a hard cap on pitch counts in innings for many pitching prospects to avoid what they call "stress" innings and the possibility of injury. That is especially true as they deal with pitchers who had such limited workloads – if any at all – during the 2020 season. Bedell pitched some, briefly for the Tigers before that season ended, and he's got ample college experience and track record for shouldering innings. Still, as his debut neared 40 pitches in the first inning, he was replaced. Bedell retired two batters, threw 36 pitches (20 strikes) and allowed three runs on four hits.
Both of his outs came on strikeouts.
Some other performances of note: Outfielder Jhon Torres, who is expected to be assert himself as a rising prospect this season, started in right and went zero-for-three with a walk and no strikeouts from the leadoff spot. The 21-year-old outfielder is going to get a lot of at-bats and a lot of playing time to see if he's ready to advance by midseason. Torres was acquired from Cleveland in the Oscar Mercado trade, and he's drawn some interest from other teams in trade talks. … Catcher Pedro Pages, 22, hit third for the Chiefs and went one-for-three with a walk. … It seems like Malcom Nunez has been part of the Cardinals' collection at the hot corner for years, dating back to when he won a Triple Crown at the Dominican Summer League. He's only 20. And he's advanced to High-A this season where he started at third for the Chiefs on Tuesday and went one-for-three with a walk.
Low A: Palm Beach Cardinals 4, Daytona Tortugas 3
Palm Beach, the Cardinals' former High-A club that has been reclassified in the reorganized minors, rallied for two runs in the ninth to take the walk-off win.
Catcher Carlos Soto started the ninth with a single and L.J. Jones followed with a single to get the rally in motion. Jones was the Cardinals' fifth-round pick out of Long Beach State in the 2020 draft. The 21-year-old started in right field and batted fifth for the PB-Cards. He projects for a blend of power and speed from the outfield, and could see a couple different levels this season as he gets traction in pro ball. He scored winning, walk-off run when Terry Fuller hit a ball to center that got past the outfielder for an error.
Some other performances of note: Nick Trogrlic-Iverson, a Gonzaga alum, was signed as a free agent after the 2020 draft in the wide-open race for talent that followed the shortened rounds. He made his pro debut with five scoreless innings. The 23-year-old righthander struck out five and he threw 60 pitches for the PB-Cards. … Winn went zero-for-four with three strikeouts. … Fuller, the football recruit with the big raw power, started at DH for the Class A clubs and went zero-for-four with two strikeouts – though he had the ball in play that won the game.