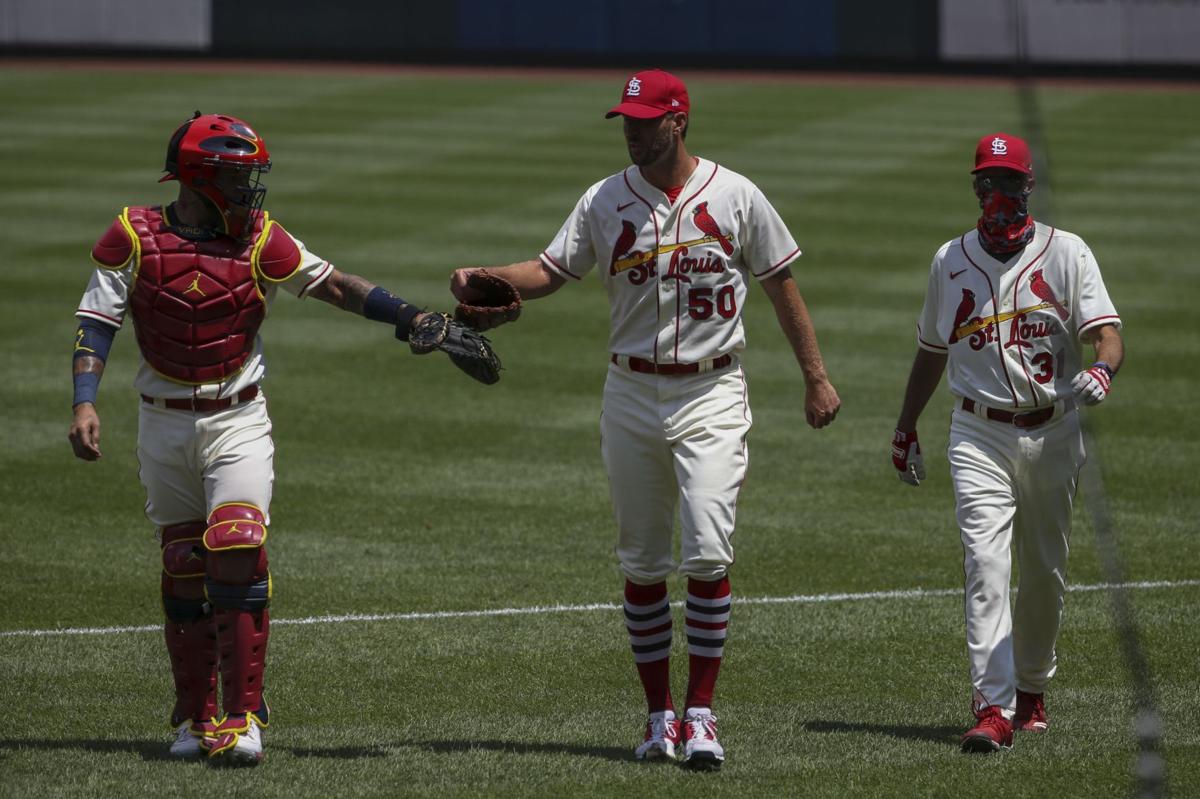 A crowd of nearly 15,000 is expected at Busch Stadium to see something they haven't person for more than 18 months, and also something they've come to see as a constant, year after year for more than a decade.
Adam Wainwright will start and Yadier Molina will catch.
And there's no reason the Cardinals said Thursday this is the last time.
"I wouldn't bet against them coming back at this point," said John Mozeliak, president of baseball operations.
He did not smile when asked if extension talks have begun.
Fresh of a game-breaking home run in Miami, Molina is participating in his 17th Cardinals home opener, one more than the current ballpark has hosted. Wainwright will be making his sixth home opener start, and Rick Hummel's research has that tying Bob Gibson for the most in club history.
A late rewrite of the lineup brought the news that Paul Goldschmidt will miss the home opener due to lower back tightness. The extent of the soreness was not clarified by the team.
Matt Carpenter will start at first base.
That moves Tommy Edman to right field, where he was the only right fielder to have a hit on the road trip until Justin Williams' single in his final at-bat Wednesday. The right field position was, at one point, one-for-19 with 10 strikeouts, and the position went hitless in the season-opening series at Cincinnati. 
Mozeliak said it was too early for there to be too much concern about the lack of output from the position, or the outfield as a whole.
While there will be ovations galore during the pregame festivities, the first ovation of the game may belong to a visitor, and not the newcomer Nolan Arenado. Kolten Wong, Brewers infielder and longtime Cardinal who won two Gold Gloves for the club, is Milwaukee's leadoff hitter. He got a text message this past week from Wainwright telling him to look for a first-pitch curve.
He does not expect a first-pitch curve to open the game, Wong said.
Shildt said his players are eager to have their fans back in the ballpark after going the entirety of the 2020 season without ticket-buying fans in the seats. Fans have not been permitted to attend a game at Busch since the 2019 National League Championship Series against Washington.
"What is going to be a bright day," Shildt said. "Definitely figuratively. Hopefully literally."
Some additional notes from pregame at Busch:
• The Johnson & Johnson vaccine was made available to players during their intake process for the alternate-site camp. They were able to receive the vaccine this past Saturday, and that camp is now in full swing. On Wednesday, Zack Thompson and Matthew Liberatore had outings against hitters.
• Kwang Hyun Kim will throw a second sim game, this time in St. Louis. It's possible within 10 days the Cardinals will have to make a roster move to add him to the rotation if he recovers well from the sim game, and they would be looking at bringing him into the mix during the upcoming road trip.
5. Jackie Bradley Jr., RF