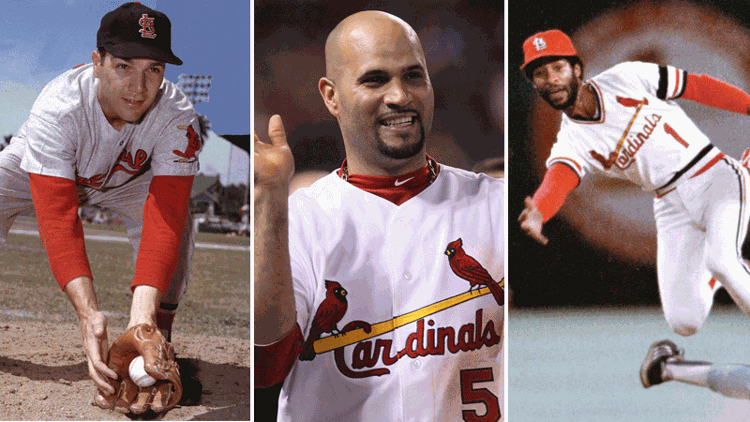 Any excavation, archaeological or anecdotal, into the rich layers of highlights from Cardinals history will quickly reveal a conundrum: The greatest individual seasons had by a Cardinal – truly some of the greatest ever had in baseball – rarely result in a championship finish for the Cardinals.
In 1948, Stan Musial had one of the most-dominant individual summers by a hitter, coming one home run shy of the Triple Crown and leading the National League in every significant offensive category, from OPS (1.152) to triples (18). Those Swifties won 38 of their final 62 games and yet finished 6 ½ games behind Billy Southworth's Braves for the pennant.
In 1968, Bob Gibson rewrote the rules with a 1.12 ERA – and this past week, in a poll of 23,000 fans at MLB.com, that edged Babe Ruth's 1923 summer as the "greatest season of all-time." The Cardinals have a pennant from that summer, but Detroit has the trophy.
Rogers Hornsby had his two Triple Crown seasons before he and the Cardinals had their first World Series championship, and Joe Medwick's Triple Crown year in 1937 came for a fourth-place Cardinals team. Albert Pujols won three MVPs in the span of five years, but never for a team that got past the NLCS.
In 1934, Dizzy Dean did have a great year with the greatest ending.
And that's where your challenge begins.
Since joining the National League in 1892, the Cardinals have won 11 World Series championships – more than any other NL club – and that means it's possible to put together an all-time lineup of Cardinals champions: eight position players, one starter, one reliever, and the closer. Here's the twist. Every championship team (1926, 1931, 1934, 1942, 1944, 1946, 1964, 1967, 1982, 2006, and 2011) must be represented once and only once – and every spot on the lineup must be covered. If Pujols 2006 is the first baseman that means Ripper Collins 1934 or Jim Bottomley 1926 isn't. If 1931 NL MVP Frankie Frisch is the second baseman after leading the league in steals that season, then there's no room for the first Cardinals' great, player-manager Hornsby.
If 1982 Bruce Sutter, with his NL-best 37 saves, is the closer, then what about Ozzie Smith from that same team. So then does Marty Marion become the shortstop to represent 1942 – ahead of teammates Musial, Mort Cooper, and Enos Slaughter?
It's possible to lean on postseason performances for a solution. David Freese 2011 takes over at third, while Pepper Martin 1931 and his .500 average in the World Series seizes center. Gibson and his 7-2 record in the World Series and dominance in 1967 is the obvious starter, but then comes the cascade of complications. If Slaughter dashes his way into the lineup to represent the 1946 Cardinals and Medwick's .952 OPS in 1934 gives him the other corner outfield spot, does The Man crack the lineup? In four World Series, Musial hit .256 and slugged .395. He was routinely circumnavigated, left with more walks (12) than extra-base hits (nine).
Go this route and the solution might mean no Musial, but hey, Max Lanier's four innings and key win reps the 1942 team as the reliever. Trust me.
To crack this puzzle we've created for you, dear reader, I leaned heavy on regular-season performance. I started by turning a modern microscope on historic performances. Using Baseball-Reference.com, I looked up the greatest individual Cardinals' seasons for pitchers and position players by Wins Above Replacement (WAR). Not one of the top 10 seasons by a hitter corresponded with a championship season, and only three of the top 44 did. Musial had two (1944 and 1946). Only one of the top 10 for pitchers also had a championship. That's Dean's 1934 season. Dean had a 9.5 WAR overall – one of the highest ever by a Cardinals pitcher and still out of reach of Gibson's 11.9 WAR in 1968.
From there, I listed the top three-WAR leaders for all 11 World Series championship clubs, from Chick Hafey in 1931 (4.5 WAR) to Chris Carpenter in 2006 (4.9 WAR) to Lance Berkman in 2011 (3.8) and Whitey Kurowski in 1946 (5.0).
Using this as my compass, I pieced together an 11-champ lineup with no overlaps, every year represented, everyone true to a position they played a lot that year, and a top-three WAR leader from nine of the 11 title teams.
The remaining two provided the relievers.
You're welcome to try.
This is my all-time, all-title Cardinals lineup.
Gibson won't be happy.