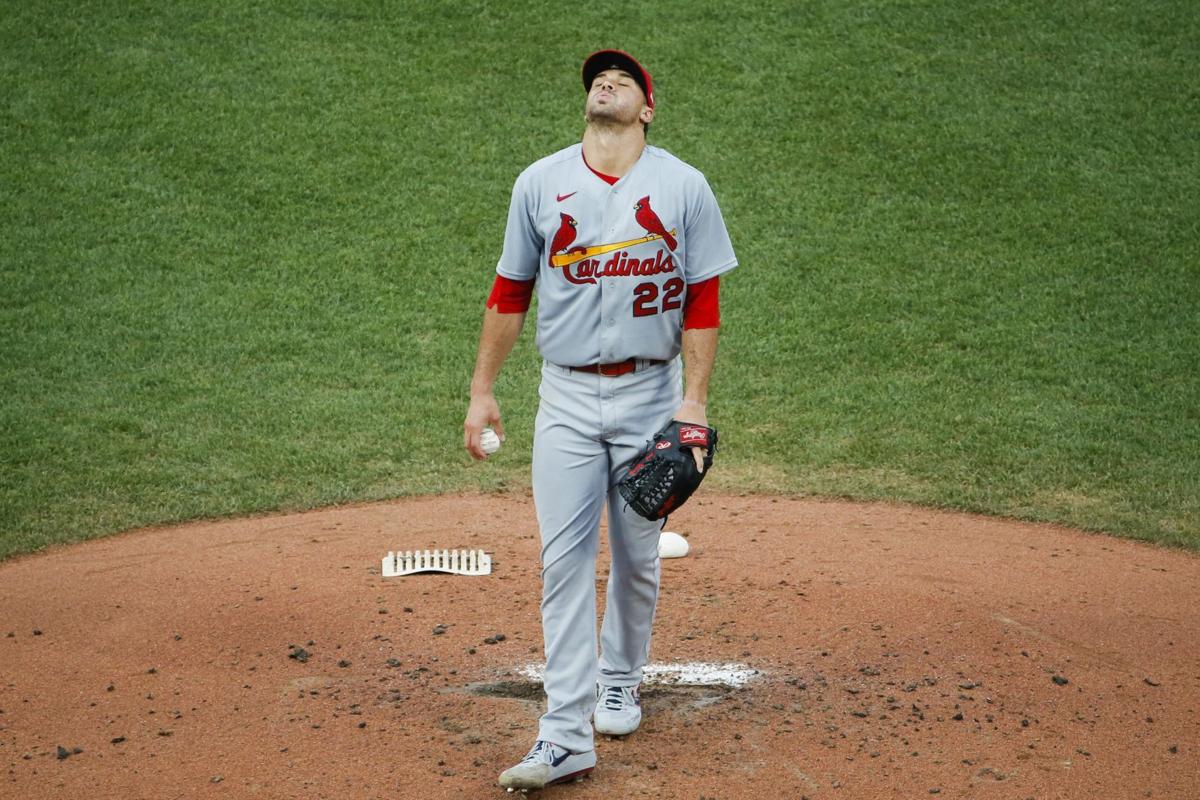 When the Cardinals left the arbitration hearing with their young, vital starter, victorious in arguing eye to eye all the reasons Michael Wacha should make less money, they recognized what they risked losing.
"There's a history where it can be contentious," John Mozeliak, president of baseball operations said at the time, "where it has an adverse effect on relationships."
Now they face that same possibility.
Opening day starter Jack Flaherty's arbitration hearing with the club was Friday morning, a source confirmed. And during the video conference he was set to hear all the reasons the Cardinals believe he should make less than most of the other first-time eligible starting pitchers. Not necessarily because they believe it, but because that's the system, one that pits teams as adversaries against their young stars.
Flaherty's first arbitration hearing of his career is really Round 3 for the  righthander – against that system.
In each of the past two years, the assertive starter has refused the Cardinals' one-year salary offer and forced them to renew his contract, once at a financial penalty. Flaherty made clear each time that his issue wasn't with the Cardinals but with a structure that suppressed salaries for young players. Flaherty, who has been outspoken about the process and his view of his worth, said he wanted, on the record, that he disputed the team's view of his salary. That way it wasn't used against him later, as in arbitration hearings like those going on now.
The difference between the previous two years and this month is when Flaherty hears the pointed details on why he should make less, Major League Baseball will have had strong influence on that argument, but it won't be the system talking. It gets to sit ringside.
Those statistical jabs and pointed words will come from the Cardinals.
How they land and how long they echo could shape a relationship between the club and a young pitcher the Cardinals see as a Cy Young Award contender, an ascending ace, and part of their core. And it's all because of a difference of less than $900,000 just days after the Cardinals signed a starter for $8 million, paid $12.75 million for Dexter Fowler to join the Angels, and took on more than $150 million of an All-Star's salary.
"They go in there saying nothing's personal," Wacha said in 2017 after losing his arbitration case to the Cardinals. "But they say some stuff, for sure."
Wacha's hearing was the Cardinals' first since 1999, and Mozeliak, who did not attend Wacha's hearing, said his instruction was to keep the case "ultimately positive."
Whether it ultimately is depends on the player's perception.
The arbitration process, as negotiated by owners and the players' union for the Collective Bargaining Agreement, is geared to elevating player salaries as they work toward free agency but not allow them to achieve an open-market auction until they have six years of service time. The CBA agreed to by the union and MLB rewards older players at a time when teams are getting more production from cost-controlled young players.  
Most players who have fewer than three years of service time have no leverage and can have their salary imposed on them by the team. The Cardinals use a formula to set these salaries, one that in the past was based on publicly available advanced metrics, such as Wins Above Replacement. After three years of service time, players become eligible for arbitration and for the first time have a footing in negotiations.
The potential for arbitration usually moves teams toward an agreement with their player, even spurring talks on a multi-year deal as the Cardinals did with Adam Wainwright, Carlos Martinez, and, famously, Albert Pujols minutes before his arbitration hearing.
The Cardinals and Flaherty's agent negotiated up to and beyond the deadline, and they have had conversations in recent weeks. The Cardinals have a "file/trial" approach – meaning if they swap numbers, they go to a hearing unless a multi-year agreement is possible. The Cardinals and Flaherty's side got within $300,000 of each other before swapping salary figures. Those represent not where the talks reached, but where each side thinks it can argue.
The Cardinals offered $3 million.
Flaherty requested $3.9 million.
Without an agreement before the arbitration deadline, all eligible players and their team swap those salary figures to set the stage for a hearing. The arbiter will choose one of the two salaries. Negotiations can continue up until they enter the hearing room.
Or, this year, the hearing Zoom.
There are 13 players headed for hearings this year, down from 22 a year ago. Of those 13, four are first-time eligible pitchers. Two happen to be a couple of the game's brightest righthanded starters: Flaherty and the Dodgers' Walker Buehler.
At its core, arbitration is all about comparisons.
It's purpose however is to regulate salaries – because the comparative model means what one player gets will influence the others. The decision on Flaherty's arbitration or any of the others won't be public until all first-year pitchers are done so that it doesn't skew their hearings. This gives Major League Baseball interest and motivation in managing these salaries, and the system allows for that. MLB's labor relations department (LRD) shepherds teams through the arbitration process, providing statistics and molding their arguments and doing so with the knowledge of comparable players, and thus comparable salaries.
That's why so many salaries for similar players orbit the same figures.
In 2019, The Athletic reported about a replica championship belt that was presented after a meeting on arbitration for representatives from all MLB teams. The prize was given to the team that, as Marc Carig wrote, "did the most to keep salaries down in arbitration." Agents are critical of the system; one called it "broken." If teams want to stray from recommendations to sign arbitration-eligible players, to independently pay a player what he is worth to the team, the team must defend it to MLB, the gatekeeper.
This is the arena where Flaherty and the Cardinals find themselves.
Flaherty and his two high-school friends, Lucas Giolito and Max Fried, have all reached arbitration for the first time at the same time. Chicago White Sox starter Giolito agreed to a $4.15-million salary to avoid arbitration, and Fried signed with the Braves for $3.5 million to avoid arbitration. Both are coming off strong platform years – their most recent. Giolito, an All-Star already, went 4-3 with a 3.48 ERA in 12 starts. Fried, a Gold Glove-winner already, was 7-0 with a 2.25 ERA, and he finished fifth in voting for the NL Cy Young Award. They help set the guardrails for where Flaherty fits – and the arguments his hearing will include.
Other first-time arbitration pitchers to agree to deals before a hearing include Milwaukee's Brandon Woodruff ($3.275 million), Kansas City's Brad Keller ($3.35 million), and Colorado's Antonio Senzatela ($3 million).
That last salary might look familiar.
It also might be revealing. The Cardinals will argue that Flaherty deserves that same salary as Senzatela, while Flaherty's side will make the case that he's closer to Giolito. Looking at these numbers, it's possible the Cardinals made their offer and enter the hearing already knowing the strength of Flaherty's claim.
This year, due to the shortened 2020 season, the arbitration decisions are considered non-precedent setting. Unlike in past seasons, teams could stray from the these comparisons to pay a player, if the teams chose to do so.
Buehler submitted a salary of $4.15 million (right there with Giolito, see?) and the Dodgers countered with $3.3 million. Buehler is coming off a season when he went 2-0 with a 1.80 ERA in the playoffs, and LA won four of his five starts. He had a 3.44 ERA in eight regular season starts, and like Flaherty his limited starts in 2020 could work against him. Arbitration rewards innings and everyday, regular playing time in addition to the performance. Flaherty's schedule was upended however by the Cardinals COVID-19 outbreak, and four times he was game ready for a full-speed start and had that start rescheduled or delayed. He went 4-3 with a 4.91 ERA in nine starts.
Of this group, Flaherty has the highest-finish in Cy Young voting (fourth, 2019) and the third-most innings with 409, behind Giolito (489) and Senzatela (423). His career ERA of 3.37 through 76 games trails only Buehler's 3.15
The arbitration decision could hinge around the midpoint, at $3.45 million, and whether the arbiter believes Flaherty should be on the Fried side or Keller's.
The system that Major League Baseball has set up hems teams and players into their corners, directs the size of the ring they can move in, and coaches teams on the analytic uppercuts they should throw. When the two sides embrace for too long, they get separated. But the system leaves the bout and the bruising to the two sides that during the season are supposed to be on the same side, and often for years to come.