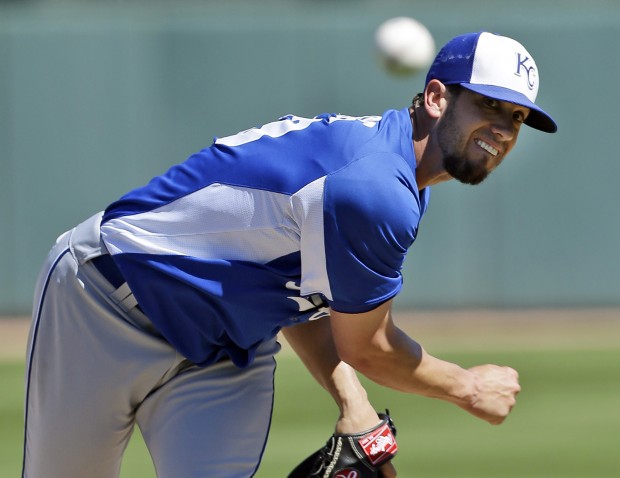 ST. LOUIS • As recently as late January, the Cardinals' conversations regarding free agent pitcher James Shields had been limited — real limited, it appears — to how little interest (if any) they had in pursuing him. Among the reasons for this was the contract Shields was said to be seeking and, according to one report, had already received. Another reason was the Cardinals believed they had a pitcher or two already on the staff who could be like Shields in 2015 — at a fraction of the cost.
The Cardinals have adopted a position on the periphery this winter, monitoring the bidding for several free-agent pitchers and not pursuing to its richer extremes (see: Scherzer, Max).
The word they use, as you know, is "opportunistic."
If the market pushed a player their way, they'd re-evaluate.
As spring training speeds into view and Shields remains unsigned, speculation around the industry is that his asking price has changed. The offer required to sign the cagey, reliable starter is said to have dropped.
One cost, however, has not.
Shields still comes with a hidden surcharge.
Remember Kyle Lohse? Shields is this year's Kyle Lohse.
Once Lohse's contract ended with the Cardinals and he declined their qualifying offer to become a free agent, Lohse loitered on the open market until after spring training had started in 2013. He signed on March 25, 2013, with the Milwaukee Brewers, scoring a solid three-year, $33-million deal. One of the reasons Lohse lasted on the market for so long wasn't because of his salary demands or the length of contract he coveted. It was the draft pick attached to him. The team that signed Lohse would likely lose its first-round pick, as Milwaukee did. That's obviously a talent cost because it's one less highly regarded amateur entering the system. But now there's also a price tag on that pick.
This is a subject that has been explored several times in this blog, but it's worth revisiting again because one cost of signing Shields isn't changing. He costs more than just a pick, even more than a first-round pick for a team that hasn't signed a qualified free agent this winter. That includes the Cardinals. They have been linked a few times to the righty this winter, most often in speculation, not reports.
Within the past few weeks I have been told by a few people the Cardinals are not a team with interest. Point blank. The Cardinals, however, don't comment publicly on rumors or reports at this time of year. It's worth noting that the draft pick cost wouldn't be the reason the Cardinals didn't pursue a pitcher like Shields who received a qualifying offer.
That said, this much is true and important: Signing Shields would take a big bite out of any team's draft bonus purse.
Under baseball's current Collective Bargaining Agreement, teams are assigned a limit that they can spend on their picks in the first 10 rounds. This limit is based on the bonuses assigned to the specific picks that team has.
The Cardinals had the 27th overall pick last season and the bonus assigned to that pick was $1,843,000. They had the 34th overall pick and its assigned "slot" was $1,645,000. They had 10 more picks in the first 10 rounds, and each had an assigned bonus of less than $1 million, and the bonus slot dropped with each passing round.

Baseball adds those assigned bonuses together to arrive at the Cardinals' limit.

That was $7,087,200.
Now, teams don't have to spend the assigned slot on each draft pick. They can maneuver and manipulate their purse however they want. That's part of the strategy. The Cardinals went way over slot for their 34th overall pick, pitcher Jack Flaherty. They didn't sign their third-round pick, so they fell shy of their limit for the first time in three seasons. In the two previous drafts the Cardinals spent more than their limit and paid a tax as a result.
Financial flexibility under the cap is valuable.
Bonus pool cash is valuable.
Signing Shields costs a lot of that.
As of today, the Cardinals have the 24th overall pick in the 2015 draft. Last year, the 24th overall pick had an assigned bonus of $1,925,500. The Cardinals also have the 39th overall pick, the 66th pick, the 99th pick, and the 103rd pick in the upcoming draft. That group has a total assigned bonus of $3,356,400 based on last year's slot values. (Those numbers are going to go up for 2015, but this is an instructive way to illustrate the cost of losing a pick.) The Cardinals will have 12 picks in the first 10 rounds of the 2015 draft. At last year's bonus slots, according to Baseball America, that would give them a bonus limit of $6,800,100.
By signing Shields, a team isn't just sacrificing its first-round pick — unless it's protected; the Cardinals' is not — it's losing that assigned bonus*, too.
* One way for baseball to change this chilling effect on free agents would be, in the next CBA, to have a conscious uncoupling of the pick and the pick's bonus. Watch teams flock to sign free agents if they lose the pick -- but not the pick's boost to their bonus pool. Flexibility is king.
By signing a Shields type, the Cardinals would lose the 24th pick.
Their bonus limit would lose that pick's $1,925,500 value.
That's a 28.3-percent hit on their spending pool in the draft.
In the 2012 draft, it would be the equivalent of not drafting Michael Wacha and also not having his bonus to select another player. It's a significant chomp.
All of this traces back to the gizmos used in the new CBA to rewrite the free-agent compensation rules. Instead of free agents being classified as Type A and Type B and so on, now all free agents are bunched into the same group. If a player spent the entire previous season with one team, that team can present him a qualifying offer before free agency. The value of that offer is set by the CBA — and it's the same for every player, pitcher or position player, reliever or slugger. A team must make this one-year qualifying offer to secure a draft pick as compensation. The team that signs the player loses its first-round pick (unless it's protected) and the assigned value of that pick.
Kansas City dutifully made Shields the one-year, $15.3-million qualifying offer.
Shields predictably turned it down.
This hidden cost is not unique to Shields nor to free agents like Lohse, Stephen Drew, and others chilled in recent winters by compensation rules. There's a hidden cost to Cuban sensation Yoan Moncada, too. The 19-year-old, switch-hitting phenom has been cleared for free agency, according to multiple reports this week. (Check this one from Yahoo! Sports.) Let the bidding begin. But unlike some of the other Cuban players to hit the open market in recent years, signing Moncada is not just about his salary. His contract would count against any team's international signing bonus limit. Texas and the Chicago Cubs are severely limited by what they can spend this year on international free agents because past spending overstepped their limits.
Several teams, like the Yankees and Arizona and Boston, have already flown by their international bonus limits for this spending period, and those teams may have the edge with Moncada because they're going to get penalized any way. What's one more whopper?
But here's the rub: They pay a 100-percent tax on his contract.
Every team would, to a point.
For the 2014-2015 signing season (July 2 to July 2), the Cardinals have a $1,866,300 spending limit on international bonuses. That is the smallest purse in the majors. The figure is assigned by Major League Baseball and based on winning percentage during the past season. Thus, Houston has the biggest purse and the Cardinals, Boston, and Atlanta have far less. Teams are allowed to trade international signing slots. In 2013, the Cardinals traded Mitchell Boggs to Colorado for part of the Rockies' signing purse — a spot worth $206,400. Say they did something similar now to inflate their purse to $2 million. That would still be only a nibble on Moncada's contract, and beyond it would incur that 100-percent tax.
Do the math. A team like the Yankees offers Moncada a $40-million deal and, in effect, will pay $80 million total because of the tax. A team with some of its purse left to spend offers Moncada the same $40-million deal and is looking at, oh, $75 million in total expense.
That team also would have limits on them during the 2015-16 signing season.
This is the slide rule teams have to use these days.
We all tend to focus on the salary figure that lights up in neon above the head of these players. But that's not the only cost that teams have to consider when pursuing a rare talent like Moncada or a proven starter like Shields. The value has to meet the total cost.
For Moncada, it's his age that adds to the price.
For Shields, it's that draft pick.
For teams, it's part of the calculus of any pursuit.