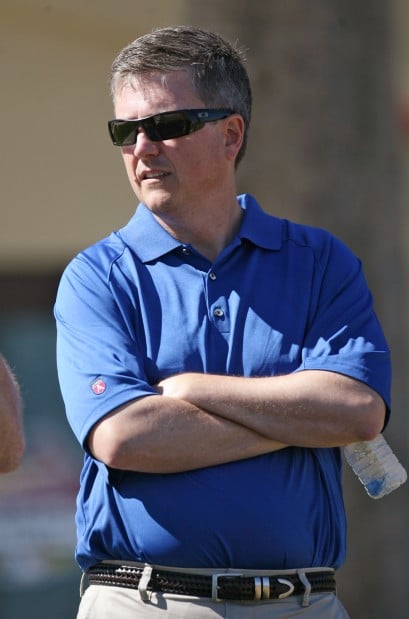 HOUSTON • On Monday morning at Citi Field as the clocked ticked toward the first pick of this year's draft, Cardinals manager Mike Matheny -- who has both a professional and personal interest in this week's selection -- did not mince words.
He said this is probably the biggest draft in Cardinals history.
It is also the first draft with Dan Kantrovitz at the helm.
The draft annually is a fantastic spark for conversation and debate and and, unfortunately, too much know-it-all bloviating. It has become a polarizing event around the Cardinals, from the field to the press box to the front office. Personalities have as much to do with that as the picks and prospects or approaches in play. From 2005 to 2011, the years Jeff Luhnow oversaw the draft, the Cardinals have had more drafted players reach the majors than any other team in the majors. This is a stat that the Cardinals will trumpet. It is not a stat that tells the whole story of the Cardinals draft. Quantity should not be a mask for quality.
The Cardinals, through the years, have developed a reputation in the industry for drafting safely and drafting predictable players. They are viewed as a high-percentage team, not a high-ceiling team.
In other words, they draft a players who will contribute at the major-league level. They draft few who have been stars.
The Cardinals are still on the lookout for their first impact, All-Star draft pick since Yadier Molina to remain in-house. Chris Perez was drafted, yes, but also traded before he went on to be an All-Star.
Luhnow, who is now the Houston Astros general manager, held court with the writers and microphones here in Houston on Tuesday evening to talk about the draft. He had the first pick in this year's draft and selected a 17-year-old shortstop from Puerto Rico. He said the team made "a baseball decision." It was also a plead-for-patience pick. The kid with high upside is several years away from the majors. The Astros are looking long term as they rebuild.
After his chat with the locals, Luhnow walked over toward the Cardinals dugout and greeted a parade of players he drafted.
The Cardinals starting pitcher that night was drafted by Luhnow. The teams starting right fielder and starting first baseman -- drafted by Luhnow. The left fielder was acquired by players drafted by Luhnow -- and then re-signed for $120 million as a free agent. The Cardinals used 17 players in Tuesday night's 9-8 loss to Houston.
Thirteen were drafted during the Luhnow Years.
The unpredictable nature of the draft, the rush to judge a draft class before it has a swing or makes a pitch in the pros, and Luhnow standing there greeting 23rd-round pick Matt Adams got me thinking. What if the draft played out predictably? What if the players taken in the first five rounds did emerge, on time, as major-leaguers, all spiffy and ready to take their spots and predicted?
If you took players selected in the first five rounds of the 2004-2011 drafts and built a Cardinals lineup solely from in-house options, this is what that lineup -- that Luhnow Lineup -- would look like today with the best available draft-only players, assuming health:
SP1 -- RHP Shelby Miller (1st, 2009)

SP2 -- RHP Lance Lynn (1st supp, 2008)

SP3 -- RHP Clayton Mortensen (1st supp, 2007)

SP4 -- RHP Adam Ottavino (1st, 2006)

SP5 -- RHP Joe Kelly (3rd, 2009)

-- sixth starter, RHP Tyrell Jenkins (1st supp, 2010) --

Closer -- RHP Chris Perez (1st supp, 2006)

Setup1 -- RHP Mitchell Boggs (5th, 2005)

Setup2 -- RHP Jordan Swagerty (3rd, 2010)

Lefty -- LHP Brad Furnish (2nd, 2006)
C -- Bryan Anderson (4th, 2005)

1B -- Brett Wallace (1st, 2008)

2B -- Kolten Wong (1st, 2012)

3B -- Daniel Descalso (3rd, 2007)

SS -- Tyler Greene (1st, 2005)

LF -- Daryl Jones (3rd, 2005)

CF -- Colby Rasmus (1st, 2005)

RF -- Jon Jay (2nd, 2006)

4OF -- Shane Robinson (5th, 2006)

INF -- Pete Kozma (1st, 2007)

UT -- Zack Cox (1st, 2010)

UT -- Jermaine Curtis (5th, 2008)

1B/OF -- Mark Hamilton (2nd supp, 2006)
Does that look like a contending squad or a rebuilding squad? It's a rather stark example of why the draft demands context and knee-jerk evaluations only feed the told-you-so crowd. It's easy to predict a draft class or a draft pick will fail. Most do. Congrats on diving that novel opinion.
This also is why, obviously, the draft is only part of the equation. There's a RF named Oscar Taveras who would be pressing into that list, save for he was signed as a free agent. Depending on who you ask, RHP Carlos Martinez would be in the rotation or in the bullpen with his lively arm -- or at least, like Jenkins, within view.
The above lineup is a good example of why a team like the Cardinals cannot thrive on the draft alone. And it shows how if they did -- why, what's going on now would happen more often. The roster would look thin, lack depth, and be prone to some fits of losing.
The struggling team now looks somewhat like that team would be.
There is more to a draft than the first five rounds.
If you were to organize all of the picks from the Luhnow Era and rank them by the Four Ps of prospects (remember those from Bird Land's past?) -- potential, proximity, position, and production -- then this is the lineup that would emerge:
SP1 -- RHP Shelby Miller

SP2 -- LHP Jaime Garcia (22nd, 2005)

SP3 -- RHP Lance Lynn

SP4 -- RHP Tyrell Jenkins (1st supp, 2010)

SP5 -- RHP P. J. Walters (11th, 2006)

Closer -- RHP Chris Perez

Setup -- RHP Luke Gregerson (28th, 2006)

Setup -- RHP Mitchell Boggs

Setup -- RHP Adam Reifer (11th, 2007)

Lefty -- LHP Sam Freeman (32nd, 2008)
C -- Tony Cruz (26th, 2007)

1B -- Matt Adams (23rd, 2009)

2B -- Kolten Wong (1st, 2011)

3B -- Matt Carpenter (13th, 2009)

LF -- Allen Craig (8th round, 2006)

CF -- Jon Jay*

* Think Colby Rasmus would be here? I offer you an entry from earlier this season here at Bird Land. Defense matters.

RF -- Colby Rasmus

Bench -- Would feature Daniel Descalso as the first backup glove for several positions, Tyler Greene much as he is used now, Shane Robinson in a similar role, and, heck, if they had signed either of them maybe Kyle Russell or Austin Wilson as a young player on the rise, power off the bench, who knows.
This, I think would agree, offers a different look for the Luhnow Lineup, perhaps one that has more potential. Certainly, to use Luhnow's lingo, it is one that is easier "to dream on." 
And even then it would need help.
A Wainwright here, a Holliday there, a Molina back there and that's what makes the above lineup a contender. Those are no small additions. And that speaks to the Cardinals situation with the draft. Complementary players abound. Impact is needed. Look again at that second lineup and the impact player in the group stands out.
He's come a long way from the eighth-round pick that some coaches didn't know what to do with because they couldn't find him a position. Drafted as a shortstop, he spent most of his minor-league career at third base before the addition of a few third baseman to the system caused him to move to the outfield and find a home. He's always hit. And because of that he is the best eighth-round pick of Luhnow's tenure, and perhaps several years from now one of the best picks from any round of Luhnow's tenure.
I went round by round by round through Luhnow's seven drafts for the Cardinals to determine who has been (and, in some ways, will be) the best pick for the Cardinals.
Here are the top players, round by round, from Luhnow's draft, using Adams and Garcia as the end point. Trust me, I'm speeding toward the conclusion here. Players are sorted by WAR within the rounds.
1st round -- OF Colby Rasmus, 2005 ... 6.7 WAR
1st supp round -- RHP Chris Perez, 2006 ... 4.3 WAR
2nd round -- OF Jon Jay, 2006 ... 4.6 WAR
3rd round -- UT Daniel Descalso, 2007 ... 1.4 WAR
4th round -- C Bryan Anderson, 2005 ... minus-0.1 WAR
5th round -- OF Shane Robinson, 2006 ... 0.1 WAR
6th round -- n/a (top potential: LHP John Gast, 2006)
7th round -- 1B/OF Nick Stavinoha, 2005 ... minus-1.4 WAR
8th round -- OF/1B Allen Craig, 2006 ... 3.1 WAR
9th round -- RHP Mike Stutes, 2007 ... 0.4 WAR*
* Did not sign with Cardinals. Is with Philadelphia.
10th round -- n/a (top potential: OF Alex Castellanos, 2008)
11th round -- RHP P. J. Walters, 2006 ... minus-0.9 WAR
12th round -- RHP David Carpenter, 2006 ... 0.2 WAR
13th round -- 3B/UT Matt Carpenter, 2009 ... 0.2 WAR
15th round -- RHP Chuckie Fick, 2007 ... 0.0 WAR
18th round -- OF Andrew Brown, 2007 ... minus-0.2 WAR
19th round -- n/a (top potential: 1B Xavier Scruggs, 2008)
21st round -- RHP Brian Broderick, 2007 ... minus-0.2 WAR*
* Production with Washington. Trevor Rosenthal will take this spot.
22nd round -- LHP Jaime Garcia, 2005 ... 3.5 WAR
23rd round -- 1B Matt Adams, 2009 ... 0.2 WAR
It's this list of draft picks from Luhnow's time at the wheel that is perhaps most revealing to how the Cardinals did in the draft during his time. This definitely supports the quantity notion. The Cardinals got a quantity of players who reached and appeared and, in a handful of cases, contributed to the majors. This above breakdown also offers a snapshot of the quality concern -- it comes from unexpected places. The highest-scoring player in terms of WAR is the first player Luhnow took for the Cardinals, Rasmus. But Jay is gaining, Perez is thriving, and Craig has the look of the pick who could have the most production in his career. Miller and Wong have yet to have their crack at the majors.
That's the biggest lesson of all.
Judging a draft class is like developing a draft class. Teams don't rush their picks with the most potential to the majors, so why do we race to shout how good this week's class will be? It takes time.