Check out the highlights from Derrick Goold's Cardinals chat with readers. The full transcript of the chat can be found here.
Derrick Goold: It's time to talk about the Hall of Fame and the Hall of Fame ballot. Each year, I make my Hall of Fame ballot public and take questions here at the chat. This year is no different — just a bit later. The following photo is of my ballot submitted before the deadline. I welcome any questions, complaints, or criticisms about it. I'll be as transparent as possible because that's important for the process.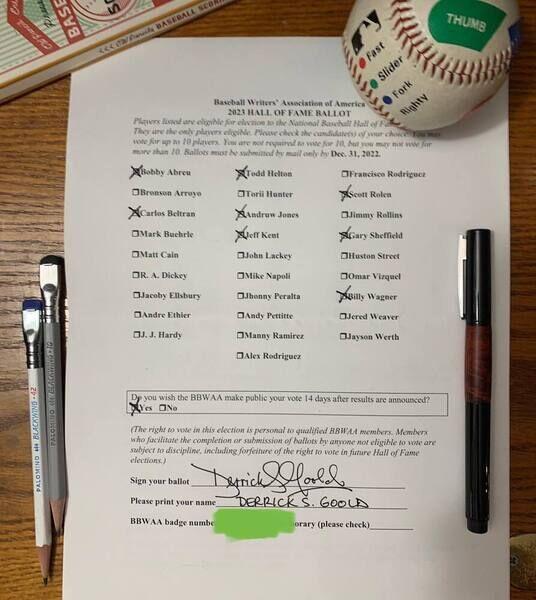 Q: I'd appreciate you explaining your thoughts on Bobby Abreu as a Hall of Famer, and second, has there been any traction in moving toward the "binary ballot" you first mentioned several years ago?
DG: When it comes to the ballot, I try to build some consistency — year to year, and player to player. When I started voting, I dug deep into the careers and numbers and performances of three pitchers who were on the ballot: Schilling, Smoltz, and Mussina. Smoltz zoomed into Cooperstown. Mussina got there eventually. Schilling remains outside. I voted for all three and would feel comfortable if they all were in Cooperstown. That is because as I dug into the research, I had a hard time separating them from each other -- Schilling had the strong October claim, Smoltz had the playoff start but also that time as a closer that stands out from others, and Mussina was this steady, strong, starting presence in one of the most difficult divisions in baseball and not always for a winning team. Each had a column or two where they stood out from each other, and each had a career that stood out from their peers. I bring them up because it was after voting for Gary Sheffield and establishing, ok, that is the career that to me is a Hall of Fame career that I kept coming up with how Abreu, too, had a similar career -- just got there a different way. A really different way. Abreu was too often overlooked for All-Star Games and MVP consideration, and since I cannot unwind that clock I can look at his career anew for what was missed. He was an elite, even five-tool player, who excelled at not getting out. That's the big one. During his career, he reached base more than 3,700 times, and the only contemporaries who reached base more were Jeter, Alex Rodriguez, and Chipper Jones. When comes to not making outs and getting on base, Abreu ranks just ahead of Gwynn and Rock Raines, for context. Of the players ahead of Abreu, all-time, almost 90% are Hall of Famers. If that's where the line is, I get it. That's where you keep Abreu out and put the others in. But I couldn't make the line there for me. Abreu didn't have the huge home run total (288) but he did hit a bunch of doubles (574) and steal 400 bases. Right field is a land of giants when it comes to the Hall of Fame, and it has long been my vote that Sheffield belongs in that group. His offensive way way way outperforming others and any (curious) drag might come statistically from his defense. And as I looked at Abreu's career I saw it lining up as similar and felt voting for one and not the other was inconsistent.
Q: A question on your ballot. You voted for eight people this year. Who were close to receiving your vote and what kept them off your list even though you could select two more?
A: The decision came with three left-handed pitchers: Buerhle, Pettitte, and Wagner. And then also determining what was consistent with Alex Rodriguez and Manny Ramirez. I had room to make the call and put all three lefties on, or choose one lefty and put the two sluggers on. So I spent a lot of time looking at where the line of my ballot was going to be drawn, and just how I felt about Billy Wagner's career as a dominant reliever (but far far shorter in innings pitched than the starters). 
I had read a lot about where Wagner's stats fit for pitchers who had 800 or more innings, and I was always struck by that. Of course he would stand out because he didn't have the added innings of mediocre to soften those stats. He was helped by being closer to 800 innings, for example. So I flipped the search. I looked at where Wagner was vs. his peers in that 500 innings to 999 innings and if he stood out for others in that same workload frame.
Q: Hoping you can shed some light on a Hall of Fame hat question. I was always led to believe that the Hall gets to decide what hat the players wears on his plaque, as they try to enshrine the player on the team for which he is remembered the most. However, a recent example shows that inductees have the option to choose. Back in the day, Andre Dawson lamented the Hall's decision to put him in as an Expo as he wanted to go in as a Cub, due to his belief in Montreal's part in colluding against him. However, Tony La Russa was able go in with no team designation since he didn't want to slight any of the teams he had managed. Which way is it?
A: The Hall has the final call. The Hall hopes to come to an agreement with the player so that it is consensus and will definitely ask for the player's preference and their argument. But the Hall has the call. This dates back to Wade Boggs pursuing a Tampa Bay logo on his cap so that he could be the first Ray in the hall and also represent his hometown in that way. (He went to school in the Tampa area.) Boggs has a B on his cap. But, as you can see, the Hall took into account Tony La Russa's wishes and did not put a logo on his cap. But, in the end, the Hall has the final call.
Q: I was very interested to see one writer just started voting for HOF again because he retired, and previously his paper would not let its employees vote. How common of a practice is that....that eligible voters are not able to vote by his/her employer?
A: Pretty common. It's an ongoing discussion for editors and the editors' association. The New York Times is another paper that does not permit its writers to vote for awards, and there was a time when it was a companywide policy for one of the larger newspaper groups.
Q: Do you consider the "fame" aspect of a player's career when weighing their Hall worthiness? I'm not sure how one would objectively measure fame. This is regarding Abreu, I was surprised how favorable his stats are. I just have a hard time squaring my memory of him with what the numbers say.
DG: Yes, I do. I like what John Thorn, the author and historian, had to say about how it's called the Hall of Fame and that means being famous is a good place to start. I don't think that means it's only reserved for the famous. It's a good place to start. There are many famous players who don't have the careers that would match the standard for Cooperstown, and there are many players who never got the fame but in the end had remarkable careers. Ken Boyer isn't famous on a national level. But you'll get a lot of people in St. Louis definitely advocating for his induction. David Freese is definitely famous on a national level, and those same people in St. Louis are not championing his induction to the Hall of Fame. (Freese, however, is likely to appear on the ballot when he's eligible. Just FYI.)
I definitely, as a voter, came to realize Abreu's candidacy and claim to a vote after I dug deeper into his career and, sure, recalled what it was like to see him play. His career through the modern lens of OBP and not making outs and all-around play is stronger than it appeared at the time. He wasn't famous. But he was deserving of more of it.