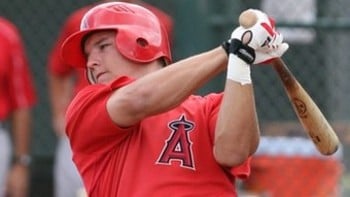 After the Cardinals nabbed the high school pitcher they targeted for the 19th overall pick in the 2009 draft -- a righty by the name of Shelby Miller who you have read about -- an official with the team said they had their eye on an outfielder.
If one of the two outfielders they were keen to draft somehow lasted until their next pick, they'd be thrilled.
If Miller hadn't been there at 19th, they would have had to choose one.
Those two outfielders were Mike Trout -- again, a name you may know -- and Randal Grichuk, a name you probably didn't until now. Both of the outfielders went to the Los Angeles Angels in back-to-back picks. Grichuk went 24th overall, and Trout went 25th overall, for the lower slot-assigned bonus. While Trout has given the Angels MVP-caliber production the past two seasons, Grichuk this season reached Class AA and played superb defense for the Arkansas Travelers. He received one of the minor-league Rawlings Gold Glove Awards for his play.
The Cardinals acquired Grichuk, 22, this afternoon in a four-player trade with the Angels. The primary players in the deal were third baseman David Freese and center fielder Peter Bourjos. Fernando Salas also went from the Cardinals to the Angels to complete the deal. The Cardinals added two center fielders to their 40-man roster in the deal -- the big-leaguer Bourjos and the Class AAA-bound fielder Grichuk.
Grichuk will long be an answer to a trivia question: Which player was drafted one pick ahead of Mike Trout in 2009? The Angels were spot-on with Trout, but Grichuk didn't have the same immediate success as he dealt with thumb, wrist and knee injuries in 2010 and '11. Finally healthy last year, he continued to stay healthy in 2013, when he reached a career-best in home runs.

Grichuk's power at the plate manifested this season, proving that his 2012 season in the hitter-friendly high Class A California League was no fluke. With strong arms, he drove balls in the gaps and got enough lift to hit almost as many home runs (22) as doubles (27). He'll need to add walks to his profile to get the most out of his raw hitting ability, but he shows enough balance and bat control to hit .260 or better in the big leagues. Playing mostly right field and some center, Grichuk showed an average arm but covered enough territory to easily profile on a corner.

Scouts remarked that Grichuck didn't let his good athletic frame sit idle. He hustled and played the game hard, and seemed to be focused through nine innings.
That text comes from Booher's ranking of the top 20 prospects in the Texas League, where the Angels' affiliate plays regularly against the Cardinals' Class AA affiliate. Grichuk was the 17th-best prospect in the league, according to BA. For context, Stephen Piscotty, the Cardinals' rising outfielder, ranked No. 9.
Grichuk is a righthanded-hitting outfielder who batted .256/.306/.474 in the cozy Texas League with 22 home runs and 64 RBIs. He had 57 extra-base hits in the hitter-friendly league. He was second on his team in doubles (27) and led the A-Travs in home runs and triples.
Though he's difficult to walk, Grichuk also is fairly difficult to strike out for a hitter with his kind of power. He has at least major league-average juice, but with the caveat that he's coming off successive seasons with on-base percentages at .335 in the California League and .306 at Double-A. Arkansas' pitcher-friendly ballpark cut significantly into Grichuk's power output in 2013 (as it had Mike Trout's in 2011 and Mark Trumbo's in 2009), and he hit a healthy .274/.318/.529 with 16 home runs in 66 road games. Even with the home-park handicap, Grichuk managed to bash 22 homers and lead the Texas League in extra-base hits (57) and runs scored (89). If he hits for enough average, his other tools profile in right field.
He was the Angels' No. 9 prospect on their top 10 entering this season. I've heard him described as higher going into this coming year's rankings. In the Cardinals' organization he's likely to rank outside of the top 10, but in the top half when it comes to the top 30.
"His swing can get complicated, but he has made adjustments with his set-up, widening his base and quieting his hands," said a report on Grichuk in last year's BA Prospect Handbook. "He wraps his bat, which adds length to his stroke, but he has good hands and accelerates the barrel into contact well. He hits breaking balls when he maintains a gap-to-gap approach, but he's vulnerable to them when he flies open with his swing. ... Grichuk is coachable and has made huge strides with his defense and baserunning, both of which were poor when he entered pro ball."