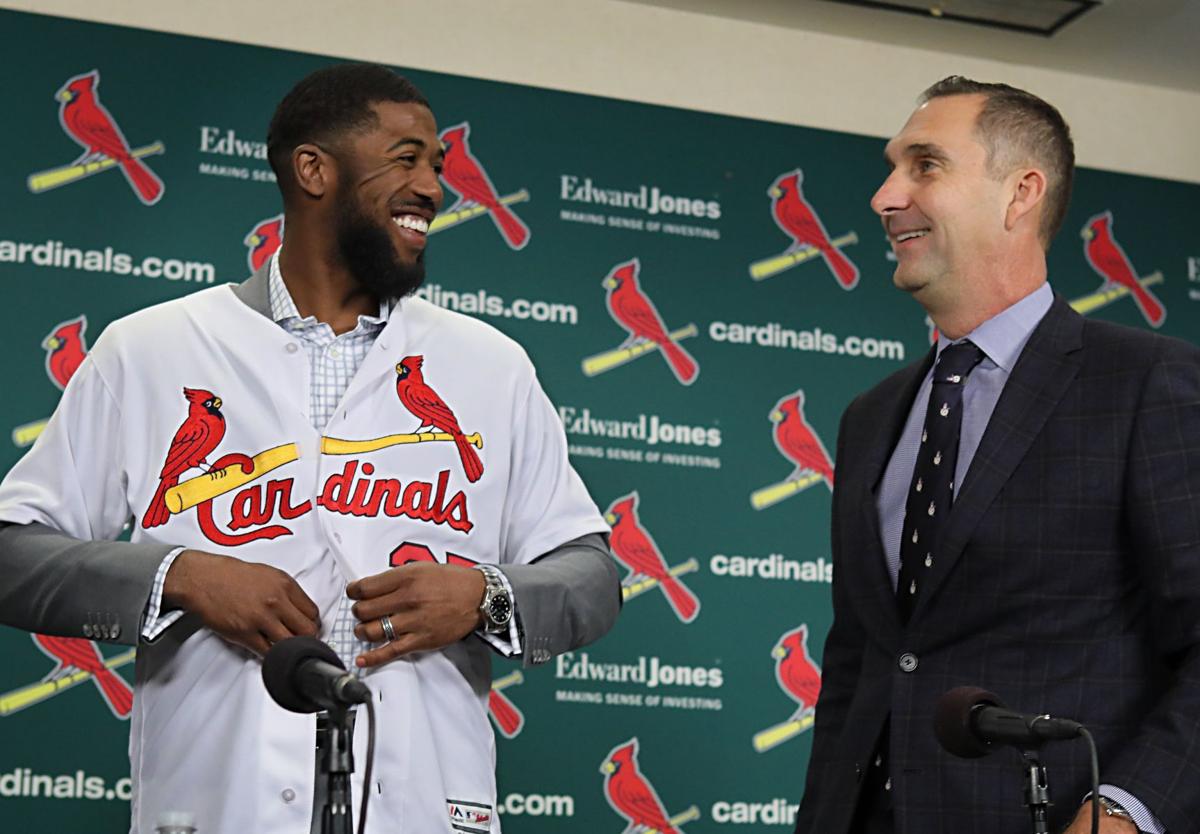 ST. LOUIS • With a few exceptions, like say Edwin Encarnacion, a vast majority of us will speed to complete our holiday shopping today with roughly the same budget that we had at the beginning of the week.
The Cardinals are no different.
And theirs is substantial.
With Encarnacion's three-year, $60-million agreement with Cleveland happening Thursday, the usual hornet's nest stirred again on Twitter, on email, and likely elsewhere about the Cardinals' holiday spending. The rattling of the same chains, Scrooge, is more predictable than snow every winter. Any time there is a big signing that could have fit the Cardinals – and Encarnacion batting fourth behind three OBP monsters had legit fear-factor appeal for 2017, regardless of his glove – there is the uprising. Why do the data-diligent Cardinals appear so reluctant to splash cash? There is also the assuming, the misunderstanding, the grandstanding, and the axe-grinding. It's all fair, if it's informed.
As I mentioned to one interested reader on Twitter, thank goodness we have math. So, let's do a little. It's not as sexy as just composing a payroll screed on Twitter. It's more boring than guessing or demanding. Humor me. Facts do have value.
On the eve of holiday cheer, let's run the numbers and see where exactly the Cardinals of 2017 are compared to the Cardinals of 2016.
Earlier this offseason, Post-Dispatch online columnist Ben Frederickson and I attempted a deep dive into what teams mean when they talk about payroll, and the disconnect that exists between media, fans, and these numbers. (You can hear that podcast here.) Teams look at payroll as what they pay for an entire 40-man roster, and that can fluctuate with promotions, and injuries. The Cardinals took on a good chunk of Zach Duke's salary last season, and that's not reflected in the opening day payroll, but it is money the 2016 Cardinals spent. The invaluable Cot's Baseball Contracts does a good job of reflecting this.
The Cardinals had a $145,553,500 opening day roster (25 man).
The Cardinals had $178,298,756 spending in 2016 (40 man).
That second total ranked eighth in baseball. The Cardinals expected their payroll to be around $145 million or more for 2016. Chairman Bill DeWitt Jr. estimated that exact number when I spoke to him briefly before the Cardinals were eliminated from the 2014 National League championship series in San Francisco. General manager John Mozeliak has also said that the team had "payroll muscle" to reach record highs as they approach a new TV deal. They both also said the team would not depart from its always meticulous, sometimes conservative value-oriented approach to making moves.
The Cardinals expected their 2016 spending to rocket past $160 million when it came to landing international players and the penalty tax that invited. In its annual audit of opening day rosters (25-man), USA Today pegged the Cardinals for a $143,057,500 payroll. That ranked ninth in the majors.
That is subject to change based on insurance and even the cash the Cardinals received from San Diego in the Jedd Gyorko deal.
Still, the general range of 2016 spending is clear.
We can, through reporting and calculating, begin to see how much of that 2016 spending has fallen off the books for 2017. That's a good place to start.
OFF: Jordan Walden $3.65 million … Matt Holliday $17 million … Johnny Peralta minus-$2.5 million in salary … Jaime Garcia traded, minus $11.5 million (2016 salary) … Seth Maness $1.4 million … Mitch Harris $509,000ish … Brandon Moss $8.25 million … Jeremy Hazelbaker $500,000ish.
Not factored into the above numbers is how much, if any, insurance covered on the Walden and Harris deals. It's doubtful there was any insurance for Harris, who spent the whole year on the DL after a spring training injury and thus was on the major-league roster. DeWitt told me that the Cardinals do tend to purchase insurance on multi-year deals, so it's possible they got a return (slim, real slim) on Walden's contract. Garcia is set to make $12 million in 2017, so if you prefer you can add $500,000 to the total coming off for 2017.
Brayan Pena is not listed as leaving; he's making $2.5 million.
With the Garcia bump, that total is around $45.8 million coming off.
ON: Dexter Fowler $16.5 million … Matt Holliday $1 million buyout … Mike Leake $3 million raise … Matt Carpenter $3.5 million raise … Jedd Gyorko $2 million raise … Jordan Walden $250,000 buyout … Seung Hwan Oh $250,000 raise … Brett Cecil $7.75 million … Zach Duke $500,000 raise … Kolten Wong $1.25 million raise.
And then there are the five players due raises through arbitration: Matt Adams, Trevor Rosenthal, Carlos Martinez, Kevin Siegrist, and Michael Wacha. By percentage, Martinez and Wacha are due significant raises through arbitration, and Martinez will see one of the highest, by percentage, jumps ever for a Cardinals player.
The team and the player are both interested in working out an extension. Martinez's representative made that clear to the Cardinals this past season, and the Cardinals replied that there would be a time for that this winter or spring. The Cardinals have finalized similar extensions for players like Yadier Molina and Lance Lynn in January, and they've done deals with Allen Craig, Adam Wainwright, Matt Carpenter, and Kolten Wong during spring training. The timing is there for talks to lead to an extension sometime before opening day.
Let's welcome back into the conversation our good friend math.
Martinez, Wacha, and Siegrist all had $539,000 salaries this past season. Those salaries were set by a formula the Cardinals use for all players with less than three years of service time. All three are now arbitration eligible, and that will lead to a spike in their salary because arbitration is comparison-driven. MLB Trade Rumors does a great job of estimating what players will get through arbitration. It suggests Rosenthal will jump to $6.3 million, Adams to $2.8 million, Siegrist to $1.9 million, Wacha to $3.2 million, and Martinez to $5.3 million. That last one might be a little light.
If you'll permit me a little detour here, we can take a quick look at how the market and past arbitration-eligible players will influence Martinez. Back in 2015, Lance Lynn worked out an extension with the Cardinals that paid him $7 million in his first year. He had more starts than Martinez and two 200-inning seasons. Martinez has none. Please keep in mind that service time and role really matter in the arbitration process, so a player with four years of service time is going to up his salary even if his stats aren't as solid as a three-year player, and so on. That said, there is an intriguing comp for Martinez.
Martinez, RHP -- Service time: 3.073. Stats: 34-21, 140 games (68 starts), 492 2/3 IP, 1.224 WHIP, 8.0 K/9, 3.32 ERA, 135 ERA+. Adornments: All-Star.
Pitcher X, LHP -- Service time: 3.089. Stats: 41-35, 109 games (100 starts), 671 IP, 1.250 WHIP, 7.0 K/9, 3.58 ERA, 110 ERA+. Adornments: All-Star, Cy Young Award, two Gold Gloves.
By now you've probably realized that Pitcher X is Houston lefty Dallas Keuchel. He reached arbitration with more innings, more starts, and more awards than Martinez. The Cardinals' righthander scores well when it comes to performance. Keuchel received a $7.25 million first-year arbitration salary from the Astros. You can easily see how Martinez, coming in the wake of that, would move past the $5.3-million estimate.
For the sake of this story, let's say he does, slightly.
The Cardinals have, to date, spent the second-most on free agents so far this winter, and that is a bulk of the additional salary for 2017. There is a signing bonus on Fowler's deal that does alter his year to year salary, but the above is his AAV (annual average value) and that is often used when teams and media calculate spending. Gyorko's $2 million raise may be covered entirely by Padres' cash, but that money could also have been applied to 2016. If we add up the individual salaries, the raises, and the arb bumps, we get a sense of what the Cardinals have added to their payroll for 2017.
The total is approximately $47.5 million.
Off: $45.8 million. On: $47.5 million.
According to math, right now, they've added payroll for 2017. Subtract the buyouts, which you can do fairly, and it's a slight add.
The Cardinals have long linked their payroll to their ticket sales, arguing that 3.4 million fans through the gates at Busch Stadium III allows them to punch above their market size. (Cubs officials have described the Cardinals as a small-market team with big-market muscle.) In July 2015, when the Cardinals and Fox Sports Midwest agreed on a new rights deal, one of the examples a Cardinals official gave me for how that would augment their spending was the extensions and raises the team expected to have to pay Wacha, Rosenthal, and Martinez. The forthcoming rights deal would give the team the finances to retain in-house talent.
"We have forecasted increases over the next three to five years that will accommodate what we need to do with the young players we have," DeWitt told me in 2014. "We knew as younger players matured at the major-league level they would get to arbitration and into free agency. We wouldn't be able to retain them at the current payroll level, so we're forecasting fairly significant increases in the next three to five years."
The Cardinals finished 2014 with a $115-million payroll.
The Cardinals are annually in the top third when it comes to revenue, according to sources and reliable public information. In 2018, they begin to benefit from the $1.1-billion rights deal. In 2018, according to sources, the rights fee will be around $55 million, or about $20 million more than the coming year. They have payroll flexibility. They have room to add. They also have a need. Mozeliak and DeWitt have both acknowledged entering the 2016 season the benefit of adding two core-level players to the current group. Fowler is one.
That brings us back to the beginning.
The tumult and consternation about the slugger has it wrong. The Cardinals, according to a source, had "mild" interest in him. A short-term, high-salary deal seemed most likely, if one was of interest at all. It became clear his market didn't soften that much. The Cardinals don't discuss specific free agents, so it's only possible to speculate they didn't see a fit, not for his glove or not for that commitment. They have the money to spend, can spend, should spend. It's clear in this case, they didn't have the want, not for this player or not for this player at that price.
Now, that's worth exploring and debating.
The floor is yours. Happy holidays.
Keep up with the latest Cardinals coverage from our award-winning team of reporters and columnists.