The honor of a lifetime that had, like the rare groundball, escaped his reach is finally, like so many Gold Gloves, safely within his grasp.
Scott Rolen is a Hall of Famer.
The two-way force that helped the Cardinals to two National League pennants and a World Series championship was elected by the writers Tuesday to Cooperstown's Class of 2023. Rolen received 76.3% of the vote to be the only player to surpass the 75% required for election. Rolen and Fred McGriff, selected by the veterans' committee, will be the two players inducted at the ceremony at the National Baseball Hall of Fame in July.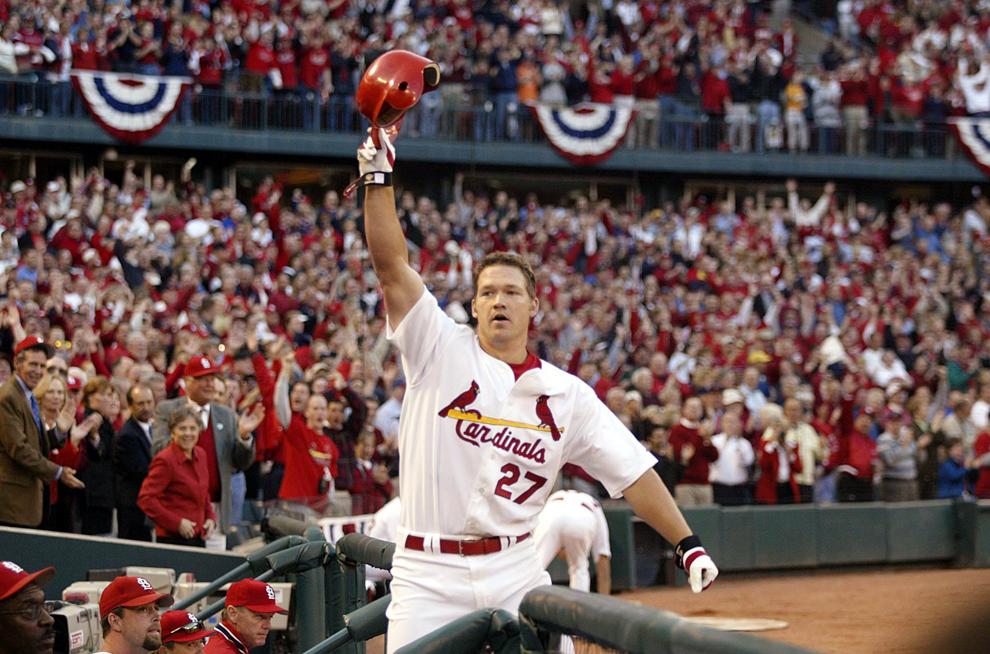 "You don't think about this," Rolen said during an interview with MLB Network shortly after the results of the vote were revealed. "You think about trying to do the best you can and play for your team and play the game the best you can. It's such a long road, I never thought that Hall of Fame as going to be the answer." 
The eight-time Gold Glove winner and seven-time All-Star will be the 18th third basemen inducted into the Hall of Fame at the least represented position.
If he wears a Cardinals' logo, he'll be the 12th to have the interlocking STL appear on his bronze plaque at the Hall of Fame. The most recent was Ted Simmons in 2020.
During the interview on MLB Network, Rolen was asked by Bob Costas about what logo would appear on his cap and he said he would take advice from the officials at the Hall of Fame.
"Four incredible places that I'm so appreciative of," Rolen said, referencing the Phillies, Cardinals, Blue Jays, and Reds.
Rolen, a Cardinals Hall of Famer, received five more votes than the minimum necessary for election. Todd Helton, the longtime Colorado Rockies' first baseman, fell 11 votes shy of election, and no player has been that close and not been elected to Cooperstown in a subsequent year. Other players to receive more than 50% of the vote were Billy Wagner (68.1%), Andruw Jones (58.1%), and Gary Sheffield (55%).
Carlos Beltran received 46.5% of the vote in his first time on the ballot.
Rolen was elected in his sixth year on the ballot.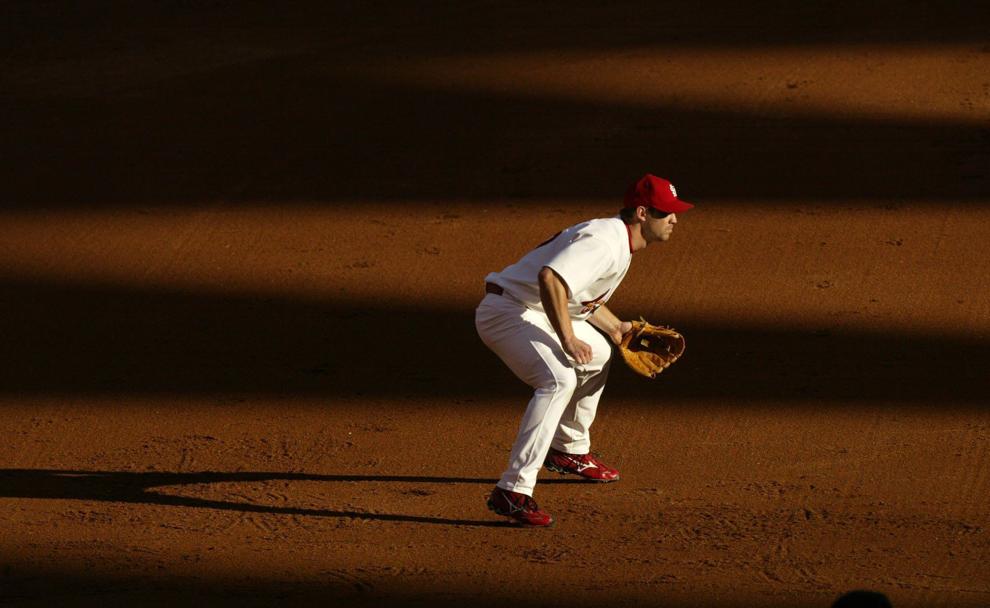 By advanced metrics, such as WAR and other measurements of defense, Rolen was the best third baseman eligible for the Hall who had not been inducted. He did not have the power totals of Mike Schmidt nor the golden haul of defensive awards as Brooks Robinson, but for his generation he was the best blend of the two at third base.
Rolen is the first Hall of Famer from the Cardinals' current era that could produce at least two more. Albert Pujols and Yadier Molina are on deck. They're eligible for the Class of 2028.
A quarterback at Tennessee ahead of Peyton Manning, Helton was drafted eighth overall in 1995 by the Rockies and he spent every one of his 2,247 games and hit every one of his 369 home runs for Colorado. He retired after the 2013 season with a .316 career average, a .414 on-base percentage, and a .539 slugging percentage. That puts him between Jeff Bagwell (.540) and Paul Goldschmidt (.527) at first base, trailing behind the seventh-highest all-time of .544 from Pujols.
Helton's .953 OPS ranks sixth all time at first base.
His candidacy for the Hall of Fame has been helped by Larry Walker's election but it's still grounded by how voters view the inflated numbers of Coors Field and the players who call it home. Helton hit .287 on the road with a .469 slugging percentage and a .855 OPS. His OPS+of 133, which accounts for ballpark factors, puts him right there with McGriff (134).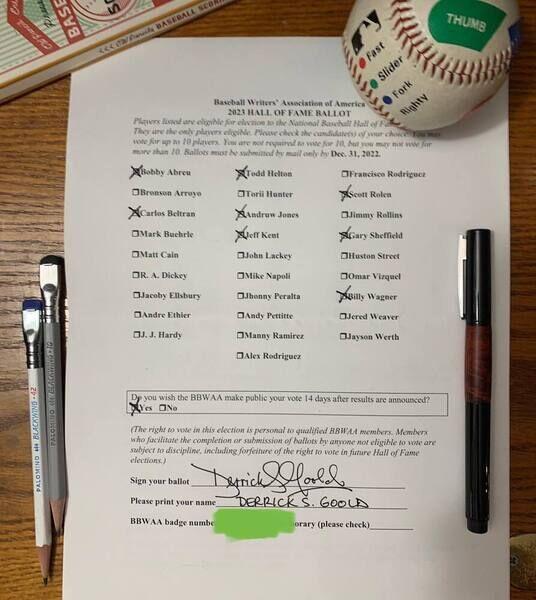 Wagner spent his career as arguably the most dominant lefty reliever of his era and a top closer at time when that role was defined by Hall of Famer Mariano Rivera. In 16 seasons, Wagner had 422 saves to sweeten his candidacy, but it's his rates and ability to bedevil hitters that has support for Cooperstown. Wagner's 0.998 WHIP is one of the lowest of all time for pitchers with more than 900 innings pitched, and his 11.9 strikeouts-per-nine leads all pitchers with that many innings or more.
It's his lack of innings and never leading the league in saves that have been a drag on his vote total. As his support gathers, so to does the possibility his breakthrough to Cooperstown will be the most significant yet for relievers.
Former Cardinals' October nemesis and Cardinals' October pennant-winner Beltran fell short of induction in his first year on the ballot. While Beltran's five-tool talent and strong career as one of baseball's most productive switch-hitters put him on the brink of the Hall of Fame, his ties to Houston's sign-stealing scandal complicate his candidacy. Beltran was the only player named in Major League Baseball's report on the cheating that engulfed the Astros and their 2017 World Series championship.
Beltran was described as a leader in the scheme after suggesting Houston had fallen behind other teams in how spied on signs.
He certainly has paid the highest penalty of anyone tied to it.
Hired as the Mets manager, Beltran was dismissed before he ran a game, and while other managers suspended as a result of the sign-stealing caper have returned to the dugout, Beltran has not. In 20 season, Beltran had 435 home runs, 312 stolen bases, 1,582 runs, and 1,587 RBIs. He finished his career with a .279 average, a .350 on-base percentage and a .837 OPS to go with three Gold Glove awards. A nine-time All-Star he won the Rookie of the Year Award with Kansas City in 1999.
In his 10th and final year on the ballot, Jeff Kent, who leads all second basemen in homers, received 46.5% of the vote. He'll follow McGriff's path to an oversight committee.
Traded from Philadelphia to the Cardinals in 2002, Rolen joined Pujols and quickly became one of the most productive middle-order tandems in the majors. Rolen had a .915 OPS and 44 RBIs in his first 55 games with the Cardinals and he had more than 100 RBIs in each of his first two full seasons. He was a All-Star his first four years with the club. And in 2004, Pujols, Rolen, and Jim Edmans formed the MV3. They each had more than 30 homers, more 100 RBIs, and more than 100 runs scored for an NL pennant-winner, and the trio finished third, fourth, and fifth in MVP voting.
Rolen missed most of the 2005 season due to injury, but rebounded for a superb 2006 on an 83-win team that conjured its best baseball at the best time.
Though, not without drama.
During the Cardinals' 2006 playoff run, deep into the National League Championship Series against the Mets, Rolen was replaced in the starting lineup. The shoulder injury that would limit his career and sour his relationship with the Cardinals had sapped him of thump at the plate, and manager Tony La Russa made the switch. Rolen expressed his frustration, saying that he felt he could change the game and help the Cardinals win with his glove, and that he would find a way to contribute offensively. In Game 7 of that NLCS, the one ended by Adam Wainwright's curveball, it was Rolen that hit the potential homer robbed at the wall by a leaping Endy Chavez.
It was also Rolen who had at least a hit in the final 10 playoff games of the Cardinals' championship run. In 2006 World Series, Rolen made a bid for the MVP award by batting .421 (eight-for-19) with a home run, two RBIs, and four extra-base hits.
After the 2007 season, the relationship between Rolen and La Russa had reached a point that Rolen requested a trade. He was sent to Toronto in a swap of All-Star third basemen that brought Troy Glaus to St. Louis.
Rolen played another five seasons and twice made the All-Star Game while with the Cincinnati Reds. At 35, he hit 20 homers and drive in 83 runs with an .854 OPS to receive MVP votes, and he also won his final Gold Glove Award.
In 17 years, Rolen hit .281 with a .490 slugging percentage and an .855 career OPS. He had 316 homers, 1,287 RBIs, and he scored 1,211 runs to go with 2,077 hits. The time missed due to injuries – he played more than 130 games only once in his final six seasons – kept him from accumulating counting stats, but he still ranks alongside some of the finest to ever play third base in the history of the majors. Rolen's career slugging percentage is in the top five for players who spent most of their careers at third base and have at least 8,000 plate appearances.
(Nolan Arenado's .535 slugging percentage is the most at the position for anyone with more than 5,000 plate appearances.)
Rolen's homers rank 15th all-time at third and his RBIs rank 13th.
Only Arenado and Mike Schmidt have won more Gold Glove awards in the National League at third baseman than Rolen. And that combination of sublime defense and muscular offense give Rolen a career Wins Above Replacement of 70.1. He is one of nine third basemen with a WAR that high. Seven are in the Hall of Fame. The eighth is Adrian Beltre, who will be on his first ballot this coming December and is a favorite for induction in 2024.
Rolen and Beltre are the only third basemen with at least a 70 WAR who got there with more than 20 of it coming from their defense.
In 2018, Rolen's first year on the ballot, the rugged third baseman received 10.2% of the vote, but as a logjammed ballot of candidates thinned and such players as Barry Bonds, Roger Clemens, and Curt Schilling slipped off, Rolen's candidacy soared with new support. He surpassed 50% in 2021 and surged to 63.2% a year ago.
His gains were the largest of his contemporaries.
In the past 55 years, there have been 22 players who received between 62% and 65% of the vote and still had eligibility remaining, according to research by FanGraphs. All of those players were eventually elected by the writers.
The writers' ballot for Cooperstown's Class of 2023 had 28 eligible players, half of whom were on the ballot for the first time. Including Beltran, three of the first-timers on the ballot had St. Louis ties. Pitcher John Lackey and shortstop Jhonny Peralta, an All-Star with the Cardinals in 2015, did not receive the required 5% of the vote to remain on the ballot for a second time.
Mark Buehrle, a St. Lous-area native, appeared on the ballot for the third time, and the lefty and Chicago White Sox standout continues to receive enough support to remain a candidate. He received 5.8% a year ago and 10.8% this year.
After a decade on the writers' ballot where he never received more than 39.8% of the vote, McGriff was elected by the veterans committee this past December. The 16-person committee's vote was unanimous for McGriff.
The induction ceremony will be July 23 in Cooperstown.