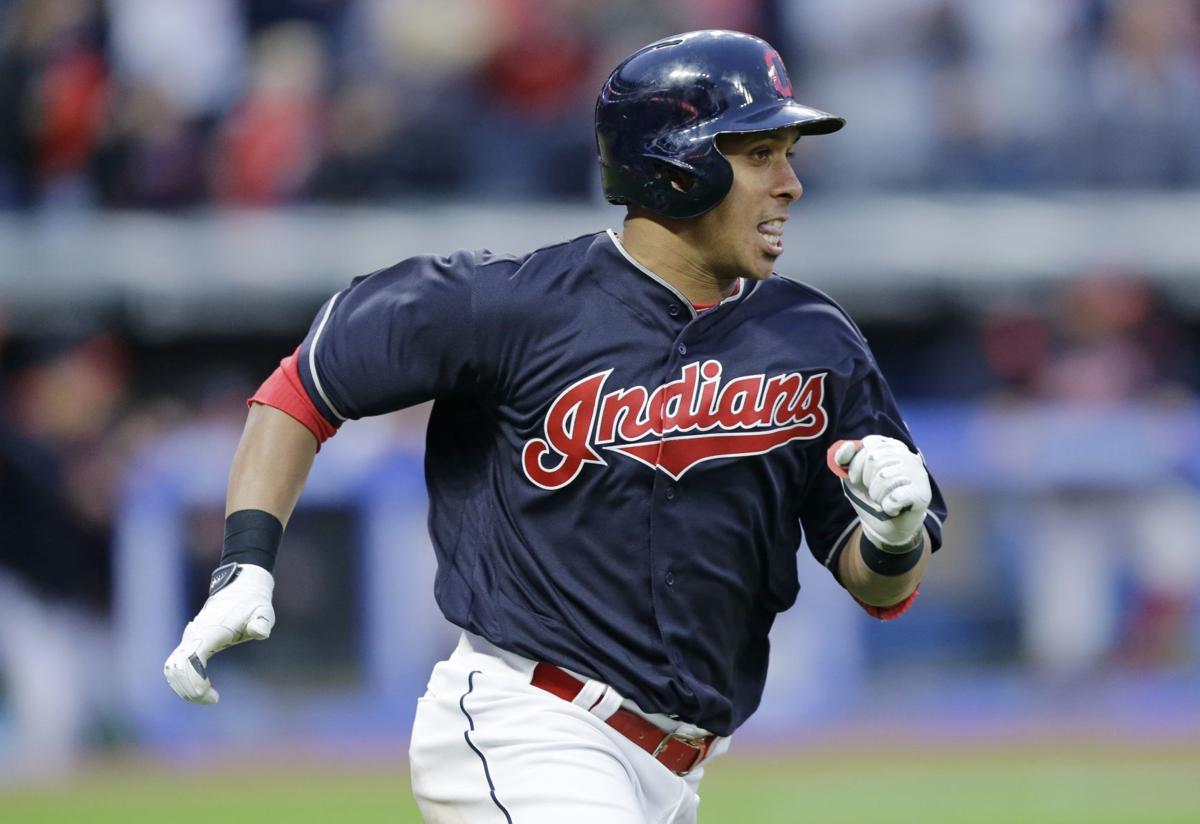 ST. LOUIS • This past All-Star break, I approached free-agent-to-be Michael Brantley about his free agency and what his view of St. Louis was as a market and a team. Brantley, of course, talked about focusing on Cleveland's season first and that free agency would be a topic for the winter, but he also added that he couldn't close out the possibility of any market – especially if it housed a team that intended on contending. That's a common sentiment.
"We'll see what options are out there," he said.
This past week, MLB.com reported how the Cardinals were "maintaining interest" in Brantley. True. That could also be said of a stockpile of free agents. The Cardinals have maintained interest in the same way with glove-first shortstops, even as they tell other teams and free agent that their preference is not to sign a shortstop. Again, maintain interest is what front offices do on Nov. 26. Now Brantley stands out beyond other options, for sure. Lefthanded bat? Check. Middle-order hitter? Maybe. No. 2 hitter? Sure. Corner infielder? Nope. And so on.
Two sources have described to me how it would take a series of other events for the Cardinals to have interest in signing Brantley. They didn't offer specifics. It appears that one would have to be the Cardinals did not land other preferred acquisitions. The others would involve moving some of the outfielders they already have, including the guy they now have penciled in to start in right field. Look at this way: Signing a transcendent talent like Harper would also force the Cardinals to consider moves with other outfielders. The Cardinals would have to make moves after not being able to make moves to then fit Brantley.
A big reason for this exists in the overlap.
Brantley will be playing this coming season at age 32, the same age that Dexter Fowler just played 2018. Cardinals ownership has not been shy about its reluctance to sign players deep into their 30s when, as they've said, "you have to expect a decline." Since 2014, Brantley has been a superb player with a .311/.371/.475 line and a .846 OPS. He's had a 127 OPS+ in that span. Quite superb. Fowler, by contrast, has been a .254/.356/.416 hitter since 2014 with a .772 OPS and a 110 OPS+. That gap narrows over the past three seasons to Fowler's .779 OPS/107 OPS+ vs. Brantley's .810 OPS/114 OPS+. As a lefthanded batter, Fowler has had a .784 OPS. Brantley still has the edge in rates. This past year gives him the clear edge in WAR, 5.7 to 4.3 since 2016.
(Harper, for contrast, has an 18.6 WAR that makes room for itself.)
The word that the Cardinals have underscored this season is "upgrade." During his holiday season, that's how they're making their shopping list. They look at who they have to start in a specific spot, and then see if the market offers an upgrade, and then look at the cost. Brantley offers a lefthanded bat they want and the kind of contract and moving parts they have talked about avoiding. This is what the Cardinals are weighing – clear upgrades vs. incremental additions. They would prefer the former, but have to explore the latter, just like any team. Is the incremental benefit worth the cost or subsequent moves? Classic cost-benefit stuff.
Here is a snapshot that maybe helps explain how to weigh such a question even better. Below are the averages for two players from 2014-2018:
Player A – 121 games, 71 runs, 40 extra-base hits, 13 homers, 45 RBIs, 112 Ks, 66 BBs
Player B – 107 games, 61 runs, 43 extra-base hits, 12 homers, 63 RBIs, 45 Ks, 39 BBs
Player B has been in the All-Star Game three times in that span and finished third in the MVP voting once (2014) and won a Silver Slugger that same season. He's Brantley.
QUICK HITS
• As with all trades, the sliding scale for a deal is all about the money taking on, the control a team is getting, and the prospects needed to make it happen. In the case of Paul Goldschmidt and Arizona, the control is one year and the money is reasonable, so the cost of prospects would be a pinch. (Think: Ozuna-like, though perhaps with a centerpiece that will be in the majors.)
There have been reports elsewhere about Zack Greinke getting wedged into a deal because it would increase the money taken on (significantly) and, thus, would force a give elsewhere, like in the prospect package. Keep that in mind. The thought exercise the Cardinals have had would be with the purpose of taking on more salary in order to spend less talent.
The Athletic, and other places, have reported that the Cardinals are on Greinke's limited no-trade list, as well.
• An interesting, inside-baseball element to any market is how agents approach teams with multiple clients. This year, two of the best left-side infielders are represented by the same agent, Dan Lozano, Albert Pujols' agent. He is the agent for Manny Machado and Josh Donaldson. Machado wants to play shortstop and will be marketed as such. However, Machado could draw interest from teams in need of a third baseman – and those teams who don't get Machado would then be in play for Donaldson. That could delay the market for Donaldson until post-Machado.
UPDATE: According to Ken Rosenthal, of The Athletic, Josh Donaldson has agreed to a one-year, $23-million deal with the Atlanta Braves. This is interesting because he jumps the market and is willing to return to it with Anthony Rendon and Nolan Arenado possibly available next winter. But, what an interesting and strong fit for the Braves' lineup.
• Rumors connecting to the Cardinals to big-name closers are as predictable as Advent calendars, but it does contradict so much of what the Cardinals said in the past 14 months. Under Mozeliak's guidance, the Cardinals have been allergic to paying market-price for a closer, believing they can get better value and have better success creating a closer. They don't want to pay for saves already had. It worked again this past year as Bud Norris emerged as the closer, just as Edward Mujica and Ryan Franklin did before him. Homegrown is the way they prefer to go. It's cost effective. It also plays into the volatility of the role. The Cardinals said they wanted to avoid long-term commitments to free-agent closers because they did not want to block the arrival of Jordan Hicks & Co. That was a year ago. Hicks has arrived. Dakota Hudson, too. Ryan Helsley is on deck. The Cardinals signed Greg Holland to a one-year, $14-million deal and said, specifically, that the short-term deal would leave open the possibility of a young player emerging for 2019 as the closer. Holland reinforces their sticker shock while not interrupting their future. That hasn't changed. Keep that in mind.
• The Cardinals intend to have Carlos Martinez come to spring training as a starter. Same with Alex Reyes. How they leave spring training is still open for discussion. The Cardinals don't intend to have Martinez return to the closer role, but they aren't shutting that door entirely until seeing how Martinez's work goes this winter and how his health/strength/focus looks in spring.
• Speaking of Venn diagrams. There aren't many free agents who are lefthanded hitters and play the corner infield position. Mike Moustakas stands out from the group. The Cardinals had little interest in Moustakas a year ago in large part because of the draft pick attached to him and because they saw Gyorko as the superior defender. Moustakas' appeal was entirely that he hit lefthanded. There's a bit more interest in him this winter because he doesn't have a draft pick attached to him, the lefthanded bat, and the durability he's shown with at least 135 games played in five of the past seven seasons.
• The list of lefthanded-hitting outfielders available on the open market is slightly longer, and that brings us back to … The Brantley Paradox.
---
RON GANT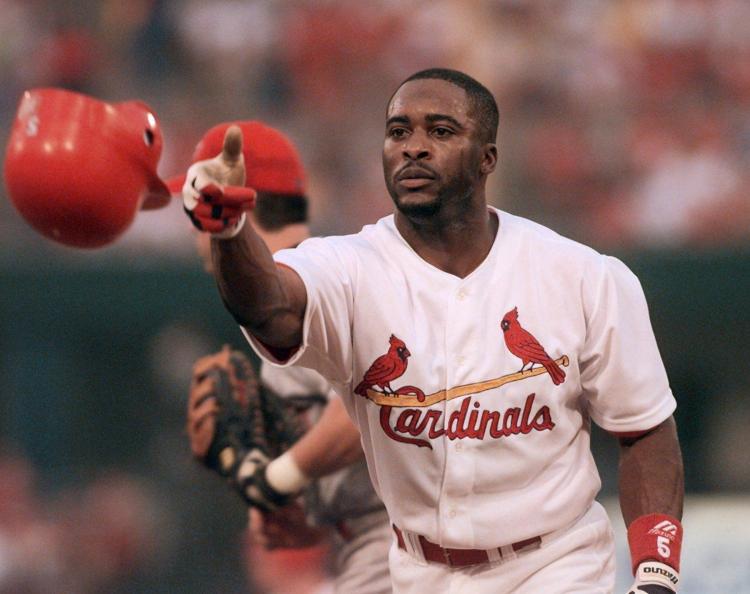 His five-year deal from the Cards before the 1996 season, worth an estimated $33 million, was the first multi-year contract of the 30-year-old's career. "It's been a long time coming," the left fielder said at the time. "I've put up a lot of good numbers in the major leagues."
The good numbers dipped. Injuries and strikeouts increased. He hit .246 and knocked 30 homers in 1996, but struck out a career-high 162 times in 1997, and his role was decreased in 1998. After he was traded to Philadelphia, Gant voiced his opinion that Mark McGwire batting third fouled up the Cards' lineup.
"That lineup worked for Ray Lankford and Brian Jordan and Delino Deshields and J.D. Drew in his few games in September, " manager Tony La Russa shot back. "The only one it didn't work for was Ron Gant. It was whiff, whiff, whiff."
BOBBY BONILLA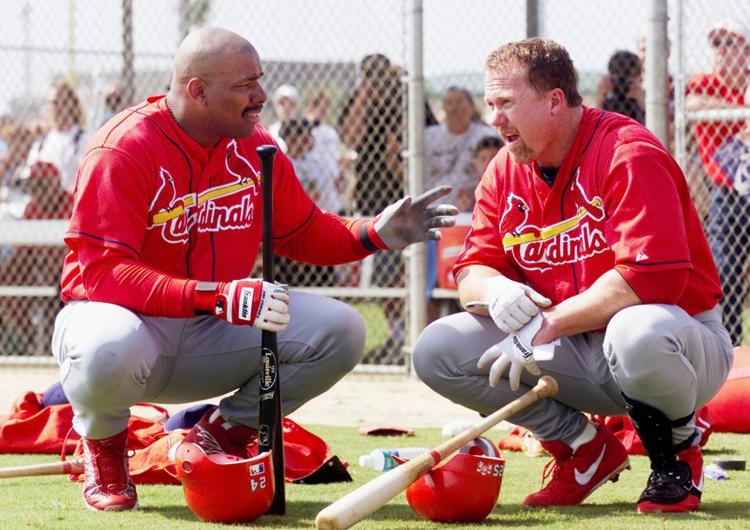 After a 15-year career that spanned seven teams, the six-time All-Star was ready for retirement until the Cards called heading into the 2001 season. Injuries, most notably the hampered left hamstring during spring training that helped a young Albert Pujols make the roster, caught up with the 38-year-old switch-hitter who was supposed to be the club's top pinch-hitter during his one-year deal worth $900,000. Instead he hit .213 with 12 extra-base hits in what became his final season.
TINO MARTINEZ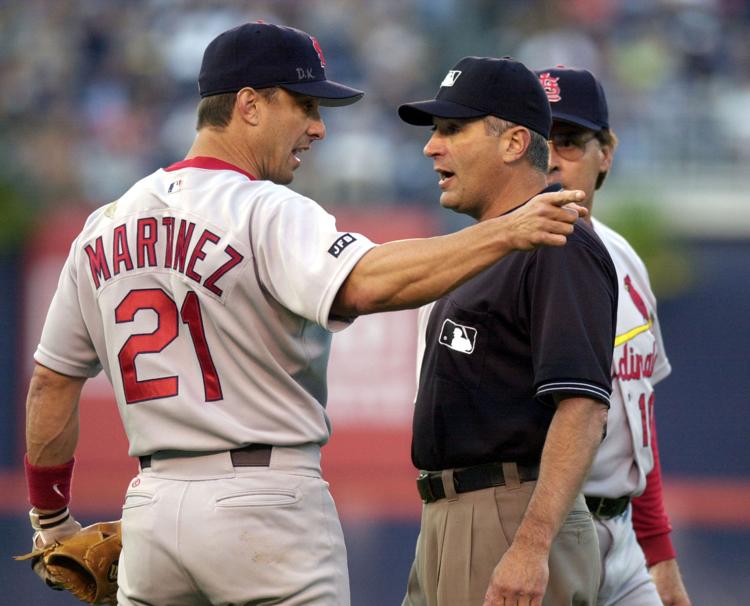 Signed to a three-year, $21 million deal before the 2002 season, the 34-year-old who faced the tall task of replacing Mark McGwire spent two slump-prone years in St. Louis before the club traded him to Tampa Bay to free up first base for Albert Pujols.
Martinez hit .267/.345/.434 during his two seasons with the Cards. His 36 combined home runs were two more than he hit as a Yankee in 2001. And he was a no-show in the 2002 postseason, where he went two for 25. He later pushed back against the "malcontent" and "cancer" labels applied by media and fans.
SIDNEY PONSON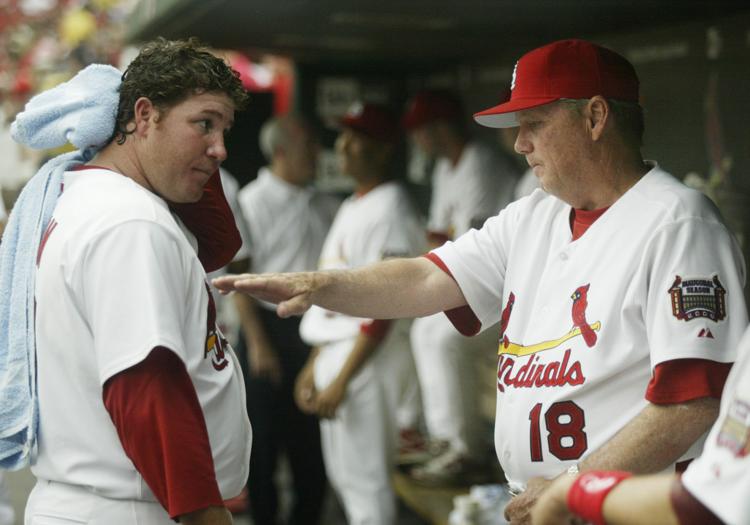 The Cards won the World Series in 2006, but the 29-year-old righty didn't do much to help them get there. After signing a one-year deal worth $1 million, Ponson rarely lasted longer than five innings yet pushed back the notion of a move to the bullpen.
He had a 4-4 record and 5.24 ERA in 14 appearances when he was designated for assignment. He was released and agreed to a deal with the Yankees — the same day his T-shirt debuted in the Cards' team store.
KIP WELLS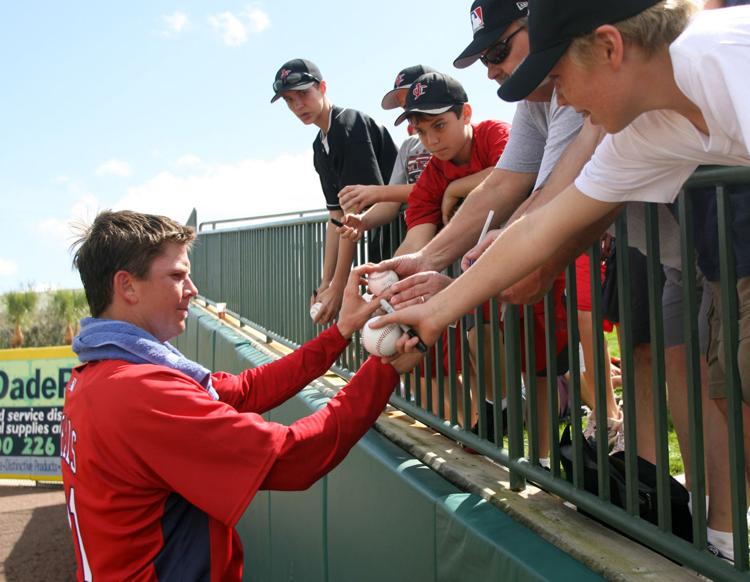 Randy Hendricks, Wells' representative, had this to say about the one-year deal worth $4 million that his client signed before the 2007 season: "If Kip does what we and the Cardinals hope, he will be worth a lot more after 2007. So we are betting on each other and the future."
Former Cards pitching coach Dave Duncan had a knack for reviving veteran arms, but his magic didn't work on the righty starter.
The 30-year-old started 26 games, and the Cardinals lost 20 of them. He was demoted to the bullpen at one point and finished the season with a 7-17 record and 5.70 ERA.
ADAM KENNEDY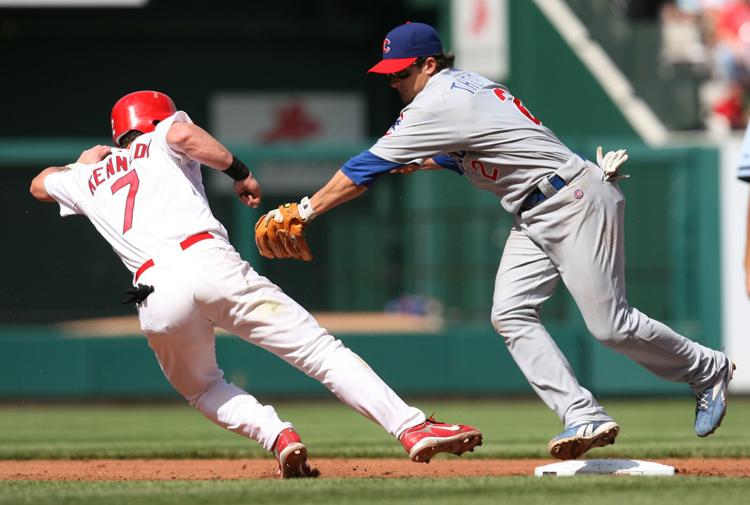 The Cards selected the second baseman 20th in the 1997 draft, and he made his major league debut with the club in 1999 before he was traded to Anaheim in the deal that sent Jim Edmonds to St. Louis.
Kennedy, the 2002 AL Championship Series MVP, came back to his first club for the 2007 season thanks to a three-year deal worth $10 million. It wasn't a happy homecoming for the 31-year-old, and it ended early thanks to an unconditional release. He hit .219 during an injury-shortened first season, then requested a trade after his playing time dropped off.
BRAD PENNY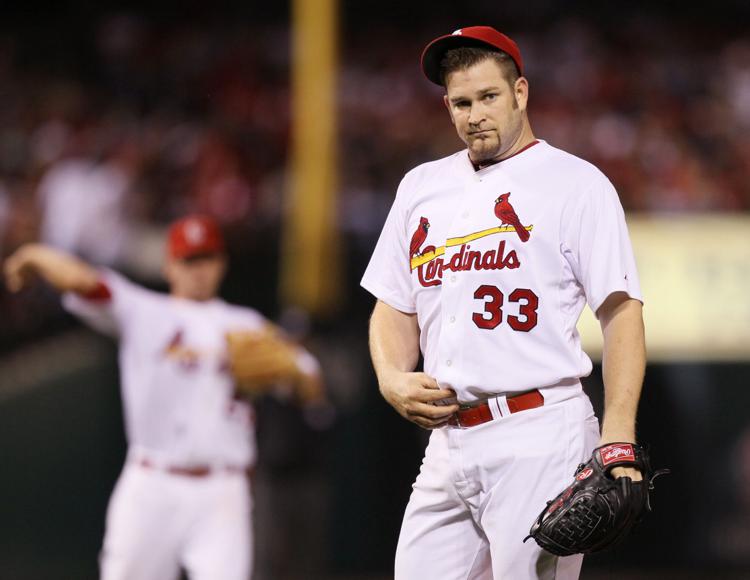 The 32-year-old righhanded starter hit the first grand slam of his career on May 21, 2010. The back injury that caused his exit in the same inning ended his only season with the Cards.
Signed to a one-year deal worth $7.5 million, Penny made nine starts (3-4) and pitched 55.2 innings (3.23 ERA) before the injury that was expected to heal in a few weeks turned into the pitcher sitting the rest of the 2010 season.
RONNY CEDENO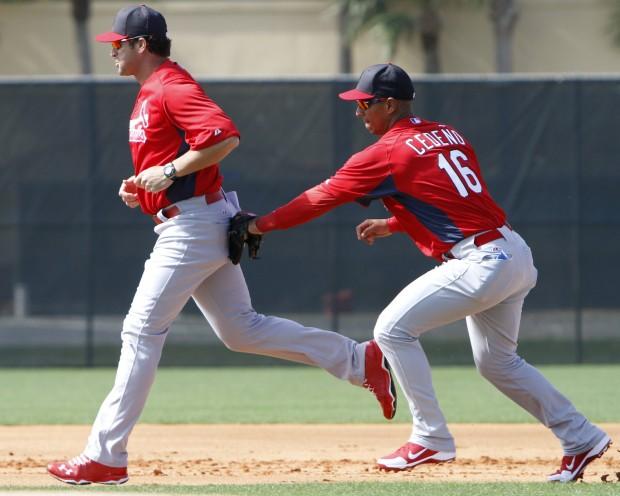 The Cards thought the veteran infielder might have starter potential after they signed him to a one-year deal worth $1.15 million before the 2013 season. Less than two months later, the 30-year-old was off the roster via unconditional release. The reason? Pete Kozma beat him out. Ouch.
"It wasn't fair to drag him on," Cards manager Mike Matheny said at the time. At least Cedeno got about $284,050 for his spring-training stint.
TY WIGGINTON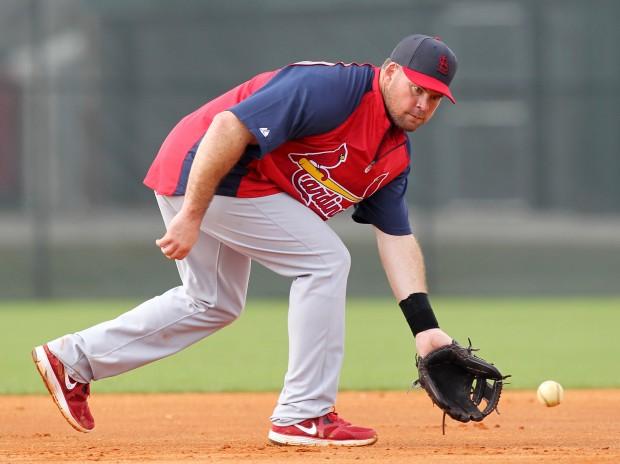 The former All-Star (2010) wasn't supposed to be The Man, but he was expected to offer a veteran bat off the bench when he was signed to a two-year deal worth $5 million before the 2013 season. The 35-year-old went 9 for 57 with 19 strikeouts and no homers before the club gave him an unconditional release after only 47 appearances.
He exited with class. "I've got nothing but good things to say about the Cardinals," he said.
MARK ELLIS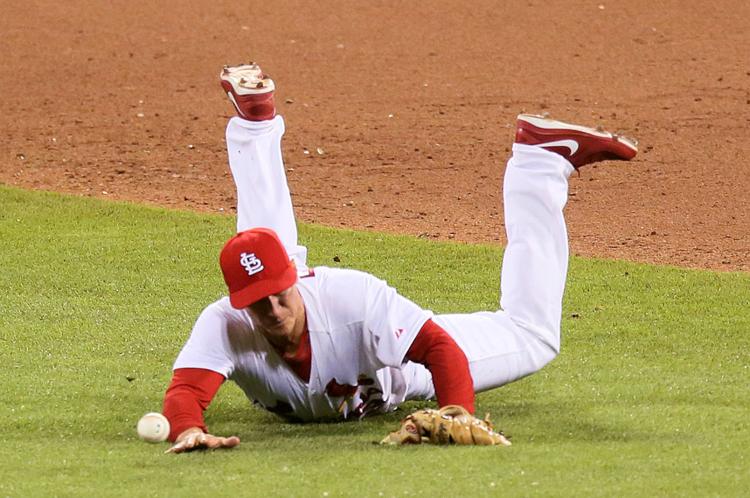 The addition of the 37-year-old second baseman before the 2014 season made enough sense. Here was an older yet still reliable infielder who could back up Matt Carpenter and Kolten Wong.
The one-year deal worth $5.25 million turned out to be a bad investment. Ellis, a .265 hitter during his 11-year career before joining the Cardinals, hit a career-low .180. At one point he went 29 games without an RBI. He also set career lows in home runs (zero), runs (15) and RBI (12). He announced his retirement in February.
MIKE LEAKE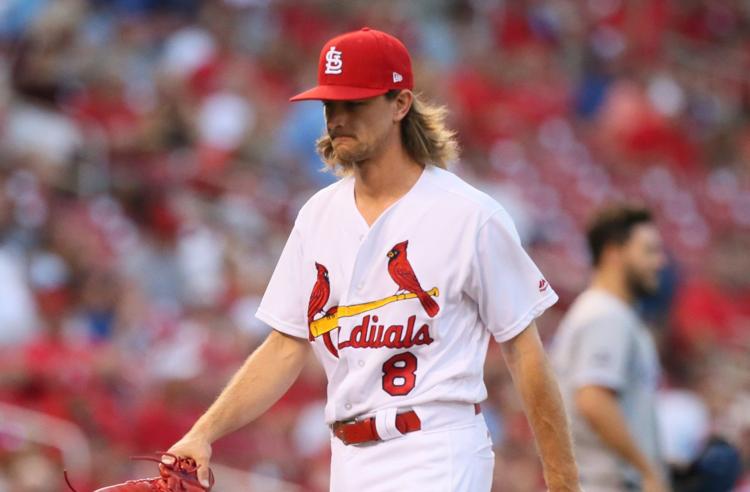 There are bad deals. Then there are the worst kind of deals, the ones that end when a club not only raises a white flag, but decides to throw money overboard in the process. The Cardinals don't do this often. Especially when there are multiple years left on the dud player's deal. But they decided it was the only answer with Leake, whom they signed to a five-year, $80 million deal in December  2015, then traded to the Mariners in August of 2017, chipping in some $17 million along with $750,000 of international signing-cap space in exchange for ... a minor league infielder named Rayder Ascanio. 
Leake, who landed the largest contract value of any free-agent starting pitcher in Cardinals history, posted a 16-24 record in 56 starts with the Redbirds. He departed with a 4.46 ERA. He was especially terrible against the National League Central; he went 5-14 with a 5.04 ERA in 27 starts against division foes. Leake lost 10 of his last 12 decisions as a Cardinal and posted a 6.94 ERA in his last 10 starts. A nasty battle with a case of the shingles impacted Leake's first season. The poor fit with his new team lingered long beyond that. Would things have turned around if the Cardinals gave him more time? We'll never know.
BRETT CECIL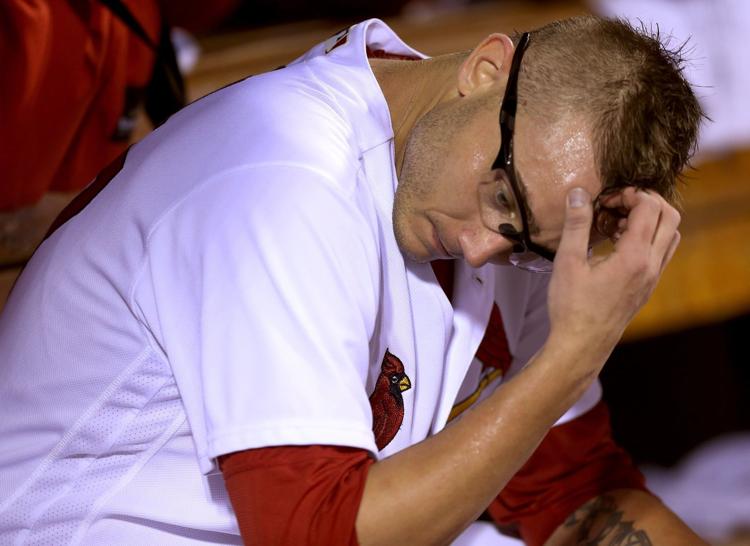 Cecil is two years into a four-year, $30.5 million contract, and to say things have not gone well is an understatement.
In 2017, the lefty reliever let a career-high number of inherited runners score (40.6 percent). Left-handed hitters averaged .343 and slugged .539 against him. In 2018, Cecil struggled with injuries and command all season, ringing up an eye-popping 6.89 ERA while allowing 39 hits and 20 unintentional walks in just 32⅔ innings. Again, he had problems with left-handed hitters, who had a .310 average against him.
GREG HOLLAND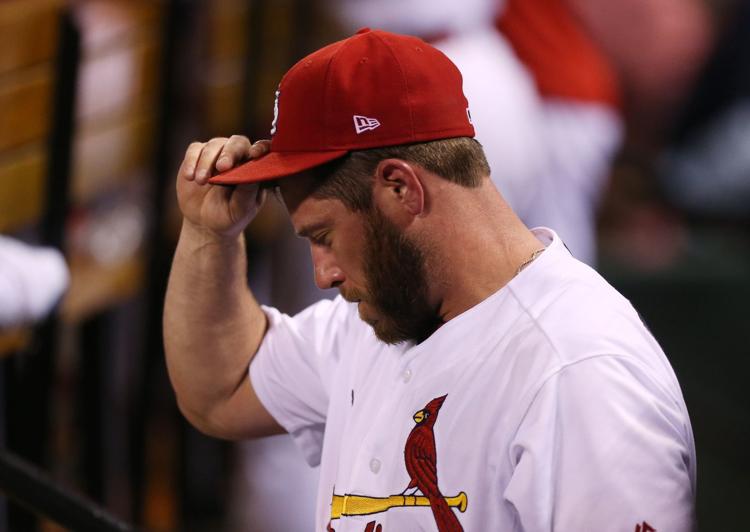 Holland came to St. Louis as an All-Star closer, signing a one-year, $14 million deal hours before the 2018 regular season started. He left St. Louis by the end of July, never able to find command of his fastball or his slider, considered his specialty.
The right-hander had no saves, a 7.92 ERA and walked an astonishing 22 batters in 25 innings. Shortly after leaving the Cardinals, he signed with the Nationals, allowing just two runs and nine hits in 21⅓ innings, which only worsened the sting of this stinker of a signing.
TO BE DETERMINED: DEXTER FOWLER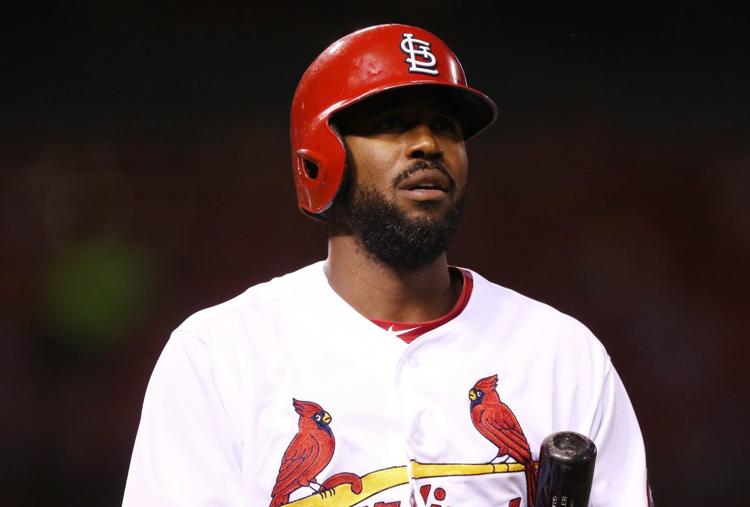 After an all-star season playing center field with the World Series-winning Cubs, Fowler signed a five-year, $82.5 million deal with the Cardinals after the 2016 season. Fowler, who turned 31 shortly before opening day in 2017, was expected to be the long-term answer in center field in St. Louis.
His first season with the Cardinals wasn't awful, but certainly nowhere near what the team hoped for, given the big salary. His second season, 2018, was awful. After 12 games, he was hitting only .152 (7 for 46), and after April 15, Fowler's batting average never rose above .200 all season, finishing at .180 on Aug. 3, the last game he played. He also posted negative defensive runs saved metrics.
Fowler should get another chance to redeem himself, with three years and $49.5 million remaining on his deal.
THE FLIP SIDE: BEST FREE-AGENT MOVES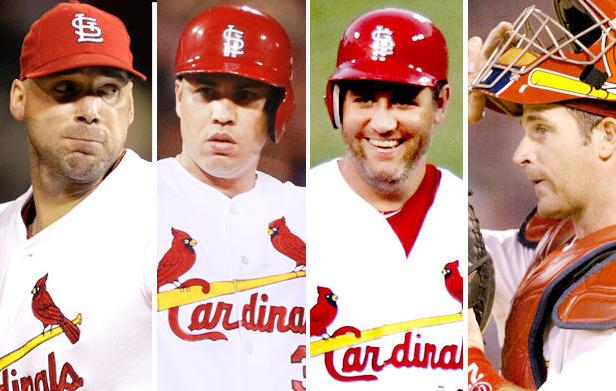 Will the Cardinals make a move in free agency this offseason?
While we wait to find out, columnist Ben Frederickson reviews some of their best signings — from Carp and a catcher, to Berkman, Beltran and beyond:
Keep up with the latest Cardinals coverage from our award-winning team of reporters and columnists.