WASHINGTON — The radical improvement the Cardinals made on defense this past season not only helped them contend despite an inconsistent offense but also made a little history as the only club to go from worst to first in errors.
That turnaround could be worth its weight in gold.
Led by Gold Glove Award favorite Kolten Wong, the Cardinals had an National League-best six finalists for the nine Gold Glove awards presented this year. St. Louis-baseball sporting goods company Rawlings announced the three finalists for each award Thursday afternoon on its Twitter feed. The Cardinals finalists were:
Wong at second.
Yadier Molina at catcher.
Paul Goldschmidt at first base.
Paul DeJong at shortstop.
Harrison Bader at center field.
Jack Flaherty at pitcher.
The Cardinals' six finalists are more than the other teams in the National League Central had combined (four).
Wong, DeJong, Bader, and Flaherty are all in the running for the first Gold Glove of their careers. Molina is going for the 10th Gold Glove of his career, something only two other catchers in history have achieved. Goldschmidt has won three previous Gold Glove awards, and it was his arrival at first base that helped the Cardinals made such hairpin turn in the field.
The Cardinals led the majors with 133 errors in 2018. In 2019, no team committed fewer than the Cardinals' 66 errors.
Advanced metrics also trumpeted the Cardinals' defense. Their plus-95 Defensive Runs Saved, according to Baseball Info Solutions, ranked third in the National League, and no team was as proficient turning groundballs into out as the Cardinals, especially in the middle of the field. The Cardinals' middle infielders, Wong and DeJong, anchored positions that were a combined plus-32 Defensive Runs Saved.
The next-closest middle infield was the Dodgers' group at plus-18.
A position by position look at the finalists:
PITCHER: Flaherty, Arizona's Zack Greinke (now in Houston), and Philadelphia's Aaron Nola. Flaherty did not commit an error on 41 chances, and he had 23 assists. Neither of those numbers led the Cardinals' pitchers, though. Miles Mikolas had 44 chances and 30 assists, and he too did not commit an error. Flaherty was a plus-3 Defensive Runs Saved (DRS), according to BillJamesOnline.
CATCHER: Molina, San Diego's Austin Hedges, Philly's J.T. Realmuto. Molina's plus-2 DRS ranked 17th in the majors. Advanced metrics for catchers are still a work in progress, but he rated average or above average at framing pitches, and opponents rarely attempted steals on Molina so his caught stealing average is lower because he doesn't have much opportunity.
FIRST BASE: Goldschmidt, Cub's Anthony Rizzo, Arizona's Christian Walker. Rizzo split the award with Atlanta's Freddie Freeman last season. It's Goldschmidt's replacement at first base in Arizona that could be the chief threat here, though. Goldschmidt had the highest fielding percentage of any first baseman, whatever that's worth. He committed only five errors. His plus-4 DRS ranked fifth at the position overall, and so did his plus-5 fielding, according to Baseball Info Solutions. Goldschmidt was a part of 145 double plays this past season. The next-closest first baseman was involved in 128. Walker was a plus-9, and Rizzo a plus-7 in the field.
SECOND BASE: Wong, Atlanta's Ozzie Albies, Pittsburgh's Adam Frazier. Wong should win. Wong should have won last year. It sometimes takes a year for the voters -- managers and coaches -- to, ahem, catch up. Wong led his position with a plus-14 DRS and a plus-18 overall in the field. He was plus-10 to his left and involved in 103 double plays. His 4.98 range factor also led his position in the majors. Wong was the only second baseman in the NL with more than 400 assists, and he had 412. No. 2 was Albies with 384.
SHORTSTOP: DeJong, Arizona's Nick Ahmed, Colorado's Trevor Story. DeJong's plus-14 DRS is fourth at his position, right behind Ahmed (plus-18), Story (plus-17), and surprise snub Javy Baez (plus-15). In the plus-minus rating, DeJong is a plus-18, and that's tied with Story but well behind Ahmed, the favorite, who is at plus-24.
CENTER FIELD: Bader, Milwaukee's Lorenzo Cain, Washington's Victor Robles. This is an interesting trio because it pits the established fielding great, Cain, against two of the best young fielders at the position in the game, either of whom could have a long stretch of Gold Glove wins. Bader's plus-22 in the field ranks third, and his plus-13 DRS ranks third. Cain is a plus-31 and Robles a plus-18 when it comes to DRS. The scores are closer when it comes to the plus/minus ratings with have Cain at plus-20 and Robles at plus-22, to lead the position. Bader does well on what Baseball Info Solutions considers "basic" plays. Bader is a plus-14 in that range.
The finalists for each award are the three players who received most votes. There is not a runoff, and in November the player who received the most votes will be revealed as the winner.
The voting body for the Gold Glove awards is the managers and coaches at the major-league level, and they are outfitted by Rawlings with advanced metrics and rankings that have helped steer the award toward a modern evaluation of defense. Managers and coaches are not allowed to vote for their own players — so the Cardinals received this support from opponents.
In the NL Central, only the Cubs had as many as two finalists, with Rizzo at first base and annual Gold Glove favorite Jason Heyward in right field. American League champ Houston had five finalists.
No team in baseball has won as many Gold Gloves as the Cardinals' 87 total. Baltimore has 17 fewer, and the Yankees 21 fewer. 
2019 grades: Cardinals position players
YADIER MOLINA, Catcher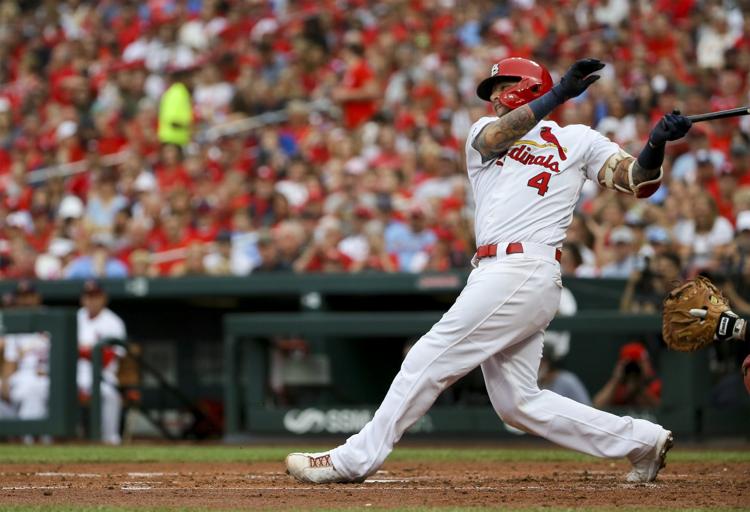 GORDO ON MOLINA: He returned from his thumb injury to help drive the second-half push. Molina hit .285 after the All-Star break with an .801 on-base plus slugging percentage. Overall he hit .305 with runners in scoring position. Defensively he threw out just 27 percent of opposing base stealers, the second-lowest mark in his career.
Molina fell into the same playoff hitting funk that claimed most of his teammates; he was just 5 for 33 with one walk. But he turned 37 in July, so he exceeded expectations at that age — and his leadership, pitch calling and pitch framing were exceptional.
Grade: A
---
KOLTEN WONG, Second Baseman
GORDO ON WONG: Once again he fielded second base at a Gold Glove level. Wong also hit .285 for the second time in three years. This season he broke through as a base stealer, succeeding 24 times in 28 tries. He hit .310 with runners in scoring position and two outs. His 4.7 Wins Above Replacement (Baseball Reference version) was best among the team's position players.
And Wong wasn't quite as helpless in the playoffs as some teammates. He hit .206 with four walks, four runs scored, three doubles, four RBIS and two stolen bases.
Grade: A
---
LANE THOMAS, Outfielder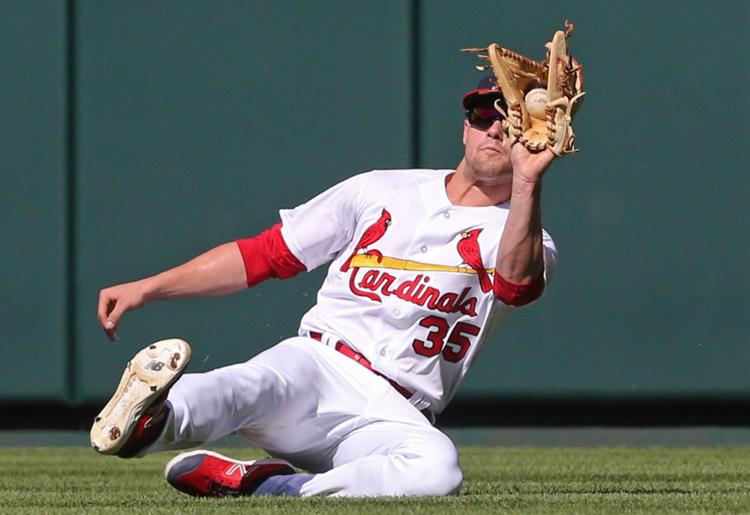 GORDO ON THOMAS: His tiny work sample was impressive: .316 batting average and 1.093 OPS in 44 plate appearances. Thomas had four hits — including three homers — plus a walk in his 13 pinch-hitting performances. He was an excellent defensive replacement, too, posting strong metrics in limited duty. Had Thomas stayed healthy he would have had a postseason role. He should get a long look in spring training.
Grade: A
---
TOMMY EDMAN, Infielder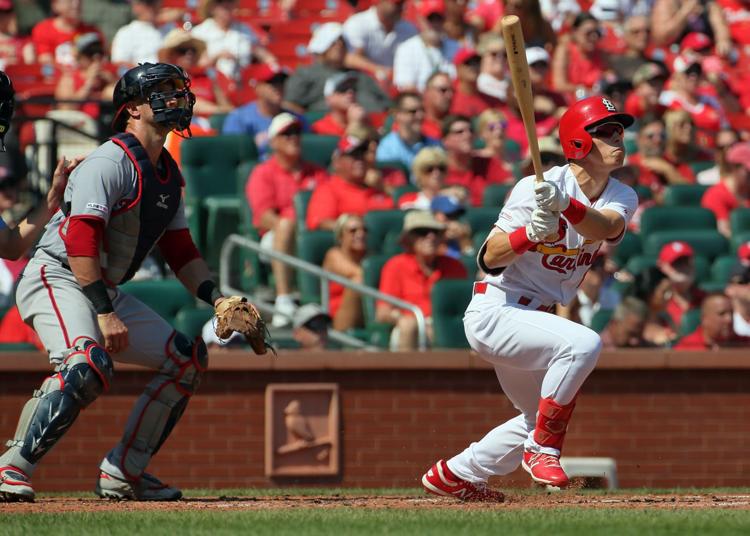 GORDO ON EDMAN: His hitting, speed and fielding versatility made him one of the team MVPs of the second-half push. Edman hit .304 with an .850 OPS and 15 stolen bases in 16 tries after graduating from the minors in June. He did nice defensive work while bouncing between third base, second base and right field.
But he hit just .208 with runners in scoring position and .152 with RISP and two outs. He was just 6 for 33 during the postseason, but he had three doubles, a triple and three RBIs. 
Grade: A-Minus
---
RANDY AROZARENA, Outfielder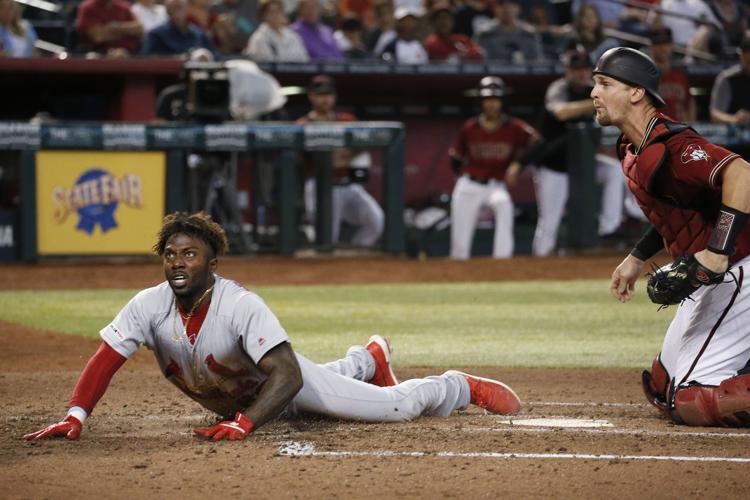 GORDO ON AROZARENA: He finally broke out in the minors this season, hitting .344 while splitting the season between Double-A Springfield and Triple-A Memphis. That earned him his first big league opportunity in the crowded Cardinals outfield. In limited regular season and playoff action Arozarena went 6 for 24 with two walks, a double, a homer, four runs scored, two RBIs and three stolen bases. 
Grade: B
---
MATT WIETERS, Catcher
GORDO ON WIETERS: He gave the Cardinals some added power as Molina's understudy. He hit 11 homers in 168 at-bats for the season, and posted an .842 OPS in July when Molina was shelved. Overall he threw out eight of 19 runners attempting to steal a base.
But Wieters was just 2 for 14 with three walks and a hit by pitch in 18 pinch-hitting appearances. He managed just one hit in 27 at bats with runners in scoring position and two outs and he was 0 for 3 in the playoffs.
Grade: B-Minus
---
PAUL GOLDSCHMIDT, First Baseman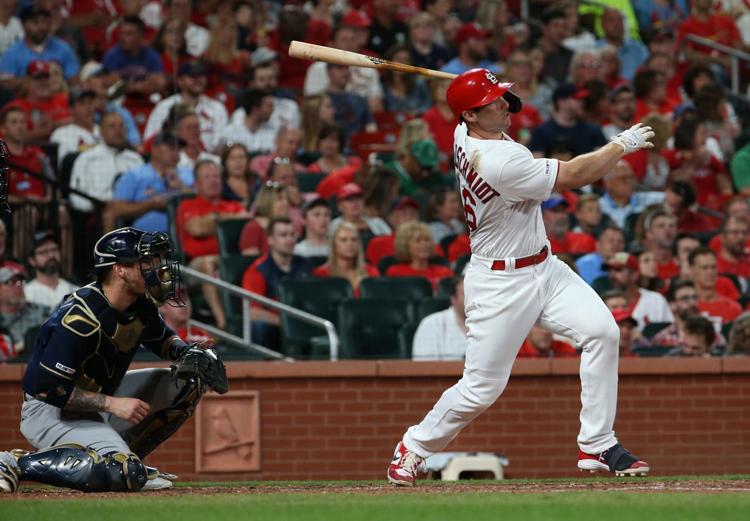 GORDO ON GOLDSCHMIDT: His soft hands at first base improved the team's defense. He helped trigger the second-half surge with 27 RBIs and a 1.085 OPS in July. He went 9 for 21 with five runs scored in the NLDS.
But Goldschmidt's bottom line was disappointing: a 30-point drop in batting average from 2018 and a 100-point OPS decline. This was especially unsettling given MLB's power surge due to juiced baseballs. He hit just .252 with runners in scoring position and .244 with RISP and two outs. Goldschmidt turned 32 last month and the Cardinals owe him $130 million over the next five years. Feel free to fret.
Grade: C-Plus
---
JOSE MARTINEZ, Outfielder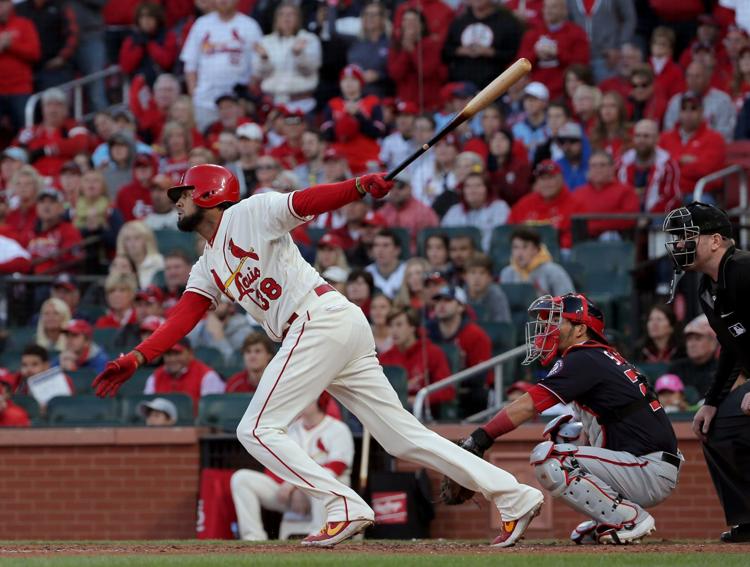 GORDO ON J. MARTINEZ: Game 4 of the NLCS vividly illustrated his good and his bad. On one hand, he smashed a two-run double off the right-center field wall. On the other hand, he bailed on a shallow fly ball that was his to catch all the way. That mishap helped spark a seven-run first inning for the Nationals. Martinez can hit (7-for-13 in the playoffs!) but he cannot field well. His defensive runs saved per 1,200 innings during the regular season came in at minus-19. Ouch.
Grade: C
---
YAIRO MUNOZ, Infielder/Outfielder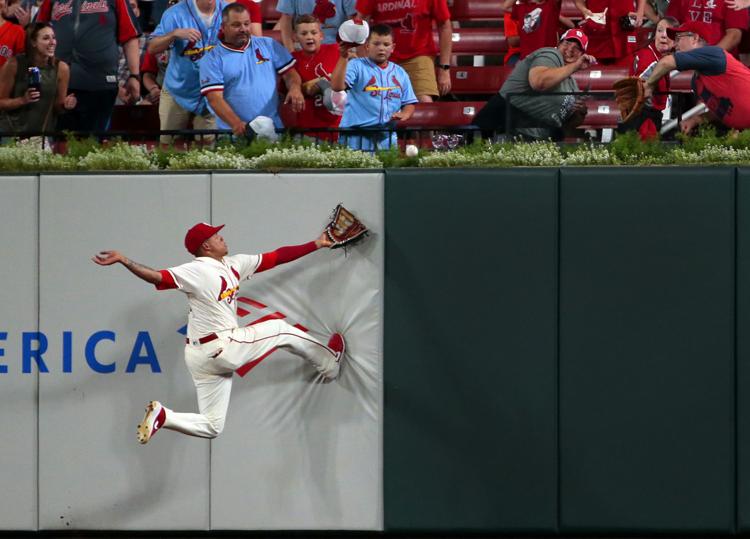 GORDO ON MUNOZ: He did a nice job filling in during the first half, batting .307 in 88 at bats after the All-Star break. His ability to play anywhere in the infield or outfield made him especially handy as a bench player. But Munoz didn't hit as well in the second half (.226 in 84 at bats) and he got just one postseason at bat. His inability to draw walks (just seven all season) left him with a subpar .298 on-base percentage.
Grade: C
---
TYLER O'NEILL, Outfielder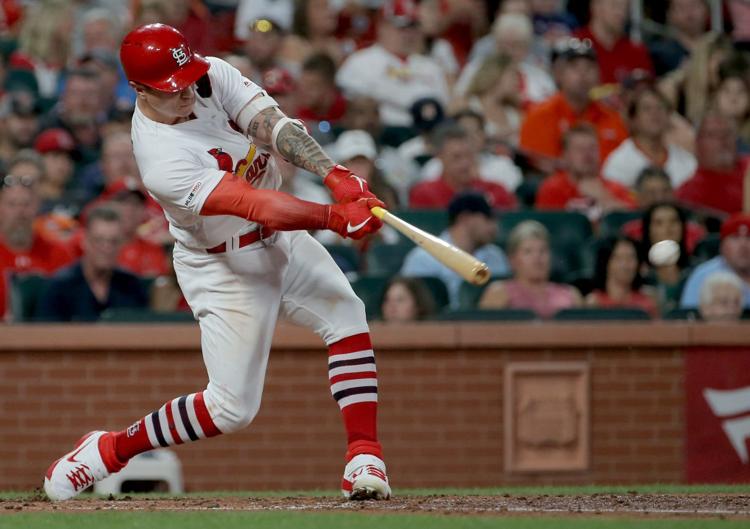 GORDO ON O'NEILL: He had an excellent July, hitting .301 with an OPS of .823. But O'Neill got hurt and fell out of the rotation, getting just 15 plate appearances the rest of the way. Overall O'Neill hit .262, but he struck out 53 times in 151 plate appearance while drawing just 10 walks. He wasn't a good pinch-hitter, delivering just two hits and a walk in 17 tries.
He hit 13 homers in 175 minor league at bats this season, but that power won't translate in the big leagues unless he cuts down on strikeouts. O'Neill runs well and plays all three outfield spots, but his fielding metrics weren't great. 
Grade: C
---
ANDREW KNIZNER, Catcher
GORDO ON KNIZNER: His rapid development allowed the team to trade top catching prospect Carson Kelly in the offseason Paul Goldschmidt deal. Knizner hit .274 with an .821 on-base plus slugging percentage at Memphis this season and .226 with two homers and two stolen bases in 18 games while filling for the Cardinals. For now, anyway, he looks to be Molina's heir-apparent.
Grade: C
---
RANGEL RAVELO, First Baseman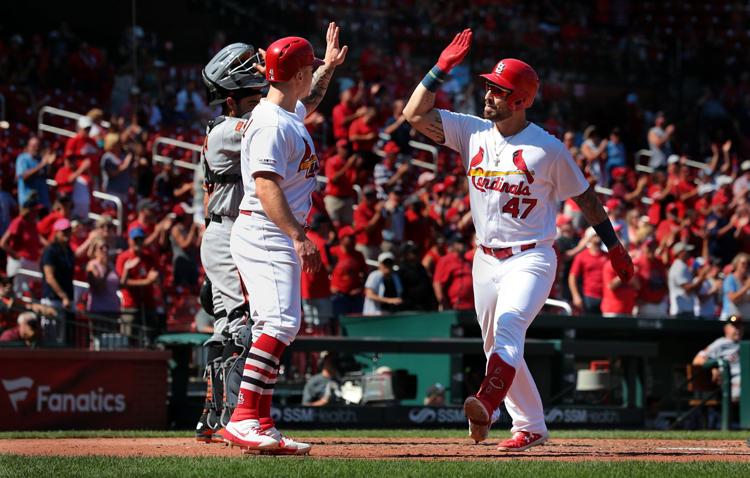 GORDO ON RAVELO:  This career minor leaguer beat the odds to get his first taste of the big leagues this season at the age of 27. Ravelo went just 8 for 39, but he had two doubles, two homers and seven RBIs. The Cardinals liked his at bats as a pinch-hitter -- he delivered five hits and two walks in 22 plate appearances.
Grade: C
---
MARCELL OZUNA, Left Fielder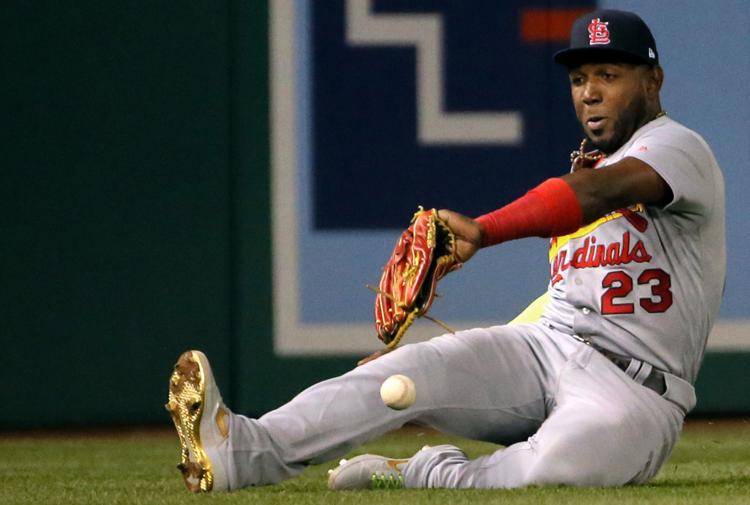 GORDO ON OZUNA: OK, his throwing shoulder was much better this season. But Ozuna's poor outfield reads, tentative routes to the ball and clumsy glove work made him a left field liability. He produced in spurts, but he also suffered prolonged slumps -- like when he hit .226 in May and (gulp) .160 in September.
His inconsistency continued in the postseason. Ozuna went 9 for 21 with three doubles, two homers, five runs scored and six RBIs against Atlanta in the NLDS. But then he went 3 for 16 with eight strikeouts and zero RBIs in the NLCS.
Grade: C-Minus
---
DEXTER FOWLER, Outfielder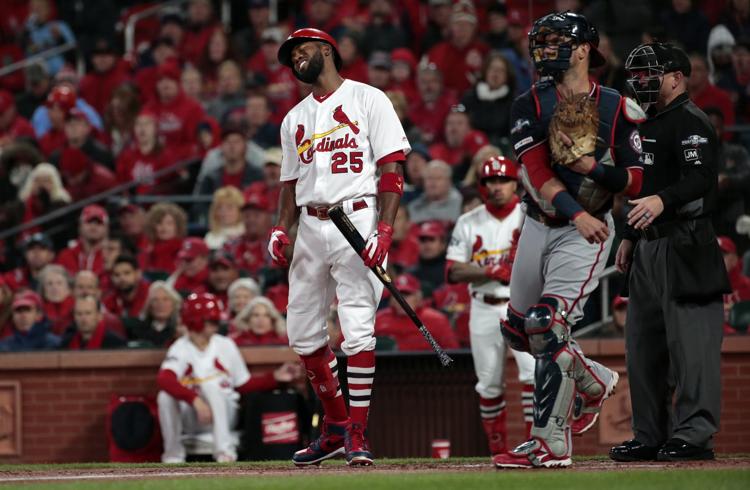 GORDO ON FOWLER: His ability to play center field this season was a plus. So was his ability to hit leadoff again. Fowler provided a big offensive boost in August, delivering an .849 OPS with 21 RBIs.
But overall he provided substandard offense (.755 OPS) for an outfielder making $16.5 million for two more years. Fowler faded in September, batting just .183, and he went 2 for 33 with four walks during the playoffs. That poor finish added one more question mark to the offseason roster assessment.
Grade: C-Minus
---
PAUL DEJONG, Shortstop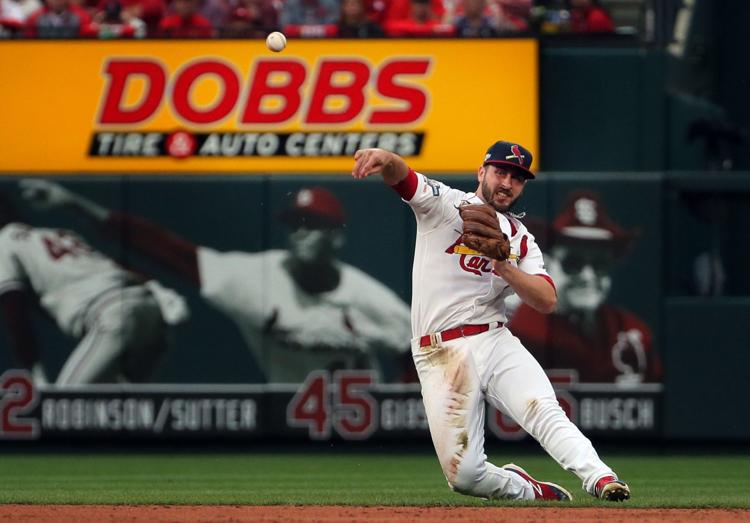 GORDO ON DEJONG: He remained steady at shortstop, teaming with the spectacular Wong for an excellent double-play combination. His 14 defensive runs saved above average tied Wong for the team lead.
DeJong hit 30 homers, but so did 57 other big leaguers. His 4.1 WAR rating flattered him. He hit .200 in May, then .218, .205, .233 and .175 during the next four months. Overall, DeJong hit .193 with runners in scoring position and .182 with RISP and two outs. He hit .233 with 14 strikeouts in 30 at bats during the postseason. Manager Mike Shildt used to see DeJong as a No. 3 hitter; by October he often relegated him to the No. 8 hole.
Grade: C-Minus
---
HARRISON BADER, Center Fielder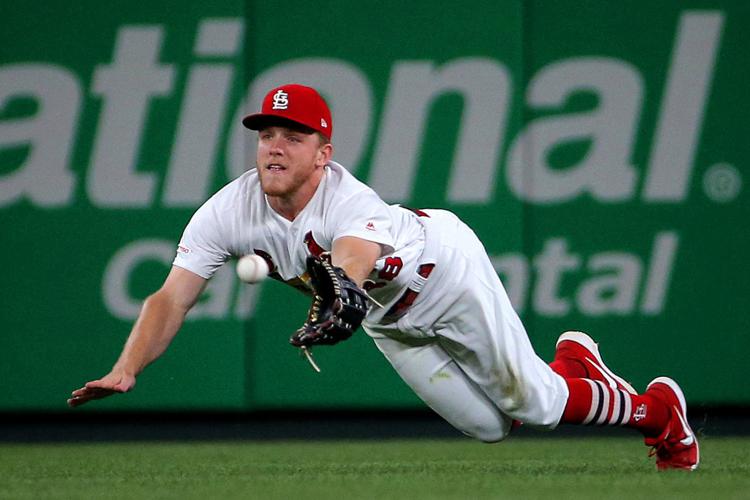 GORDO ON BADER: He is a human highlight reel in center field, covering both alleys and making spectacular catches coming in and going back. His 25 defensive runs saved per 1,200 innings led the team. He flashed speed (11 steals) and power (12 homers) while moving in and out of the lineup.
But Bader can't hit sliders. Some remedial midseason hitting in the minors produced a 9-for-25 surge when he returned in August. But otherwise Bader hit .205 for the regular season before going 2 for 12 with six strikeouts in the playoffs.
Grade: D-Plus
---
JEDD GYORKO, Infielder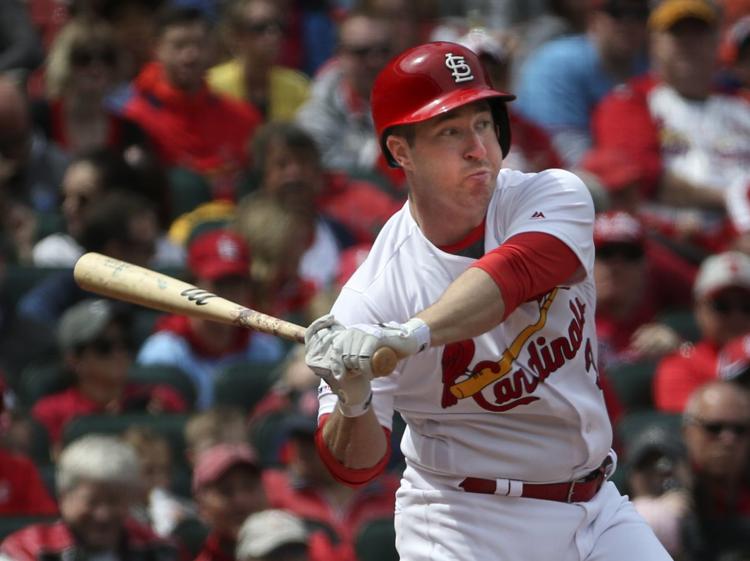 GORDO ON GYORKO: He played for the Cardinals this season, remember? A series of injuries limited him to 62 plate appearances in 38 games before the team traded him to the Los Angeles Dodgers. Gyorko hit .196 with two homers and seven RBIs before departing. He was a shell of the man who clubbed 50 homers and provided reliable fielding during the 2016 and '17 seasons.
Grade: D
---
MATT CARPENTER, Third Baseman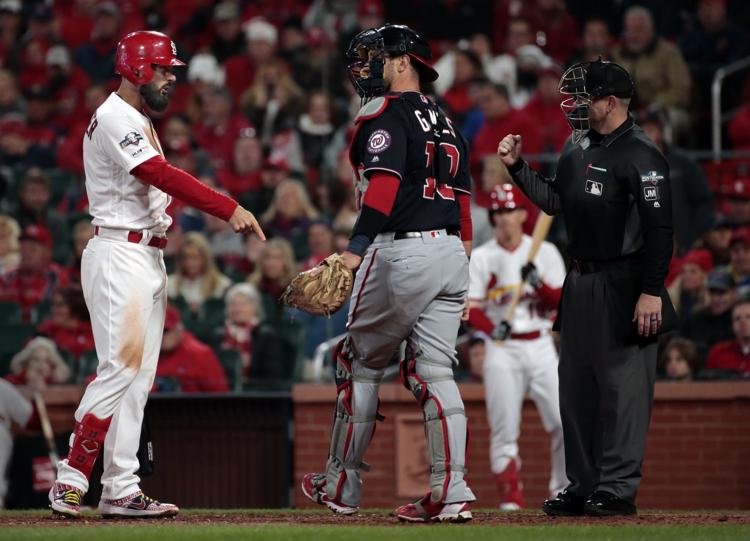 GORDO ON CARPENTER: In the span of one year he fell from MVP candidate to part-time player. Carpenter was batting just .212 in late August before rallying during the last five weeks. He went 22 for 76 (.289), six doubles, two homers and 13 RBIs while helping the Cardinals edge out the Brewers for the division title.
But Carpenter delivered just one hit in 13 postseason at bats, albeit with three RBIs. The $39 million left on his contract will handcuff management's ability to overhaul the offense this winter. 
Grade: D-Minus
---
COMING TUESDAY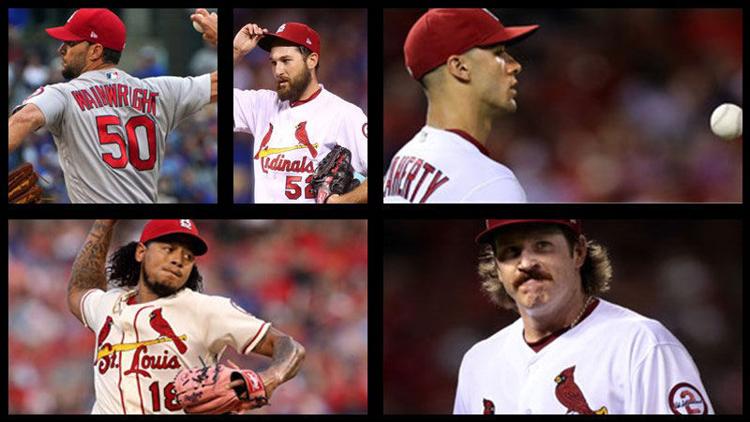 Grading the pitchers
On Tuesday, longtime Post-Dispatch and STLtoday.com columnist Jeff Gordon hands down the report cards for the 2019 Cardinals pitching staff.
Visit STLtoday.com/sports to see the grades and read the quick-hit analysis for each pitcher.
Keep up with the latest Cardinals coverage from our award-winning team of reporters and columnists.