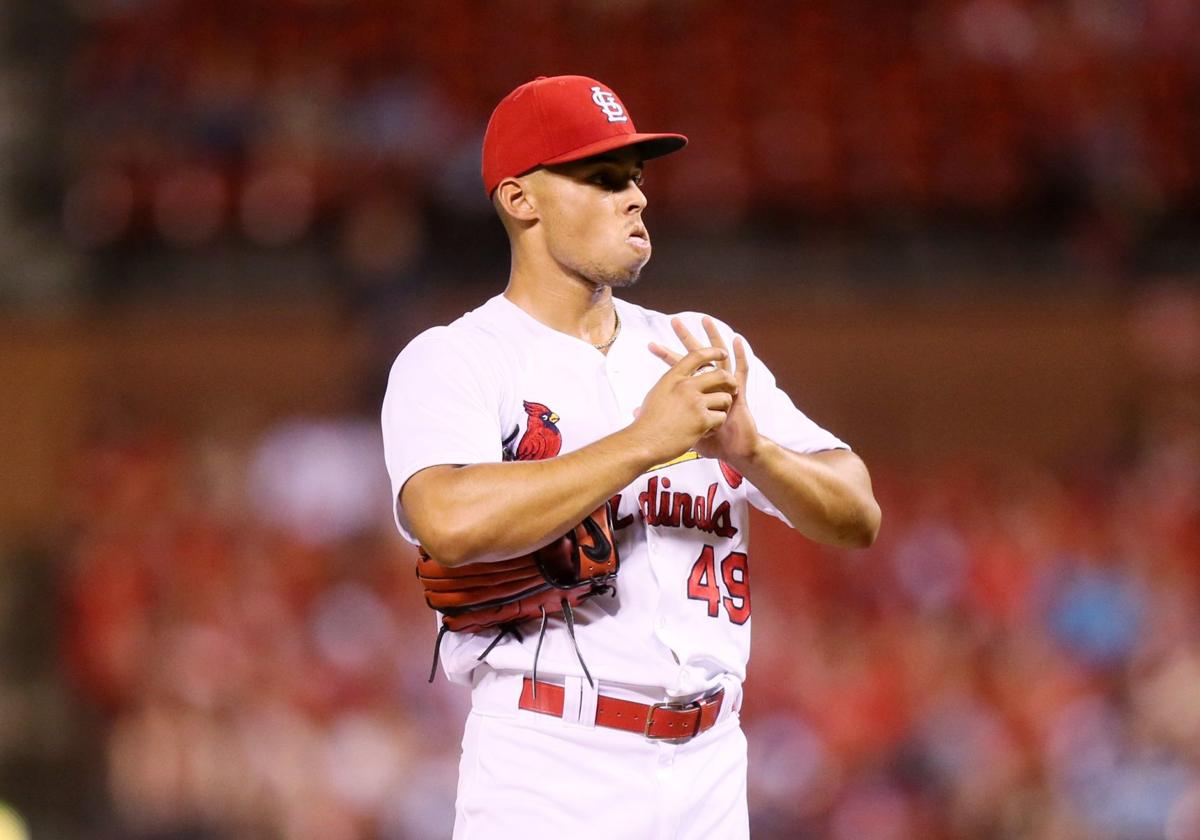 This past week while on the road trip, Cardinals closer Bud Norris pulled rookie Jordan Hicks aside to give him a small suggestion — to "show me the ropes," as Hicks would say Thursday.
The 33-year-old Norris and 21-year-old Hicks have been thrust together as the unexpected closer and hotshot rookie of the Cardinals' bullpen, and while both are learning new roles, new demands, and, really, a new team, the veteran is also trying to help the youngster navigate a level of baseball he's never come to before. So, Norris had a suggestion for Hicks, and he pulled him aside privately to make it.
"Hair product," Hicks said. "It was a hair product."
Sometimes Norris' suggestions can be more pointed.
The dynamics between Norris, Hicks, and the Cardinals clubhouse, writ large, stirred conversation Thursday after a story detailing Norris' role as leader in the bullpen ran on The Athletic. In the story, Hicks declined comment about Norris' instruction. Norris was described as "mercilessly riding" the rookie, and manager Mike Matheny told The Athletic and other reporters present in San Francisco that Norris was "exposed to a different generation of players" and an implied old-school bite. Matheny also stressed that Hicks had to be aware that teammates, not just Norris, are "invested in you."
"He has the best intentions for me," Hicks told the Post-Dispatch about Norris. "I think he's nudging me in the right direction. That's the best way to put it. I'm a rookie. I need guys guiding me. He actually does care about me. I know that. There are times, though, when he or anyone basically says, 'You should know better.' I'm learning from that."
The advice has ranged from clubhouse politics about when to play music and who gets to play music, to road-trip rules. On this past road trip, Hicks arrived at the ballpark in shorts. That is against team rules decided on in spring training. He was fined $100 for the violation, and he took a ribbing from teammates. (That $100 goes to Cardinals Care, the team's charitable arm.)
John Mozeliak, the team's president of baseball operations, spoke with both Norris and Hicks about their relationship and the article on Thursday.
"Any time you read the initial headline, you have to be concerned," Mozeliak said. "There is a hierarchy in any clubhouse, but we don't want there to be any time where a young player feels he is not welcome so that he cannot be himself. There are expectations. There are rules. … Jordan is learning and growing and it's all at this level."
Hicks was a last-minute addition to the major-league roster, and what the Cardinals were asking him to do was vault from Class A to the majors without an inning in between. They acknowledged at the time -- and did again Thursday -- the learning curve they forced on the 21-year-old from Houston. Some of the things that players learn as they advance in the minors – or deal with former big-league players at Class AAA – Hicks skipped.
The Cardinals put support structures in place when Hicks arrived in the majors to help assure he met requirements at the major-league level. Part of that was driven by the fact he missed report times and meetings during spring training enough times that he was demoted, suddenly, from major-league camp.
"I'm learning a lot as a rookie," Hicks said in a phone interview after going to the ballpark Thursday for some treatment. "All of these things are going to help me in the long run. I know that. I feel comfortable. I do. They've been around. They know the drill."
Much more from Hicks in Friday's Post-Dispatch and online here at StlToday.com