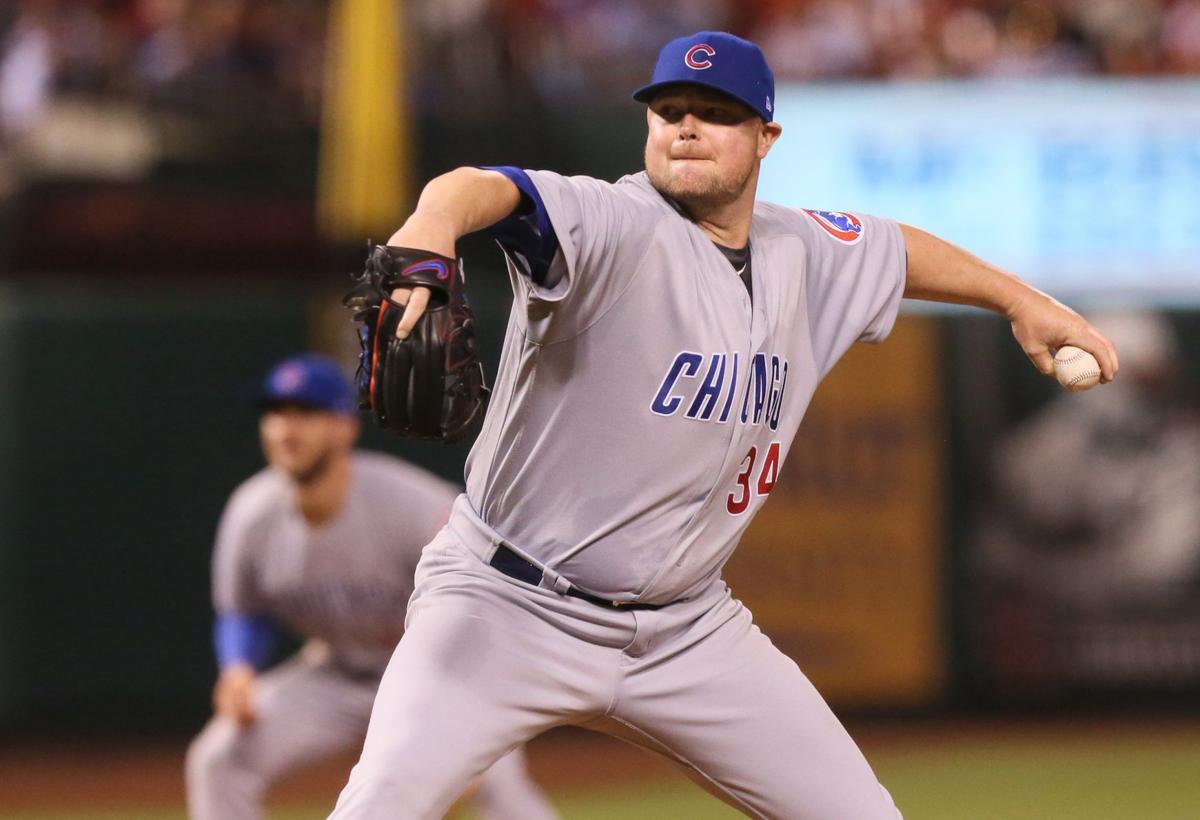 What happened at the trade deadline set the stage for the unveiling this week of the new, lefty look to the Cardinals rotation, and what happened Sunday influenced who would stand immediately to a new lefty's right.
Jon Lester, a champion with the Red Sox and a celebrated Cub, will make his Cardinals debut Tuesday night against Atlanta.
The Braves, who have yet to be better than .500 this season, tiptoeing toward it and never pats it, visit Busch Stadium for a three-game series that is also the start of something for the Cardinals. Or better be. In addition to getting starts in the first two days from newcomers Lester and J. A. Happ, the Cardinals will play the remainder of this month with one series against a team with a winning record. That team: first-place Milwaukee.
Otherwise, the Cardinals have three games against the Braves (52-54) and 10 games remaining this month against the last-place Pirates.
The weeks also include a helping of KC flavor as the Royals visit in the coming weekend and then host the Cardinals across the Interstate-70 the following weekend.
Against Jack Flaherty's high school pal Max Fried, a lefty, Tommy Edman returns to the leadoff spot as Mike Shildt has done in recent weeks because of Edman's success against lefties batting righthanded. The more notable wrinkle to the lineup and likely more recent decision is having Edmundo Sosa start at shortstop. His homer late in Sunday's game punctuated a three-hit day and continues to make him a candidate for starts at shortstop.
Shildt stressed that starter Paul DeJong had a strong July with four homers and a .282/.346/.479 slash line.
Miles Mikolas is with Class AA Springfield for a start Tuesday night. He'll go as deep into the game as his scheduled amount of pitchers (around 60?) takes him, and then yield to mound to reliever Daniel Ponce de Leon for what could be the last of his rehab assignments. Ponce de Leon is earmarked for around two innings.
Jack Flaherty rejoined the Cardinals at Busch Stadium on Tuesday to be reviewed by team trainers and discuss his next steps.
Check back throughout the evening here at StlToday.com for coverage from Busch Stadium, and then there will be expanded, exclusive coverage in the pages of the Post-Dispatch.