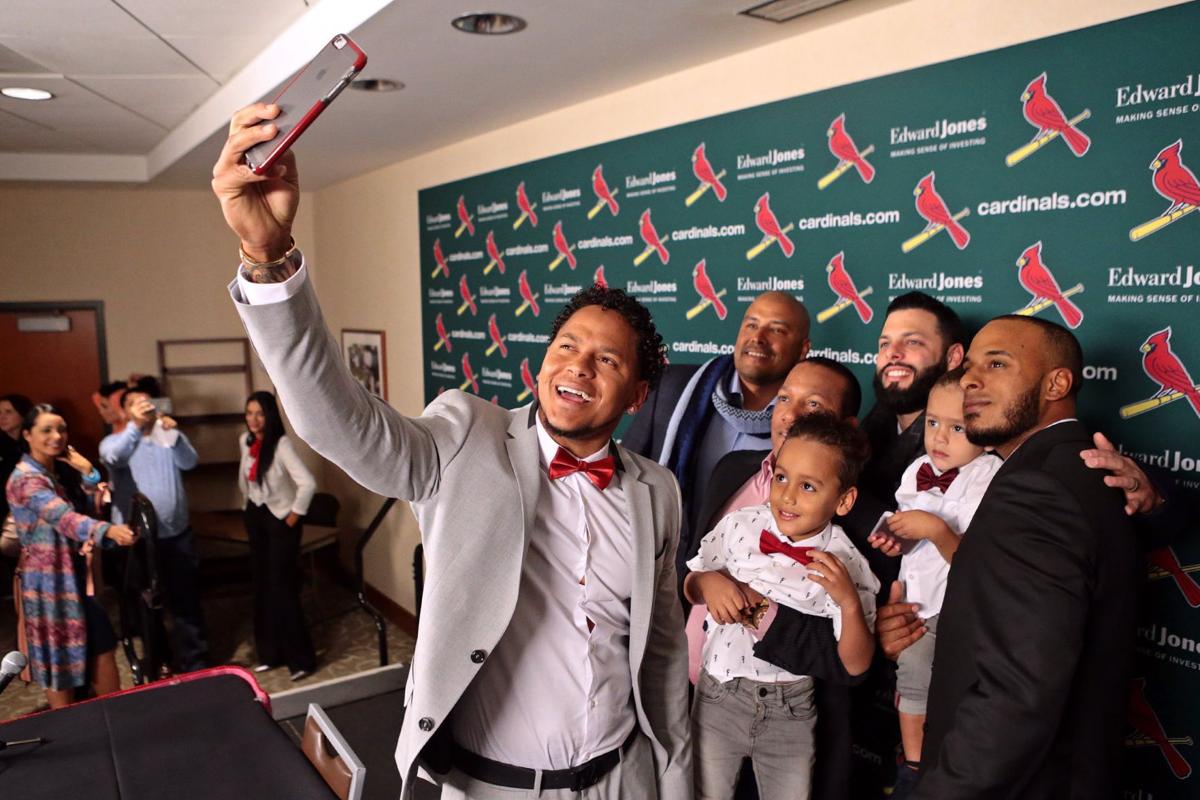 ST. LOUIS • What began with a year of tracking down documents and the 40-page binder it produced – complete with one key piece of paper, his mother's death certificate – brought Carlos Martinez to stage Thursday at Busch Stadium and financial security his family has never known.
Wearing a bright red bowtie that matched the ones sported by his sons, Martinez sat beside general manager John Mozeliak as the Cardinals announced, formally, a five-year agreement with their young, electric righthander. The deal, which guarantees Martinez $51 million, includes two club options for the years 2022 and 2023.
In total, it could be worth $86 million, per a source.
That's a long way from a Cardinals scout scouring through file cabinets and boxes at schools and houses in Martinez's hometown to help him and the club finalize his first contract offered seven years ago this month.
"Any time there is a moment like this you do think back on the journey that brings a young man to here," Mozeliak said. "It really is incredible for someone like him to achieve this status. I think he used a good phrase or a good word when someone asked him about the contract, and he said, 'Look, I deserve this.' Deserve vs. do are two separate things. He could have just pointed to (age) 28 as a free agent. He chose not to."
The deal, a record-setting salary for a first-year arbitration player, gives Martinez the longest contract of any pitcher the Cardinals currently have. It also means the team will avoid an arbitration hearing with him Tuesday.
Throughout a 20-minute press conference Thursday morning, Martinez fixed his eyes on Mozeliak as the general manager detailed the route to a deal. He beamed when he compared pitching next month for the Dominican Republic in the World Baseball Classic to representing the Cardinals. He grinned as he answered a question about whether he or Adam Wainwright should start opening night at Busch against the Chicago Cubs on April 2. He talked about continuing to invest in St. Louis and his hometown in the Dominican, where he already has a foundation that, among other services, gathers and donates baseball equipment to children.
He then posed for photo after photo with his family and his representatives and his friends that came with him to the press conference. He took a series of selfies.
"It is something that I have always dreamed about for myself, for my family, since I was a little boy growing up in the Dominican Republic," Martinez said. "I'm thankful for this opportunity. I always waited on the day that I could be independent and really have that future for myself and for family."
Martinez's agent, Brian Mejia, first approached the Cardinals about an extension almost a year ago, and Martinez was candid all of last year about wanting to work on a multi-year agreement with the club. His arbitration rights spurred the discussion – just as they briefly brought a halt to it. Last month, the two sides exchanged salary requests, and the Cardinals stated that they would be taking the decision to an arbiter. A hearing with Martinez would be the team's first arbitration hearing since 1999. Publicly, the Cardinals said they had drawn a line: file, go to trial. Privately, the two sides re-engaged to discuss a multi-year framework.
Some of the conversations happened last week while Martinez and his agent were on a cruise with Cardinals fans. The cruise included a tour, given by Martinez, of his hometown of Puerto Plata, Dominican Republic.
He took the fans by Oscar Taveras Field, where his late friend played.
Back in 2004, Mozeliak, then the Cardinals assistant general manager, helped negotiate a deal for shortstop David Eckstein while his agent was on a cruise, and this past week was similar, trying to get the "ship to shore" relay to connect on a deal.
"This type of contract is all about the future," Mozeliak said. "When you have someone who is 25 years old who could hit free agency at 28, his leverage is far different than someone hitting free agency for the first time at 32, with not having earned much at that point. Carlos felt it was important to get something done now. So did the Cardinals. When you look at our future now, knowing Carlos Martinez can anchor our rotation for the next five years, it feels and sounds pretty good to me."
Martinez will make $4.5 million this coming season – and that includes a $1-million signing bonus. Over the next four years he will make $11.5 million per year. The Cardinals hold a $17 million option for 2022 and an $18 million option for 2023. They have control over four years of his free agency, and he may not reach it until age 32.
Outfielder Dexter Fowler, signed this winter as a free agent, is the only Cardinal with a guaranteed contract as long as Martinez's.
The intricacies of Martinez's contract includes $500,000 buyouts for both options, and his perks also increase through the life of his contract. His contract will eventually include suites on the road, just as the Cardinals and other teams do to sweeten offers for free agents. He also has some trade protection. If he's traded anytime during the 2017 or 2018 seasons, he receives a $500,000 bonus, and if he's traded any time after that during the life of the contract he is owed $1 million, sources familiar with the contract's language told The Post-Dispatch.
"Here's a young man that had a lot of opportunities in front of him," Mozeliak said. "He certainly could have been patient and sought free agency in three years. But his commitment to the St. Louis Cardinals and the city of St. Louis was something that drove him to want to do this."
After a breakout 2015 that included an All-Star Game invitation, Martinez led the Cardinals' rotation in 2016. He went 16-9 with a 3.04 ERA in 31 starts. He pitched a career-high 195 1/3 innings and struck out 174 of the 809 batters he faced. He was one of the leading groundball pitchers in the game, and he sped to a finish. As the Cardinals scrambled to try and claim a playoff appearance for the sixth consecutive season, Martinez was 4-2 with a 2.92 ERA in September.
His next stride as an ace-caliber starter is zooming past 200 innings.
The Cardinals signed Martinez in April 2010 only after his contract with the Boston Red Sox was voided by Major League Baseball. The Red Sox had signed Martinez as a shortstop, and his name on the contract was Carlos Matias. Major League Baseball could not verify his identity or his age, so Carlos was suspended for a year. The Cardinals saw him while he served his suspension – and as he switched to pitcher.
Then 18 and all of 160 pounds, Martinez had sizzle.
In a tryout he hit 94 mph to 96 mph with his fastball.
"Did I just see that?" a lead scout remarked.
Now, about that paperwork.
The Cardinals director of international scouting Moises Rodriguez and scout Aaron Rodriguez coordinated an effort to piece together the necessary proof of his birthdate and any other identification required by the U.S. Consulate and Major League Baseball. Aaron Rodriguez picked through boxes at a schoolhouse at one point, and the Cardinals determined that they needed a way to connect Carlos to his last name at birth, Martinez, and his birthdate. An executive likened it to "solving a mystery." His birthdate never changed, but to connect him to it the Cardinals needed proof that Carlos' last name had been changed after his mother's death. Carlos had to provide that last piece of proof.
He went four times to request it: his mother's death certificate.
"I had to basically beg, 'This is about my future, my baseball career,'" Martinez told the Post-Dispatch in 2011, when he was 19. "It's not the kind of paperwork that comes easy."
Once he had it, the Cardinals included it in a binder that they and Martinez presented to the U.S. Consulate. That was enough for Major League Baseball, too, and Martinez was cleared to sign and given a visa to pursue professional baseball. The rest was up to him.
His new contract says everything about how he did.
Said Martinez on Thursday, "I'm going to take advantage of this opportunity."
Keep up with the latest Cardinals coverage from our award-winning team of reporters and columnists.