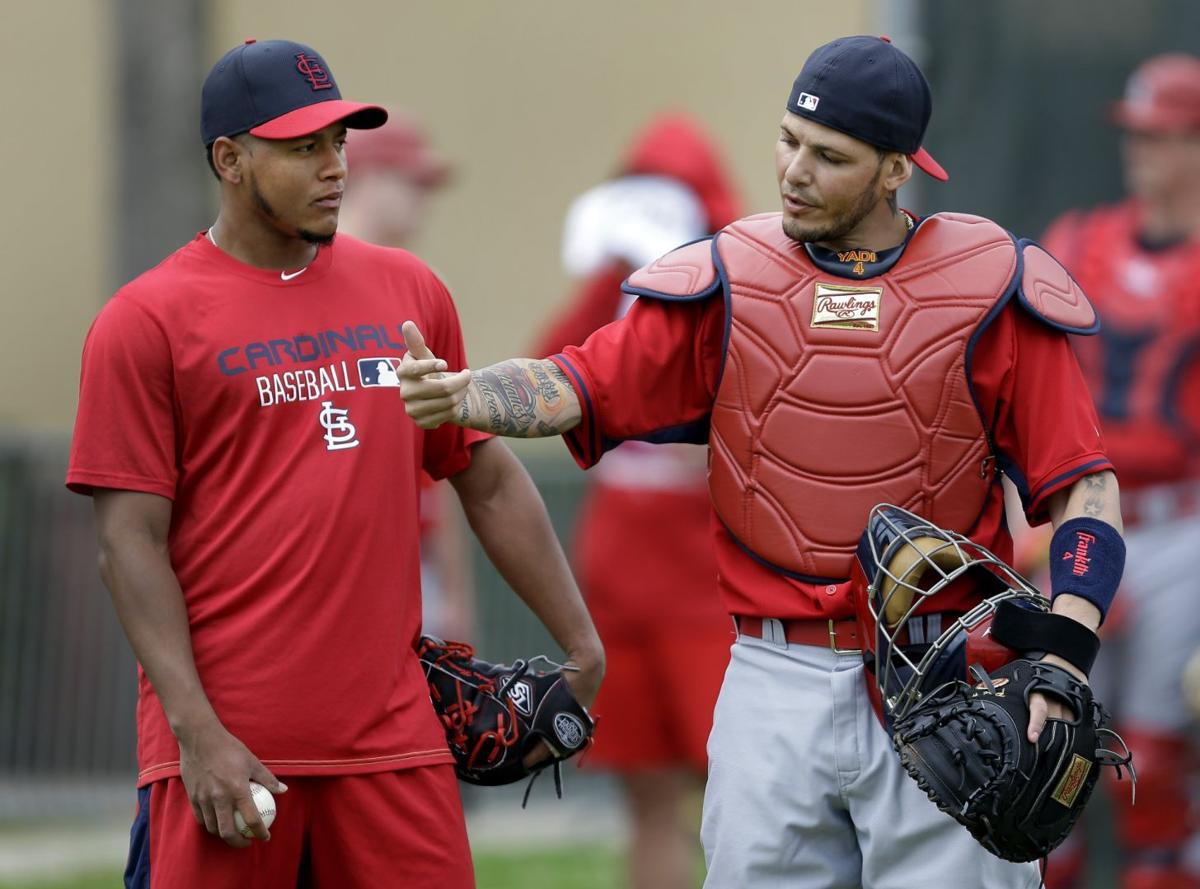 JUPITER, Fla. • What started with a new location in the clubhouse – you have read about that – continued on the field today as Carlos Martinez took the mound for his first bullpen session with teammates and coaches watching.
There behind the plate was Yadier Molina.
He wore his uniform just in case anyone was unsure.
The Cardinals do not have to report to spring training until Thursday, and even then the pitchers and catchers don't have to be at the team's facility until Friday for the first official workout at spring. The Cardinals might as well call these workouts official. More than half the 40-man roster is here. More major-league pitchers are here than aren't. John Lackey made his first appearance of spring training at the complex on Wednesday, and he quickly joined in the workouts. He and Matt Belisle did their throws together before Belisle threw a light bullpen.
Molina usually eases into his catching gear at this point of spring. There have been times when he doesn't catch a pitcher until that first official workout of spring training. He does his pre-spring workouts in the cage or in the weight room or running on the field – and he does them with singular, sometimes solitary, purpose. Molina has shed more than 20 pounds, and that weight loss is one of the early talks of spring. So too should be how often he's hopped behind the plate. He was there, squatting, for Adam Wainwright's throw off the mound last week. He was one of the few players to put on his uniform – they aren't required to wear it until Friday – and got behind the plate for Martinez's catch.
"He was excited to catch Waino the other day," manager Mike Matheny said. "The full (uniform) surprised me. He was full metal jacket today."
The team's support of Martinez and its intent to have him flourish this spring is clear. His throwing session Wednesday morning included Molina behind the plate offering encouragement. Standing a few feet away from Molina was Matheny asking about pitches and commenting on the clear strength Martinez added.
The righty flashed more pitches as well.
Over the past few years, he has alternated between using a slider and a curveball. The curve is what he threw often in the majors last summer, and pitching coach Derek Lilliquist has urged him to throw it hard so that he doesn't tip the breaking ball. Martinez also has the high-watt four-seam fastball and a hard sinker that may be his best pitch. He averaged 96.7 mph on his fastballs last season and he threw a fastball 64 percent of the time, according to FanGraphs and Pitch F/x data. He's had a changeup, but not one he uses often.
"About 3 percent," he said Wednesday morning.
Sure enough, Pitch F/x had him at 2.9 percent of the time throwing changeup.
He threw it far more often Wednesday. It's a circle changeup and it has depth to it. The changeup is not a new pitch for him. There was a time during his development that a scout told me Martinez could get "changeup happy" when he should just pile-drive the fastball. Played off his fastball, the changeup was viewed was one of his best and most deceptive pitches as he worked his way through the minors. It has been basically abandoned in the majors.
Martinez said he was pleased with how it developed over the winter. He also intends to use both his slider and his curveball this season as a starter, not choosing one ahead of the other as he did as a reliever. That would give him five pitches to pull from – four- and two-seam fastballs, changeup, curve, and the slider. It also, if his average velocities hold, gives him speeds in the upper-90s, mid-90s, mid-80s (two pitches), and in the lower 80s.
To win the opening in the rotation, Martinez does have to fend off some challengers. Marco Gonzales will have a crack at the job. Jaime Garcia has been in the rotation, and if he's healthy … that's a big if. The Cardinals want to see if he can handle the role over a stretch of starts, not just a few starts and then familiar troubles.
Garcia has done a lot of work in St. Louis this winter.
Lance Lynn has been vocal about how good the lefty has looked.
Gonzales has been in camp for a couple days here in Jupiter. He spent his winter somewhat nomadically before getting to work in his native Colorado. He focused on flexibility, and has a slim, conditioned look coming into spring. He said he spent some of the winter doing yoga. He took yoga classes in college and his fiancée is going to be a yoga instructor.
"I was just trying to stay strong," Gonzales said. "I realize with my frame I can't be huge, bulky. I need to be flexible. That was my big thing. That was really my goal."
Video of Martinez throwing to Molina will be added later.
Keep up with the latest Cardinals coverage from our award-winning team of reporters and columnists.