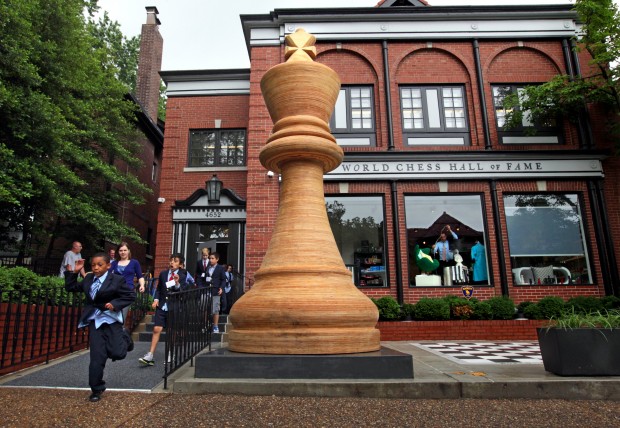 JUPITER, Fla. • The sport that is strengthening St. Louis' claim as its capital is about to unite with the king of St. Louis' sports through a Cardinal who moves pieces for both.
The Chess Club and Scholastic Center of Saint Louis is castling with Mike Matheny.
The Cardinals' manager, an avid chess player, and the CCSCSL announced Friday a yearlong partnership that will use Matheny in advertising for the Central West End-based club and as a spokesman for some of its academic outreach. Matheny will be featured in spots that launched online, including this one where he has his strategy questioned by a precocious chess player in one of the club's posh second-floor rooms. Founded by Rex Sinquefield, the chess club has sought to make St. Louis "the chess capital of the United States," as The New York Times wrote. Matheny told Post-Dispatch baseball writer Rick Hummel that he plays chess at least once a day, and the pairing made sense with the place the Cardinals have in the community and the place chess is giving St. Louis in the world.
"Chess is a game I like," Matheny said. "It's something I believe in."
There is always a game that sweeps through the Cardinals' clubhouse as a fad. Last spring, it was the ping pong table that left fielder Matt Holliday bought for the clubhouse. A few years ago, apps like Disc Drivin' and Words with Friends were popular. (Words with Friends persists in some corners.) There were several players who had Clash of Clans whirring on their iPads last season, including midseason addition A.J. Pierzynski. Matheny hopes his connection with the chess club will put a board in the clubhouse as another outlet for competition.
It would, fair warning, at the least open up a lot of puns for the writers.
You can see some of the spots here:
Matheny described to Hummel how chess went from a casual interest to a pursuit after concussions forced him to retire from playing baseball. The manager has maintained an interest in the game as a way to sharpen himself, and he's encouraged his children to take up the game. Sinquefield invited Matheny the chess club, which is across the street from the World Chess Hall of Fame in St. Louis, and offered a behind-the-scenes tour of the facility. The partnership followed.
At the two buildings in the Central West End "St. Louis' status as the chess capital of the nation is on full display," Matheny says in one of the commercials that will begin airing in St. Louis in April during baseball telecasts. "Our goal is to teach, play, and promote the sport."