The Cardinals' ongoing quest to add a lefthanded reliever to their bullpen who could handle any late-inning assignment thrown at him has nearly ended with the addition of the All-Star who helped reinvent how bullpens are used.
Andrew Miller and the Cardinals were working to complete a multi-year deal Thursday night, multiple sources told the Post-Dispatch. The two-year contract was finalized and announced Friday morning. The contract will guarantee Miller $25 million million and it includes a third year, for 2021, that will vest based on his appearances, two sources confirmed. He will be paid paid $11 million in each of the first two years of the deal, and it includes a buyout of $2.5 million for the vesting option.
Miller will be formally introduced as a Cardinal during the team's Winter Warm-up event in January.
Miller, 33, is a two-time All-Star and the elite lefthanded reliever the Cardinals have chased this winter to fix the bullpen. He was limited to 37 appearances and 34 innings this past season due to a series of injuries that put him on the disabled list. Any agreement the Cardinals have with the lefty will not be finalized without the results of a physical, and the Cardinals must also create a spot on the 40-man roster with another, corresponding move.
The Cardinals declined comment.
Miller will be the team's first free-agent signing of the offseason and leave the Cardinals with only a backup catcher on their must-get shopping list. The lefty joins first baseman and six-time All-Star Paul Goldschmidt and utility fielder Drew Robinson, both of whom arrived via trade, as new additions for the Cardinals.
The free-agent market has moved sluggishly for most teams, and as of Thursday afternoon the Washington Nationals had netted more free agents (five) than the five National League Central teams combined (four).
The Cardinals engaged in talks with agents for Miller and lefty Zach Britton, with the Yankees and Phillies two of the other suitors for Britton. Unsure how the free-agent market would move the Cardinals also explored trading for a lefty, talking with San Francisco about Will Smith and looking into Brad Hand's availability from Cleveland, according to a source. They awaited either market to inch forward — possibly before the holiday week.
The Cardinals have lefties Brett Cecil, Chasen Shreve and Tyler Webb already earmarked to compete for roles in the bullpen this spring, and prospect Genesis Cabrera has excited the team with his performance as a lefty reliever in the Dominican. Cabrera, 22, has struck out 21 batters in 14 1/3 innings and has a 1.26 ERA in 20 appearances. Lefthanded reliever was a soft spot in the Cardinals' bullpen as Cecil struggled to a 6.89 ERA in 32 2/3 innings and five lefties used at least five times combined to allow 53 earned runs in 85 innings for a 5.61 ERA.
When Miller was last a free agent, after the 2014 season, the Cardinals had interest but did not have a closer role to offer him. He signed with the Yankees for four years, $36 million, and in 2016 the Yankees traded him to Cleveland as part of their quick rebuild.
In Cleveland, Miller flourished as a late-inning lefty and a game-changing reliever come October. He won the 2016 American League championship series MVP for his 7 2/3 scoreless innings and 14 strikeouts in four games. He was used when the game was in doubt and for as long as it was in doubt, freed from the arbitrary pursuit of a save stat.
In 22 postseason appearances, Miller has a 1.09 ERA and 48 strikeouts in 33 innings. He's walked only 11 batters for a 0.879 WHIP in October.
In recent years, the Cardinals have explored using some of their righthanded pitchers in Miller-like roles — targeting them for specific spots in the opponent's lineup, not specific innings.
Miller offers that versatility to go with being able to neutralize lefthanded batters and he's three years removed from 36 saves for the Yankees. In his past three seasons, he has 16 saves and a 2.00 ERA in 171 innings. He also has 263 strikeouts.
Righthanded batters have hit .164 against him in their previous 433 at-bats, and Miller has erased the damage lefthanded hitters can do. In the previous 177 at-bats by a lefthanded batter against him, Miller has allowed only seven extra-base hits, including four homers, and he's struck out 67.
In limited appearances against the National League Central's best lefthanded hitters, Miller has struck out Anthony Rizzo four times in eight at-bats and held Joey Votto hitless in three at-bats. Former MVPs Joe Mauer and Ryan Howard, both lefthanded hitters, combined to go seven-for-39 against Miller with 16 strikeouts.
Miller went on the disabled list three times this past season, first with a hamstring injury in April and later with an impingement in his left shoulder. He has also dealt with knee injuries the past few seasons.
He returned in time to pitch for Cleveland in the playoffs and walked three of the five batters he faced as part of a blown save against Houston.
In preparation for free agency, Miller underwent a battery of exams with Dr. David Altchek, the Mets' team physician. The results of those exams were made available to interested teams, a source confirmed.
"Altchek saw absolutely nothing that would keep him from being the old Andrew Miller," the lefty's agent Mark Rodgers told The New York Post in November.
At his best, Miller was one of the best relievers in the majors, left or right.
Originally a starter who bounced around the rotations for the Tigers, the Marlins and the Red Sox, Miller moved to the bullpen permanently in the 2012 season. From 2013 through the end of 2017, when he was an All-Star, Miller had a 1.82 ERA in 297 appearances and he averaged 14.5 strikeouts per nine innings pitched. The only lefty in that same span with a higher strikeouts-per-nine rate was Aroldis Chapman.
Miller's 0.892 WHIP in 350 games from 2012 to 2017 ranked fourth in baseball among relievers, ahead of Pat Neshek's 0.971 and behind closers Craig Kimbrel (0.867), Kenley Jansen (0.840), and Koji Uehara (0.839).
To make room on the 40-man roster for Miller the Cardinals designated righthanded pitcher Ryan Meisinger, who was recently picked up off of waivers. They will have around a week to trade the righthander or pass him through waivers to the Class AAA roster.
ANDY BENES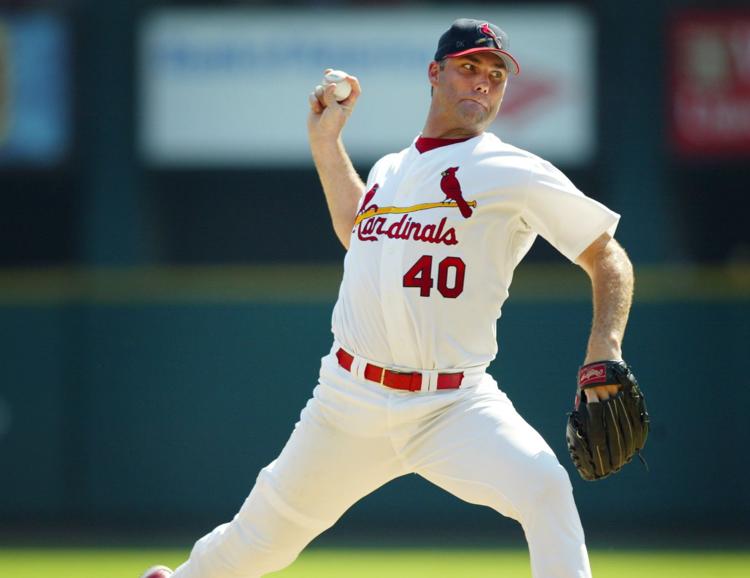 The righty starter's 14-year career included two reliable stints in St. Louis.
Before the 1996 season, the tall 28-year-old signed a two-year deal worth $8.1 million that reunited him with his brother, Alan. He then went 18-10 with a 3.83 ERA and placed third in Cy Young Award balloting. He followed it up by going 10-7 with a 3.10 ERA in 1997, striking out 175.
Benes and the Cards agreed to a big extension, but it was void because it came after the deadline, and he ended up in Arizona. He and the club reunited for the 2000 season thanks to a three-year deal worth $18 million.
Benes went 24-20 with a 5.05 ERA through his final three seasons before retirement, and notched his 2,000th career strikeout in his final start.
MIKE MATHENY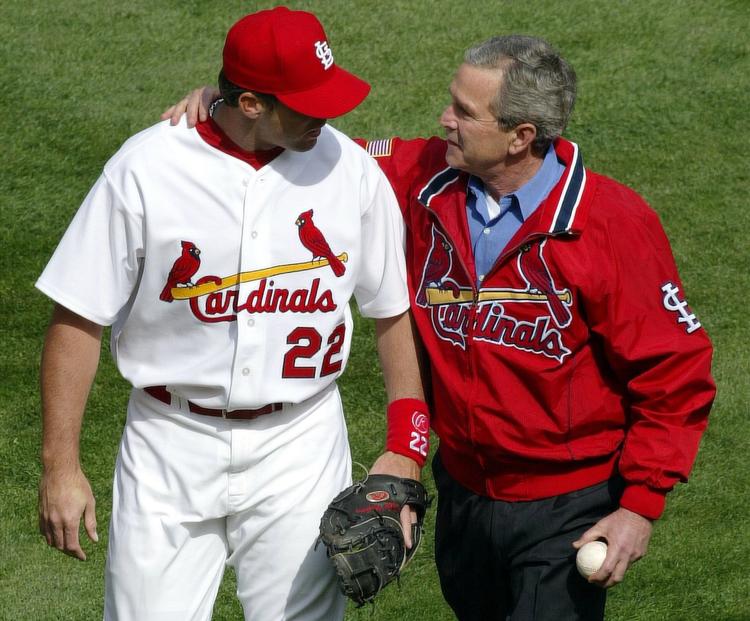 The Cards signed the 29-year-old catcher to a one-year deal worth $750,000 before the 2000 season. Matheny's wife, Kristin, was just thrilled to stay near her Chesterfield home.
"She must have some powerful prayers, because we really didn't think about the Cardinals being interested in us, " Matheny said back then.
He went on to catch 469 complete games during his five seasons with the club, a run that included three Gold Gloves, a World Series appearance and a planted seed of a managerial career.
JASON ISRINGHAUSEN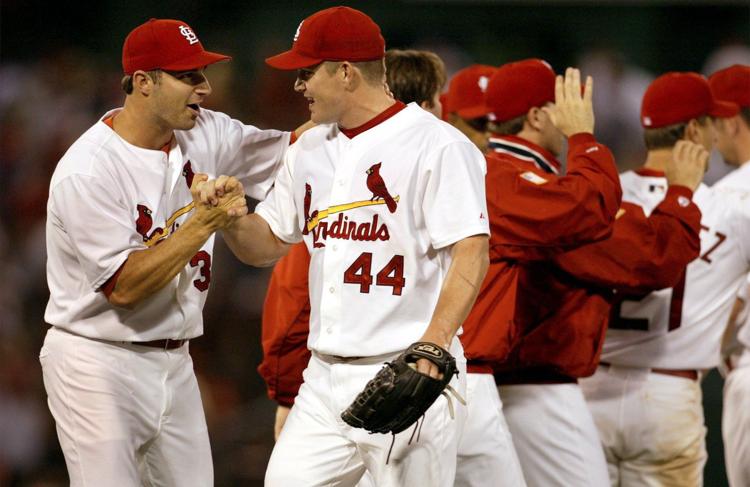 The 29-year-old closer's four-year, $27 million deal before the 2002 season remained the most lucrative free-agent pitching contract in Cards' history until Brett Cecil came along. The dominant righty proved to be worth it though, and the Cards kept bringing him back.
He saved 217 games and posted a 2.98 ERA during his seven years with the club. His postseason ERA was 2.36 in 26.2 innings pitched. He went to the 2004 World Series the same year he saved a league-leading 47 games. He was an All-Star in 2005. He missed the 2006 World Series win due to an injury, but came as strong as ever in 2007 before his rough 2008.
CHRIS CARPENTER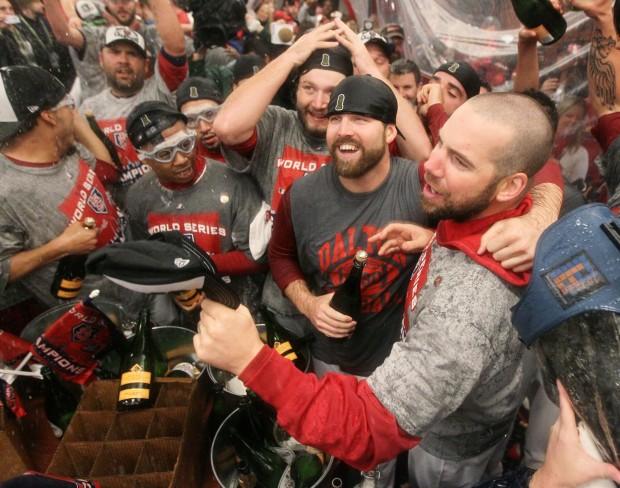 It didn't seem like much to get excited about. The Cards gave the 29-year-old righty fresh off shoulder surgery a one year deal worth $1 million before the 2003 season. Then came another shoulder setback. Another one-year deal, this time worth much less. You know the rest of the story. Comeback player of the year in 2004. All-Star (the first of three) and Cy Young Award Winner in 2005. World Series champion in 2006. And 2011. Carpenter went 95-44 with a 3.07 ERA in 197 starts for the Cards. He was 10-4 with a 3.00 ERA in 18 postseason starts.
JEFF SUPPAN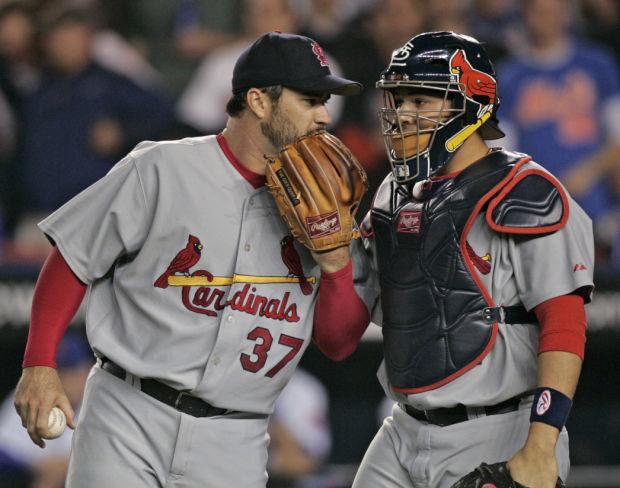 The Cards had chased the righty starter before, but they secured him to a two-year deal worth $6 million headed into the 2004 season.
Good call.
Suppan forced the Cards to keep him round for an additional season after he won 16 games in 2004 and 2005.
The 2006 NLCS MVP was also 5-4 with a 3.00 ERA in nine postseason starts with the Cards, the last of which was a Game 4 win that moved the club within one victory of its 2006 title.
He became a Brewer after that, but was sent back to St. Louis during the 2010 season. He went 3-6 with a 3.84 ERA.
Altogether he started 108 games and went 47-32 with a 3.94 ERA during his four seasons with the Cards.
REGGIE SANDERS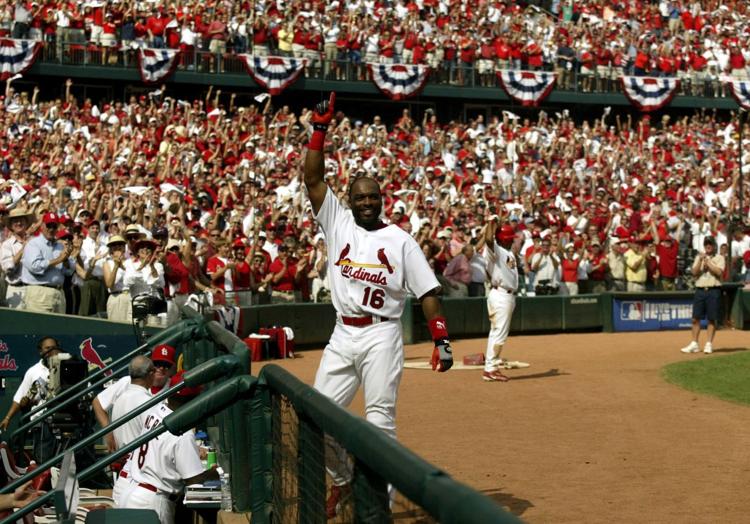 The 36-year-old outfielder had already played for seven teams before the Cardinals signed him to a two-year, $6 million deal before the 2004 season.
He hit .265/.325/.507 during his two seasons. He totaled 43 homers, 121 RBI and 35 stolen bases in 741 at-bats. And after going 8 for 44 in the 2004 postseason, including no hits in nine plate appearances during a painful World Series defeat, he redeemed himself in 2005 by driving in 10 runs against the Dodgers in a three-game NLDS.
DAVID ECKSTEIN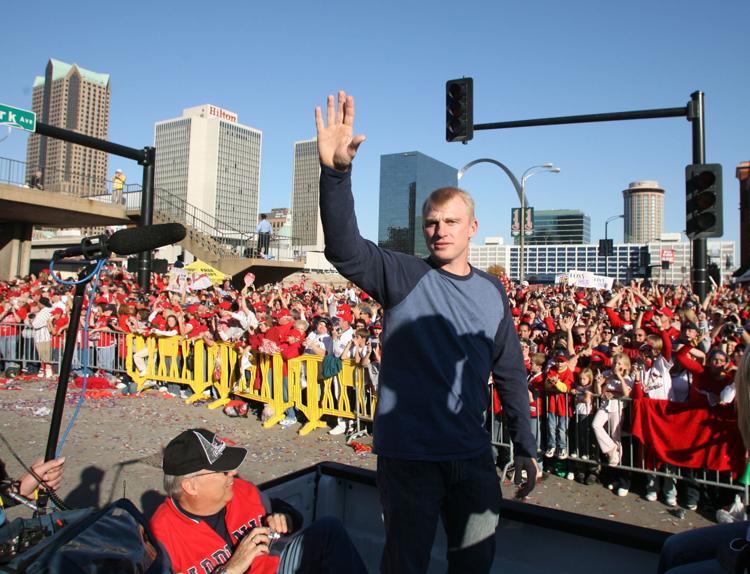 A three-year, $10.25 million deal brought the 30-year-old infielder to St. Louis before the 2005 season. His only two All-Star campaigns came as a Cardinal. He didn't just help win the 2006 World Series, he overcame injuries then shook off a frigid start to blaze his way to series MVP, and the Corvette that came with it. Plus, he quickly became a fan favorite.
RYAN LUDWICK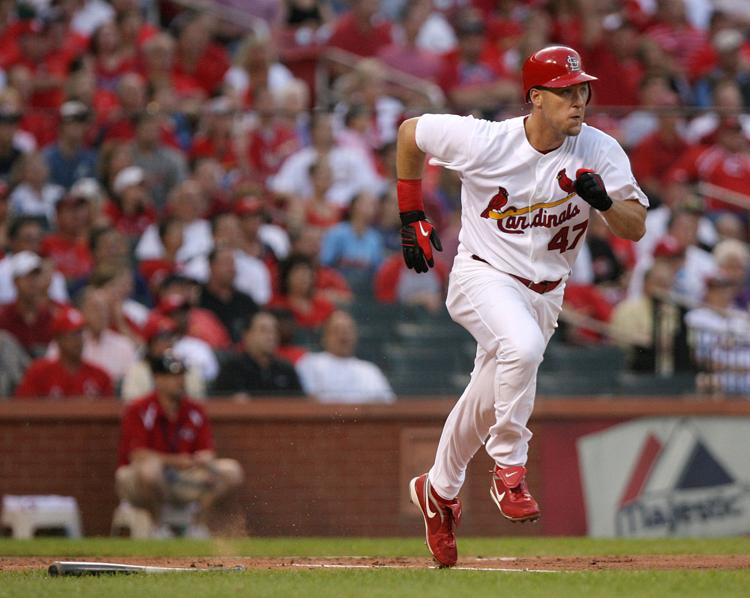 The seemingly down-and-out outfielder signed on with the Cards as a minor league free agent hoping to revive his career, and he did just that after the club called up the 28-year-old during the 2007 season.
The Cards got him for $411,000 before he forced them to pay up. Heck of a deal.
"He's fun to watch, " Cards manager Tony La Russa once said. "He gives himself a chance because he swings."
Ludwick hit .267 and knocked 14 homers after his call up, then earned All-Star and Silver Slugger honors in 2008 thanks to career highs in batting average (.299), homers (37), and RBI (113). During his four years as a Cardinal he hit .280/.349/.507.
KYLE LOHSE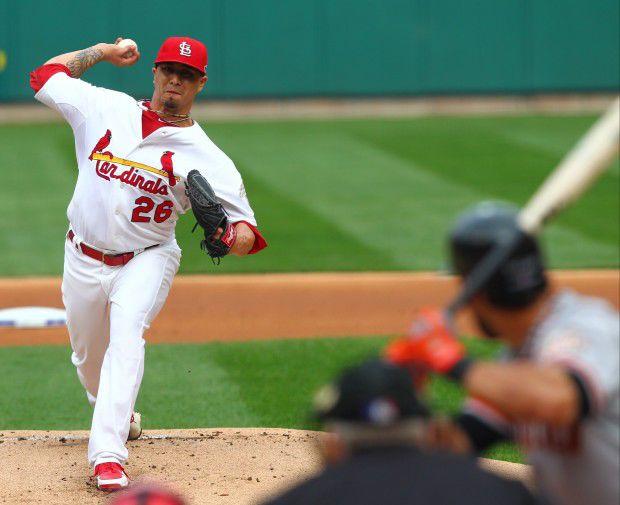 The Cards became the 29-year-old righty starter's fourth team in less than two years when they signed him to a one-year deal worth $4.25 million headed into the 2008 season. It turned out to be a steal.
He went 15-6 with a 3.78 ERA, and forced the Cards to keep him around. The two parties agreed on a four-year extension worth $41 million.
Lohse compiled a record of 55-35 with a 3.90 ERA in 136 starts during his five years in St. Louis.
He was 3-4 with a 5.45 ERA in seven postseason starts.
LANCE BERKMAN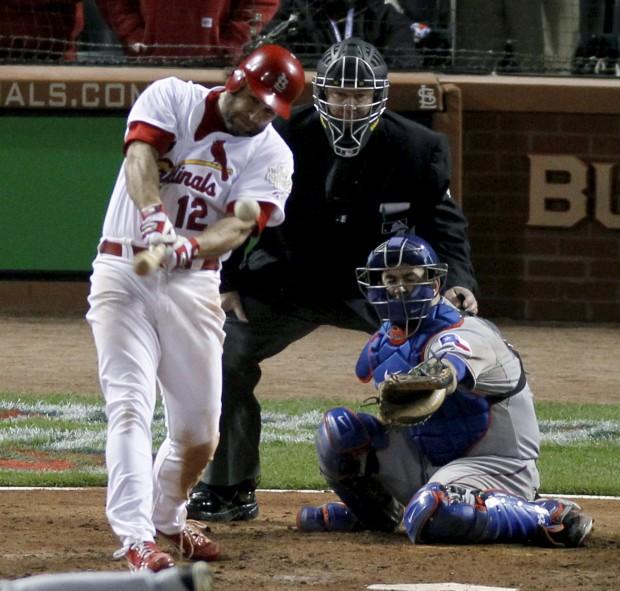 Houston's former All-Star, fresh off a stint with the Yankees, arrived in St. Louis on a one-year deal worth $8 million, then spent the 2011 season showing why he was worth it. The 35-year-old outfielder and first baseman put together his sixth All-Star season, hitting .301/.412/.547 with 31 homers and 94 RBI. The NL comeback player of the year hit .313/.413/.438 with two homers and 11 RBI during the Cards' postseason run that didn't stop until they lifted the trophy. He received a one-year, $12 million extension, but played just 32 games in 2012 due to multiple injuries.
CARLOS BELTRAN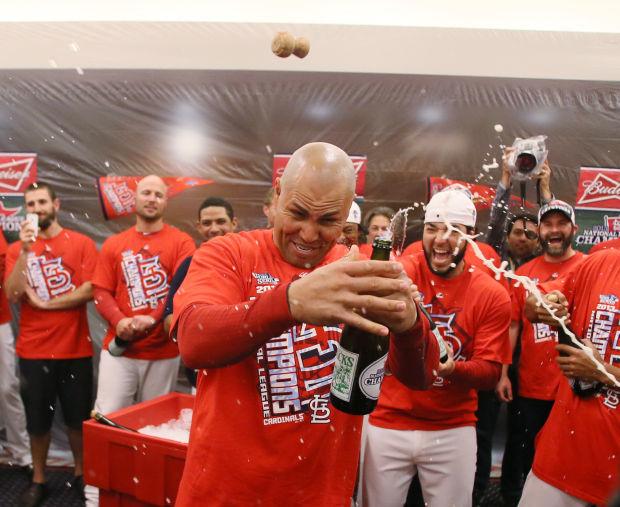 The 35-year-old, six-time All-Star outfielder lived up to the expectations that came with his two-year, $26 million deal entering the 2012 season.
The switch-hitter was an eight-time All-Star by the time he moved back to New York. He averaged .282/.343/.493 as a Cardinal, hit 56 homers and totaled 181 RBI. In 29 postseason games, he averaged .306/.410/.571, hit five homers and totaled 21 RBI. On top of his performance, Beltran was a clubhouse leader who won the 2013 Roberto Clemente Award.
MATT HOLLIDAY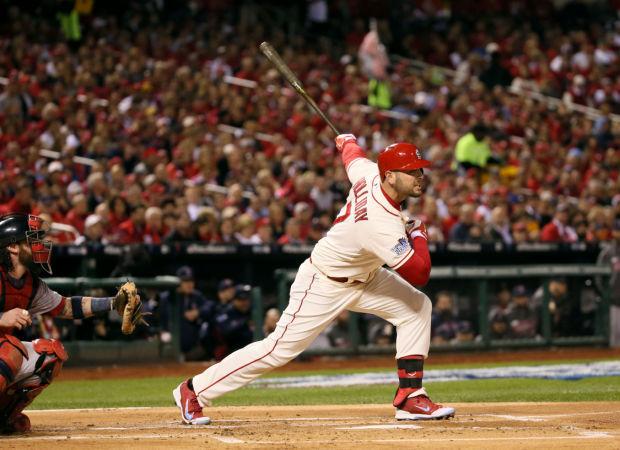 The hard-hitting left fielder was already a Cardinal, but the challenge in January 2010 was keeping it that way. It took the richest contract in club history — seven years, $120 million — to lock the 30-year-old free agent in. He was an All-Star four out of the seven seasons that followed, and the Cardinals made it to the World Series twice, winning it all in 2011. 
SEUNG HWAN OH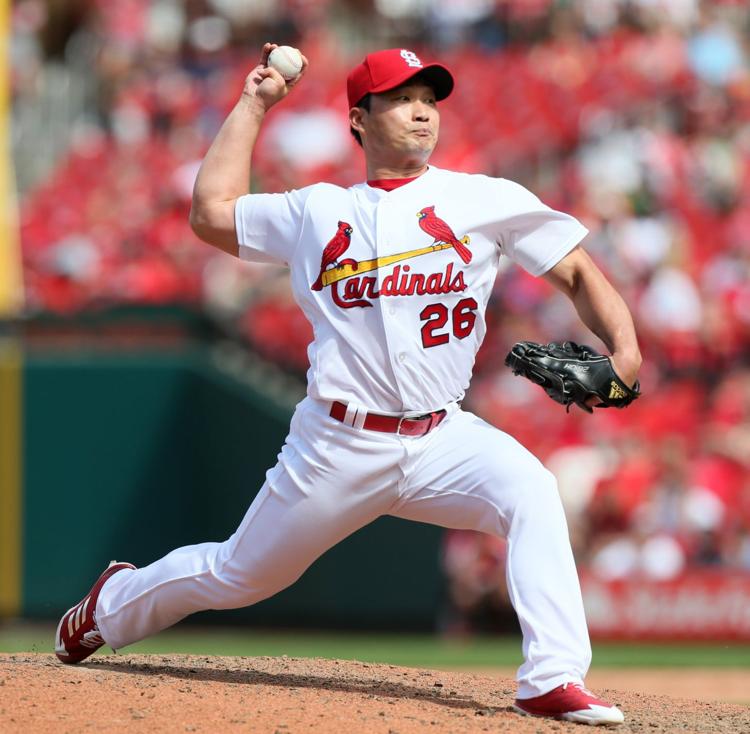 It wasn't the 2017 season Oh wanted, and that's an understatement. His ERA bloated to 4.10. He got tagged for six losses. But consider this: Between 2016-17 the righthander ranked 23rd in the majors in saves (39) and 23rd in save percentage (83). He stepped into the closer role when Trevor Rosenthal struggled. He opened the door for the Cardinals' future recruiting in Korea. And he only cost the club a little more than $5 million. Factor in that relatively cheap contract with the full body of work, and this was a good deal.
TO BE DETERMINED: DEXTER FOWLER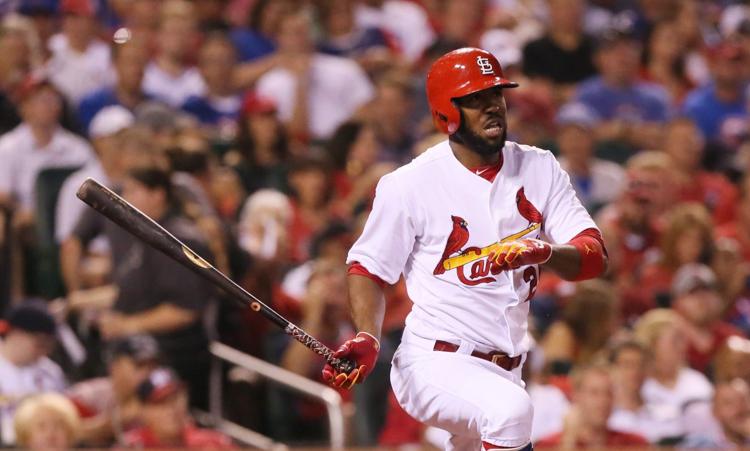 The former Cubs center fielder and leadoff hitter signed a five-year, $82.5 million deal to fill those same roles in St. Louis starting in 2017. There is a chance he occupies neither in 2018. If you add up Fowler's at-bats in the second (50), third (85) and fourth (63) spots in the order, you will notice that he totaled more combined at-bats in those spots than he did at the top of the lineup (195). Some of that is because Matt Carpenter, once again, just hit better in the leadoff spot than he did anywhere else. It's also because Fowler showed surprising pop, knocking a career-high 18 homers and posting a career-high .488 slugging percentage.
Fowler's power was a pleasant surprise. His defense and the hard time he had staying healthy were different stories. Both the eye test and advanced statistics showed Fowler was out of place in Busch Stadium's center field; a shift to a corner outfield position seems like a common-sense solution. A series of injuries, including a heel spur and a strained wrist, limited Fowler to 118 games. If the power sticks around, the health holds up and a less-tasking defensive position is assigned, Fowler can bounce back from a less-than-stellar start to his time as a Cardinal.
(Fowler analysis by columnist Ben Frederickson)
BEST OF THE REST
More Cardinals free-agent signings who made a positive impact:
DELINO DESHIELDS: Second baseman was a triples machine and base-stealer extraordinaire during two seasons in the late 1990s. ...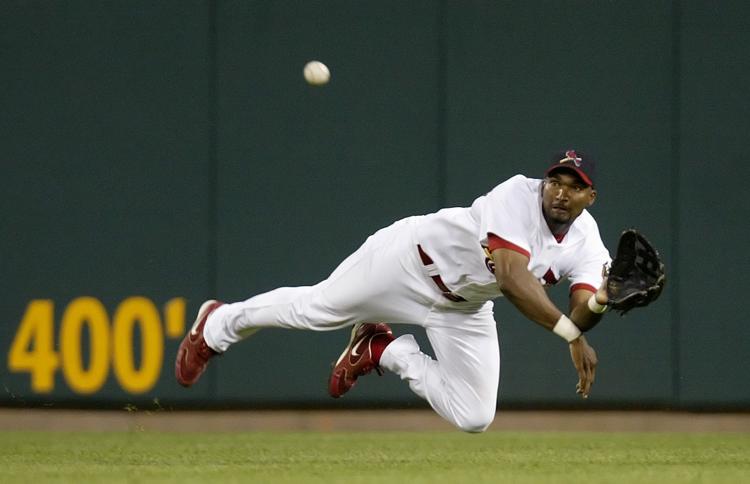 JUAN ENCARNACION: Promise shown during 2006 season was snuffed out by sad, bizarre eye injury that ended his career. ...
KENT BOTTENFIELD: Righty starter made lone All-Star appearance of his career with the Cards, thanks to an 18-7 record and 3.97 ERA in 1999. ... 
STEVE KLINE: Lefthanded specialist was reliable for four years (2001-04) and earned bonus points with fans after he left by telling Baltimore fans they couldn't match the BFIB. ... 
GARY GAETTI: The Pride of Centralia, Ill., spent just less than three seasons (1996-98) with the Cards before Fernando Tatis came along.