ST. LOUIS • The hours were long, the needs great, and the devastation wrought by Hurricane Maria that awaited Cardinals catcher Yadier Molina a year ago when he arrived in Puerto Rico, supplies in tow, was far more profound than he could have imagined.
He referred to it later "as a nightmare down there," and after spending 14 days delivering water and food and repairing roofs and clearing roads, Molina left his home island with the same sensation he had this week as he revisited the efforts he led 12 months ago.
For all that Molina has done and what he and his wife organized through their foundation, Foundation4 (Fundacion4), Major League Baseball presented him Wednesday night with the Roberto Clemente Award. The award, named for the Hall of Fame outfielder who lost his life while headed on a relief mission, is baseball's highest honor for humanitarian work and is given every year to a player who best displays the traits, on and off the field, of Clemente, an icon on his home island of Puerto Rico.
Cardinals catcher, with help from his older brother Jose and his wife, leads Fundacion 4 into neighborhoods devastated by Hurricane Maria.
"When I was growing up he was like a legend for us, like a hero, and he was everywhere," Molina said this week from Colombia, where he is managing Puerto Rico's under-23 team in a world tournament. "He was one of my heroes back in the day – still one of my heroes – and just to have this award means a lot to me and to my family. I'm happy for that. It's great. For the people of Puerto Rico, we've been through many (challenges). We didn't do it thinking of this award. But just to receive this award and makes us proud, makes us proud, after all we did down there in Puerto Rico.
"It's just a good feeling to add this award."
Molina is the third Puerto Rican-born player to win the award named for Clemente and the fourth from Puerto Rico. He joins former Cardinal Carlos Beltran (2013) and sluggers Edgar Martinez (2004) and Carlos Delgado (2006).
"I'm very proud of him," said Boston Red Sox manager Alex Cora before Wednesday's World Series game. Cora, who is also from Puerto Rico, was a teammate with Molina briefly during spring training with the Cardinals. "Actually it's kind of like ironic that I don't think he's going to be able to be here, but the reason is the right one: He's managing our under-23 national team. So he gets the Roberto Clemente Award. And Clemente, he managed our national team at one point while he was playing in the Big Leagues. Because Yadi is not here because of that, it's like, wow, it was meant to be.
"Very proud of him," Cora continued. "Very proud of what he's done throughout his career. But I think last year was the highlight of his career. What he did was amazing."
Molina is the fifth Cardinal to win the award – more than any other organization. Beltran received the award while he was playing in the World Series with the Cardinals. Past winners from the Cardinals were Albert Pujols (2008), Ozzie Smith (1995), and Lou Brock (1975).
In the past century, Boston has lost only eight World Series games held at Fenway Park (four are to the Cardinals), and they haven't lost a Game 1 there since 1967 vs. Gibson. 
Each club nominates a player for the Clemente Award and a blue-ribbon panel helps select the winner with input from a fan vote and Vera Clememte, Roberto's widow. Molina received a preponderance of the fan vote for one of the largest margins ever, according to a league official. Molina was also the top choice for Vera Clemente. That fact was revealed to Molina on Tuesday afternoon.
Vera Clemente was expected to attend a presentation of the award before Game 2 of the World Series at Fenway Park. Originally scheduled to be there, Molina notified officials that he would not be able to make the trip. The hope 
"Yadier has done a lot of good things with his foundation in (Puerto Rico)," Beltran wrote in a text message Wednesday morning. "He has helped the hospital develop operating rooms, he has given a lot of scholarships to kids in Puerto Rico, (and) he also was very active in Puerto Rico after the hurricane. He went to different cities … with some staff (from) his foundation helping a lot of families. He has to feel very honored. As a winner of the Roberto Clemente Award, I'm very proud of him."
Check out these and other hot topics from baseball writer Derrick Goold's marathon chat on Monday, including why the Cards didn't chase Max Sc…
Taking a break from the tournament in Colombia this week, Molina recalled how his mother and father both told him stories about Clemente, and how at school he and other students had to learn about Clemente and do reports on the Hall of Fame right fielder. Molina's father, Benjamin Sr., was a standout shortstop in his hometown, and he, along with his three sons, are honored with statues at the ballpark named for their family in Puerto Rico. A decade ago, Benjamin Sr. died of a heart attack at the ballpark, shortly after raking the infield. The heart attack happened near home plate.
Yadier Molina said he believes his father, who was 22 when Clemente died in a plane crash, once practiced with Clemente. They did not play on the same team.
But they shared a field, and later Benjamin Sr. shared a lesson.
"Hey, you know Roberto Clemente is a good player, right?" Yadier recalled his father asking him once.
"I was like, 'Yeah, he's one of the greatest,'" Molina said. " 'He was even better outside the lines.' Those words I keep in my mind, and that's why this award means a lot to me."
---
Cardinals catcher Yadier Molina in Puerto Rico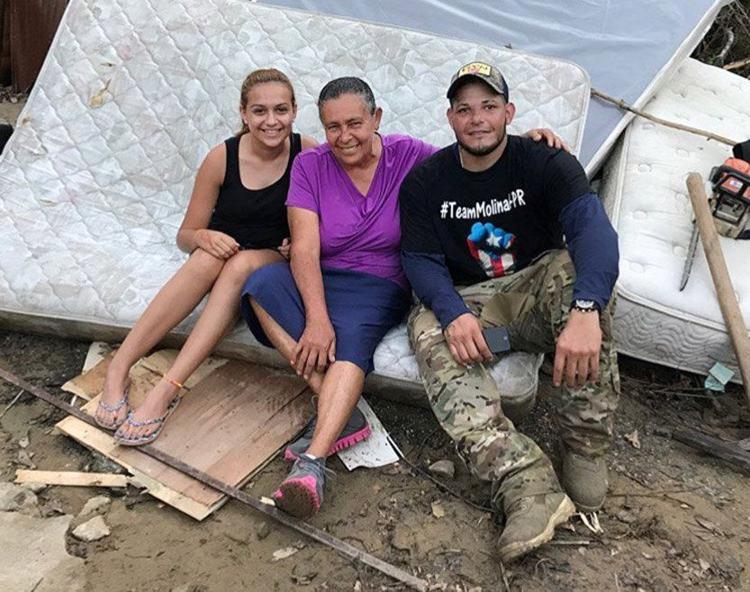 Yadier Molina takes selfie with friends in Puerto Rico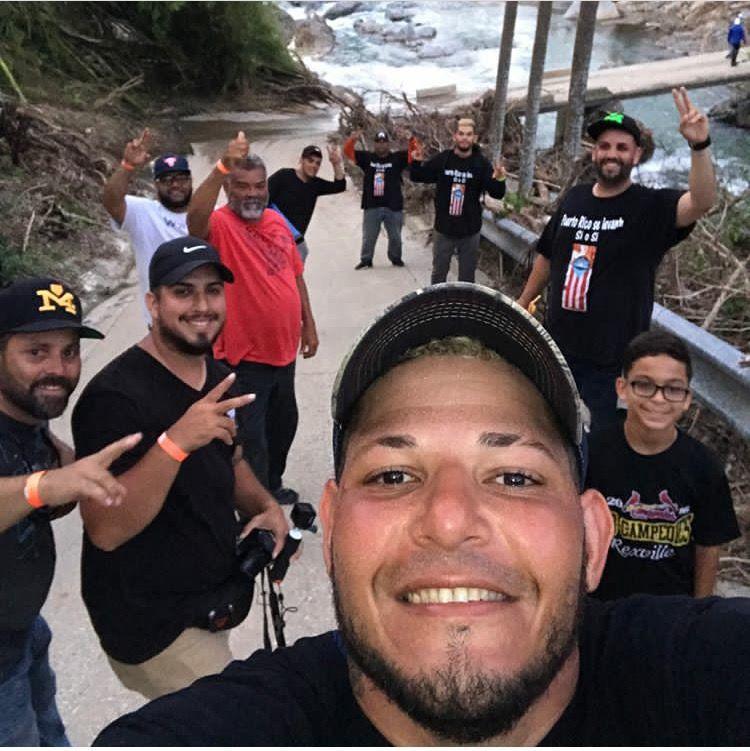 Cardinals catcher Yadier Molina in Puerto Rico (2)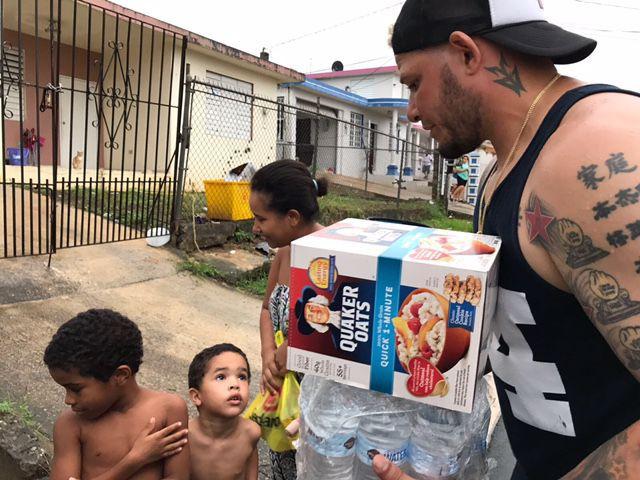 Molina greets neighbor in hometown Vega Alta, Puerto Rico
Cardinals catcher Yadier Molina in Puerto Rico (4)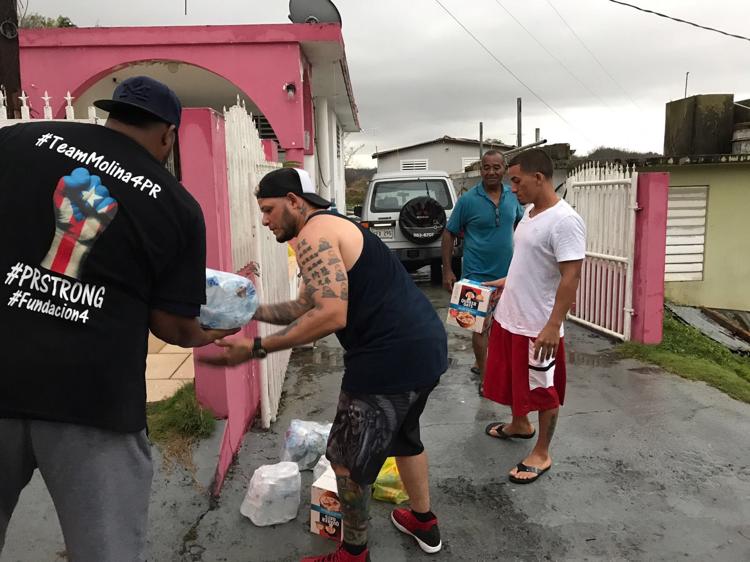 Cardinals catcher Yadier Molina in Puerto Rico (5)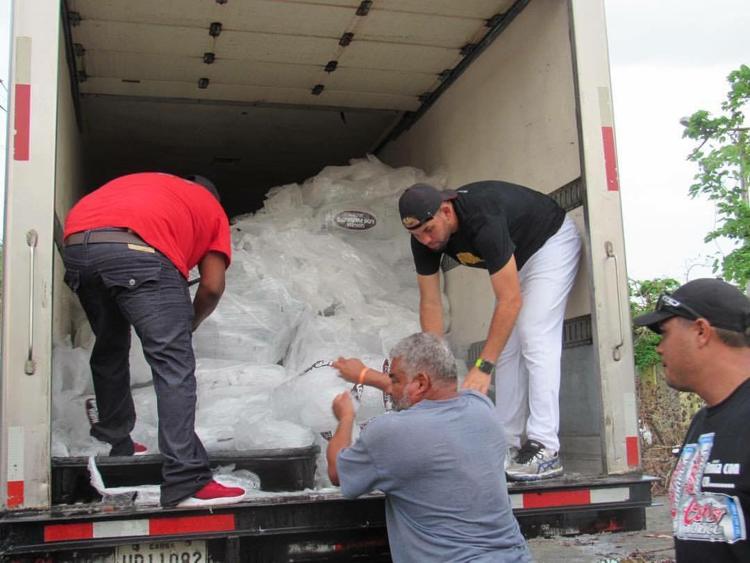 Cardinals catcher Yadier Molina in Puerto Rico (6)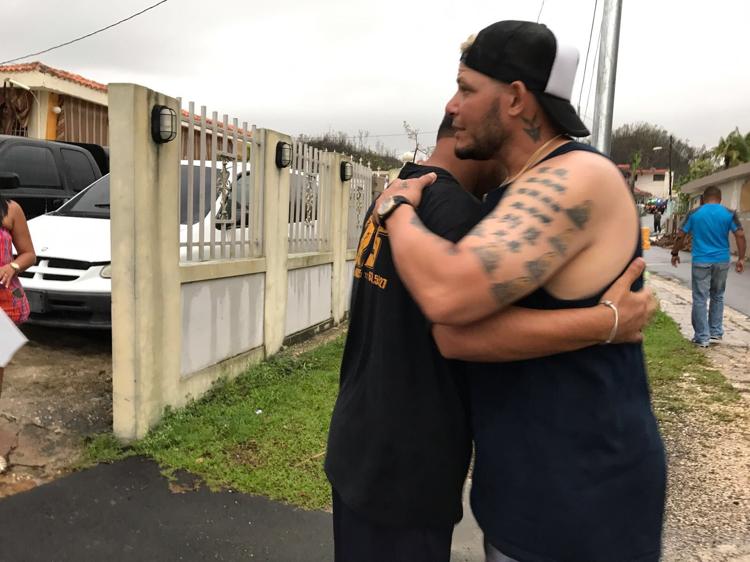 Cardinals catcher Yadier Molina in Puerto Rico (7)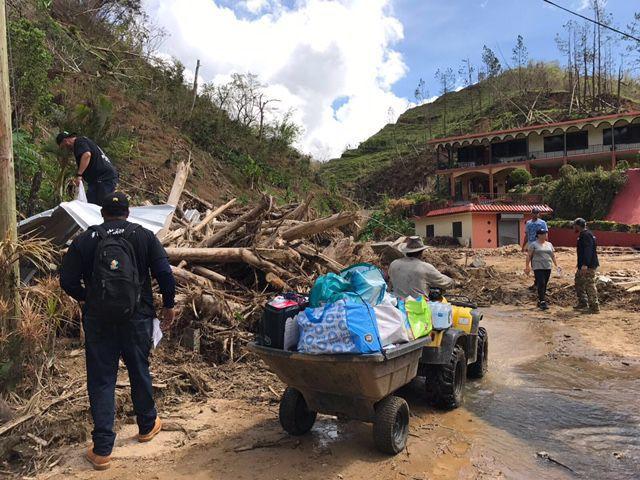 Cardinals catcher Yadier Molina in Puerto Rico (9)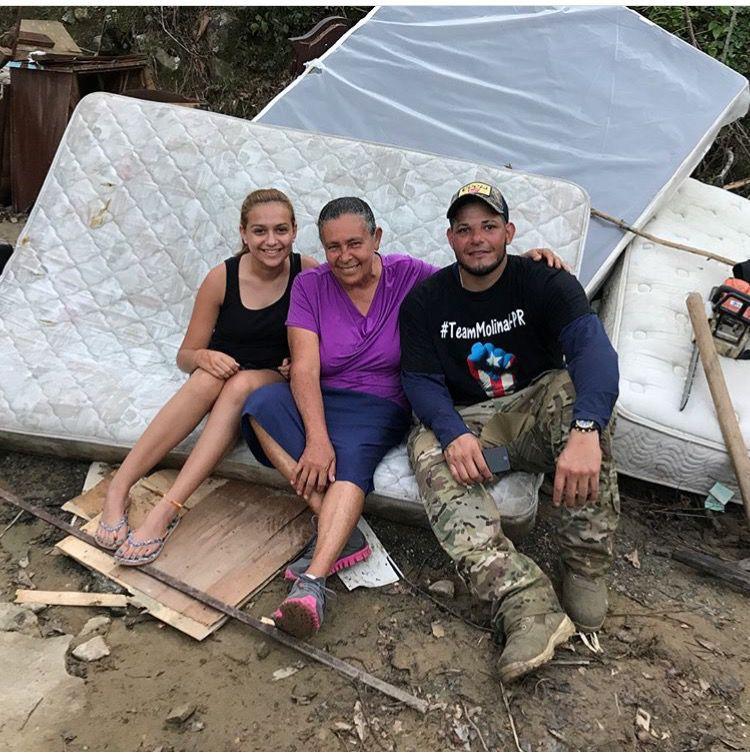 Cardinals catcher Yadier Molina in Puerto Rico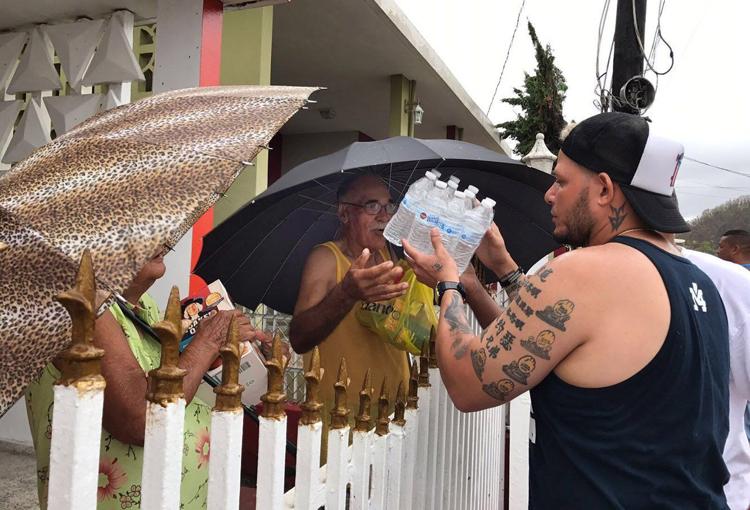 Cardinals catcher Yadier Molina in Puerto Rico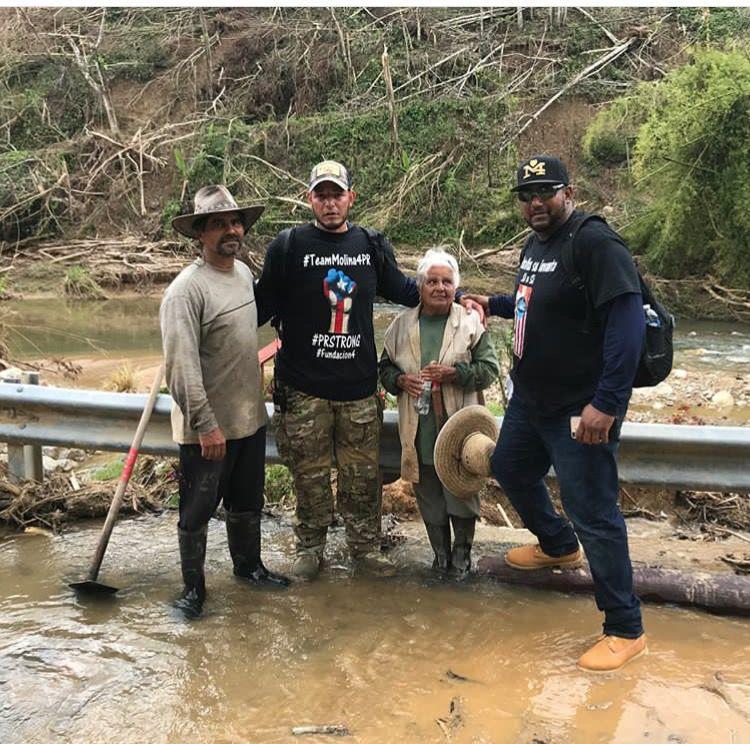 Molina poses with kids from Puerto Rican baseball academy on Feb. 13, 2014
Wanda and Yadier Molina at "A Night in Old San Juan"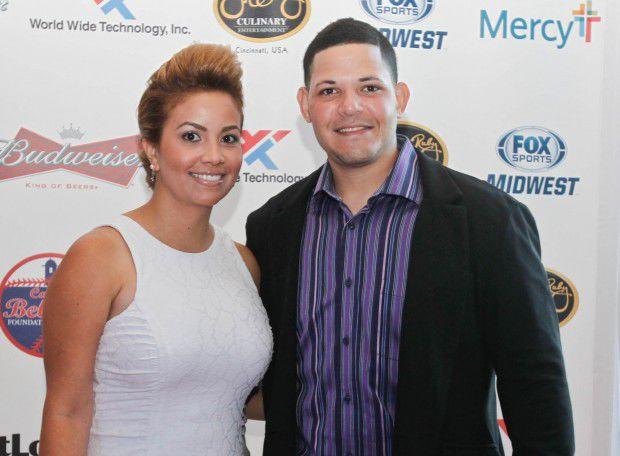 Yadier Molina accepts gold and platinum gloves in 2012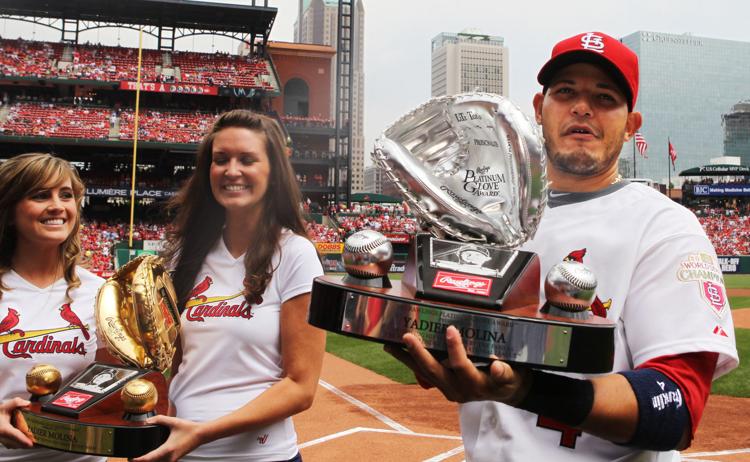 Yadier Molina gets doused by teammates in clubhouse celebration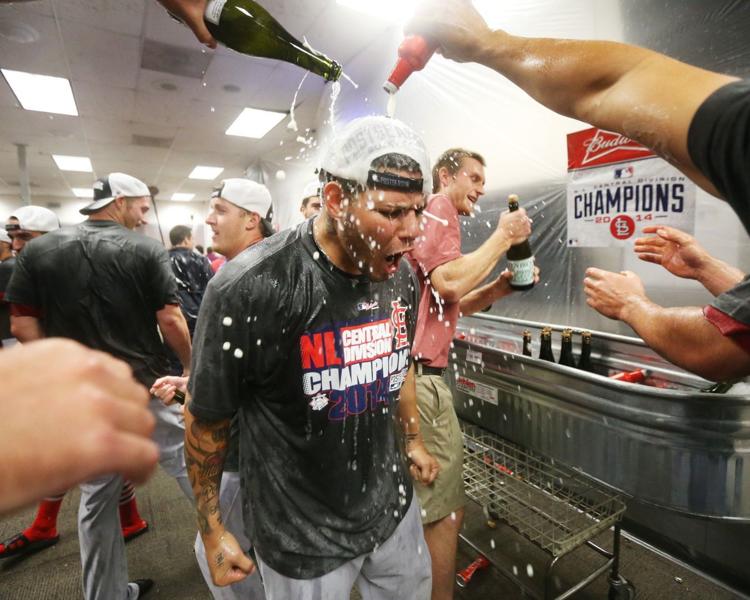 Molina bounds out of the dugout in 2013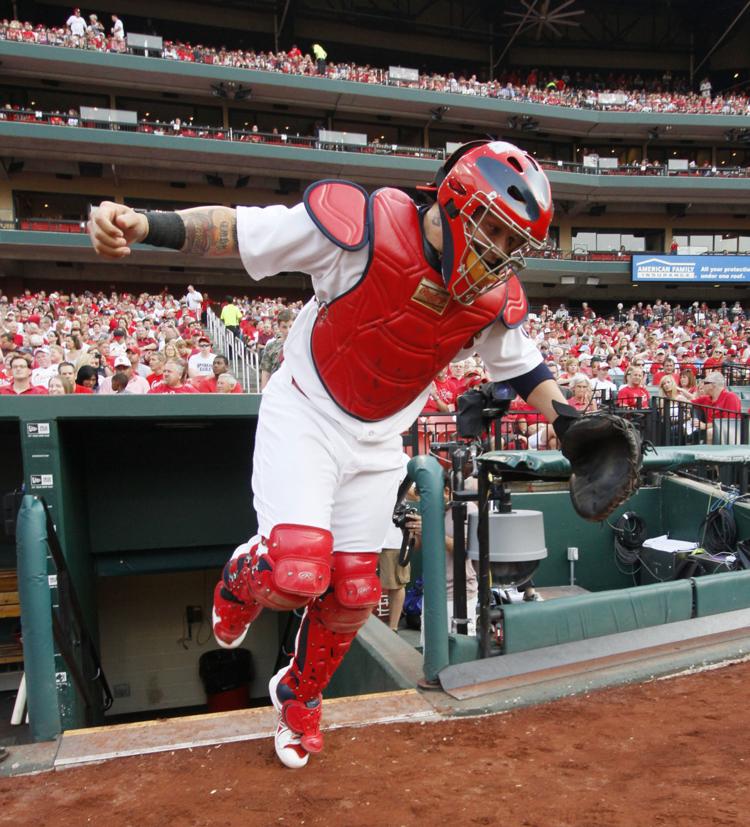 Molina jumps for joy after winning the World Series in 2006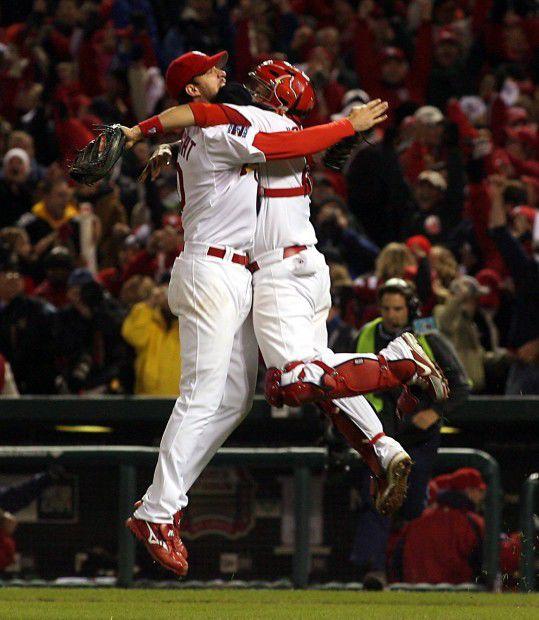 Yadier Molina jokes with teammate during spring training on Feb. 16, 2011
Yadier Molina greets fans at 2013 Winter Warm-Up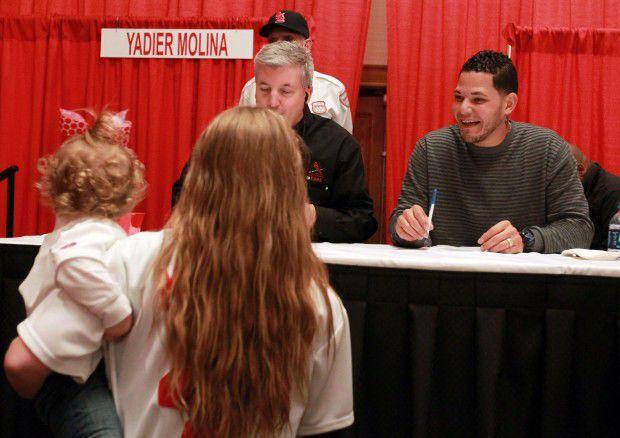 Molina celebrates a hit in Cardinals home opener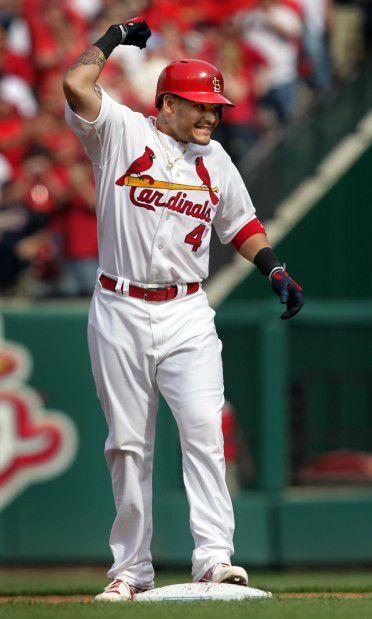 Yadi fist bumps brother Bengie Molina in game vs. Royals on May 30, 2013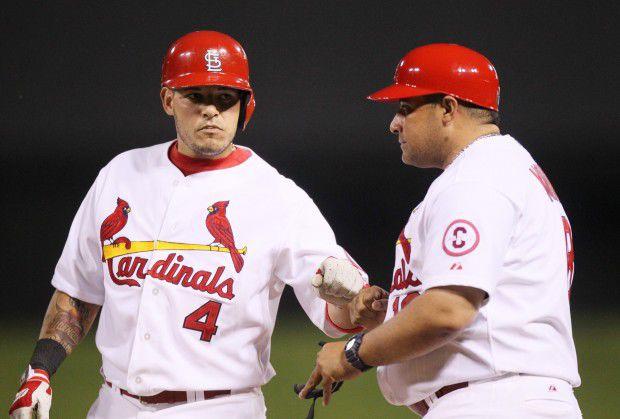 Yadier in the batting cage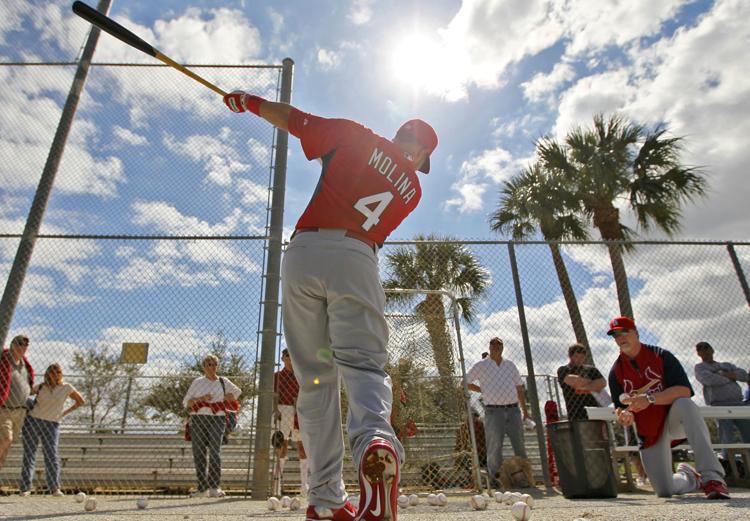 Molina in dugout during spring training contest with Mets on March 1, 2017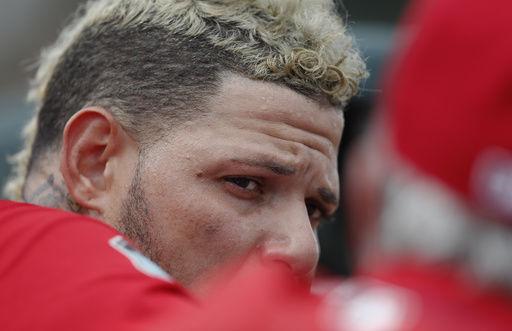 Yadi jumps into Adam Wainwright's arms in 2006 Game 7 win against Mets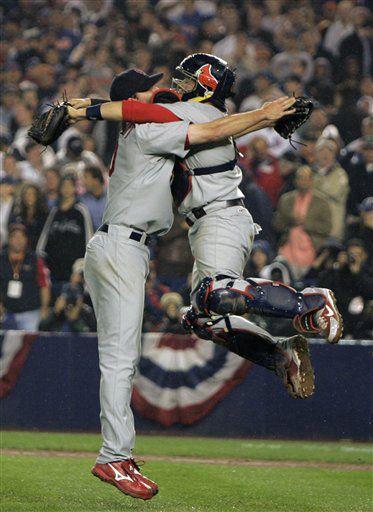 Molina delivers supplies to people in Puerto Rico in aid of damage left by Hurricane Maria
Looking for another out against Pirates, Molina gets ready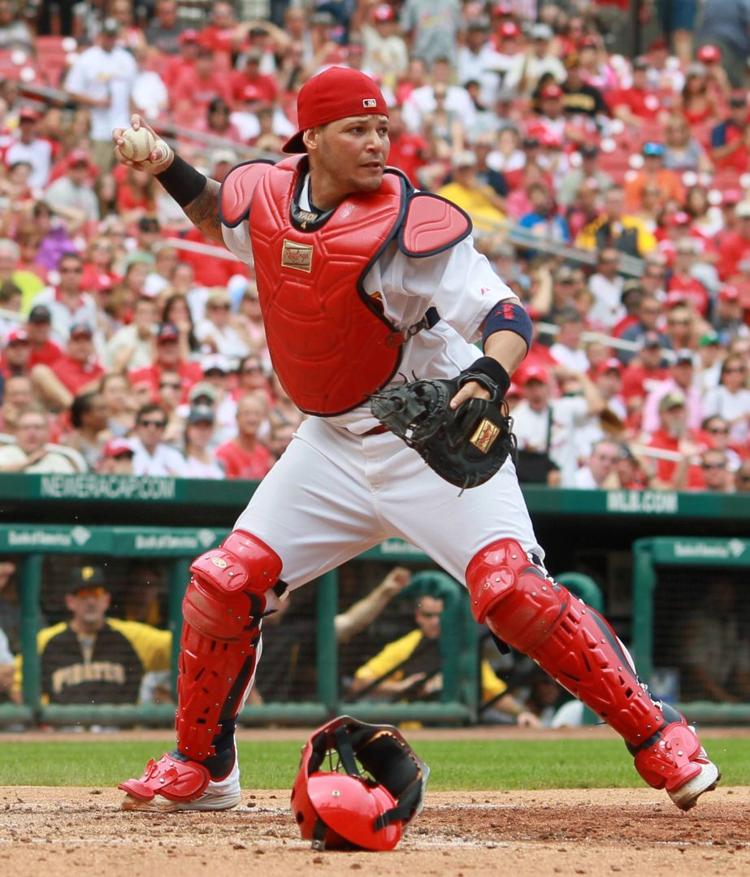 Yadi takes on field photos before 2017 All Star Game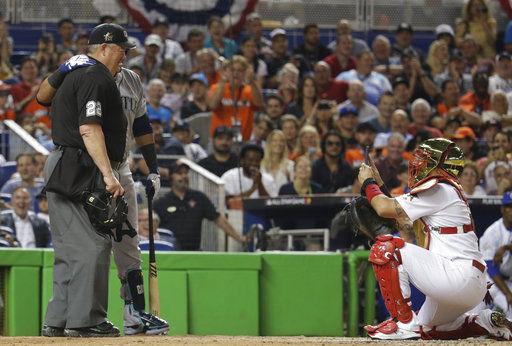 After a strikeout to end a scoring threat, Molina celebrates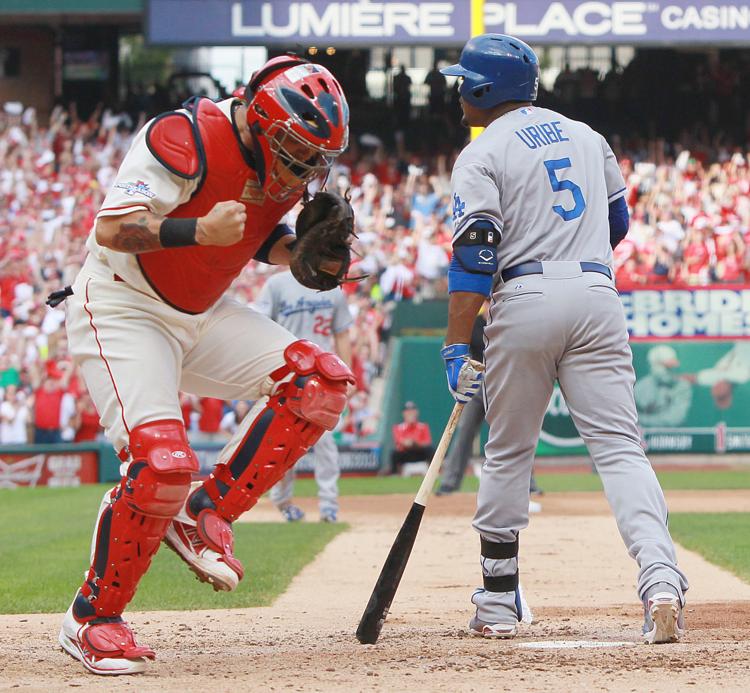 Ball gets stuck on Molina's chest protector in game against Cubs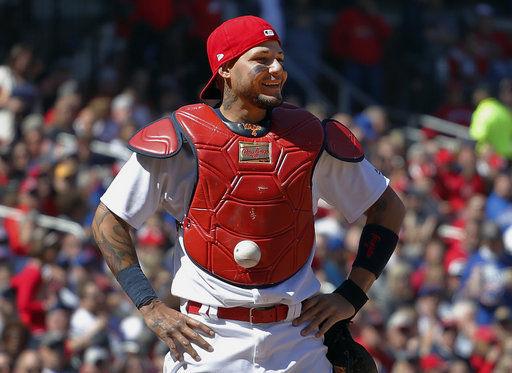 Molina guns down another runner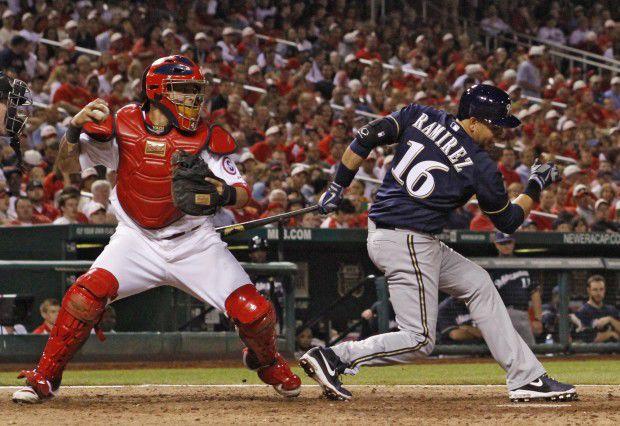 Yadier Molina heads back to the dugout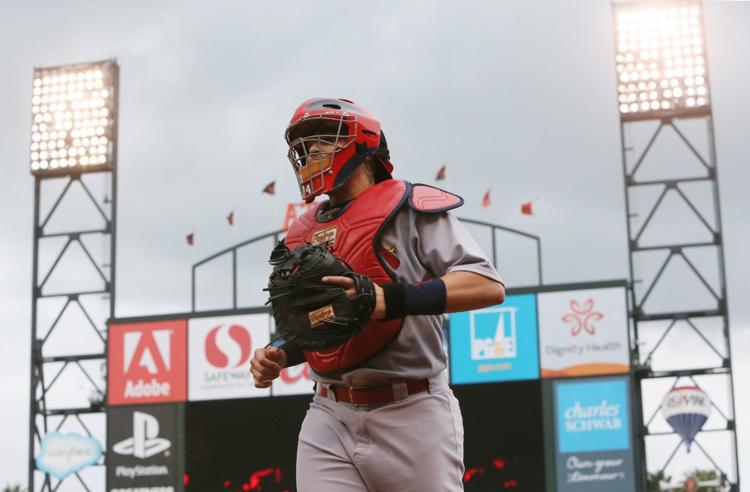 Molina singles during 2006 World Series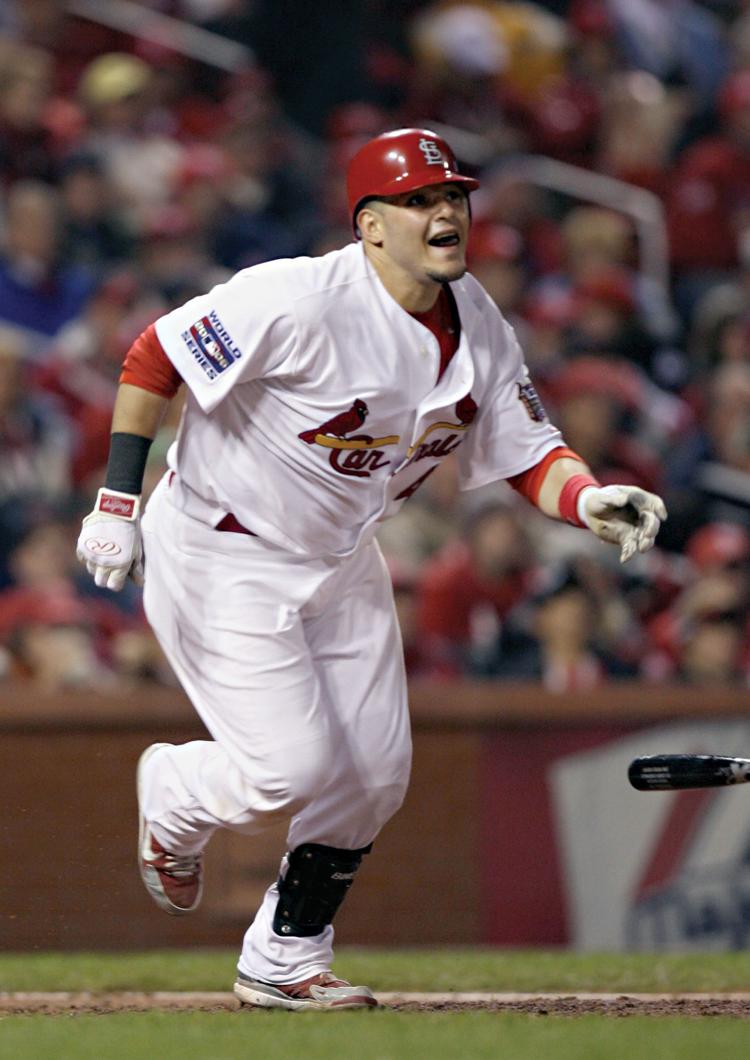 Portrait of Yadier Molina in 2013 spring training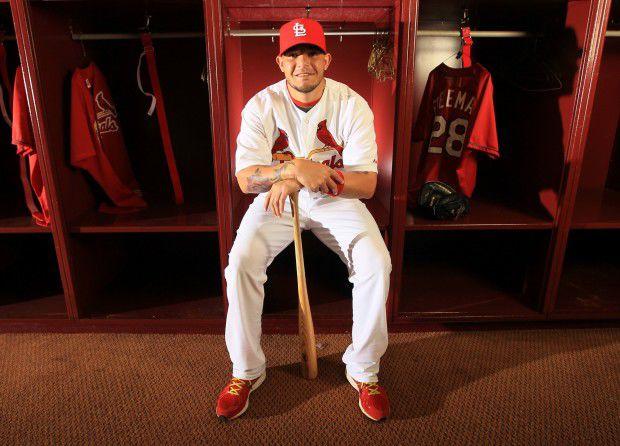 Molina reacts after driving in a run against the Cubs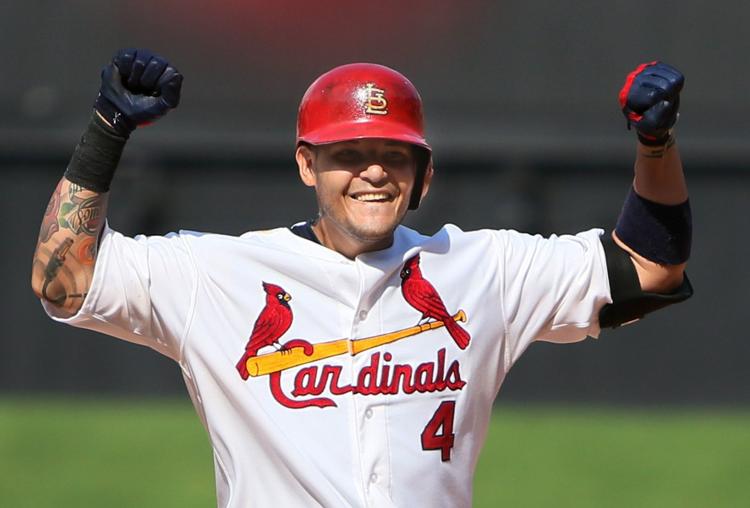 Molina gets congratulated by Adam Wainwright after scoring on wild pitch in 2012 NLDS game vs. Nationals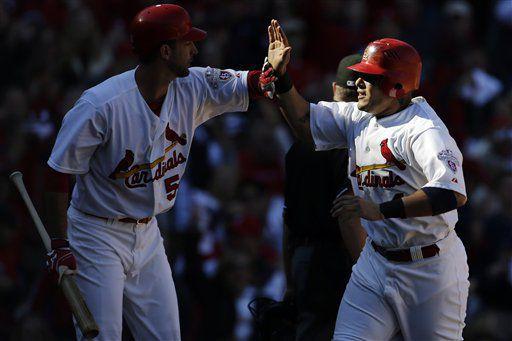 Yadier Molina waits in 2008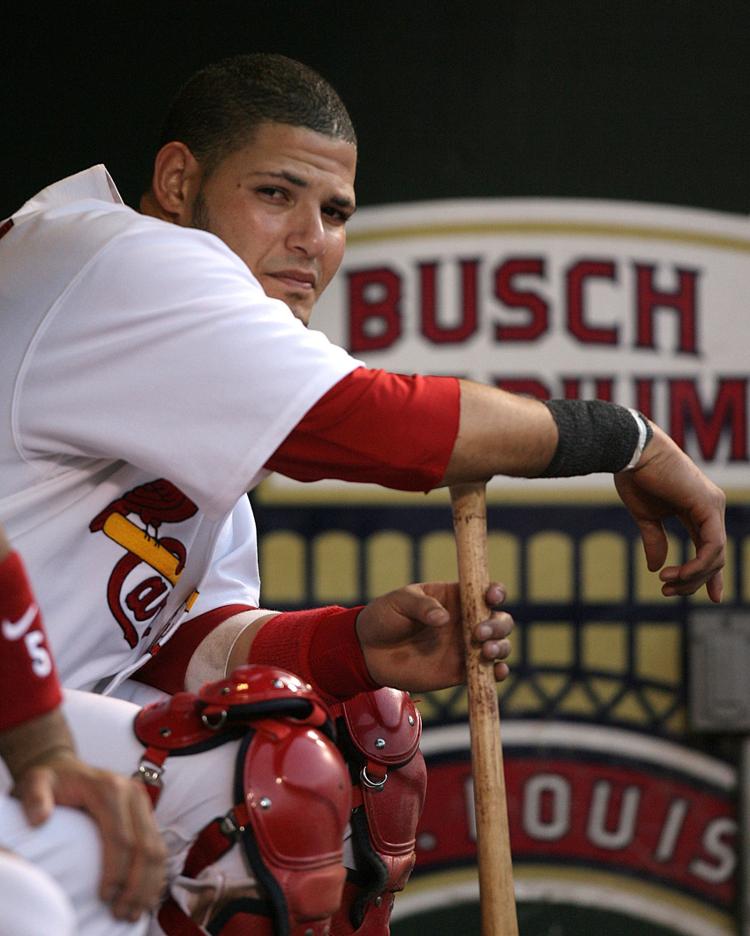 A grin from Yadier Molina
Yadier Molina takes a throw in spring training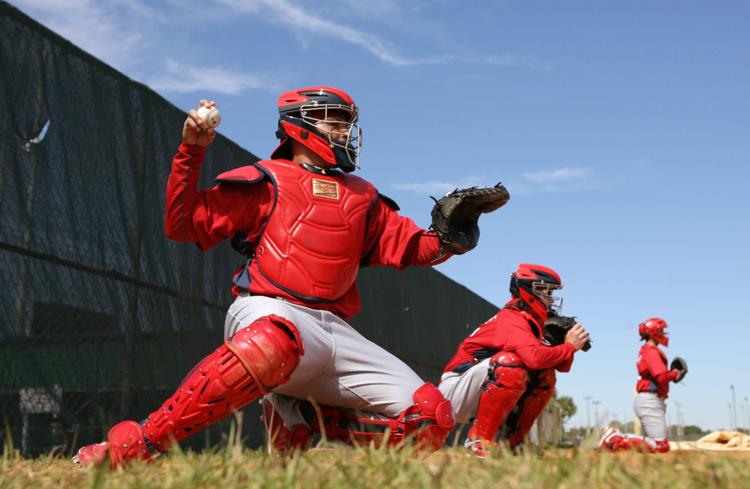 Molina in the dugout in 2013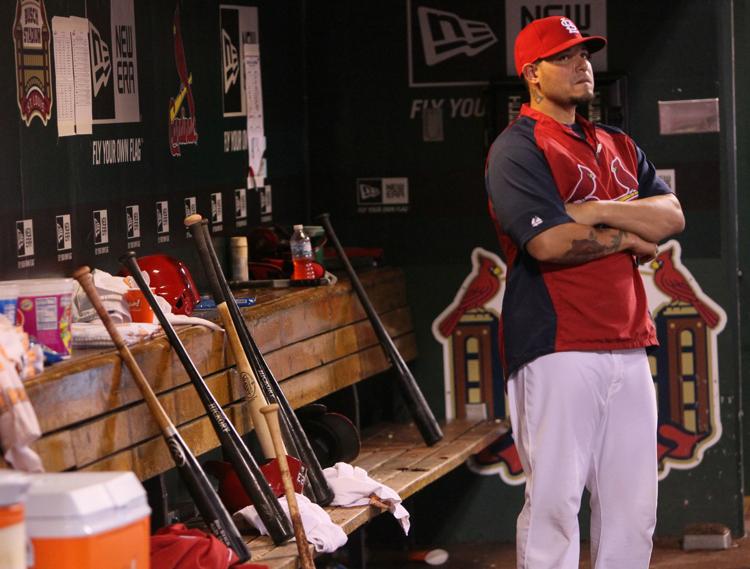 Yadier Molina celebrates grand slam against the Royals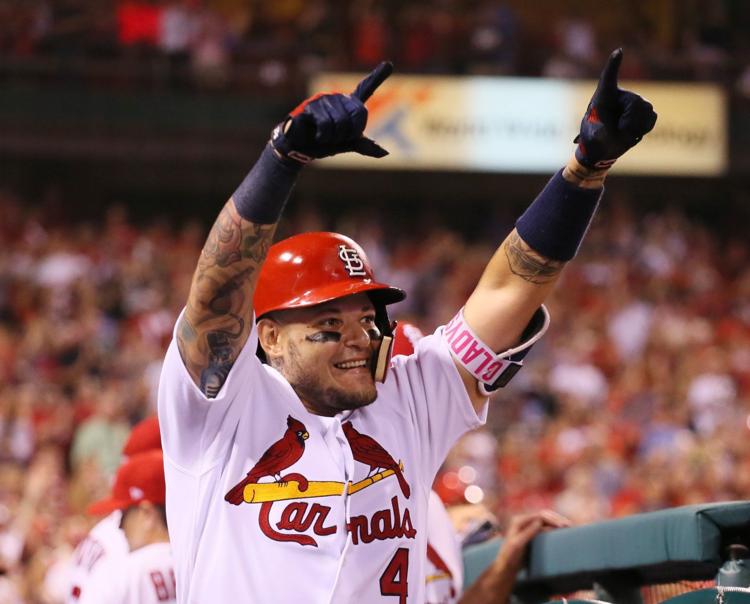 A hug between Yadier Molina and Albert Pujols after 2011 World Series Game 6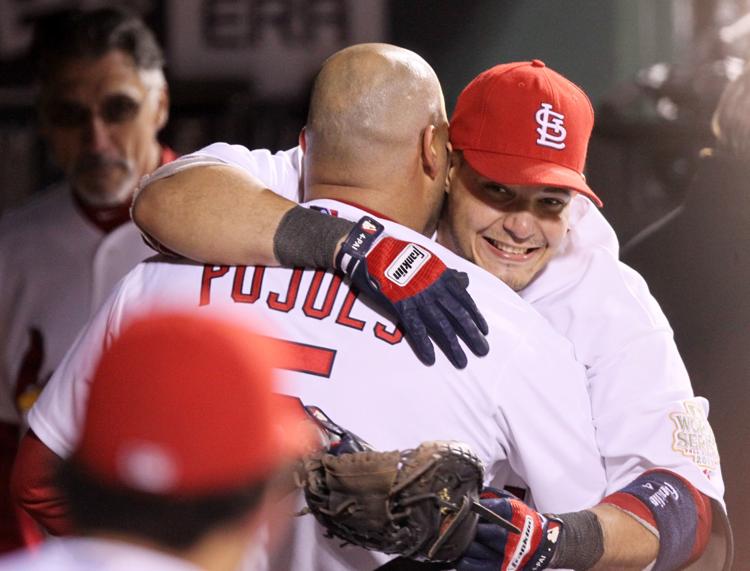 Yadier Molina adjusts his hat during 2013 practice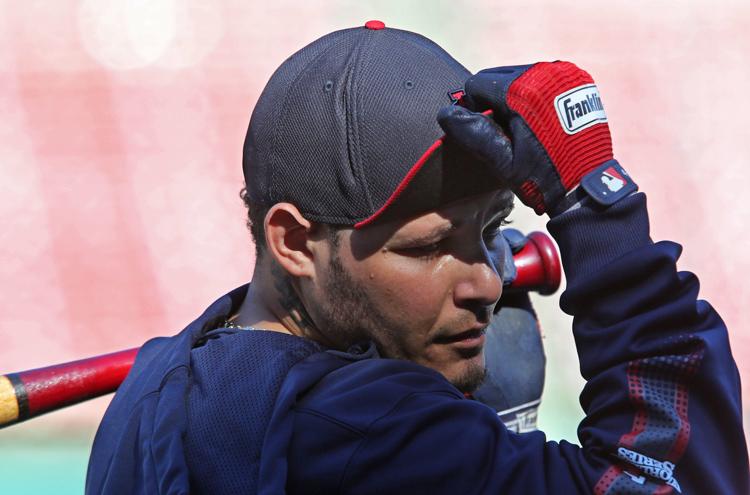 Molina throws out Joey Votto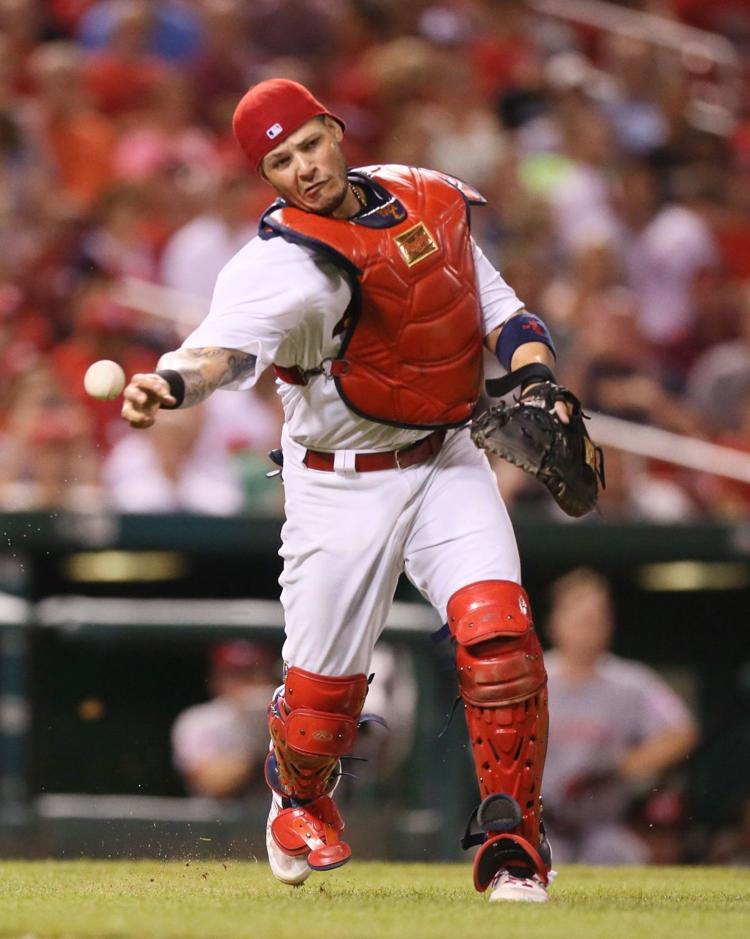 Cardinals win the pennant