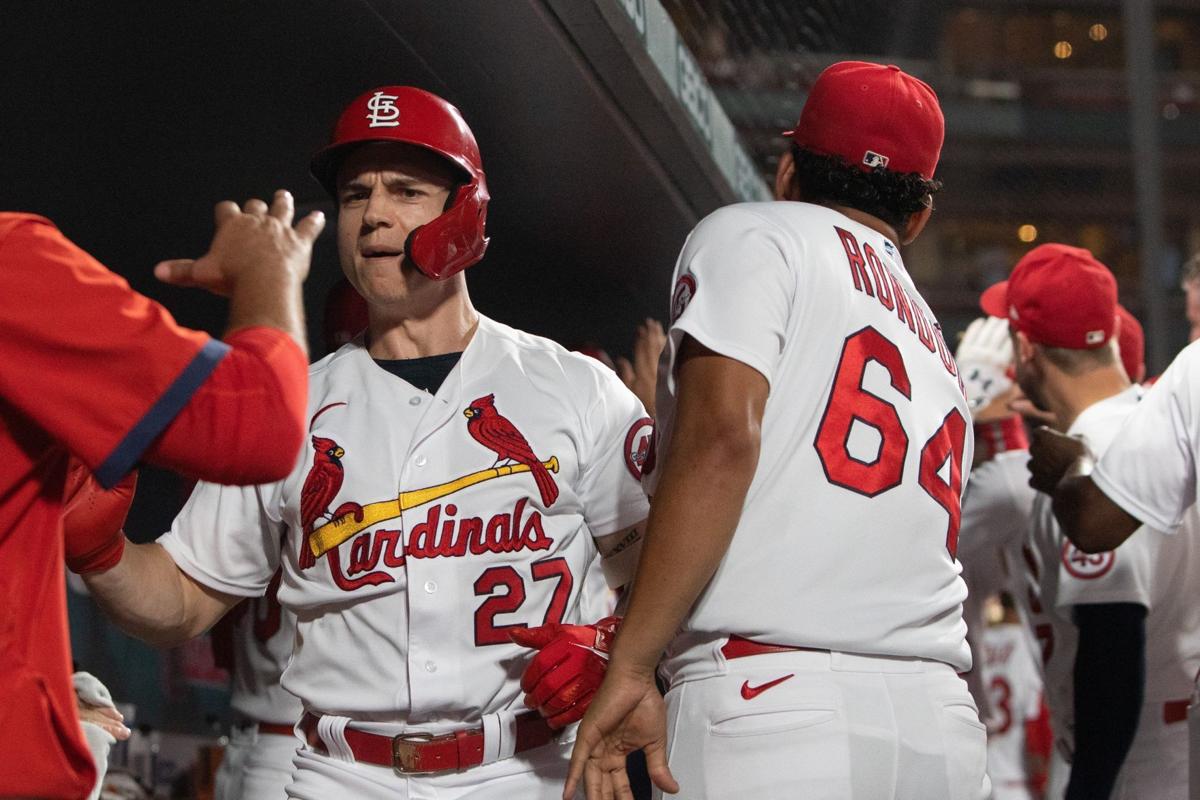 LOS ANGELES — In the final month of Major League Baseball's regular season, there was one player who came to the plate more than 50 times for his team and made fewer outs than times he reached base.
In his 145 plate appearances, he had a .545 on-base percentage, and if, for kicks, his 40 walks in the month added to the total bases, he would have produced 105 increments of 90 feet for his team. Mix in a .637 slugging percentage, and that adds up to a 1.182 OPS, not to mention the 24 RBIs or 23 runs that Juan Soto provided the listing Washington Nationals.
But he did not win the NL's player of the month.
As Rick Hummel detailed in this morning's Post-Dispatch, Cardinals outfielder Tyler O'Neill won the honor to make him the second consecutive Cardinal honored with a monthly award. Adam Wainwright won August's pitcher of the month award for the NL, and O'Neill, Tommy Edman, and Harrison Bader have all been honored as players of the week in the past six weeks. O'Neill bested Soto in a vote of media for the monthly award by hitting .328 (39 for 119) with 13 home runs and 30 RBIs. He also scored 31 runs. He's the first Cardinal not named Mark McGwire to hit that many homers in September.
The strong month also made him the first outfielder in Cardinals history with at least 34 homers and 15 steals in the same season, joining infielders Rogers Hornsby (1922), Fernando Tatis (1999), and Albert Pujols (2005, 2009).
Hornsby won the Triple Crown when he did it.
Pujols won the MVP each of the years he did.
Which brings us back to Soto.
The Nationals' outfielder and Philadelphia outfielder Bryce Harper made compelling late-season bids for the National League MVP award while neither of their teams made the postseason. Soto leads the league in Wins Above Replacement, according to the calculation used by Baseball-Reference. He's at 7.0 WAR. Harper is second in the league in WAR, based on the calculations used at FanGraphs. He's at 6.0 WAR.
Inviting the annual offers of Excel classes, I prepare to vote for the MVP each fall by drawing a grid on a yellow legal sheet of paper and plotting out what players stand out for ranking high in various categories. I can put together an aggregate score from there to begin shaping my ballot. Fernando Tatis Jr. lead in homers; that's 1.0. Paul Goldschmidt is tied with Joey Votto with 99 RBIs; that's 7.5 each. Through the years, the categories have changed, the weight I put on each has changed. They are a mix of baseball card stats and advanced stats, like Weighted Runs Created Plus (wRC+) and Win Probability Added (WPA). It's not a complete audit, but it's a comprehensive palette that helps paint a sense of how well the player rated across the spectrum of statistics when compared to his peers.
(Harper leads in both wRC+ and WPA.)
He finished the season top five in WAR from Baseball-Reference.com, and top 10 in WAR from FanGraphs.com. (How they weigh defense is the difference.) He finished top five in slugging, top seven in OPS, top eight in homers, and – the exclamation point – top five in wRC+.
A snapshot of his line on the yellow legal pad (NL rank):
Oh, and he led his position with 11 Defensive Runs Saved.
In so many of the columns there are the familiar, expected names that stand out, like Tatis in homers and WPA, Soto in on-base percentage and rWAR, Trea Turner in bWAR and BA, Harper in a sampling of stats, Goldschmidt in defensive runs saved and steady across the rates, and so on. O'Neill pops up in almost every single one of them, ranking higher in a few categories than several players who have been considered MVP candidates for the past several months. His September was good enough to already top one of the best hitters in the game, according to voters. It left an impression. And it will be interesting to see how many voters have him in the top 10 for MVP – and how high.
Ballots are due before the first pitch of Wednesday's wild-card game.
O'Neill will be due up third.