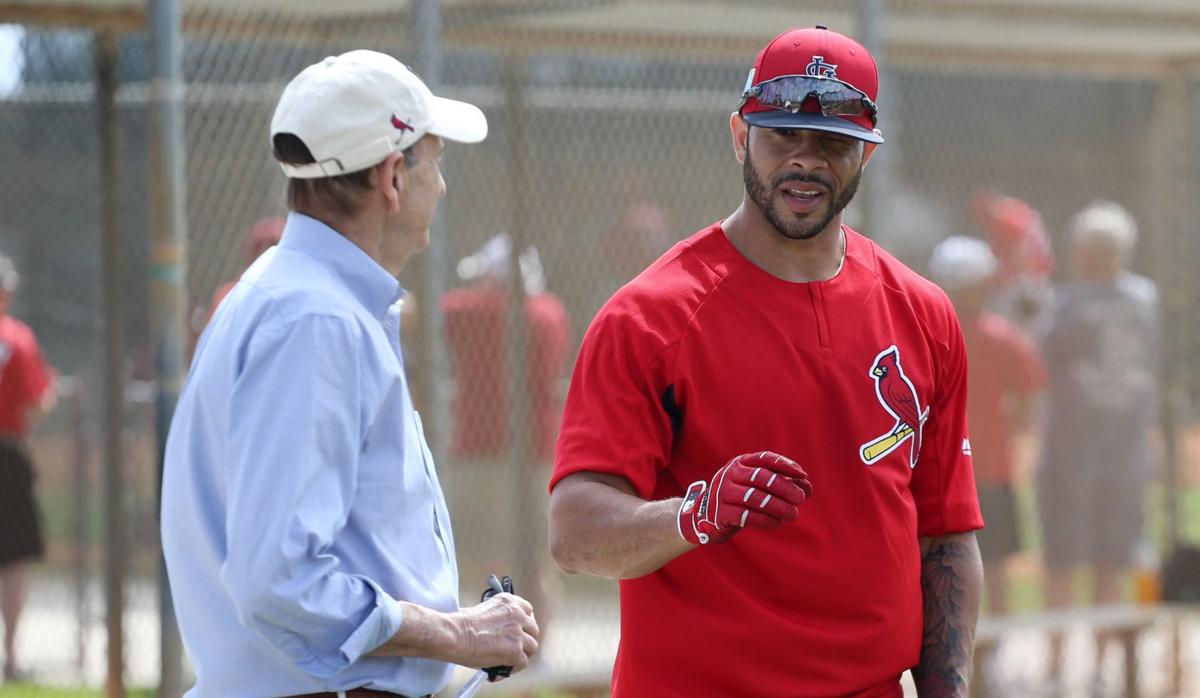 JUPITER, Fla. • Cardinals center fielder Tommy Pham knows the numbers. He has a feel for how much the analytics adore his production, is aware of how his 2017 season was unlike any other in Cardinals history, and can name the players who did some of the things he did (see: Trout, Mike). He can recite each of the stats on the back of his baseball card and also explain how he intends to improve each of them.
But all of that was secondary Monday to something else he's knows well.
And sometimes it has bite.
The Cardinals announced Monday that they renewed Pham. That means the Cardinals and their center fielder were unable to come to an agreement on his salary for the 2018 season, so the Cardinals used their right to impose a salary on him. They could have tagged him with the minimum. They awarded him a $570,000 salary -- one of the largest for a third-year player.
Discussions with the team about a two-year deal never really gained traction, Pham said. He signed the renewal notice Monday.
"I know what numbers I need to put up, to reach, whatever I'm willing to reach," Pham said. "I'm from Vegas. I'm a betting individual."
The renewal of Pham came on the same day that the team finalized a six-year extension for Paul DeJong that guarantees him $26 million and could be worth $51.5 million over eight years. DeJong sought that kind of deal and security, and was willing to give up two years of free agency and all of his arbitration years to make it happen.
A two-year deal didn't interest him because he will be arbitration-eligible next winter, and with his service time and games played he could get a relative windfall. When he reaches arbitration he will have all of his production at his back as his platform for his salary. That includes this past season when he stole more than 20 bases, hit more than 20 homers, and had a batting average better than .300, while also slugging better than .500.
He was the first player in the Cardinals' 127 years to have that combination of counting stats and rates.
"If you look at what I did last year, I didn't think there was a great amount of appreciation," Pham said. "So I took the renewal."
In another discussion with a small group of media members that included Post-Dispatch columnist Jesus Ortiz, Pham also said this about the potential two-year offer from the team: "The numbers didn't add up to me and my agency and the union. Nothing made sense. I didn't think. It's business first and foremost. I didn't like it. The numbers didn't seem right. I wouldn't sell myself short like that."
The Cardinals, like many teams, use an internal algorithm to set their offers for players with fewer than three years of service time. This formula is shared with agents to illustrate how the team arrived at its offer and why it was unlikely to change. Discussions happen. Sometimes multi-year deals like DeJong's emerge from those conversations, and sometimes the player's agent argues against the algorithm used. In Pham's case, he could argue that the algorithm didn't take into account a number of things about his season or his career, thus far.
One would be how he produced at Class AAA, and he made the point Monday that he came a few days shy of being arbitration eligible because he was in the minors, cracking out production, for a few extra days.
The Cardinals have not had a renewal since 2008 when they renewed pitcher Anthony Reyes and also renewed Adam Wainwright. The latter's renewal didn't cause any consternation because it was prelude to an extension.
Pham reiterated that he's confident he'll turn this year into the salary he's chasing. He stressed that he treats baseball as a business, so he knows what's possible -- for himself, and, as he had happen Monday, by the team. He said the Cardinals' offer wasn't "strong enough."
"I wouldn't sell myself short," he said.