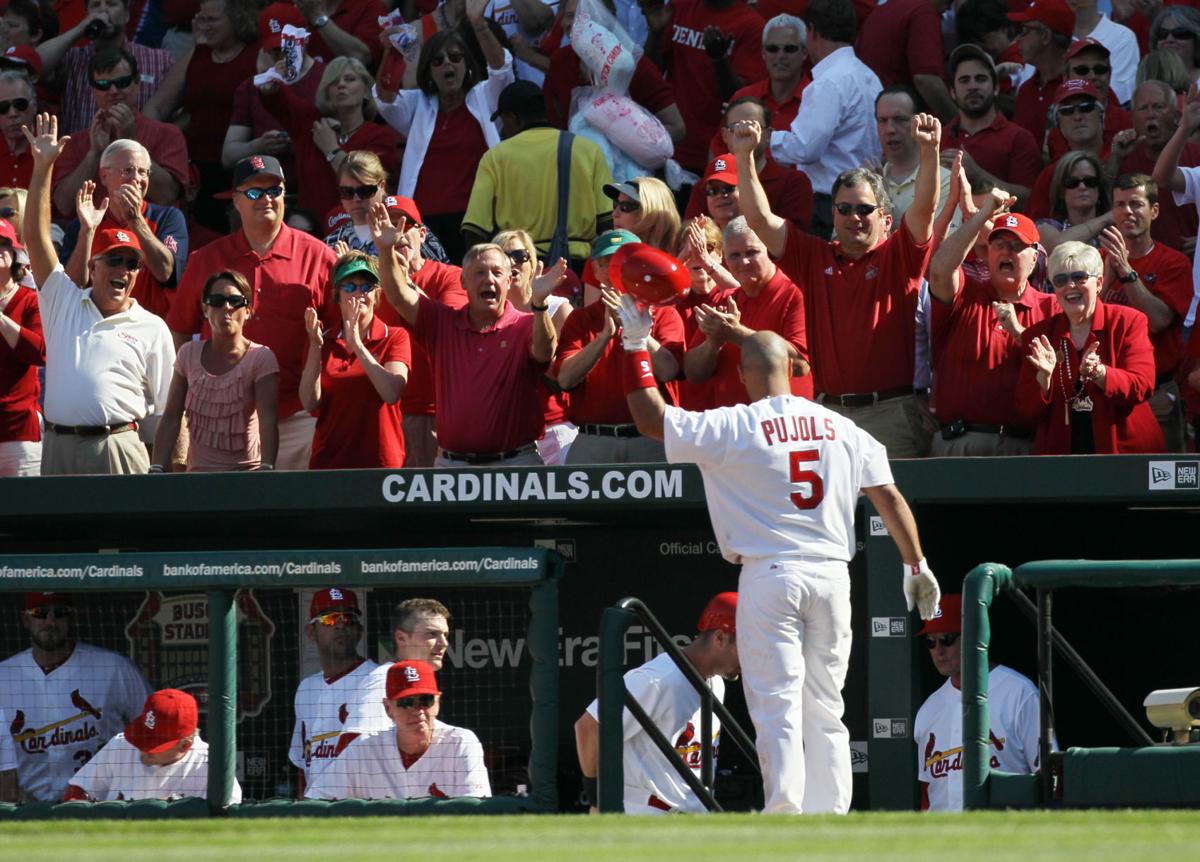 ANAHEIM, Calif. • One of David Freese's fans who couldn't attend his homecoming this past weekend at Busch Stadium still watched from afar and was moved by the standing ovation the former Cardinal received from the St. Louis crowd.
It's a moment he, Albert Pujols, can't be sure he'll get.
The schedule continues to work against him.
"To tell you the truth, it is what it is, but I would love to get back to St. Louis, to play a game there," said Pujols, a three-time MVP who signed with the Los Angeles Angels after the 2011 season. "I was excited to see Freese. That was special. I thought that 2016 was going to be the chance. It didn't work. I always tell people I came there a little boy and I left there a grown man. It would be pretty emotional, too. I'm a pretty emotional guy. …"
"It would be fun," he added. "It would be important when that moment comes ..." He took a deep breath.
"I don't have to think about it until that moment comes."
Instead of visiting St. Louis this week for the first time since leaving the Cardinals — as the Cardinals hoped just as much as Pujols — Pujols and the Angels are hosting the Cardinals for the second interleague series since 2013. When Major League Baseball split the leagues evenly, 15 teams each, it meant perpetual interleague play but also allowed baseball to promise a regular schedule of opponents. With a three-year rotation of divisions, the plan, an official told the Post-Dispatch, was for teams never to go more than four years without visiting one of the other 29 teams. The Cardinals came to Anaheim, Calif., in 2013, and so, by plan, the expectation was Pujols would return to St. Louis for the first time in 2016.
The Cardinals welcomed that return, and they could have linked Pujols' first visit as a visitor to the celebration of the 10th anniversary of the 2006 World Series team.
"There's probably a closure that would bring for him," said manager Mike Matheny, who became close to Pujols when they were teammates. "I think there's been enough time that's passed and there really is an understanding of what he gave to the organization. Whatever frustration there was has to be gone, and it could really be a moment of appreciation. But, it's going to happen, right? He's one of the greats. He'll be back. Whether it's in the batter's box or it's later to throw out a first pitch or it's when his number goes up, he's going to get that moment.
"He'll have that chance to share it with the fans."
Pujols signed a 10-year, $240 million contract with the Angels in December 2011, just months after the Cardinals won the World Series. The deal runs through 2021, though Pujols has said he won't linger if he can't produce. At 36, he's been slowed by recurring foot problems and had to have surgery this past offseason to alleviate pain. Pujols brought a .190 average into Tuesday's series opener, batting cleanup as the Angels' designated hitter.
In August, Pujols will return to St. Louis — to host a charity golf tournament. On an off day for the Angels, Aug. 8, Pujols will host his annual charity tournament for the Pujols Family Foundation at Meadowbrook Country Club in Ballwin.
Matt Holliday called it "weird how the schedule hasn't worked to make (a return) for a game happen." The Cardinals are set to play American League East teams during interleague play next week, and if the current rotation continues they'll next face the American League West in 2019. Pujols will be 39. Only a World Series or exhibition series would make it happen sooner.
When asked, he wouldn't allow for the possibility he might not ever play in St. Louis, might not have the moment Freese did, doffing his cap to the crowd.
"I don't think I'll be disappointed," Pujols said. "If I play toward the end of my contract, I'm supposed to go in 2019. It is what it is. That day will come, I hope. If it doesn't come, it wasn't meant to be."