Rounding up the hot topics from award-winning writer Derrick Goold's weekly chat with St. Louis baseball fans.
TRADING YOUNG ARMS FOR STANTON?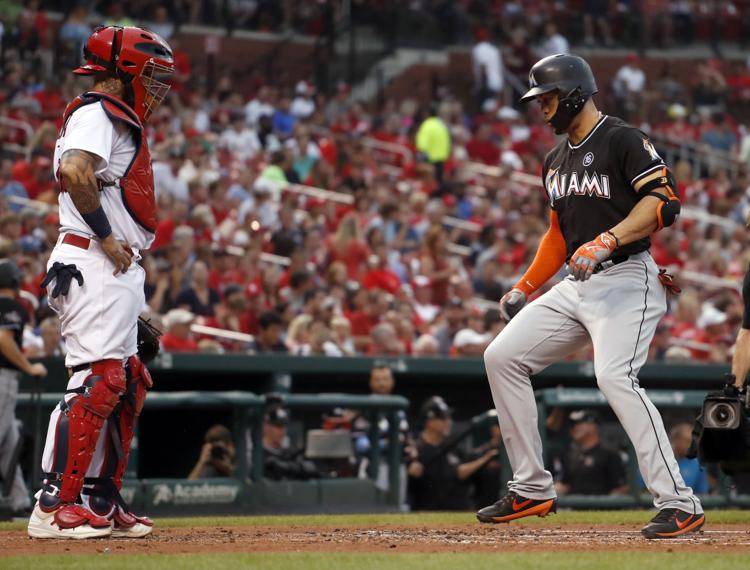 QUESTION: Peter Gammons wrote that the Cardinals dangled one of their best young arms in a package for Stanton. Have you heard anything similar to that? Such as Cardinals being the most aggressive team for Stanton (and/or Yelich)?
GOOLD: The Cardinals are one of the teams that is, as we've mentioned in the chat and in print, figuratively camped outside of the Marlins office and ready to talk whenever Jeter & Co. is open to it. The Cardinals want to be one of the teams the Marlins talk a lot to this winter -- and in the coming weeks.
All things being equal, of course they'd like to trade for a transformative bat like Stanton, but that contract remains -- as we've outlined many, many times -- problematic. The Cardinals will sweeten their offer with prospects depending on how much of the contract the Marlins are willing to pick up. Yes, that means players from the major-league roster, young, cost-controlled players. Yes, that means one or two of the better arms.
The Cardinals are not going to be able to land the bat they covet -- whomever it is -- without giving up at least one of the "best young arms." The Cardinals are ready to do this. That could be Jack Flaherty. That could be Sandy Alcantara. That could be Dakota Hudson. They would prefer that it's not Jordan Hicks. This is established.
OTHER HITTERS ON THE SHOPPING LIST?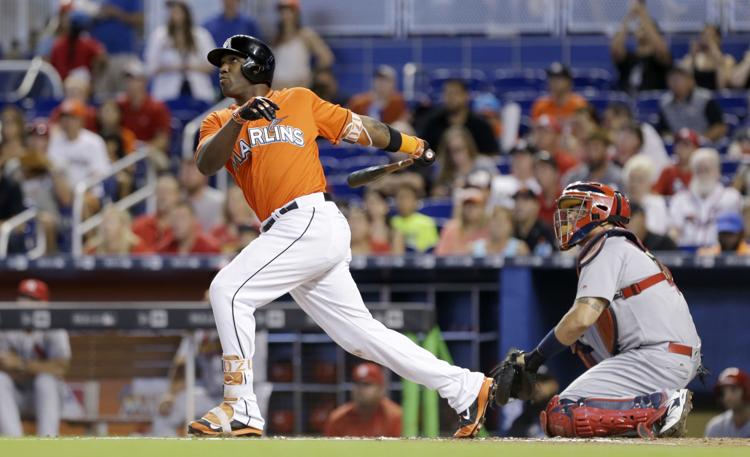 QUESTION: If Stanton isn't possible for the Cards, what other bat is 2nd or 3rd on the list?
GOOLD: The Cardinals will continue to talk to the Marlins about the other options they have in the outfield, Marcell Ozuna (above) and Christian Yelich. The Cardinals have had -- will also continue to have -- talks with Toronto about Josh Donaldson. There's going to be a time -- if there hasn't been already -- that the Cardinals and Tampa Bay will sort through ways they might be a match, from starting pitcher to closer to bat. San Diego is going to be in the market at some point to see what its hitters can command, and the White Sox -- always a team that wants the world -- will see what the market is for Jose Abreu. Not sure how motivated they are as a seller. Working on some kind of extension seems more likely.
But the return will be strong for a bat this winter, and the Cardinals know it will take them past their pain point.
Follow-up: Cards have any interest in Jay Bruce?
GOOLD: He would be down-ballot, as they say. He's not a target at this point because the Cardinals have eyes on trading for a bat, not going back to the free-agent market. They will have to pivot and possibly look at Bruce if the trade moves fizzle on them. But that's not their preference, at this point.
Follow-up: Any interest in Eric Hosmer? He could solidify first base for several years.
GOOLD: Hosmer, to me, would add welcome depth to the Cardinals lineup but also an overlap of sorts with Matt Carpenter. That could help the lineup, but is it enough to change the lineup? Possibly. Enough to make it a sure thing? I'm not so sure.
NOT SO FAST ON . . . J.D. MARTINEZ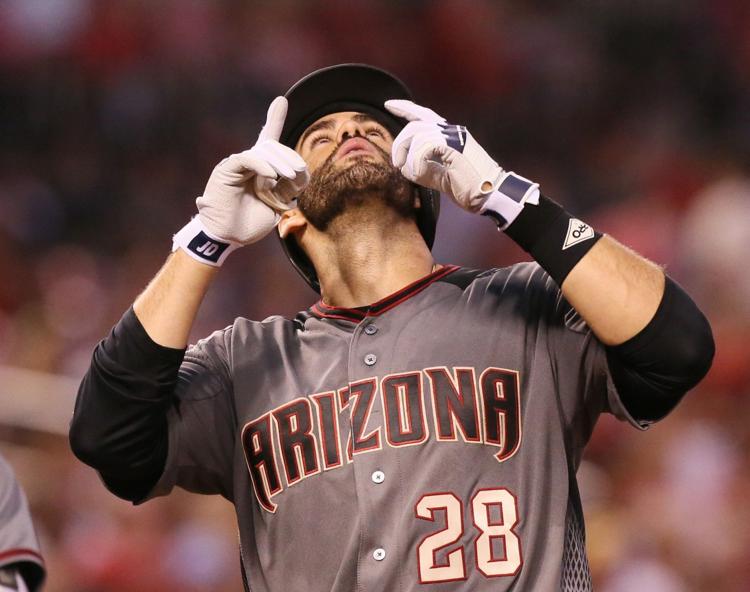 QUESTION: CBS Sports had a report that Stanton would go to the Red Sox, so the Cardinals would go a different route and try to sign J.D. Martinez. What do you think? My contract guess would be five years and $120 million.
GOOLD: I don't want to get into this back and forth with other baseball writers, but that's what the chat often becomes in the silly season. There are a lot of predictions out there. Have fun with them. Enjoy them. Dream on them. But when we talk in here I've got to do my part to offer you things that I can prove or verify or tease out because of reporting and research and conversation, not speculation.
The Cardinals going after Martinez does not seem likely. And if they got to that point, it wouldn't be because only the Stanton deal didn't happen. It would be because several of the deals the Cardinals would prefer to make trading for a bat didn't happen.
Martinez is an interesting player, no doubt. Power does play. Power also pays. And the Cardinals rarely win the auctions for players like him. This seems like an unlikely series of events.
Follow-up: What if the front office fails in its goal of an impact bat? Will they be up front with the fans, or do we get a line about "we have great internal options"?
GOOLD: Whether you get that line or not, it would not be a successful winter unless the alternative is an addition elsewhere. This is a pretty simple winter when it comes to grading out the Cardinals. They need additions to improve.
INTEREST IN FREE-AGENT STARTERS?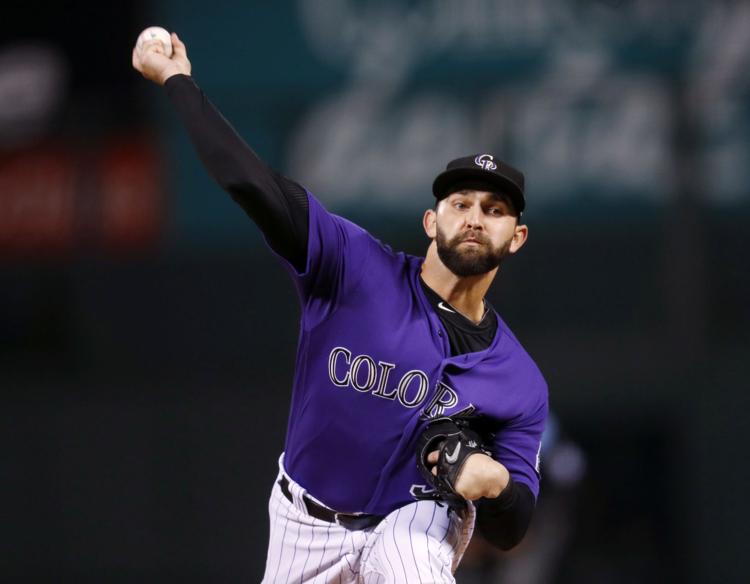 QUESTION: What type of starting pitcher do you think the Cardinals may try to sign in free agency?
GOOLD: Not one of the top-tier pitchers, unless the market craters for a guy like Jake Arrieta, and there isn't any expectation of that at this point. Alex Cobb has come up. Makes some sense. I've mentioned Andrew Cashner in past chats.
Here's a new name for the chat that is going to be one to watch, and depending on how the market moves for him could be right in the Cardinals' wheelhouse: Tyler Chatwood. Check out his road splits. Consider he had a second Tommy John surgery. That he's young enough and perhaps interested in a short-term, two-year deal to build up his value, and that he'd be looking to do that for a solid team at a friendly ballpark, and that he's going to be a darling of the analytic set for his advanced metrics. Watch the conversation about him and around him unfold.
BAD IDEA NOT TO SIGN LYNN?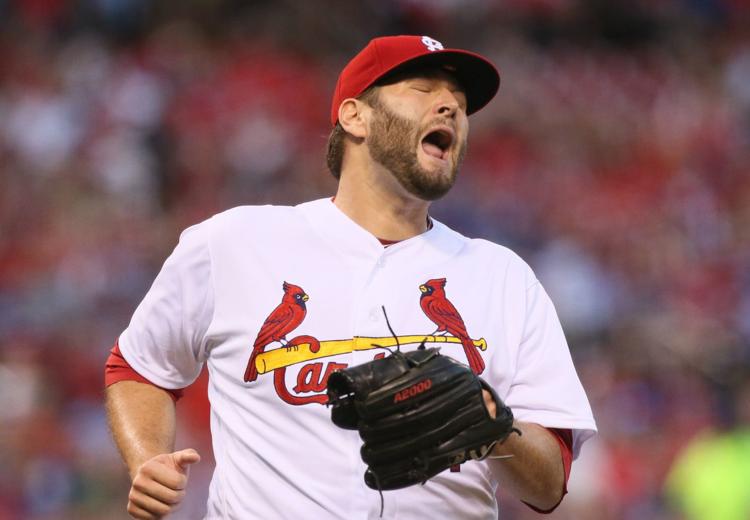 COMMENT: Seems like a bad idea to not try and sign Lynn. The Cardinals have the $$$ and anyone from free agency likely is a downgrade.
GOOLD: I'm not so sure. There are a few that might offer more flexibility. But that could also hinge on what pitcher has to move to get the bat that the Cardinals want. That could create an innings void that is even more acute than the one they have now, and make it clear that they'll miss Lynn, or a pitcher like Lynn. Lots of moving parts here.
As the roster stands right now, the Cardinals could go for a shorter-term deal for a starter and cover what Lynn would offer while maintaining the opening they want for a young pitcher.
Follow-up: Do the Cardinals have any interest in C.C. Sabathia? Reports are he might be available for 1 year/$10 mil.
GOOLD: He's come up in recent chats and in many ways he's an interesting candidate -- and one that proves an earlier point about there being many alternatives when it comes to pitching for the Cardinals. They could wait and still have a fitting selection. What's unclear about Sabathia -- and I apologize for repeating myself here -- is what he wants and where he wants to go. He has discussed in the past wanting to get a chance to play out west, closer to his home. That has been an appeal to him, and it took the Yankees with a recruiting effort and mega deal to lure him to the East Coast. Now that he has a chance to choose where he wants to go does he look for a place out west to go and win finally?
SIGN COZART, MOVE DEJONG TO 3B?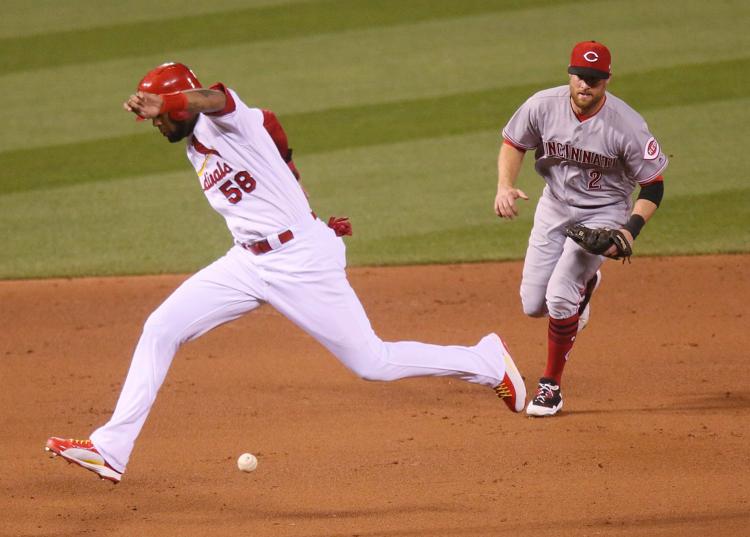 QUESTION: Do Cards have any interest in shortstop Zack Cozart, with the idea of moving DeJong to 3B?
GOOLD: This is something that will be discussed, yes. As will trading for a glove-first shortstop and moving DeJong to third base and really going heavy into the run prevention. Again, that's if other preferred moves don't work out.
I want to offer one note of caution with the Cardinals and Cozart. The Cardinals believe that DeJong could grow into Cozart, or at least be similar to Cozart in total production. Better offense. Capable glove. That kind of thing. And I was given that comparison this past summer when I asked around about whether the Cardinals would try to trade or sign Cozart, and more than one person told me that they already had "their Cozart." They were talking about DeJong.
Follow-up: If the Cards decided to go for run prevention, which defense-first shortstops are available for them to discuss?
GOOLD: Angels' Andrelton Simmons would be one of the targets pursued. Detroit's Jose Iglesias would be next, and he could be traded. He would be of interest. Alcides Escobar is a free agent.
WHAT ABOUT SWARZAK AS A CLOSER?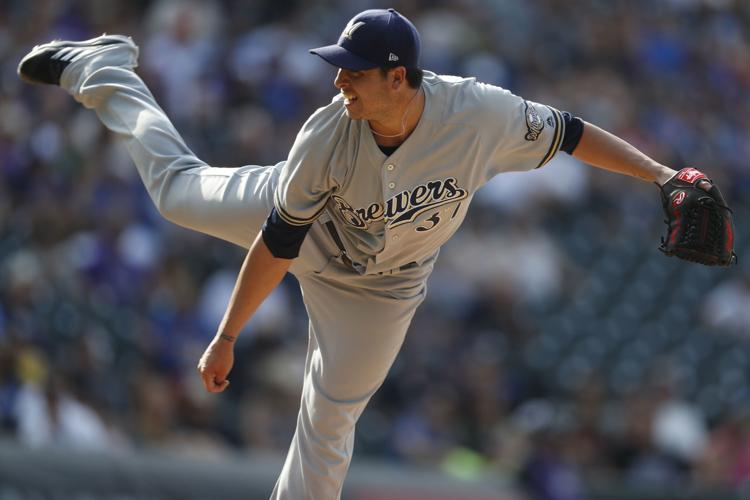 QUESTION: We hear all about Greg Holland and Wade Davis for the Cardinals -- what about Anthony Swarzak?
GOOLD: He's intriguing. And as I ask around, the more he seems like a solid, value play. Bryan Shaw was also mentioned in some conversations I had this past weekend with people.
Swarzak has an appealing K/9 rate. He's one of the group of pitchers with high fastball velocity (94.7 mph average), and he's got the movement/bite on the pitch to go with the classic FB/breaking ball reliever mold. He stormed into Milwaukee with some wicked stuff -- and the Cardinals got an eyeful of it the first time -- before all the work and strain seemed to get the better of him in the pennant race. Pick through this stats and you see the makings of a guy who could blossom as a closer if given the chance and if he is able to take the same stuff from setup into the ninth. I find the facets of what he offers interesting.
CARPENTER'S TRUE VALUE?
QUESTION: What is the true value of Matt Carpenter, a true OPS monster at leadoff but nowhere else in the order (and a poor baserunner)?
GOOLD: Matt Carpenter is a monster as a player who strengthens a lineup. Building a lineup around him is not what the Cardinals want to do. But have his OBP and his bat and his ability to crush the count and work the pitcher and all of those things batting second ahead of the hitter who is the fulcrum ... why, that's like 2013, and that worked well, no?
Follow-up: For a baseball town that is lauded for its baseball acumen, why do so few Cardinals fans understand how good Matt Carpenter is and has been? 
GOOLD: Not sure. It's confusing to say the least. I don't think it's widespread, though. So maybe don't judge the whole town based on the questions of a few folks in a little ol' fly-over chat for a Midwest paper that Giancarlo Stanton chooses not to subscribe to.
FOWLER STILL IN CENTER NEXT SEASON?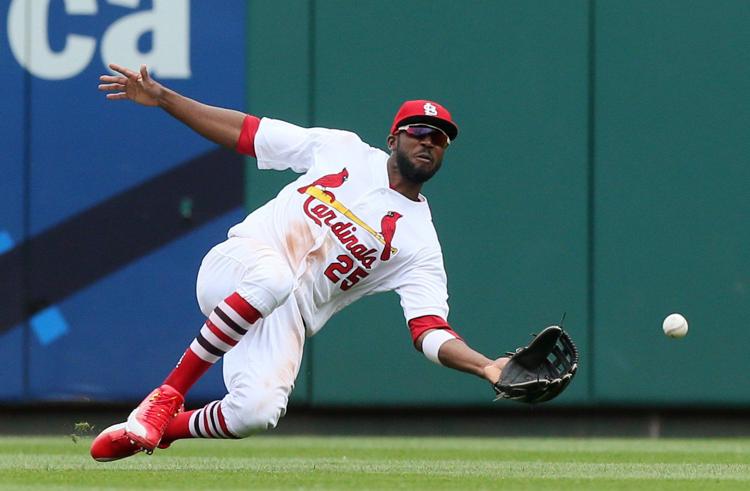 QUESTION: Is Dexter Fowler the center fielder next season, even if the Cardinals trade for Christian Yelich or sign Lorenzo Cain as a FA? Would Dexter be unhappy if he has to play RF or LF, or bat third?
GOOLD: He might be unhappy. He would have some right to be. A lot of it would be how the Cardinals manage this. They could ask Fowler how much of his troubles in 2017 were related to his health and leg issues and foot issues and so on, and then offer him all of spring training and all the games he wants there to prove that he's through those injuries and back to speed in center.
The Cardinals could also do what we've seen Pittsburgh do, a lot. That is, put a guy in center field and then position the better fielders around him in such a way that all parts of the field are covered. Center is the name. Doesn't have to always be the responsibility. Either approach is possible, and in that way the Cardinals give Fowler the chance to let his performance dictate his position, while having an honest conversation with him about the other options the Cardinals have.
WHAT IS REYES' STATUS?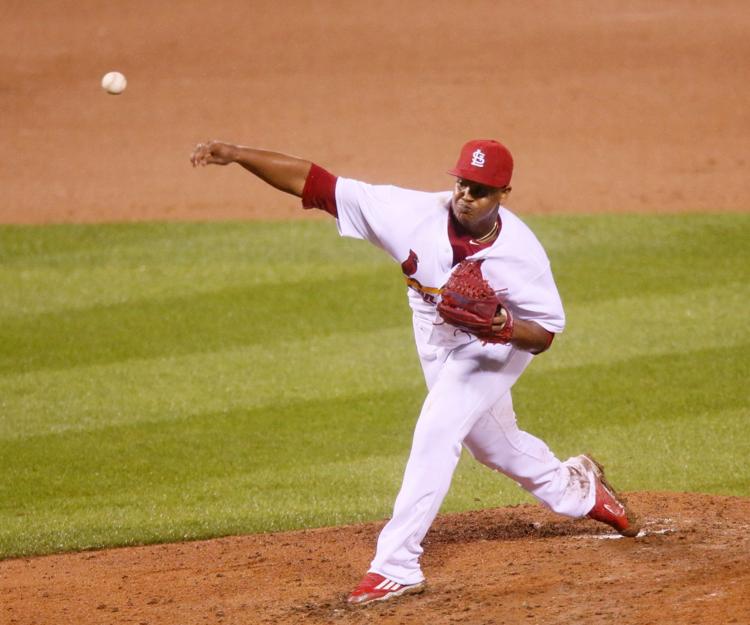 QUESTION: Is Reyes on the table for a potential Stanton deal or any major deal?
GOOLD: Alex Reyes is an unknown because of his health, and that is going to be entirely on the other end of the conversation and what trust the interested team has in him. I've heard of none. Leaving the season, the closest description I got was that a team would need to see what Reyes has to offer in spring training before knowing really where his health and strength and readiness is for the 2018 season. That's no big surprise. The Cardinals wonder the same thing, and he's on their roster.
WHO HAS MORE TRADE VALUE?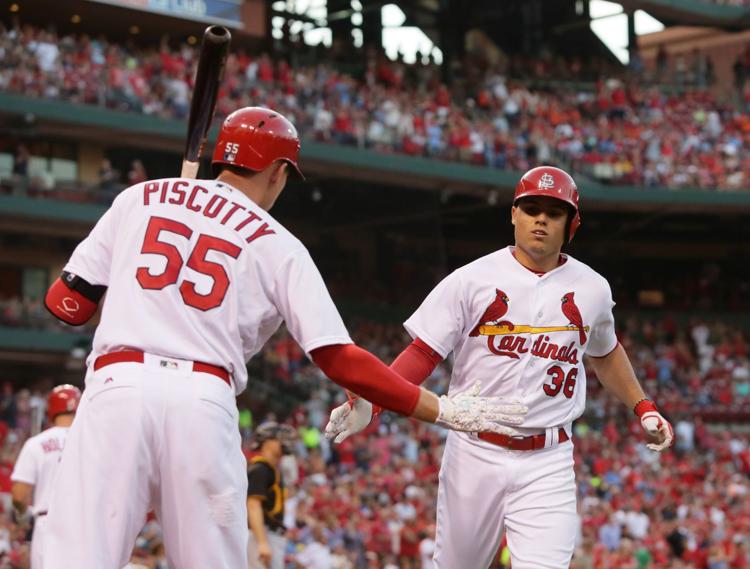 QUESTION: How would you rate the trade value of the following in terms of best return for the Cardinals: Grichuk, Piscotty and Diaz?
GOOLD: As of today, it's Grichuk, Diaz, and then Piscotty. The first two come with more flexibility and that is valuable when you weigh against their recent performance.
Piscotty, coming off a difficult year, has the guaranteed contract. A team is really going to have to be sold on his upside and his breakout this year to make that work.
STANTON NOT SOLD ON ST. LOUIS?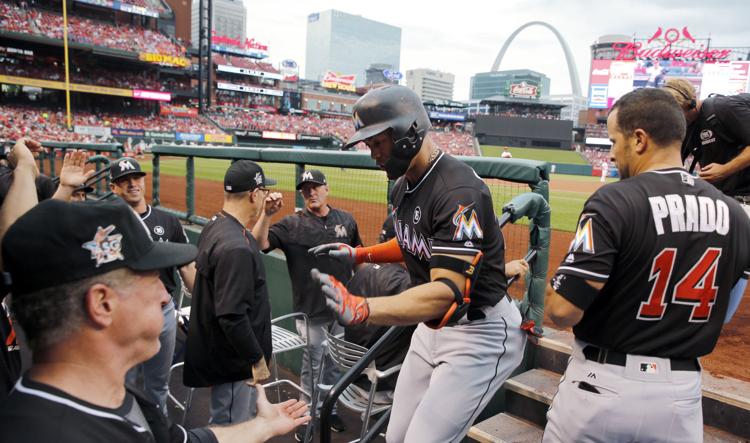 QUESTION: Some reports say that Stanton may want to go to a West Coast team. Other reports (Jim Bowden) say he'd flat-out say "no" to STL. Is there any indication of this? Does St. Louis still have enough attractiveness for him to say "yes"?
GOOLD: To the best of my knowledge and some people who would be in the know that I have spoken to, Stanton has never articulated anything about St. Louis.
At most, he's offered up a preference or interest or musings about playing on the coast. That's not unusual. Hear that a lot from players and players around the players. Same thing with the Yankees. Some players want a chance to play for the Yankees. Remember back in 2004, a young switch-hitter with the Houston Astros talked about the kind of team he wanted to play for as a free agent and did everything but name the Yankees as that team. Of course, that player, Carlos Beltran, signed with the Mets. Things change when there is a contract put in front of them -- or an opportunity.
I do know that there has been some speculation about Stanton and St. Louis that is based only of the supposition by the writer/talker that Stanton couldn't possibly want to be in a Midwest town in the middle of fly-over nowhere like St. Louis. Whatever that means. I hear such things a lot. They're guesses, often rooted in that person's opinions, not the player's. Presumptions abound this time of year.
BIDDING ON THE SUPERSTARS IN 2018?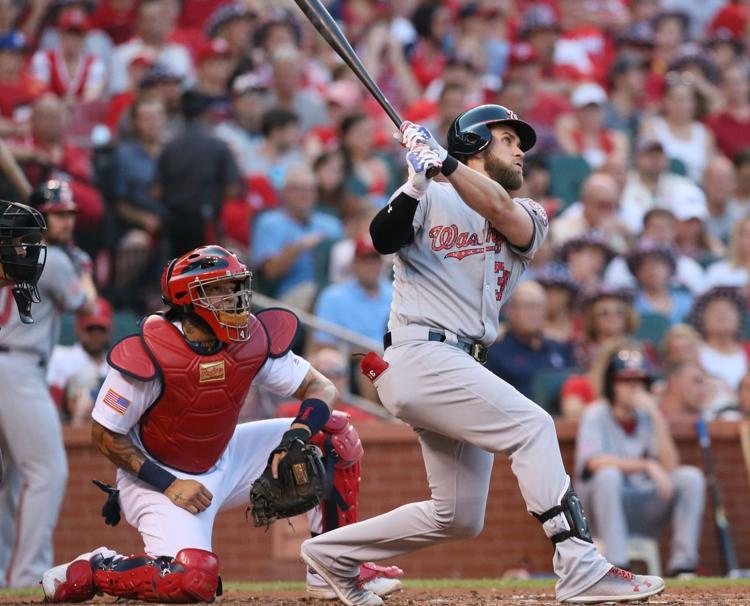 QUESTION: If the Cardinals acquire the bat (and closer... and pitcher) they're looking for this offseason, will they have the cash available to target any of the big names available in 2018?
GOOLD: The Cardinals will have resources, and so will so so, so many other teams. It has been brought to my attention that maybe the Cardinals should look at making their move now before inevitably falling behind in the auctions next year. They shouldn't bank on being able to woo Machado, Harper, etc. If they're going to the highest bidder, how often have we seen the Cardinals be the highest bidder in the past eight, nine years. Twice? Do you think the third time is going to be for one of them? I wouldn't take that bet.
FAVORITE AMONG THE OUTFIELD PROSPECTS?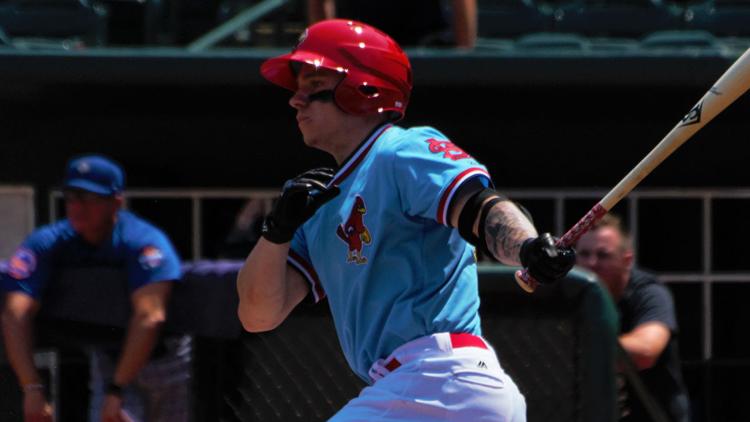 QUESTION: Does one of the minor league outfielders have a better chance to make an impact than the others? Does the club have a favorite?
GOOLD: The club is intrigued by Tyler O'Neill, and you can see their reasoning. Legit power. Can play center. Young. Strong. He's got a lot of the traits and characteristics that you'll also hear associated with ... Randal Grichuk. That comparison is real, and so could be the outcome and the performance, or it could be completely different for O'Neill depending on the playing time. Adjustments. You know the drill.
I think Magneuris Sierra is still underappreciated given his skillset and speed and what he could be for a team as far as picking liners in center and stealing hits and, if he improves, stealing bases. That kind of talent has a place in the modern game and could have an impact.
ROSENTHAL'S EXIT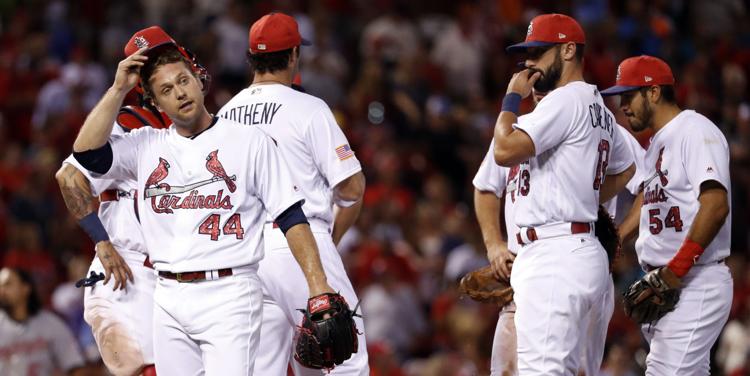 QUESTION: How much money do the Cardinals save with the release of Rosenthal?
GOOLD: None really. They still have to sign a free agent reliever, and there will be someone in that 40-man roster spot. What they do is they avoid the arbitration-assigned salary that Rosenthal was going to get for 2018 and not pitch much in 2018.
Comment: Wow, a bout of decisiveness from the Cards front office! Rather than drag Rosenthal along and hedge that he comes back, meanwhile not committing the appropriate resources to replace him in the short term, they just made a finite decision. Applause!
GOOLD: Fair assessment.
GOOD OR BAD: STANTON OPTING OUT?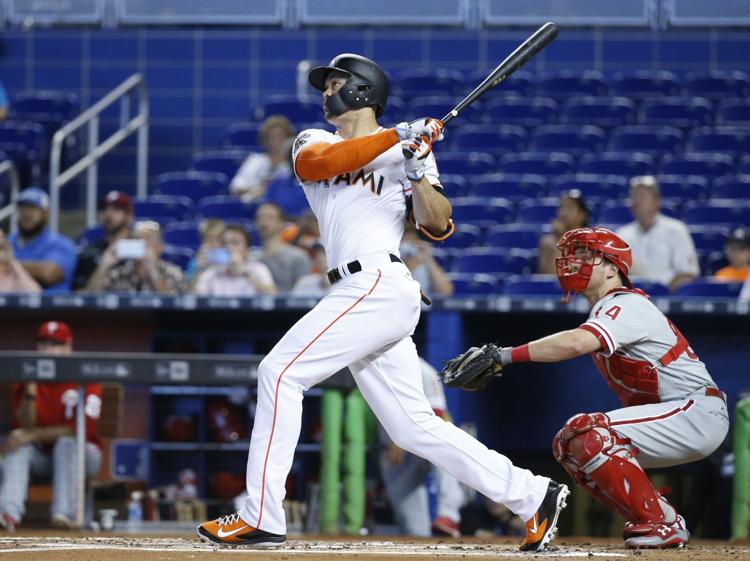 QUESTION: Why would Stanton opting out after three years be such a bad thing. The Cards would still get 3 of his prime years and not have to pay large amounts for his declining years?
GOOLD: I see where you're going with this, and it does make sense. It is certainly a great question. But it also touches on the difficulty of knowing what to offer when it comes to prospects and what it means for the amount of the dollars necessary to sign him. If Stanton was a given to opt out -- no doubt, he promised, whatever -- then absolutely his deal becomes infinitely more appealing, and taking on that contract wouldn't be a big deal and the Marlins would definite be able to drum up an incredible return for him. In that way, you're right. If he opts-out, then smashing!
It's the likelihood he won't (deal is backended to make the opt-out less appealing) and the possibility he will that just creates curves of this deal that are so unusual and don't really have precedent.
Follow-up: Could Jeter tell Stanton, "It's STL -- or remain a Marlin?"
GOOLD: Not sure yet. But it is entirely possible that the Marlins have to do a sales job to Stanton for the deal they want, if that deal is the Cardinals. Then, by all means, they'll have to sell him on winning, or having a chance to win, or being part of the legacy of power somewhere, or the idea that he could go to a signature team and sweeten Cooperstown credentials, or if he doesn't win the MVP this winter then make the point that if he was in a different market with a winning team he would have been a unanimous pick. All of those things are possible as the Marlins try to sell him on the deal they want to make -- instead of seeking out the deal that he will accept.
COMPARING WALT AND 'MO'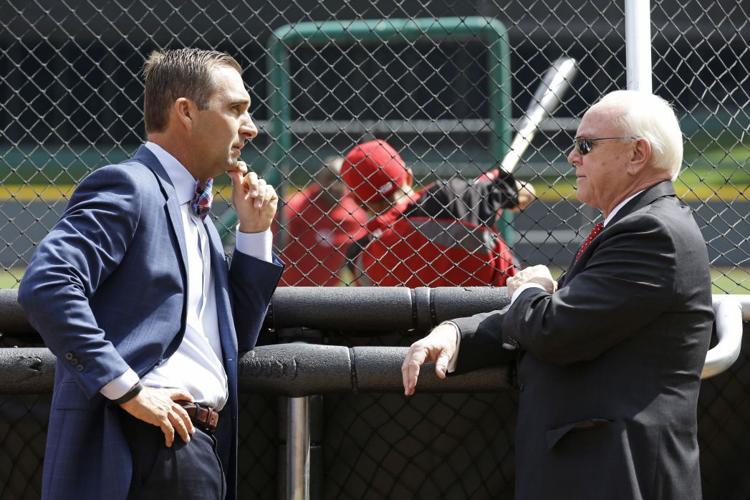 QUESTION: Walt Jocketty was known for acquiring iconic figures in modern Cardinals history: La Russa, McGwire, Edmonds, Rolen, Carpenter, Isringhausen, Wainwright, Renteria, etc. Mozeliak got players like Beltran and Berkman, who were around for a short time. What issues has Mozeliak faced in trying to acquire the high-end players that Jocketty signed/acquired? Are the days over for getting players like those mentioned above?
GOOLD: Interesting question. One of the major reasons is deals like Jocketty made just aren't happening much anymore. Think about those deals. How many of the minor-league players traded for Edmonds, Rolen, and McGwire could you name? How many turned out to be excellent, major-league players? Jocketty's biggest move in that regard was probably Dan Haren out to Oakland for Mark Mulder, and even that deal isn't one that really happens anymore. Why? Money. In each of those cases, the team trading the players -- and throw Larry Walker in here, too -- wanted to get out from under a contract that the team just didn't want to shoulder. That meant the Cardinals didn't have to offer much as long as they were willing to take on all of the contract, or most of the contract, and the Cardinals were willing.
For a long time now deals are more like Eaton and more like Heyward and not so much like McGwire and Walker. That's the twist to this winter. Now, leaking into the market, are a few retro deals where a team wants to get out from under a contract and here the Cardinals are again, able to make that move like they did in the ol' days. It's also worth noting that in 2004, DeWitt, the chairman of the team, talked about how the age of making those deals was starting to fade as teams locked up young players and got smarter with their drafting and acquisition and more analytical. He pushed the Cardinals into a more self-sustaining model and that brought in a lot of the decisions you've seen, from promoting Mozeliak to hiring Matheny to creating that culture of Cardinals and focusing really on the in-house options. That worked for a dozen years.
Now, change is needed. The next evolution is necessary.
SEND 'SIMBA' TO THE HALL OF FAME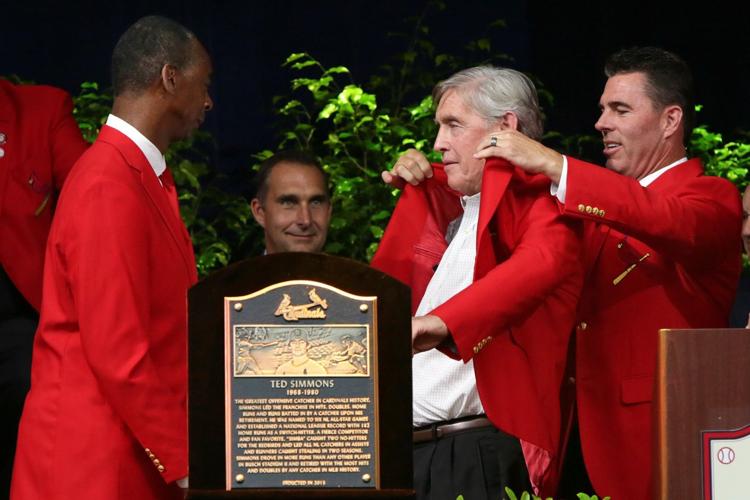 QUESTION: Ted Simmons is on the "modern era" ballot for the National Baseball Hall of Fame. Will this get him that HOF entrance he deserves?
GOOLD: Ted Simmons belongs in the Hall of Fame, and you're about to get me to go off on a rant here. OK, so one of the reasons why Simmons has had difficulty get through these committees is because committee members keep telling us that Simmons didn't last very long on the writers' ballot. He was one a one-and-done guy, like Jim Edmonds most recently. I've heard this over and over and over again. I've heard this from Johnny Bench. I've heard this from one person who told me they voted for Simmons in the room -- but really they didn't vote for Simmons in the room. It's all very maddening, and I will tell you this: It's absurd.
Reason No. 1: Simmons time on the writers' ballot was short for curious reasons that no one has rightly explained to me. Part of it was he played in the same league as one of the best ever to play his position, Bench, and like Trammel to Ripken or Raines to Henderson the Hall of Fame candidacy of the second-best is always limited when the best-of-all is in the same generation. This happened with Edmonds as he appeared alongside Griffey Jr. and his support suffered as expected. This is an old saw for me, but it's still in tune, and so you'll hear it again. Simmons shouldn't be dinged for being second- best to Bench in his era; that should be a positive, a boost to his candidacy.
Reason No. 2: So, you're telling me that former players get in a room and use the opinion of baseball writers to guide their vote? Give me a break. Players and managers should relish the chance to tell writers that they got it wrong. They like doing it when we're talking about the modern game. What's better than doing it now? I find it odd that I could go to a former player and suggest that Simmons is a Hall of Fame catcher and that player will tell me, "But you're just a writer. You never Played the Game." And that same player, when confronted with a chance to vote for Simmons in the Hall of Fame would say, "But the writers said ..." Give me a break. Shove it in our faces that we got it wrong. Shout it from the mountaintops that the writers messed this one up. See?
The writers got it wrong and the players needed to swoop in and put Simmons where he belongs. With his peers. In the Hall of Fame.