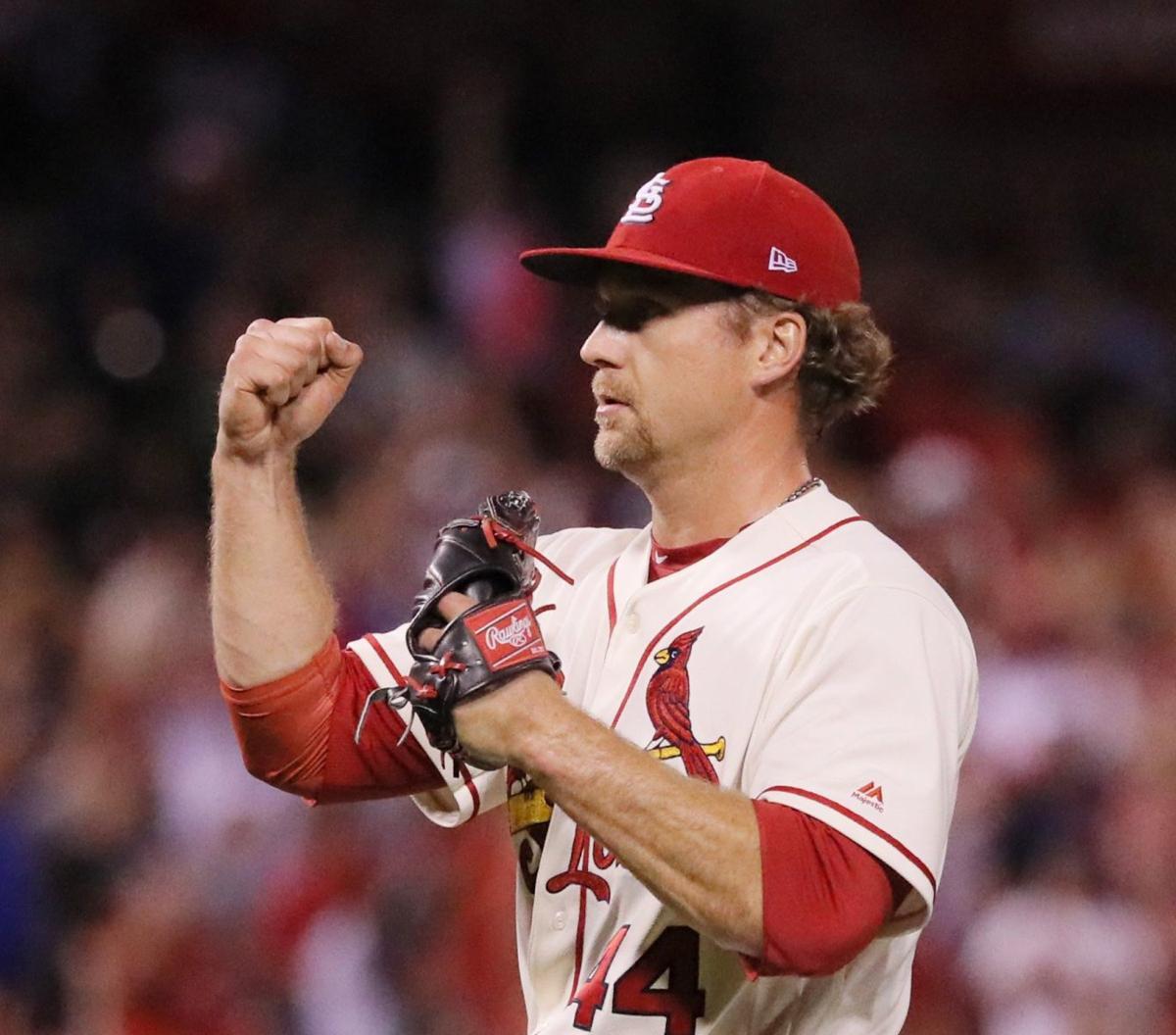 ST. LOUIS • The Cardinals need for a closer is more than immediate. It could become lasting as Trevor Rosenthal, twice a 40-save closer, will have Tommy John surgery next week and could miss as much as half of next season recovering from the procedure.
Cardinals general manager Michael Girsch confirmed before Wednesday's game what was suggested by the team's decision to move Rosenthal to the 60-day disabled list earlier in the day. Rosenthal has a partial tear of his ulnar collateral ligament and will require reconstructive surgery.
Dr. Neal ElAttrache, whom Rosenthal consulted for a second opinion this week, will perform the surgery in California. Dr. George Paletta gave the initial diagnosis in St. Louis last week.
The decision to move Rosenthal to the 60-day DL confirmed that he would not rejoin the Cardinals this year, but the fact that he'll undergo surgery means Rosenthal will not be back to start next year, either. The average recovery time for a pitcher after undergoing Tommy John surgery is 12 to 16 months. There are exceptions, however; Cardinals reliever Zach Duke made the comeback in just 287 days.
Rosenthal said he was given the option of a platelet-rich plasma (PRP) injection and eight to 12 weeks without throwing. The doctors explained that the alternative did not offer any certainty and that he could return to the mound at the start of next season and experience the same ligament issue.
"It was miss parts of two seasons," Rosenthal said, "or parts of one."
Rosenthal's contract expires at the end of this season, though the Cardinals do maintain one more year of control over the righthander. He will be eligible for arbitration this winter, meaning that process will influence his salary as much as the injury.
Rosenthal alerted the Cardinals to pain in his elbow while warming up for an appearance in Boston on August 16. When he entered the game, Rosenthal was unable to throw his fastball with his usual triple-digit velocity. He gave up a home run to Boston's Xander Bogaerts as well as a walk before he was removed and sent to St. Louis to have his elbow examined.
Girsch said that Rosenthal's UCL, the ligament that is reconstructed in Tommy John surgery, was not completely ruptured. However, Girsch said that both Paletta and ElAttrache agreed that Rosenthal's elbow required the surgery.
Rosenthal had pitched well before his most recent outing in Boston. He had not allowed an earned run in his previous eight outings and recorded seven saves and a win in those appearances.
In his absence, the Cardinals have turned to a rotating cast of relievers to try and fill the ninth inning -- and to take over the eighth spot in the bullpen. The last time the Cardinals had a save opportunity, Friday in Pittsburgh, Matt Bowman, Zach Duke and Seung-Hwan Oh were all used to get the three outs in the ninth inning.
Meanwhile, Mike Mayers and Josh Lucas have both been called up from Class AAA Memphis to provide help in earlier innings but have both been returned after just two appearances due to ineffectiveness. Wednesday, the Cardinals called up lefty Ryan Sherriff from Memphis to replace Lucas.
Staff writer Mitchell Forde contributed to this report.
The Post-Dispatch's earlier story, as news broke:
The Cardinals have reorganized their roster and revealed the direction an injury is likely to take closer Trevor Rosenthal.
Rosenthal, who has had his right elbow examined over the past week for possible damage to the ulnar collateral ligament, was moved to the 60-day disabled list, signalling that his season is over. Rosenthal was placed on the disabled list with irritation in his elbow. The symptoms of his injury can lead to Tommy John surgery, which would require a lengthy recovery.
Surgery was an option that the Cardinals were exploring with their All-Star, and a decision was expected this afternoon.
To take Rosenthal's spot on the 40-man roster, the Cardinals purchased the contract of Ryan Sherriff, a lefty. He also was added to the active roster, taking Josh Lucas' spot in the bullpen. Lucas was optioned late Tuesday night.
Sherriff, 27, is 5-1 with a 3.19 ERA in 53 2/3 innings. He has six saves for Class AAA Memphis. The lefty has stranded 14 of the 17 runners he's inherited, and lefthanded batters have hit .198 against him this season. He's been the Redbirds' most reliable lefty, and he gives the Cardinals a third lefty in the bullpen with a fourth, Kevin Siegrist, on his way to a rehab assignment.
This is a developing story and will be updated.