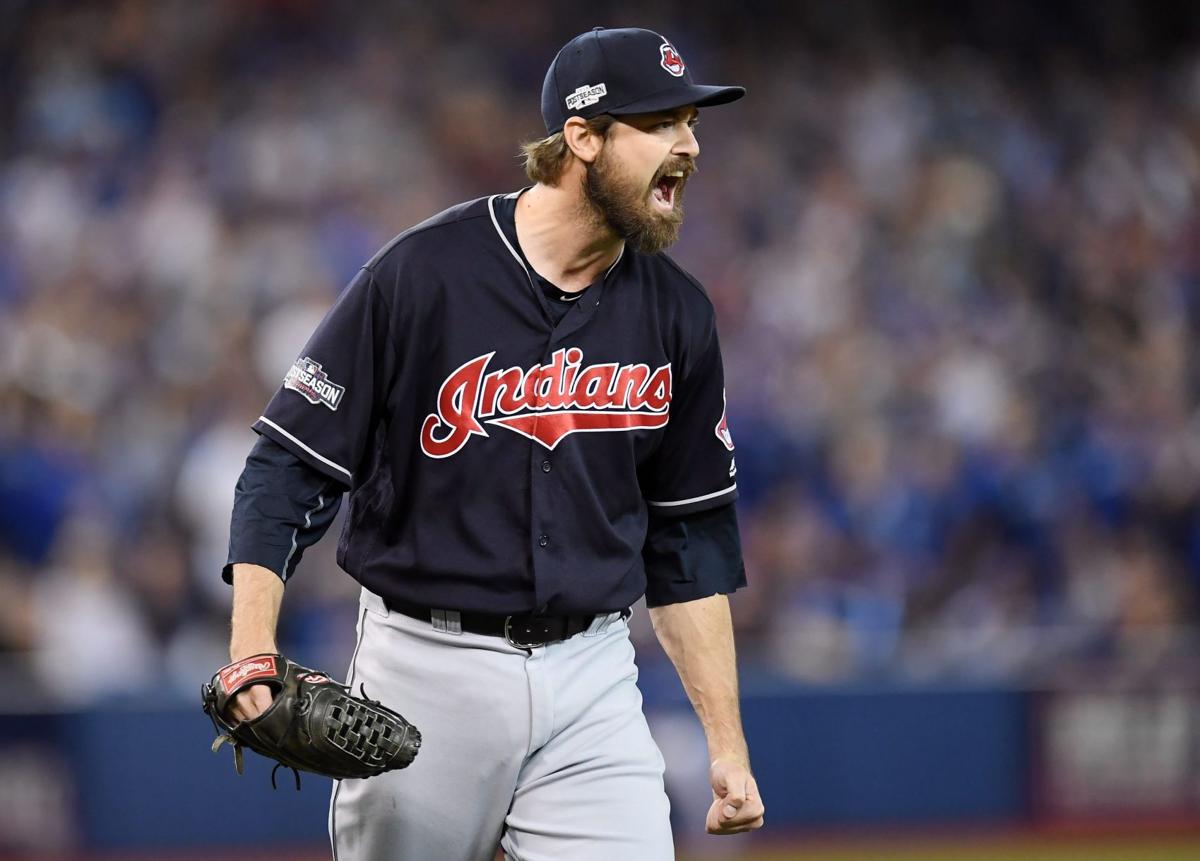 ST. LOUIS • An area the Cardinals must address this winter is the left side of their bullpen, and in public comments made all offseason executives have not been hiding that.
There are many free-agent lefthanders available, ranging from closer-types Zach Britton and Andrew Miller to specialist-types like Tony Sipp, Tim Collins, or Justin Wilson. The Cardinals could use the ninth inning as a carrot to dangle to a free agent, like say Britton, because the Cardinals do not have a closer incumbent returning to the role for the 2019 season. When asked about that possibility -- that "strategy" -- John Mozeliak, president of baseball operations, said it wasn't something he planned but eventually explore.
In 2014, at the general manager meetings in Phoenix, Mozeliak met with the agent for then-free agent Miller and described how the ninth inning wasn't open for his client. The Cardinals had a closer, were committed to the closer, and weren't looking to open that role up. Miller was open to other roles, but he wanted to be paid a high-leverage, late-inning, and closer-type salary.
Miller scored a four-year, $36-million deal from the Yankees that remains 11th-most paid for a reliever, and it certainly set the table for the four-year, $30.5-million deal the Cardinals offered lefty Brett Cecil after the 2016 season. Miller not only highlighted a new, roving role to relief -- but showed how high-leverage relievers didn't need saves to get paid.
Here is a menu of free-agent lefties (age), and their three-year splits vs. lefthanded hitters:
Danny Coulombe (29) – .237/.298/.338, .635 OPS, 57 Ks/219 ABs
Jerry Blevins (35) -- .233/.294/.304, .599 OPS, 99 Ks/296 ABs
Zach Britton (30) -- .207/.294/.326, .620 OPS, 36 Ks/134 ABs
Tim Collins (29) -- .222/.314/.444, .758 OPS, 14 Ks/45 ABS
Oliver Perez* (37) -- .220/.293/.346, .639 OPS, 68 Ks/214 ABs
* Yes, that Oliver Perez, of bat-flip fame. He has faced lefthanded hitter Shawn Green more times (20) than he has lefthanded hitter Travis Shaw (three).
Aaron Loup (30) -- .271/.344/.372, .716 OPS, 54 Ks/199 ABs
Andrew Miller (33) -- .186/.247/.271, .519 OPS, 67 Ks/177 ABs
Jorge de la Rosa (37) -- .254/.325/.403, .729 OPS, 73 Ks/295 ABs
Jake Diekman (31) -- .263/.374/.362, .736 OPS, 34 Ks/152 ABs
Matt Moore (29) -- .302/.363/.492, .855 OPS, .86 Ks/421 ABs
Tony Sipp (35) -- .245/.314/.467, .781 OPS, 53 Ks/229 ABs
Justin Wilson (31) -- .248/.328/.380, .709 OPS, 85 Ks/229 ABs
This is a potluck of a pool. There are injury/mileage concerns like Miller, who was on the disabled three times this past season, and then standout splits like, again, Miller. Britton had his season limited this past year by Achilles' tendon surgery, but he's got a full calendar year now since surgery to have regained his health. Moore is more of a swingman, and Collins was inconsistent in assignments with Washington. At 29, an appealing age for a commitment, Coulombe was born in St. Louis but went to high school in Arizona. Since 2016, he's had a 4.10 ERA in 134 games and struck out 119 in 123 innings. He's allowed 107 hits and 50 walks in that span.
When teams talk to pitchers and hitters about heat maps and hot zones these days, they're not using batting average as the metric of choice. They're talking about damage. So they often show the slugging percentage. Same is true with lefty specialists. Teams want Ks and teams want to avoid damage.
The above group offers an interesting top five of SLG against since 2016:
Perez .346
Coulombe .338
Britton .326
Blevins .304
Miller .271
We can slice this down even further by considering individual success against the hitters that the Cardinals need to neutralize most – the best lefthanded hitters in the NL Central. That list isn't shockingly long, but it does include two NL MVPs and another hitter who could win one. I dug into the individual stats for Christian Yelich, Anthony Rizzo, Joey Votto, Travis Shaw, and Gregory Polanco to see how these lefties did vs. specific lefthanded batters.
Miller vs. – Yelich (0-1), Votto (1-3), Rizzo (2-8, 4 K), Shaw (1-2, 1 K).
Britton vs. – Shaw (0-2, 2 K). That's it.
Coulombe vs. – Yelich (0-1, K), Rizzo (0-1, K), Shaw (2-3, HR, K), Polanco (1-1)
Loup vs. – Yelich (0-2, 2 K), Votto (0-1), Rizzo (0-1, K), Shaw (0-1, K)
Sipp vs. – Votto (4-7, 3 HR, K), Rizzo (0-2), Shaw (0-2), Polanco (1-1)
Wilson vs. – Yelich (0-2, K), Votto (2-10, 5 K), Rizzo (2-6), Shaw (0-6, 4 K), Polanco (2-6, 2 K)
Perez vs. – Yelich (2-7, 2 K), Votto (4-13, 6 K), Rizzo (3-9, 2 K, 2 HR), Shaw (0-3, 2 K), Polanco (0-1, K)
Blevins vs. – Yelich (5-16, 4 K), Votto (3-9, 2 K), Rizzo (2-10, 4 K), Shaw (1-3, K), Polanco (1-5)
Loup's success in little experience stands out somewhat, but not as much as say Blevins there at the end. Damage matters. And while you see eight hits there from Yelich and Votto in 25 combined at-bats against Blevins, only one of those hits went for extra bases.
These are the numbers the Cardinals are scouring as they look for a lefty that will change how these hitters look at their bullpen.