What the Cardinals have made obvious with their comments about their prized prospects they want to see, the organization made official Tuesday by announcing their non-roster invitees.
Jordan Walker and Masyn Winn, two of the top prospects in all of minor-league baseball, headline a list of 22 players coming to major-league spring training in Jupiter, Florida, in addition to the 40-man roster. The Cardinals will have 62 players in camp.
Pitchers and catchers hold their first official workout Feb. 15.
The list of NRIs features five of the Cardinals' prospects who are highly rated and highly ranked in Minor League Baseball. Walker, 20, is in the running to be the top prospect in the game entering 2023 after his thunderous performance at Class AA Springfield. The Cardinals have made moves this winter to assure that they will clear an opportunity for Walker to hit his way onto the opening day roster.
While the team sees Tyler O'Neill, Lars Nootbaar, and Dylan Carlson as the every day outfielders, Walker, who moved to outfield from third base this past season, still has a path to the majors thanks to the designated hitter in the NL.
A long list of Cardinals will be headed to the World Baseball Classic in March, and that opens up playing time in Grapefruit League games for many of the NRIs. That includes Winn at shortstop and possibly second base, and it means innings for some of the leading prospects on the mound: Gordon Graceffo, Michael McGreevy, and Tink Hence. The Cardinals believe that Gordon Graceffo, a power right-hander, could reach the majors this season and is capable of an Andre Pallante-like spring that puts him into consideration for the bullpen.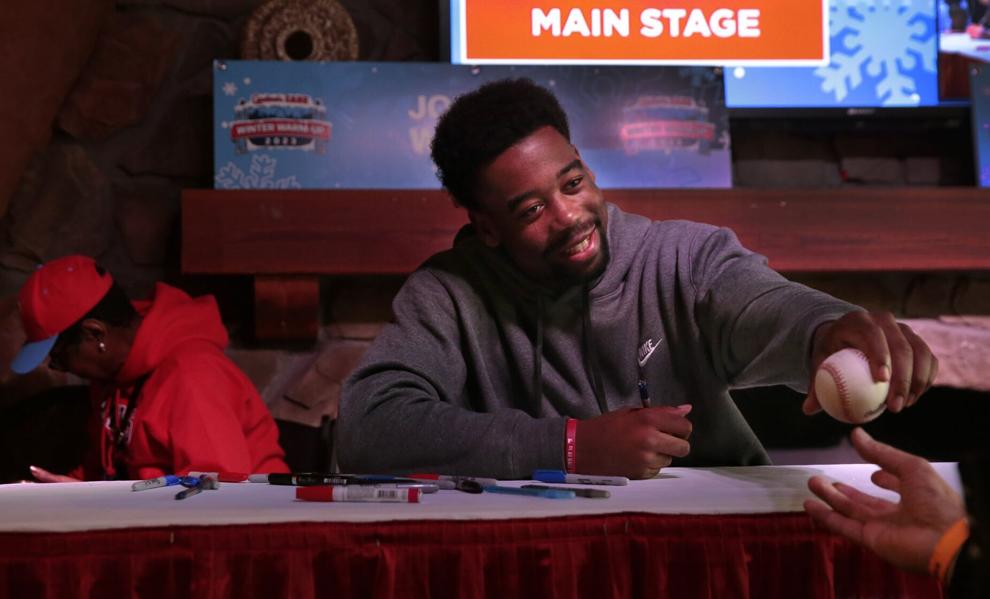 A high school classmate of Pallante's, McGreevy is also going to see some featured time to see how swiftly he might rise in a relief role.
The list of non-roster players also includes some familiar faces — either those who have been on the roster for previous spring training camps or returning prospects. Reliever Kodi Whitley and infielder Kramer Robertson are back in big-league camp as NRIs.
Almost five years after the Cardinals traded him to Cleveland for a couple of minor-leaguers, Oscar Mercado returns to the Roger Dean Stadium complex. A shortstop when he first joined the Cardinals, Mercado launched his career toward the majors with a shift to center field at Class AA and an eagerness to steal bases. His superb defense in center got him to the majors with Cleveland, and in 2019, he finished eighth in the voting for the American League Rookie of the Year. Mercado, 28, split time between the Guardians and Phillies this past season before signing a minor-league deal with the Cardinals.
Manager Oliver Marmol spoke this past weekend about Mercado's instincts in center. This past year, the Cardinals had a roster spot for a defense-oriented speedster in center, and Mercado is in that mold.
Complete list of non-roster invites:
Pitchers (8) – RHP Gordon Graceffo, RHP Tink Hence, RHP Kyle Leahy, RHP Ryan Loutos, RHP Michael McGreevy, RHP Tommy Parsons, RHP Dalton Roach, RHP Kodi Whitley.
Catchers (6) – Jose Alvarez, Aaron Antonini, Jimmy Crooks, Pedro Pages, Nick Raposo, Wade Strauss.
Infielders (6) – 1B/DH Luken Baker, UT Taylor Motter, UT Juniel Querecuto, SS Jeremy Rivas, INF Kramer Robertson, SS Masyn Winn.
Outfielders (2) – CF Oscar Mercado, RF/LF Jordan Walker.