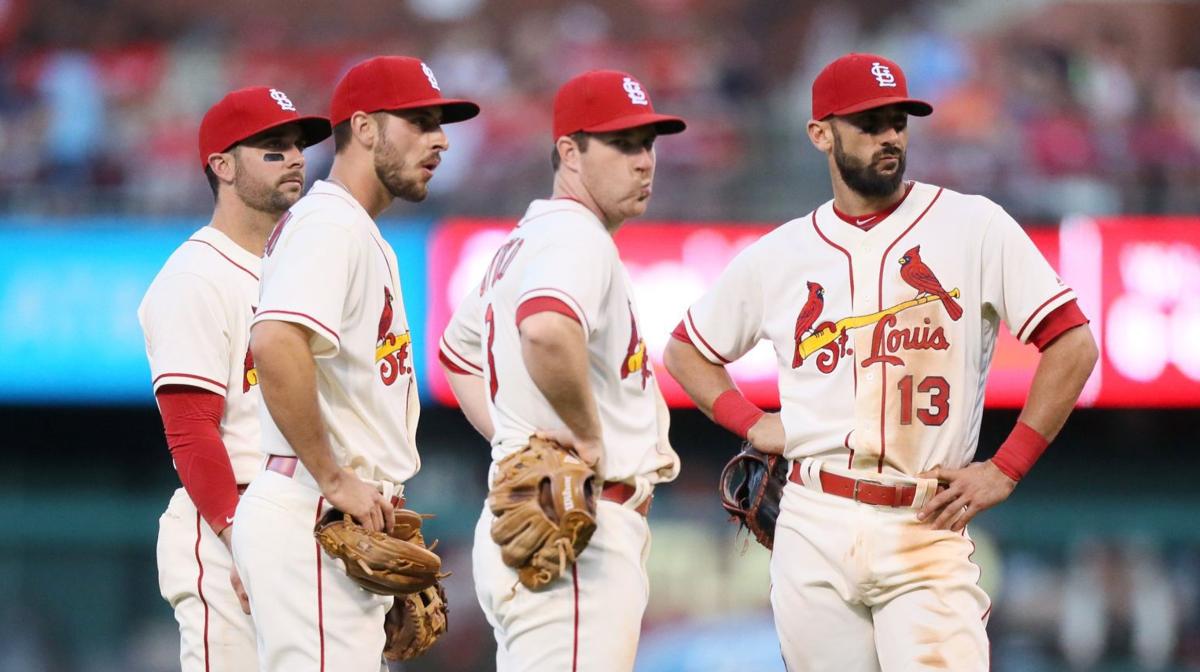 One of the goals each week in the Cardinals chat at StlToday.com is to get to as many questions and cover as many topics as possible. That requires setting a good pace.
There are always speed bumps.
The pace of the offseason.
The pace of the Cardinals.
That offered a good way to start this second 20 Questions mailbag of the day, and the opening questions touch on pace of play and two things that came up in the chat – my suggestion that baseball expand the strike zone by lowering it the diameter of the ball and why I don't think outlawing the shift is a joke for Major League Baseball to try. This mailbag closes with a question about Matt Carpenter's extension and its relation to this winter's sluggish pace.
Onward, and thanks for all the great questions this week.
Q: MLB showed an unusual willingness to tweak its product last year. I feel it needs to do more to grow new fans, not just with length of games, but increased action. I remember reading that for one recent year, there were more balls fouled off than put in play. While the batter-pitcher battle is germane to baseball, I also think guys would shorten up & make more contact if they had a finite number of foul balls. It's so boring to watch 25 K's per game. – Old Man
DG: There definitely needs to be more balls put in play, that's for sure, and that is the easiest, best way to improve the pace of play – and it will also have the added benefit of foiling the shift, or at least changing how teams use the shift. I don't think doing away with foul balls is the way, though my suggestion is related: Increase the strike zone. Add the width of the ball to the lower edge of the strike zone. Watch the groundballs increase. Watch the balls in play increase. Watch shifts, well, shift. I agree about all the strikeouts, and it's counterintuitive to increase the strike zone, but it's the surefire way to make hitters adjust.
Q: I totally agree with you that shifting the strike zone would get more balls in play. If the hitters know where the ball is going they will have a better shot at hitting it, especially if it is built to be where hitters hit best. They lowered the mound because the pitching dominated, why couldn't they again limit the zone to get the game back in order? Also wouldn't that mean an automated strike zone would be useful too? For all the outcry about it needing to be 100% right before we implement don't we already accept less than 100% by our human umpires? So why then can't we have an automated strike zone called, it may be wrong from time to time, but at least it is calibrate-able universally rather than it being subjectively administered through the 100's of umpires. – Balls in Play
DG: An automatic strike zone only makes sense when it is 100 percent accurate, otherwise the difference between the umpire's accuracy on thousands and thousands of pitches is only incrementally different than the automated eye. The goal is for it to be a zero-defect tech, as best as possible, and clearly baseball is moving in that direction. Years ago, the tech wasn't as accurate as umpires. It had some issues with curveballs, if I remember correctly. But as with any tech, it has gotten better and better at an accelerating pace. If it gets flawless or microscopically close to that (think of an asymptote) then the change will be made. That's the direction baseball seems to be headed with its studies. A change in the strike zone today does not require a change in who is calling it at the same time.
Q: I couldn't agree more with your stance on the shift. Well said. Might as well tell have markers on the field where you must stand before the pitch is thrown. Imagine the gray area and the problems that would arise from a guy moving one foot to the left before a pitch was thrown. How do they determine a shift or a movement to better see the catchers' signs? – Barry
DG: Exactly. Let's the instincts play. There is no difference between a team utilizing analytics to set its defense and all those years of Jose Oquendo using his study and savvy and instincts to move shortstops and infielders around from the dugout for the Cardinals, or David Eckstein studying opposing hitters and sinkerballer pitchers and moving himself to a spot where the ball would meet him. Or, as mentioned in the chat, Ronnie Belliard electing to change a playoff series by lining up in shallow right field. What's next? Telling Jordan Hicks to dial back his sinker because hitters are complaining 104-mph is too fast?
Q: Rick Hummel has hinted that if a team went with more speed and stolen bases, other teams may be thrown off a bit by the novelty of it in today's game and it just may work. What are your thoughts? – Ken
DG: He's a Hall of Fame writer for a reason. That's a great way to upset the norm, to disrupt the trends – to zig when other teams zag. You just have to do it well because there aren't the home runs then to cover flaws with crooked numbers. This is something that the Kansas City Royals did to great success five, six years ago and ran away with a contact-based World Series title when they foiled the New York Mets. Talking with John Stuper, former Cardinals pitcher and now Yale baseball coach, and it's one of the great equalizers his team uses against opponents. They steal bases a lot at Yale because it puts something else in the head of the opposing pitcher, and it forces teams to consider how to prepare for them differently than others teams. There's something to that. It wasn't too long ago that the Cardinals excelled with runners in scoring position because of their approach, and opposing teams marveled at how they had to prepare for what the Cardinals were doing.
Q: Have you heard anything about how Montero looked at the alternate site? His fall-off in 2019 was a bit alarming. – Roy Zigler.
DG: Health. That was the biggest thing for him. Elehuris Montero was injured in April of 2019, but he didn't surrender to surgery until June. That was a sap on his production as he tried to play hurt, and then when he returned he was doing some from a fractured hamate bone so it was all about regaining grip strength. Puts his .188/.235/.317 slash line in 59 games at Class AA in context. That explains why his production didn't jump in 2019, and why health was so important for 2020 to set him up for the kind of full-strength production and test of his performance at the next level in 2021. To quote from GM Michael Girsch: "It was basically a lost season for him. But he already was 21 years old and was at Double-A. You can afford to have a lost season at 21 and recover from that and still be young for Double-A."
Q: Is it possible that the Cardinals unwillingness to spend on a premium hitter is causing part of their development problems? If a hitter comes up through the Dodgers then no one is expecting the young player to carry the offense. The Dodgers already have multiple guys to do that. A player like Randy A. has an easier time with the Rays because no one is watching. The Cardinals keep asking young players to do more under the pressure of a full stadium. – WP
DG: I don't think the pressure of the full stadium is a reason, and if it is then you've learned all you need to know about how a player will perform under the high demands, intense expectations, and huge stakes of baseball at its highest level. Randy Arozarena needed playing time, not at-bats in front of less demanding fans. He's facing the pitcher, not the Wave. Heck, the Cardinals didn't play in front of crowds at all this year and had familiar offensive struggles. If anything, what I see is the expectation outside of the Cardinals organization for prospects to arrive fully formed as All-Stars, like Albert Pujols did, and having little patience when they don't. When, you know, they need to grow into the level, improve, and need playing time to get there. That isn't an indictment on the prospects the Cardinals are producing now. It just serves to underscore how rare a talent Pujols was at the plate, or say Molina is behind it. Dylan Carlson will be fine. He'll be the centerpiece of the Cardinals' lineup at some point. He doesn't have to carry it on Day 60 of his career. Other teams don't ask that of their prospects, regardless of attendance.
Q: Big part of the Cardinals relative success in 2019 was the running game. They stole a bunch of bases and they eliminated the base running blunders of the Matheny years. Last year they kept the blunders down but seemingly stopped stealing bases which more or less the same team. Why? Can we expect a return to 2019 base running again in a full season or more of what was last year? Seems like the loss of Wong will reduce base stealing for sure. – Redheaded Redbird
DG: It was definitely a byproduct of two things – the abbreviate season and the nature of the games all jammed together and the opportunities the Cardinals had to steal and that leads to the second part. They need to get on base more. Can't steal first, as they say. They had a fine OBP. But getting runners in motion in part hinges on the threat at the plate getting the attention, too. Mike Shildt likes to steal, wants to steal, and is eager to have that be a part of their game because his goal is to have the best baserunning team in the majors, and that does involve swiping bases.
Q: Jumping away from baseball for a minute... most chatters would know you are an avid reader. Your best books you read in 2020? – Mike
DG: When I returned from spring training on St. Patrick's Day and, like everyone, began the work from home stretch, I started keeping a list of all the books I've read and I stacked them up on a coffee table in my office. I can see them from here. The best from that stack: "The Nickel Boys" and "Zone One" by Colson Whitehead. "One Day" by Gene Weingarten was a remarkable feat of creativity and reporting. A book on language and word usage by Angela Mantell (the title is one I'm not sure I can reprint here, so you have been warned) forced me to think about everything from how to host a podcast to how to answer questions here to how to have a conversation with friends. "The Wax Pack" and "Can't Anybody Here Play This Game?" were the best baseball books in the stack, and I will linger over lines from Breslin's baseball book for years to come. I underlined sentences and dog-eared page after page.
Q: DG, The point of the lineup should not be that contract plays, which the Cards have a perception of. It doesn't have to be full of all the shiny new toys either. The Cards stance has been to decrease payroll or payroll neutral deals. This is reported not just twitter stuff. I don't follow that stuff yet I have the perception. The lineup should be production. The bad contract is spent, not coming back, and playing it can decrease fan interest. You posted a projection of 241/.296/.458, .755 OPS with 28 HR, 76 RBIs by TO. Seeing if that can happen seems to have more value than watching a player on his downside who is not doing significantly better. – Mobreaks
DG: Every team aims for production from a lineup, just as every team signs players to provide production relative to their salary. The Cardinals didn't sign a free agent outfielder for millions of dollars because they thought he wouldn't produce. No, they did that because they had a good, data-driven feel that he would produce to the value of the contract over the course of his career with them. Period. In a way, the salaries players get are the biggest hint of all about what teams expect from them. So, you're right. The lineup should be about production. And contacts are an illustration from teams about who they expect to get that production from. That is true for the Cardinals and for 29 other teams in baseball. They're going to give the opportunity first to the players they paid to perform because that pay reveals already how teams feel about where they're going to get the production that they want.
Q: Derrick, I think a lot of people want (some even expect) Carlson or other young hitters to do what Albert did for us, which is come to the majors and immediately become a superstar. One thing that I believe that helped Albert's transition to the majors is who he was surrounded by. McGwire, Edmonds, Lankford, an emerging J.D. Drew. Yes, Lankford and McGwire declined quickly, but still, at best, Albert was counted on to be the Cardinals' 5th best hitter entering his rookie season. Immediately, Carlson was needed to be better than anyone but Goldy. I think the lack of help in the lineup may not help Carlson develop as quickly as he would in a better lineup. – Justin
DG: Or, maybe it's perception. As mentioned earlier, maybe it's too much to ask a prospect to arrive and be an All-Star or to arrive and be the one to carry the lineup. As mentioned in the previous question, why not count on the players paid to complement and carry the lineup to do that. Or, hear me out, add someone from the outside who can. Maybe if Carlson is lagniappe and his talent is what turns an average offense into a superb offense that's enough. I agree, it helped Albert Pujols that he was a surprise and that he was surrounded by other hitters who had the attention of opposing teams and that everything wasn't as dissected as it is today. Expectations didn't greet him, and an oh-for-four didn't send Twitter into convulsions. There's a lesson there. Carlson isn't a surprise – to fans or to opponents, who are loaded up with data on him (check out how he was pitched). Expectations are absurd in some corners of the Internet. And good golly bubblegum does Twitter love to convulse.
Q: Do the Cardinals still have an "elite pitching" staff? I keep reading we will win because of pitching, but we lost two of our most effective starters last year in Hudson and Waino. Even Jack had a down year. Mikolas didn't look too hot the year before last either. Carlos Martinez is a coin flip at best, Reyes looks like a bullpen guy, Kim was ok, but seems better suited to the pen, and while i love Gomber getting a shot, and Ponce and Gant are nice swing men/spot starters but is that really the blocks for an "elite pitching staff"? Jack, Mik, Kim, Gomber?, Ponce? That looks like the most dependable starting 5 and it doesn't look all that elite to me. It might have a lot of options in case people get hurt but "elite"? – Elite Pitching?
DG: They do, yes. It is depth and versatility that makes it elite when compared to other teams in the league and division. Do the Cardinals have the left-right combo of Kershaw and Buehler? Not at the moment, no. So it's not a top heavy pitching staff, but it also doesn't thin out on the depth chart until somewhere in the Class AAA bullpen. It's possible that Kodi Whitley might not make the opening day bullpen, and that's because there are better options, while Whitley would be a standout in – well, every other bullpen in the NL Central. Depth makes the Cardinals elite, and you have listed so many of the names that create that depth.
Q: If you look at the 2013 roster, the last WS-competitive roster the Cards had, the offense was so layered. Beltran and Holliday leading the charge but they were supported by Molina, Craig and Carpenter. If you place Goldy in the Holliday role and DeJong in the Carpenter role, you are still missing Craig, Molina, and most importantly Beltran. These were real offensive contributors for 162 games, not guys who had a hot two weeks or a big month. When will DeWitt just stop cutting corners hoping that these young outfielders will somehow magically save him from having to spend? – Tackleberry
DG: The Cardinals thought that Marcell Ozuna would be that kind of hitter for them. He wasn't. The Cardinals thought that Matt Carpenter would be continue to be that kind of hitter for them. He hasn't been. It's not a question of cutting corners – it's a question of getting the performance they've paid for because, you're right, the Cardinals aren't a team that is going to throw more money at a hole they thought they filled. Few teams will. If that's cutting corners, then so be it. The Cardinals will likely own that criticism. What is missing from this current team is the move for a Carlos Beltran. But so too is getting the big return like they once got from a Ryan Ludwick. It's more than just signing the player or trading for the player, it's unlocking that player's ability – not suppressing it, or sidelining it. And that's the bigger question for the Cardinals. It's not where is Giancarlo Stanton? It's where is the next Ryan Ludwick?
Q: Sorry to disagree, but I applaud the blank ballot submissions. The point is the players on the ballot aren't worthy in that voter's opinion. That opinion should be considered in the calculation. Why shouldn't that count? – GR
DG: Not submitting a ballot gives that player zero support. Submitting a ballot subtracts the support from other voters for every other player on the ballot. That's the math. I have found myself defending this over and over and over again for several years now, and I have yet to be moved from my position: Fine, submit a blank ballot, but any explanation of a blank ballot should include from the voter why that voter has decided his/her ballot is subtracting from their peers while adding nothing to the process. A one-vote ballot still adds a vote to the conversation. A blank ballot requires three other voters to overcome for any player on it. Any player. Any. That is a ballot is submitted with the result – or purpose? – of negating the vote of peers while contributing no vote in support. To me, I would rather abstain if I don't think there is anyone worthy than to suggest my ballot is worth more than one of my peers. Others disagree.
Q: Derrick - once again . . . great job. I love the history of baseball, the Hall of Fame, and the Cardinals part of it. It's so reassuring for those of us Cardinal fans that followed the likes of Bob Broeg to know that we have voters/writers like you and the Commish handling the torch properly with honesty and research. Keep it up. Thank you. – Maris9
DG: Thank you for the kind words. I am eager to defend my ballot and have this discussion be as public as possible, because I hope that it makes the process more transparent, and at the very least people can be more precise with their criticism. This week, I have been scolded many times for voting for people that I never had the chance to vote for (i.e., Bud Selig) and not electing players that I never had a chance to see on the ballot (i.e., Dale Murphy). I appreciate the kind words, and I hope at the least I can offer some idea of how the process works, even if you disagree with how I put that process into practice.
Q: ChiTownCardsFan1 asked about the change in # of SBs by the Cards from 2019 to 2020. I agree with your take on why SBs are down in general, but my gut feeling is the reason the Cards went from near the top of MLB to near the bottom in just one year was because of the covid-chaos in the schedule. I think Shildt was just husbanding the team's energy and decided to put the running game on the shelf. Has he ever commented on this question? – Brian
DG: Absolutely. He and pitching coach Mike Maddux talked a lot about how to manage the roster through the grind, and all the transactions and awareness that was going to take to keep the team sharp and healthy, and to avoid injury. That was quietly a big concern for the front office and was reflected in so many of their decisions: The injury fear. They were really concerned that asking too much too soon of players, especially pitchers, was going to invite injury. In the case of Ricardo Sanchez, the team is concerned it did. With Dakota Hudson, Shildt has repeatedly pointed out that the team explored whether they asked too much, too soon from him, and feel confident that did not cause or even accelerate his elbow injury.
Q: Hi Derrick: Thanks for your Cardinals insight and great coverage! I'm one of those fans who is happy with the Cardinals sustained success. Sometimes the chats can lean negative because of those who feel differently than I, but I still enjoy how judiciously you handle all chatters. Trends in MLB pitching show that pitchers throw fewer and fewer innings on average every year, meaning teams need more pitchers available to survive the season. Since this trend is unlikely to change, do you envision the powers that be altering roster rules or attempting other changes to remedy this? And, what alterations would you recommend? Thanks! – Robert
DG: I do. And we're already seeing that begin. The Dodgers have pioneered … let's call it an inventive elasticity to the roster. The Dodgers used the injured list to manipulate pitching depth, and other teams have followed by using minor-league options to do so. The Cardinals did that to get through all the doubleheaders and their return to play in Chicago, and have sought such option flexibility on their roster to do so again. The rosters were going to expand to 26 players for 2020 before the pandemic stopped everything. Rosters grew to start the shortened season and allow for a quicker restart and help teams protect pitching depth and against injury. It's somewhat inconsistent, right? They impose the three-batter minimum at the same time they expand the roster so that more relievers can be wedged into the bullpen – and go unused because of the three-batter minimum. Teams will get creative within those guardrails, and it wouldn't shock me at if you start seasons some of these teams with the overlapping pitching rotations Dave Duncan and I once talked about – where a team has three or four "starters" and then three or four "shadows," who swap in to cover innings or make the other starts. It's not quite a six-man rotation, and it's not quite an eight-man rotation. It's an overlapping rotation, one that is possible with more pitchers on the roster and fewer innings being shouldered by starters.
I wouldn't mind if they did away with the three-batter minimum given all the caveats that come with it, honestly, and I'm not all that concerned about setting a maximum for pitchers on a roster. I would like to see more policing on the creative use of the injured list, and some restrictions put on options so that players aren't yo-yo'd up and down Interstate 55. Perhaps there needs to be a minimum amount of service time earned for a promotion, like there is a minimum number of days a player must remain in the minors. Seems fair. Fair isn't always the purpose of roster rules.
Q: How much importance do you put on a team providing good infrastructure in terms of core pieces around young players, to help the players maximize their potential? It seems like the Cards always want their prospects to just be stars right away once they hit the big league roster. Structurally, this team doesn't have enough support beams and the youth is cratering under the pressure. – Alone in Wrigley
DG: A lot. Infrastructure is essential – and that's one of the areas the Cardinals have to show improvement when it comes to their coaches accessing, nurturing, unleashing talent from hitters at the major-league level. I don't get the sense that the Cardinals expect their prospects to be stars. If anything, their actions say otherwise. Perhaps that's the sense of the fanbase, or perhaps that a product of every organization hyping their prospects, or it could be a mix of that with the added spice that prospects usually arrive with a tailwind of incredible production, adding helium to expectations, I guess. Either way, their actions haven't said they expect their top catching prospect to be a star (Andrew Knizner barely played) or that their top pitching prospect is a star (Matthew Liberatore won't debut as the opening day starter) or any of the other prospects. Kolten Wong was given years to find his game. Jack Flaherty had a full season before he earned the expectations of an ace. And on and on. I guess Jordan Hicks was expected to be a star immediately. That's one prospect who arrived and was expected to star.
Q: In comparing players for your Hall of Fame ballot do you compare position players across the board or only to players of the same position? – BobH
DG: I try to do both, but I'll concede that the most helpful is often comparing them against players at the same position, and then working outward. Gary Sheffield offers a good example. For me, I wanted to be sure that my support of Sheffield was consistent, and that started with comparing him against other right fielders – in the Hall, in his era, and on the ballot. Bobby Abreu was a big part of that comparative search, and that's when Abreu started to draw my attention for a vote. From there, I did compare both of them (and others) against all players in the peak of their careers, so I could see where Sheffield and Abreu were as far as production goes when compared with all hitters, at any position, during their era. With relievers, it's basically comparing them against other relievers, and that is a limitation I continue to think about how best to use or overcome.
Q: Any chance Busch could host the Dodgers or Yankees if California or New York doesn't let fans in the stands? Wouldn't it make sense for teams to move to a different city to get fans at games? – Ike
DG: Not likely. Baseball really has prioritized being at their home ballparks when possible. When hockey and basketball went into the bubble, baseball was the first North American sport to try and pull off a season at the home sites. Your question does give me a the chance to bring up that shortly after spring training ended last year, the Cardinals did explore the idea of offering their ballpark and perhaps both Missouri ballparks as a "hub" for play. The idea was that the infection rate was lower in Missouri than other big-league cities, and that there would be enough facilities and short travel between KC and STL to appeal to Major League Baseball. Obviously, the virus spread and baseball didn't adopt the hub model when being at home was prioritized.
Q: DG, as always thanks for the chat. The calendar has flipped and, while I know no major free agents have signed, it is time for the Cardinals to resign Yadi and Waino. No has said they want them back at the organizations price but when you make resigning them your top offseason priority and coin the term legacy players then you put the ball in their court. It's been mentioned in this chat that he can't be the guy that handed out a legacy contract to Carp but not these two. I know the argument has been made that the market is slow and nobody of significance has signed but when he resigned Carp the market wasn't moving either. What gives DG? – Jacob
DG: Matt Carpenter began talking with the Cardinals about an extension during spring training, in the same way that Paul DeJong did, Allen Craig did, Kolten Wong did, Adam Wainwright did, Miles Mikolas did, Paul Goldschmidt did, and Yadier Molina did when he signed the three-year, $60-million extension that, like Carpenter's, was announced in the opening days of a new season. That Cardinals have made the spring extension almost an annual event. That's because the timing is right for those internal talks with in-house players, and in the case of Carpenter he approached the Cardinals and GM Michael Girsch about doing something with an option lingering out there. Carpenter saw what Molina did, and wanted a contract that kept him a Cardinal likely for the remainder of his career.
The timing is not comparable to the current situation.