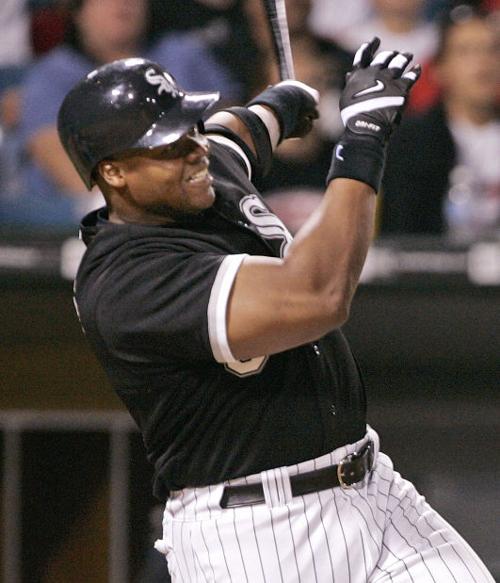 JUPITER, Fla. • The moment Major League Baseball split its 30 teams evenly into two leagues and invited perpetual interleague play into the game's regular season, one recurring conversation was going to have to become a debate.
Baseball has a DH dilemma.
After continuing the MLBPA's annual spring training tour with Monday morning's meeting in the Cardinals clubhouse, union chief Tony Clark said that having the designated hitter in the National League has been discussed in each of the past two negotiations with the league. And, he added, he expects a universal DH to be discussed again in 2016, though perhaps with more interest than ever before.
"Considering how the game has progressed I can see how it would move more to the forefront than it has in the past," he said.
I asked him if he would welcome those discussions.
"Would I be interested in having talks about the DH in the National League?" he responded, rhetorically. "I'll offer you this, interestingly enough, that topic has come up independent of us bringing it up. It has been a topic, as I'm sure you know, a topic of discussion going back the last two bargaining agreements. Nothing has changed at this point in time. But I am guessing come 2016 that conversation will come up again."
Clark cautioned against making the assumption that the union would favor a designated hitter in the National League. He said he would have to poll the players before he could make that claim.
In 1973, the American League adopted the designated hitter and has been playing with the added bat in the lineup ever since while the NL has merrily stuck to tradition by having the pitcher hit. In 1980, the Cardinals were one of the few NL teams to support the designated hitter and even voted at that time for the DH to enter the NL. The organization does not share that same opinion today, and the executive who was a proponent for the DH was fired soon after that vote.
What's brought the DH into the NL's view now is the schedule.
By splitting the 30 teams into two 15-team leagues, baseball has assured that there is always an interleague series. Instead of isolating interleague play and having an NL series at the same time, the game now puts an AL or an NL team in the position playing a series in September without the DH it has the rest of the season -- or with a DH it has never had before. The inequity could determine a division title, the union and baseball has acknowledged.
"I can tell you that was a concern," Clark said Monday morning. "That was a concern when we started to talk about evening out the divisions and how that would manifest itself over the course of interleague play. The idea that you would be in September with a possible division (title) on the line with one team who was not used to having a DH or a team that was used to having a DH not having it and how that could affect the overall outcome. As you might expect we are very concerned about the integrity of the game and having scenarios or situations play out like that that could affect inevitably how a division ends, is not a place you want to find yourself."
The designated hitter position is one valued by the union because of what it adds to an American League's 25-man roster. It tends to be a player with a higher salary -- though not as much as it once was in the power-mad days -- and it is has become a position for prolonging careers. Some of the lengthier contracts handed players in recent years by American League clubs are defended by saying that the player can serve as a DH at some point.
The DH has also been mentioned as possible tool in the commissioner office's current attempt to address the pace of game as it would reduce some late-game machinations in the National League. It could also be a way to attack the game's drastic dip in offense.
Clark described the "scuttle" he's heard about changing views of the DH.
"To the extent more people are asking about it and talking about it would suggest to me that perhaps there are some in places we would not have guessed that are offering some input," Clark said. "What that leads to I don't know. I'm guessing when we sit down, it will come up."
Clark also touched on a variety of other topics with the media.
On issues coming up in the next round of CBA negotiations, which he expects to start formally in January 2016:
"We'll have to see," Clark said. "We're fortunate in that between the league and the players association we have continuity in the relationships that are in place. Which affords us to have some respectful dialogue along the way. As far as any one particular issue, I'm sure they're doing their diligence. We're doing ours as well. Two-thousand-fifteen in a lot of ways will be the proving ground to getting everybody settled in for what may happen in 2016. I'm not going to offer you much today, as this line gets moving you'll hear more and more as we get closer to formal negotiations."
On how to reconcile the bonuses given Cuban and other international amateur players with the limits imposed on domestic amateurs:
"That would assume that there is a need to reconcile," Clark said. "Interesting word to use. To the extent that we have an opportunity to discuss the parameters and negotiate the parameters of how players enter the game, that's part of collective bargaining so we can have that conversation. I'll suggest to you what I've said publicly the entire camp: In theory, a single entry into the game makes sense. In practice, not quite as easy as some may think. When you start taking into account Cuba – I'll just touch on Cuba for a bit. What's happened in the last three months, last four months with respect with what's happened specific to Cuba and some things that have opened up and are providing more opportunities, three months from now we might be in a different place. Three months from then we might be in a completely different place. So trying to appreciate a system that may be in place here domestically and suggest that it's easy to plop it down into any one particular country as part of a global entry is in a lot of ways irresponsible against the issues that one particular country may have. In addition to the structure that is here and how it's not replicated from the time you're five to 18 through college in other places. I'm sure it will be a topic of discussion. it has been brought up already."
On an international draft:
"The idea that it can flippantly be thrown out there as something that can simply be taken from one place and introduced to another is not quite that simple," Clark said.
I asked whether the union members now and future union members deserve fair and similar entries into professional baseball:
"It is important for players to have a fair entry, yes. Yes," Clark said. "The same? Identical? Perhaps there are adjustments that should be made domestically instead of everybody determining something should be done internationally. At the end of the day, in theory it sounds great. In practice, it simply is not that easy to put together. or as easy as everyone is making it sound."
On education for players and the Cardinals' response to the death of Oscar Taveras:
"Oscar's situation is a personal one, and it's understandable as you try to determine what can be put in place to provide the support to the guys to make the right decisions," Clark said. "In that fashion, us and the clubs are connected in making sure the guys have what they need to have to make the right decisions. ... It is always going to be beneficial with respect to players entitlements and benefits that the players are receiving those entitlements or are aware of those benefits. We will have a common ground in that regard should something happen that the player and his family are protected."