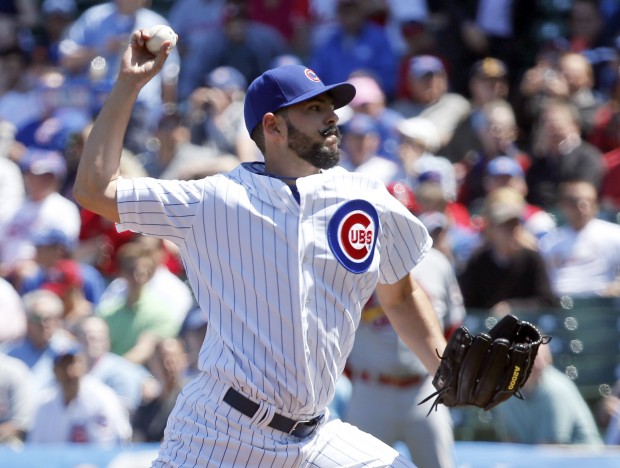 JUPITER, Fla. • When pitcher Carlos Villanueva hit the open market this past offseason he suggested to his agent that he had seen enough of the National League Central and was ready to take his talents to other locales.
One call switched his thinking.
"Like I told the GM here: The definition of a winner for me my whole career, playing in this division, has been the Cardinals," Villanueva said Friday morning. "To be honest with you, when the offseason started I told my agent to kind of go away from the Central a little bit because I've been here. That all changed when I got the call."
The Cardinals offered Villanueva a minor-league contract with an invitation to spring training. They did not offer much time for him to think it over. They like to make an offer and move on. Villanueva asked for some extra time to think about it, and then accepted. The 31-year-old righty comes to spring training without the guarantee of going north with the team, but there is an opening for a swingman with Villanueva's versatility and they would like him to fill it.
Villanueva's contract includes an out clause, he said.
It will allow him to seek a job elsewhere at another time this spring if it appears like he won't win a job with the Cardinals.
"I want it to be here," he said.
The Cardinals see Villanueva as a righthander to put in the bullpen and use in a variety of roles. That would include spot starts – should the team want to give Michael Wacha a break, spell Carlos Martinez, or some other reason. He also can mop up innings, and that would free up some of the other relievers for more specific roles. The structure of the bullpen for the coming season has, for example, freed lefty Randy Choate to be the specialist he was signed to be.
Villanueva made 20 starts over the past two seasons for the Cubs, in in 2014 he was 5-7 with a 4.64 ERA in 42 games. He has a 3.55 ERA in his career when used as a reliever, and while with the Cubs he had a 2.64 ERA in 58 innings out of the bullpen.
"I'm probably going to do what I have been the whole career," Villanueva said. "Which is a little bit of everything. I've worn many hats in my career. And I have no probably doing that, especially on a winning team like this."
Villanueva said he chose the Cardinals ahead of another suitor. After he made the decision, he received overtures from a handful of clubs. He had already committed to the Cardinals. On Friday, the day of the Cardinals first official workout, Villanueva had a long talk with manager Mike Matheny about how he prefers to prepare for the season. The Cardinals will try to get him innings and work so that he's stretched out like a starter. There may not be starts for him during Grapefruit League play, but the side work will help.
Entering his 10th season in the majors, he's got a sense of how to prepare.
Entering his eighth seasons in the division, he knows the Cardinals.
"I've seen it firsthand more than a few times," Villanueva said. "Last time I went into free agency I wanted to get more starts. I'm at the stage in my career where I want to win."