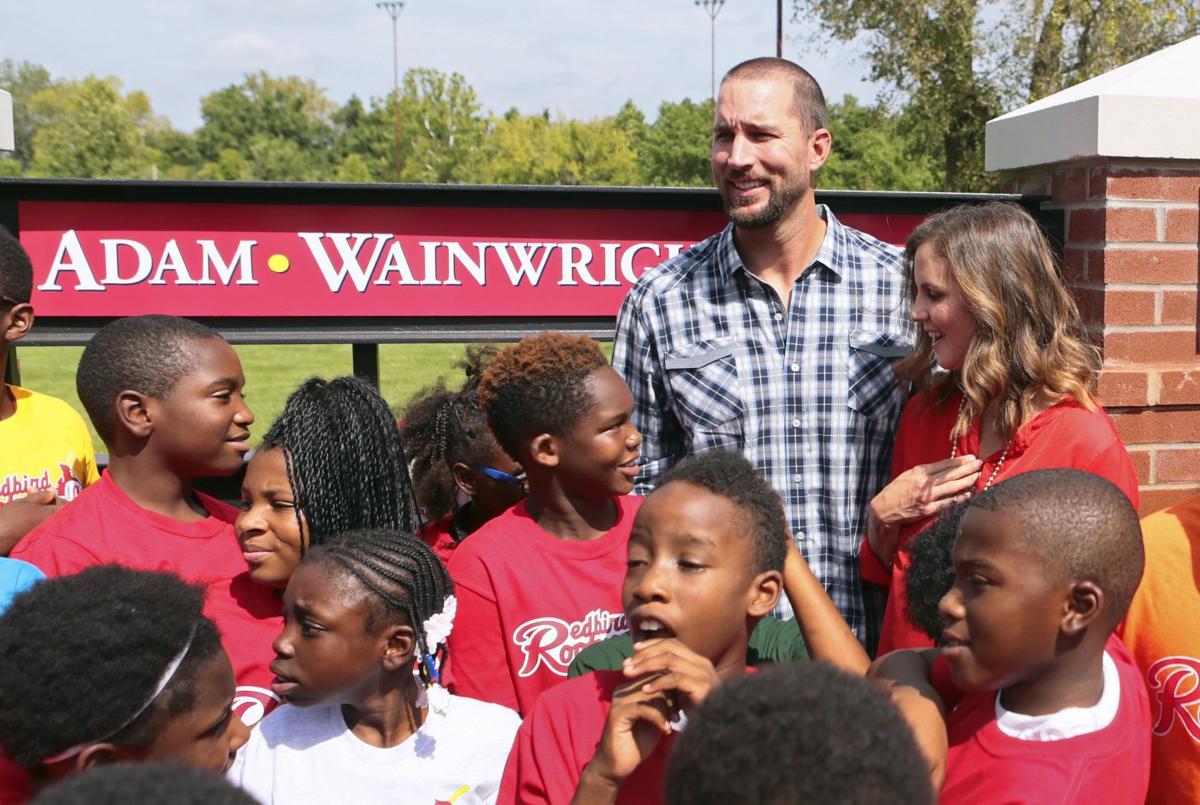 As minor-leaguers face greater financial uncertainty than their big-league brethren and face a season and salaries in jeopardy, one Cardinals veteran and his family have donated to an organization with the express purpose of helping minor-league players in the Cardinals organization.
Adam and Jenny Wainwright donated $250,000 to More than Baseball, the organization announced in a release Thursday and the Post-Dispatch independently confirmed. That money has been earmarked to help specifically Cardinals' minor-leaguers.
"Just trying to be a good steward of what's been loaned to me," Wainwright said. "To those who need it."
More than Baseball is a non-profit organization to aid minor-league players in need — especially those who because of the low wages and season employment cannot afford food or housing at times. The group's mission statement reads: "We refuse to allow any ballplayers to go to bed hungry and wake up on an air mattress only to play in front of thousands of paying fans per night." The group has used Twitter to let minor-leaguers know that it is available to help with housing as well as food and even equipment.
While given a baseball backdrop, the goal of More than Baseball harmonizes with what the Wainwrights have focused their personal charitable endeavors on -- basic needs. Through Big League Impact, the Wainwrights have worked to bring clean water, build wells, and provide other basic needs, such as food and shelter, to communities in Haiti and Nicaragua, and in the United States. Adam Wainwright has long described how his post-pitching career will be focused on a farm that will provide work and food for those in need.
He already has purchased the land in Georgia and started preparing.
The plight of minor-leaguers has gotten increased attention in the days after baseball closed spring training due to the national coronavirus crisis and teams, like the Cardinals, sent their minor-league players home. Players are not paid during spring training, and due to the national emergency that caused the stoppage it's possible players won't be paid if there are no games to play. That acutely impacts minor-league players.
Major League Baseball's 30 owners have already pledged to pay minor-leaguers their per diem for the entirety of spring training. That works out to be about $400 a week, and it was paid in one lump sum. A official described it as a cash infusion -- really, a stimulus package -- for minor-league players who had counted on those funds for spring.
The Wainwrights' donation comes through the National Christian Foundation.
"The Wainwright family's generous donation will help Cardinals players eat healthy, train properly, and focus on their health and development as ballplayers," the announcement from More than Baseball stated, "as we combat the ever-increasing numbers of COVID-19 cases across the world."
Keep up with the latest Cardinals coverage from our award-winning team of reporters and columnists.