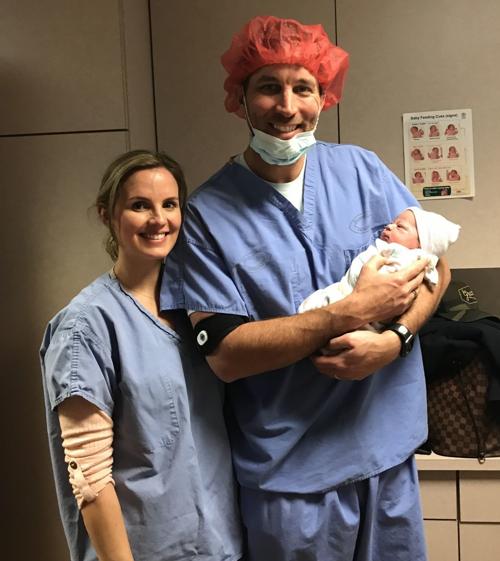 One of his four daughters was off at the orthodontist with his wife Jenny, and another daughter, the youngest, was waiting to go to ballet. And there Cardinals starter Adam Wainwright stood early Thursday at his St. Louis home with his son cradled in one arm, a phone in his other hand, and all of their lives about to change.
He read a text message from his wife that he had been waiting for all morning. After several months of work and waiting and several years of conversation, they had become adoptive parents, officially. All was "approved," the text read.
The boy in his arms was theirs: Caleb Adam Wainwright.
"My eyes welled up all over again," Wainwright said. "Even though he's been (with us) for over two months already, it became real to me that a guy with four daughters – I've got a little boy now to call my own. It's so special. I smooched him all over."
The Wainwrights, Adam and Jenny, along with their daughters, Baylie, Morgan, Macy, and Sadee Faith, have been caring for 2-month-old Caleb since he was born, but other than a few appearances in spring training, at the ballpark, or, this past week, at a Blues' playoff game, they have kept the adoption private until it was finalized. Jenny and Adam shared a message Thursday on social media on how "this little angel … became forever ours."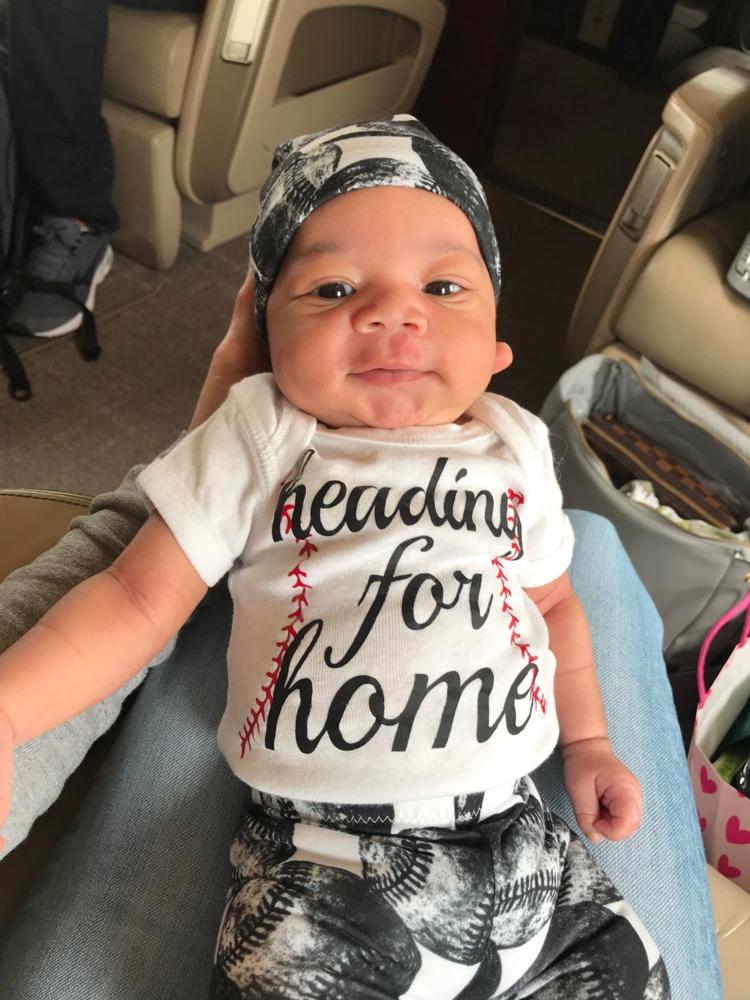 Those words came that morning from an attorney who had been aiding them in Kansas. With the help of American Adoptions, a Kansas-based private adoption agency, the Wainwrights submitted an application for adoption almost a year ago. And on the eve of spring training were in the Topeka, Kan., area for the birth of their son, on Feb. 8. After mentioning how emotional and sometimes difficult and often prolonged he learned many adoptions are, Adam described how fortunate his family had been through a process they felt "called" to do.
"What's been great about it is we've had to just put complete faith and trust in God, in knowing that this is right," said Wainwright, who was raised in Georgia with his older brother by a single mother, Nancy Wainwright. "This is something that we felt like we were supposed to do, and we wanted to do. We wanted another child. What we really wanted to do was we wanted to step into that story of adoption. We've got the room. We've got the love."
At times throughout the past five years, the Wainwrights have discussed adopting a child, but with baseball's schedule and four daughters it seemed like "a lot." As a family, they had been active with an orphanage in Haiti and with clean-water programs in Haiti and other countries, through Adam's Big League Impact programs. Before the 2018 season, Jenny spoke with another ballplayer and his wife about their experience with adoption, and brought the idea up again with Adam.
On Super Bowl Sunday in 2018, Adam and Jenny attended a church service near Orlando, Fla., while visiting his agent, and the sermon was about adoption.
"Everywhere we looked – we'd look at a billboard and it'd be like, 'Adoption saves lives,'" Adam said. "Or 'Adoption is a blessing.' And then we'd see somebody post something about adoption. You know how that kind of happens? When you're thinking about something in life, you just end up seeing it everywhere."
At one point, Jenny typed in the number of an agency and paused.
Adam Wainwright spent most of the 2018 season recovering from an elbow injury that, at times, left him on the brink of retirement. During that recovery, while he rehabbed, he and his wife began gathering the necessary information for applications. They collected testimonials from friends. They completed home studies. Wainwright said he was not "super-excited that I was hurt, (that) I wasn't able to perform." But away from baseball, they could "engage in this chapter of our lives."
They learned in September they had been OK'd and selected to adopt a child, and in late January they found out they were chosen. A few weeks later, Jenny and Adam arrived in Kansas, several days before the due date, and invited Caleb's birth mother to dinner. (Wainwright said the birth mother has requested anonymity.) That night, she went into labor. When Adam returned to spring training, Jenny remained in Kansas until cleared to travel.
A name had long been waiting for him.
During the past four years, Adam has been "walking through the Bible" with a men's group, and while reading the story of Exodus two names sang to him, Caleb and Joshua. He warned Jenny if they had twin boys, those were his favorite names. Caleb stood out to Adam because he's described as "a different spirit."
"As soon as I read that I was like, 'Oh man, that is just so strong,'" Wainwright said during an interview with The Post-Dispatch and MLB.com on Thursday afternoon. "He's just different. He's got a 'different spirit.' That just spoke to me."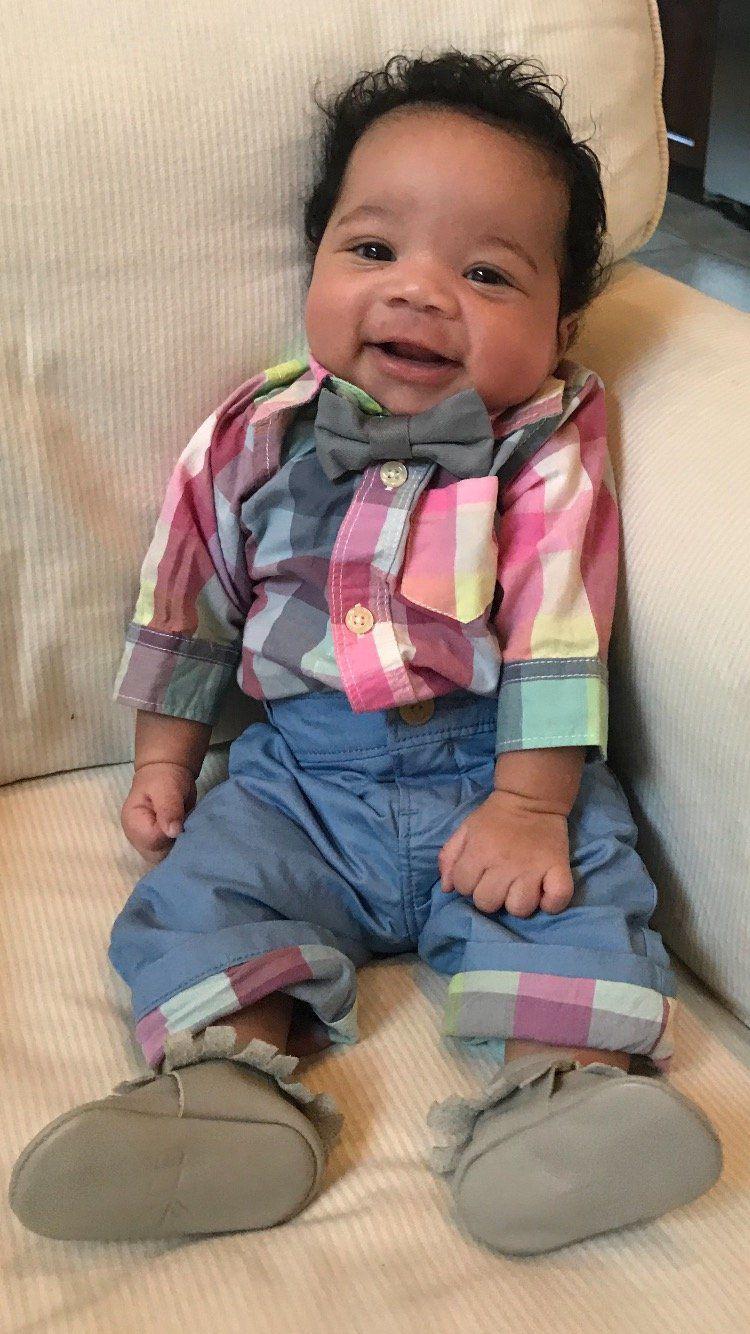 As he spoke Thursday about his son, Wainwright stressed that the "little dude" would not be seen in "saddle shoes and lacy socks" like he was as a kid. He wore a "Headed for Home" onesie with baseball seams as part of the design on a recent flight. He donned a bowtie for Easter. And Wainwright told the story about bringing Caleb into the clubhouse at Busch Stadium after his father's first win of the season, against San Diego. Kids flood the room after wins, but for little girls "it's just not fair to them" with the ballplayers changing after game. Wainwright introduced the infant to his teammates.
"Yep, yeah, this is what happens after games that you win," he said.
On Wednesday afternoon, Wainwright pitched six innings and allowed one run as the Cardinals completed a sweep of Milwaukee. That win was the 150th of his career, all of them with the Cardinals. He left the ballpark knowing the news he had been waiting for, working toward would arrive the next morning. And he went about the routine he and Jenny have had for their four daughters and now their son – right down to the late-night and morning feedings.
"That time you get up in the middle of the night, and it's just you and your little one, that's some special time," Wainwright said. "I wouldn't miss that for any amount of sleep, to be able to get up and just me and him. Like, 7 a.m. this morning. I'm looking and he's just laughing, and I'm feeding him. I know today's the day. I hadn't heard anything yet, but I know today's the day. He's laughing. And I'm laughing. He can't say a word but he's cooing and awing and all kinds of stuff. We're just having a full conversation. You just never forget that kind of stuff.
"There will never be a lack of love for this little dude, I promise you that."