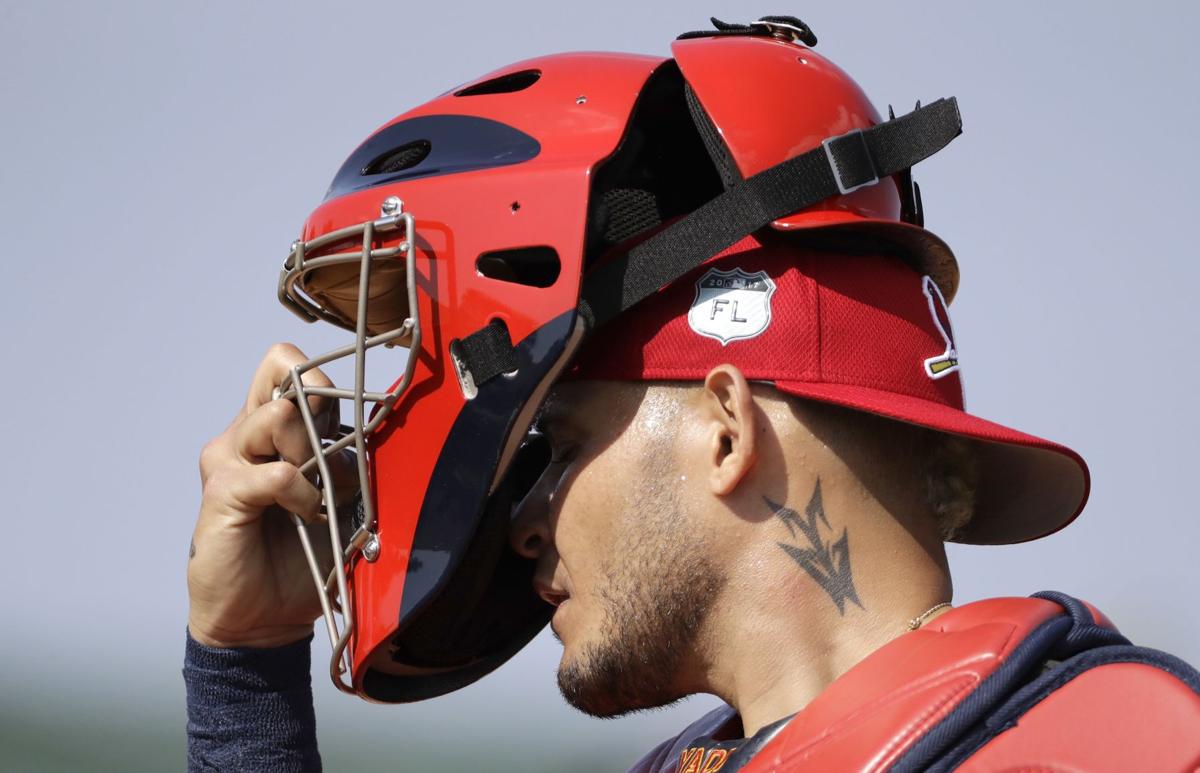 JUPITER, Fla. • His game already tournament-tested and his hair still blond from Puerto Rico's run through the World Baseball Classic, Yadier Molina returned to Cardinals camp saying he's refreshed and ready for "many" more years behind the plate.
There's a week to determine if those will be with the Cardinals.
Molina made it clear that he does not want contract negotiations to spill into the regular season, and he suggested that there is one more week of spring training for his agent and the Cardinals to talk. If there isn't an agreement at that time, Molina said he would prefer to "concentrate on my game" during the regular season and that he would welcome a chance to be a free agent at year's end.
"Oh yeah," Molina said when asked if he was intrigued by free agency. "I would love to. I would love to stay, but at the same time I'm not afraid to go to free agency. I've still got many years in the tank. Believe me. I feel great. I feel like a 20-year-old kid. I'm not afraid to go to free agency."
He expects to make his first start with the Cardinals since the WBC on Sunday. The Cardinals open the regular season a week from Sunday against the Cubs at Busch Stadium.
Molina is in the final guaranteed year of a five-year, $75-million deal he signed in March 2012. There is a mutual option for $15 million for 2018, though Molina can walk away from it and become a free agent even if the team exercises its side of the option. During his first talk with St. Louis media since returning from the World Baseball Classic, Molina mentioned, in general terms, how the market has set a price for the top-end catchers, and he and the team both consider him in that group. Buster Posey and Russell Martin, two of Molina's peers, each make at least $20 million a season.
Molina will turn 35 this July.
He is coming off a season when he remained healthy, led the majors in innings caught, and batted better than .330 in the second half of the season. He has his run of All-Star appearances and Gold Glove awards interrupted. The latter was won by Posey, the Giants' catcher and former NL MVP.
Molina has consistently said that he would like to remain with the Cardinals, though he has also watched Albert Pujols and Matt Holliday depart via free agency.
"Hopefully," Molina said. "Hopefully we can get it done before the opening starts. After the opening, I don't know what's going to happen. We've got one more week to talk about it. And then after that I'm going to concentrate on my game. Whatever they want to do. Like I've said: I want to stay here. But if they don't want to spend money I understand that, too. This is a business. I'm going to try and concentrate on myself."
He said he did not know a timetable for talks.
Molina's agent and the Cardinals had planned to have more formal discussions once the World Baseball Classic ended. Both sides have described previous talks this winter as preliminary, at best.
"I've got no idea what they're doing," Molina said, sitting at his corner locker in the Cardinals' clubhouse in between handshakes and welcomes from teammates. "I haven't heard anything from my agent. That probably says they're not doing anything."