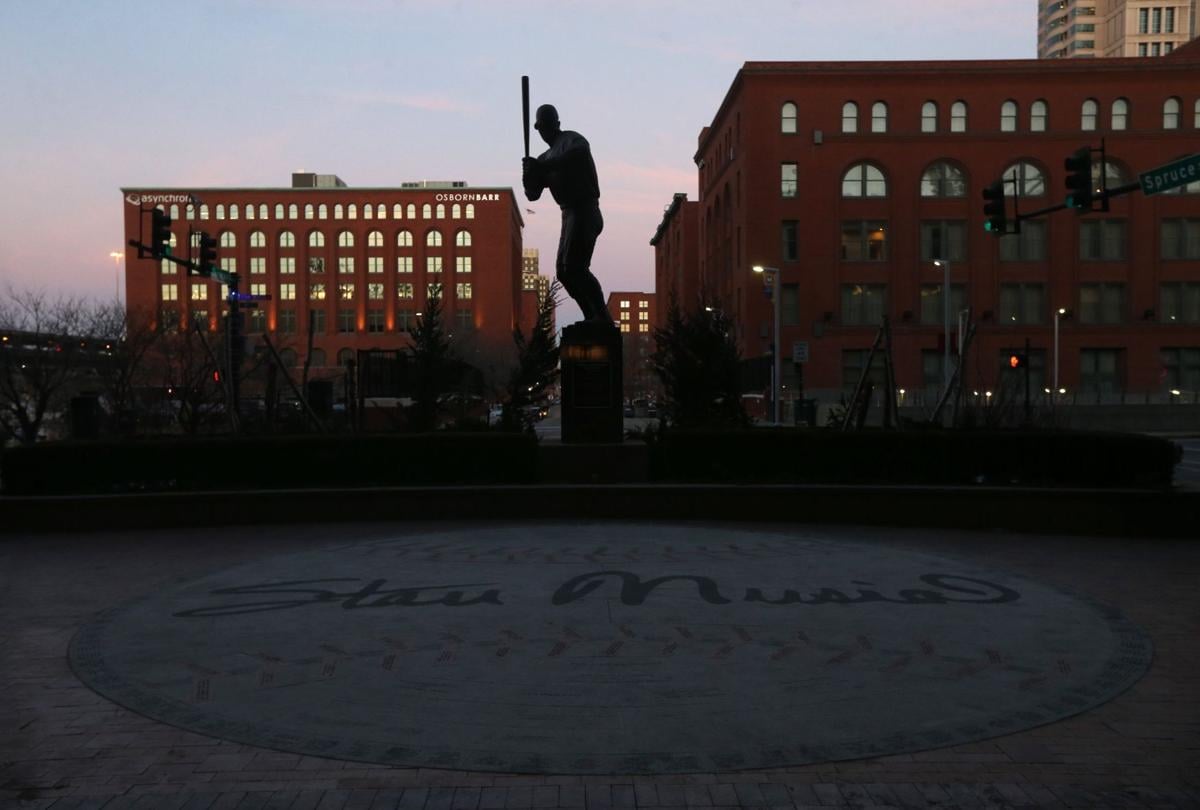 ARLINGTON, TEXAS — As part of a celebration of Stan Musial's 100th birthday, the St. Louis Sports Commissioner and the Musial Awards in conjunction with the Cardinals will be hosting a birthday party that will allow fans something they couldn't do during the baseball season — enter Busch Stadium.
On Nov. 21, The Man's birthday, a limited number of fans will have a guided experience at the ballpark that includes walking the warning track, running the bases (for kids), a "holding history" experience with the team's museum collection, and a cupcake.
Tickets cost $20, and are available at the team's website, under "Stan100."
The event is a rethinking of the annual awards show due to the need to limit gatherings and practice social distancing in accordance with city policies.
The Musial Awards, a St. Louis-based tradition that honors acts of profound sportsmanship and compassion in athletics, was scheduled for Musial's 100th birthday at Stifel Theater. Because of the pandemic, the awards show will shift to a televised program. Hank Aaron is one of this year's honorees, receiving the Stan Musial Lifetime Achievement Award.
A voice that carries
In late August, the Dodgers were one of the teams that elected not to play a game as around baseball individual players and clubs protested the shooting of a Black man by police in Kenosha, Wis., and the other episodes of violence and systemic racism this year. For a shortened season, this year could have a lasting impact on baseball as LA manager Dave Roberts described how players, the game, and even managers like him were inspired to find their voice.
And he hopes that carries beyond 2020.
"As an athlete, as a baseball manager, it's just my job – this is not who I am," Roberts said. "Things that have transpired over recent months have kind of forced in the best way for us to come out of our comfort zones and who we kind of see ourselves with the platforms we have. And kind of pushed us to share our beliefs on what is right and what's wrong. To see Clayton (Kershaw), Mookie (Betts), and teammates across the board do that and to make a stand united, I felt very proud and it just really motivated me to follow them. Going forward I have no hesitation on speaking out about what's right, what I believe is right.
"This is 2020," he concluded. "It's been such a unique year. I do think when I look back there is going to be a lot of good in some crazy ways that comes out of this."
Morton mulls potential retirement
Morton, the Rays' announced Game 7 starter if they pushed the series that far, spent Game 6 in the bullpen, ready and willing if needed and possibly wearing a major-league jersey for the final time.
About to turn 37 next month, the righthander has continued to pitch in part because of the appeal of being home in the Tampa Bay area and his late-care performance has been stellar. Before taking the loss in Game 3 of this series, Morton had been 5-0 for the Rays in the postseason, and his start before that was the 2017 World Series Game 7 clincher for Houston.
He admitted Tuesday that while playing catch at the ballpark Monday the thought of leaving the field for the last time has been on his mind.
"I've been thinking about it," the righthander said. "I don't know. Will it be the last time I put on a uniform? Will it be the last time I put on a Rays uniform? Hopefully not to both of those questions. It just goes back to the situation, what it's looking like this offseason, and into next year."
Morton debuted with Atlanta but became a regular with Pittsburgh after going to the Pirates in a 2009 trade that sent Nate McLouth south. He started against the Cardinals in the 2013 NLDS, but became an October presence with Houston and an example of the Astros' advanced use of pitch design. He was urged to utilize his curveball more, and that's been part of a late-30s bounce. Since his first year with Houston, in 2017, he's 47-18 with a 3.34 ERA in 97 starts. Tampa Bay holds a $15-million option for 2021.
"It's going to be the last games of the season. It's going to be the end of our quarantine," said the thoughtful Morton. "I guess obviously, you could juxtapose winning or losing the World Series. One you don't want, but you're glad you had the opportunity. The other is the ultimate goal."
Extra bases
Still trying to generate offense beyond the Randy Arozarena Experience, Rays Kevin Cash has rearranged his lineup in ways during the World Series that he did not during the season, like planting Ji-Man Choi at leadoff, as in Game 6, and then having Yandy Diaz as the platoon complement. "Ultimately we're looking for a spark," he said. … The Dodgers are the first team in World Series history to have nine different players hit a home run, according to the Elias Sports Bureau. The previous record was held by Tony La Russa 's Bash Brothers Athletics, who had eight different players hit at least one homer in the 1989 Fall Classic. … Corey Seager's three homers in the World Series entering Game 6 tie Derek Jeter for the most by a shortstop.