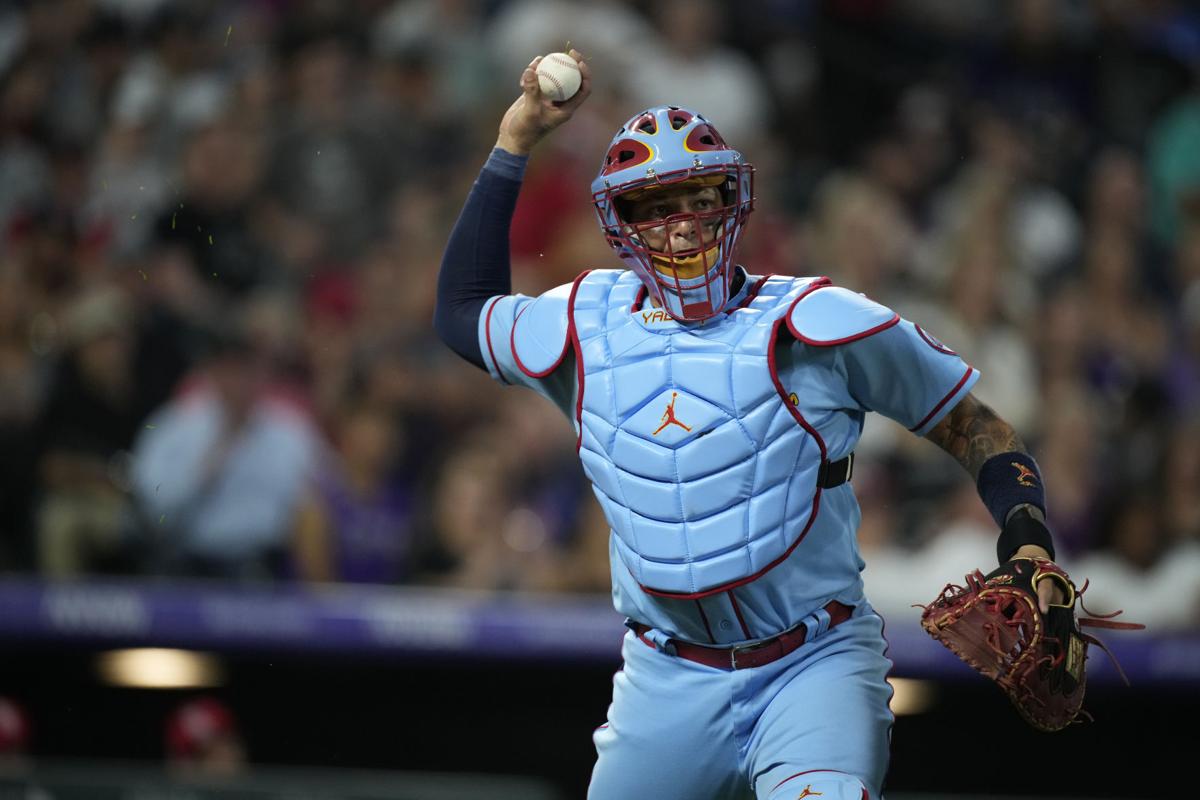 CHICAGO — The invitation to spend his birthday with some of his peers at baseball's biggest midsummer bash arrived during dinner Friday night, and while he was eager to accept his 10th selection for an All-Star Game, Cardinals catcher Yadier Molina elected not to attend.
He'll have his break and take it, too.
"I want those four days and rest and try to do it for my team, also, because they're going to need me to be ready to go," said Molina, who turns 39 on Tuesday. "I would love to go there and be a part of that game on my birthday and hopefully do something good for everyone to remember. It's something I need to do to be healthy to come back strong for the second half."
Molina revealed his decision to St. Louis media in the Cardinals' dugout before Saturday's game, and he added that the foot injury that put him on the injured list in April has persisted into July. He strained a tendon in his right foot and is playing through the soreness. He felt taking four days off his feet and not catching four or five innings of the game at Coors Field was wise. There is also a ring ceremony to attend.
The Cardinals' catcher intends to fly home to Puerto Rico, be with family for his birthday and on Wednesday attend his professional basketball team's game. He has championship rings to deliver. The Vaqueros de Bayamon, which Molina and his wife Wanda purchased this past winter, won the league championship, and they began their defense with a season opener Saturday.
"Owner," Molina emphasized, grinning.
Major League Baseball added Molina to the National League's roster after Buster Posey, the fan-elected starter, was placed on the injured list with a thumb sprain. Molina had received the second-most votes at the position from fans, and he had support from his peers. J.T. Realmuto was previously selected by players and will start the game. After Molina made his choice public, Major League Baseball announced Milwaukee's standout catcher Omar Narvaez would back up Realmuto in Tuesday's All-Star Game.
Molina still receives the honor of being an All-Star this year, and with 10 in his career, he vaults into an exclusive club — for Cardinals and for catchers.
"It means a lot," Molina said.
Molina's friend and longtime teammate Albert Pujols was an All-Star nine times with the Cardinals, as were Hall of Famers Bob Gibson and Red Schoendienst. Only Stan Musial (24), Ozzie Smith (14) and Ken Boyer (11) have more All-Star nods as a Cardinal than Molina's 10.
Molina is the 11th catcher to be selected at least 10 times for an All-Star Game, and seven of the other 10 are Hall of Famers. St. Louis' Yogi Berra leads the position with 16 All-Stars.
An appearance in the game would have been Molina's first since 2018.
A nine-time Gold Glove winner, Molina leads all NL catchers with 40 RBIs, but his overall season has been like the Cardinals — prone to both slumps and fits of production.
"Up and down. Some days you feel good. Some days you feel bad, especially when the team doesn't do well," Molina said of his season. "I feel good about myself making the (All-Star) team, but obviously you want to do better to help the team. Right now, that's where I am. You want to be the best you can to make a run. Obviously, we need every game."
Hicks, Mikolas progress
Reliever Jordan Hicks started lightly playing catch and will progress slowly into a throwing program as he attempts to return this season from elbow soreness and a prolonged absence following Tommy John surgery. Hicks made 10 appearances this season, pitched 10 innings and struck out 10 before leaving a game in discomfort.
"The last pitch he threw was 99 (mph), and I don't think anybody expected, including Jordan, to realize the break that needed to take place," Shildt said. "But it needed to take place."
Hicks missed half of the 2019 season due to elbow reconstructive surgery, and he opted out of the 2020 season because of a preexisting health condition (he has diabetes). That also allowed him an entire year to focus on recovery from surgery and be full-speed for the start of spring. He has received treatment throughout this summer to facilitate healing in the elbow, and the Cardinals expected him to rest until July, when he would begin testing the arm.
That test is starting.Miles Mikolas, who also had surgery and made a brief return before going back on the injured list, threw another bullpen session Friday. He mixed in sliders, and the goal is to progress him toward a rehab assignment in the coming weeks. Mikolas expected to throw bullpen sessions through the All-Star break and maintain a rehab schedule that would repeat a few steps as he eyed a return sometime in August.
Liberatore to start Futures, etc.
Lefty pitching prospect Matthew Liberatore will start Sunday's All-Star Futures game (2 p.m., MLB Network), representing the Cardinals during the top prospects showcase. The 21-year-old had a 3.42 ERA in four starts for Triple-A Memphis in June. ... Cairo, Illinois, native Chris Jackson, who played George Washington in the original Broadway cast of "Hamilton," will sing the National Anthem before Tuesday's All-Star Game in Denver. ... The Cardinals' 1-6 start against the Cubs this season is their worst since 1978. That summer. the Cardinals went 3-15 vs. their rivals. ... Alex Reyes' 22 for 22 on save opportunities to start his career is tied with the Yankees' Tippy Martinez (1974-76) for the second-most since the advent of that stat.