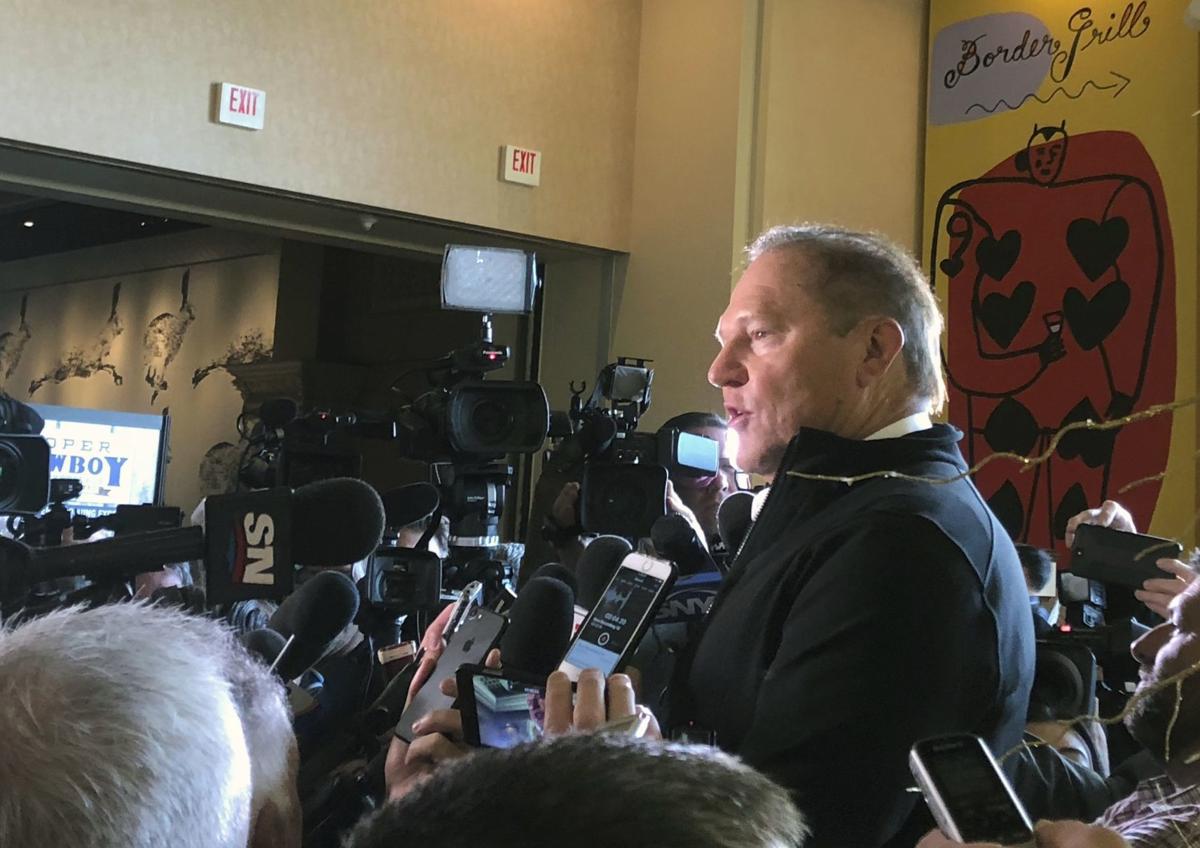 LAS VEGAS • Perched like a partridge in a pear tree and surrounded by far more than four calling birds, agent Scott Boras held his annual winter meetings press conference in front of a Christmas pine Wednesday and suggested the Cardinals' team, like the bat on its jersey, was still big enough for his big-ticket client, Bryce Harper.
"Maybe I'm a little bit biased because I was a member of the Cardinals but this is about winning and it's about a good franchise and ownership and the reality of it is that franchise is worth billions of dollars and they're a top-10 revenue team," said Boras, before referencing the Cardinals' acquisition of six-time All-Star Paul Goldschmidt. "There is not one bird on their chest. There are two birds.
"They sit on the big bank of St. Louis."
The open bidding for the former MVP — a sweepstakes Boras has nicknamed "Harper's bazaar"— continued this week in Harper's hometown, and there remain few teams that are publicly chasing the outfielder. The Cardinals were not one of the teams that sought a private audience with Harper at a nearby hotel, sources confirmed. The Cardinals did meet with Boras in person and discussed several of his clients, including reliever Zach Britton and Harper. The Cardinals' acquisition of Goldschmidt this past week changed their approach to free-agent bats and purchased them the chance to be patient and see if Harper's market shifts.
Boras has been selling his client as a "generational talent." At 26, Harper is one of the youngest players ever to hit the free-agent market, and he does so with a .900 career OPS, two seasons with an OPS greater than 1.000, and an MVP award at age 22. The age is a big selling point because it allows him to be positioned as impervious to the troubles teams have had with long, longer, and longest deals. Just this past week, the Toronto Blue Jays cut Troy Tulowitzki and swallowed more than $35 million that was left on his lengthy deal.
The Cardinals do not discuss specific free agents, but they have expressed a general reluctance to commit to a 10-year deal, at any age.
"Well, you go back and you look at what owners do or don't do, the reality is owners may say that about 10-year contracts that economically have not been fruitful," Boras said. "(But) these contracts — when you have a player who pays for himself that issue is removed."
Boras has referred to the chase for Harper as a submarine race and not a "regatta race," and as a result few teams have surfaced publicly. The Phillies, and the "crazy money" the owner said they intend to spend, and Washington are known suitors. The Yankees have been noisy about their lack of interest, with general manager Brian Cashman recently asking New York reporters why they were still asking about Harper.
"But," he said Wednesday, "at the same time we're a fully operational Death Star."
That was a far more powerful allusion than Boras made when trying to explain how the Yankees could say they're out and still be in on his client. Boras referenced a thermometer, a nurse, and a hospital, and suggested that it wasn't the patient's temperature today that mattered but how they felt when it was time to leave the hospital.
During a wide-ranging, hourlong informal press conference, Boras drummed on baseball's current tanking issue. He called it baseball's "non-competitive cancer," and he suggested ways to incentive teams chasing 85, 88, 89 wins — and how that could include shoehorning a few more teams into the playoffs. He danced around suggesting a coming labor skirmish when the current CBA ends. He piped up about how compelling teams are in the playoffs five out of 10 years and the rare team is in the playoffs seven out of 10 years, and how that was the information he was providing his client, Harper. Boras presented the outfielder dossiers on interested teams that allowed him to stick a thermometer in the team's future.
The Cardinals, a source said, are positioned well in that regard.
Boras, who was a minor-leaguer in the Cardinals' system, has never hid his respect for the organization, its history, or owner Bill DeWitt Jr. An individual meeting probably wasn't necessary or advantageous for the Cardinals, not until they see which way the "generational" market is headed.
"It's a very different negotiations than most," Boras said. He added about the Yankees, but it fit other potential chasers, too: "They're smart. If they're going to do something I think they can earnestly tell you that right now they're not doing it and have every intention of doing something else when it's best for them to do it."
LINEUP CHATTER
Admitting that he's a "if it's not broken, don't fix it" kind of guy, Cardinals manager Mike Shildt said he's toying with the idea of having Matt Carpenter and Paul Goldschmidt atop the team's lineup, but it will definitely be Carpenter at leadoff.
"I would say, in heavy pencil – you can expect to see Matt Carpenter in the leadoff spot," Shildt said of the All-Star who has thrived in the spot despite yearly attempts to move him into the middle of the order. "I also recognize that it's Dec. 12. Things change. Dynamics change. Never say never. I feel like that's a piece that's pretty well cemented."
Shildt mused about his lineup during the annual manager's session with the media at the winter meetings. He said that newly added first baseman Goldschmidt will bat either second or third in the lineup and that team is committed to Marcell Ozuna at cleanup, where he started most often this past season. If Goldschmidt inches up to No. 2 in the order, Paul DeJong is a candidate to hit third. Shildt has little interest in batting the pitcher eighth, still. When he took over as manager in July, Shildt utilized catcher Yadier Molina at No. 2 in the lineup, and Molina also appeared there during a recent All-Star tour of Japan this past month.
Shildt's preference is to return Molina to lower in the order, where the catcher has previously said he's more comfortable.
"The roster has changed," Shildt said. "And we've made some upgrades. So what's that look like for him and what that makes sense for him will still be determined. I would never rule it out, but I wouldn't say that's a likely spot. But he thrived there. Yadi pretty much thrives everywhere."
EXTRA BASES
Infielder Jedd Gyorko told Shildt that he would play outfield, if necessary, and the Cardinals plan to give him some looks there in spring training. … It would benefit the Cardinals and their 40-man roster to sign a backup catcher to a minor-league deal with a wink, wink major-league job waiting. They've met with Francisco Pena's agent about a reunion.
SCENE STEALERS
During a meeting Wednesday with all the general managers, the commissioner's office described efforts that will be made in the coming season to curtail the sign stealing that appeared so prevalently in the postseason. The commissioner's office looked into allegations against Houston about sign-stealing, and the Astros countered with an explanation that they weren't sign-stealing but really monitoring their opponent's dugout to see if the opponent was sign-stealing.
In an attempt to end this almost comical layers of monitoring the monitoring of potential sign-stealing, the commissioner office stressed how technology and video systems are not to be used to steal signs and that an official could be in place to police all video replay usage.
"Some of what MLB is going to implement (is) to ease everyone's mind," Girsch said. "We all use cameras for training purposes, replay. We have to have cameras. But they are trying to figure out a way to separate using them for things you are supposed to and using them for things they are not."
---
CHANCES OF SIGNING 'GOLDY' TO AN EXTENSION?
QUESTION: How good of a chance do the Cardinals have of locking up Goldschmidt longterm? Is that their main objective for beyond 2019?
BENFRED: I think they have a decent chance. I think he's going to like it here a lot. I also think the best way to recruit him is to win. He wants to win a World Series. He wants to feel that the place he signs with can do that before he's done.
Houston has a hometown attraction. The Astros have more recent postseason success. And the Astros can offer a DH spot as he ages. (See what I meant about the DH being unfair to the NL?)
The Cardinals could have a tough time beating out the Astros, but the more games they win in 2019 will help their argument. Another reason the Cardinals should be aggressive in creating a dominant bullpen. That seems to be their only area for big improvements if they are going to give Fowler another shot.
WHY WON'T CARDS GO AFTER BIG-NAME FREE AGENTS?
QUESTION: Why won't the Cardinals ownership and front office go after big-name free agents? We understand that the team has a preference for making trades, but fans also feel like because of that we are missing a chance to get a superstar in Bryce Harper. How do we get them to change this view and do what they talked about — going all in for 2019?
BENFRED: I think this is more of an example of the ownership and front office simply not seeing as much value in a prominent free agent as the rest of us.
Stanton was basically a free agent last season. The Cardinals struck a deal to take on his massive contract. Stanton said no. Happened one year ago Tuesday. Whether that's better or worse can be debated.
The Cardinals are always going to look at very long, very expensive deals with caution. If they did it with Albert, a player they knew better than any free agent they will ever pursue, then they are probably not going to change that thinking. Harper seems, to me, like the best reason to change it. At least one Cardinals official thinks Machado, whom the Cardinals have showed zero interest in, might be a better long-term bet.
So, opinions vary.
There's also this part, that never gets brought up here: Harper gets to pick where he goes. Hopefully we find our more later about what his priorities were, but if the Cardinals know they don't have a good chance, it would not make much sense to give public chase. They did that with Stanton. Knew the odds. Went anyway. It didn't work. Some have criticized them for that approach.
OWNING UP TO THE SCHERZER MISTAKE
COMMENTS: It was fascinating in Goold's recent article to read that the Cardinals finally admitted they made a mistake not pursuing Max Scherzer. Bryce Harper is the same kind of once-a-decade opportunity that Scherzer was — arguably, he's less of a risk! The Cardinals in the "Mo" era always fill their hole, but never show the killer instinct to make that one move that makes them a super team. 
BENFRED: That was a pretty significant quote, no? And don't overlook where it came from: Bill DeWitt III.
For the first time I can remember, this offseason Mozeliak has made remarks about hearing from his boss, chairman Bill DeWitt Jr., about not being able to close the deal on the top-flight free-agents (I'll include Stanton here) they have pursued, sometimes to their benefit in the long run. Maybe that's part of the Cardinals doing their best to be out of the Harper and Machado spotlight?
I think your assessment is fair. The Cardinals' sustained success model rarely shifts into go-for-the-jugular mode, especially during the winter.
NO HOPE IF FOWLER IS PLAYING?
COMMENT: Sure hope the Cardinals are posturing about this Dexter Fowler situation. He was unwatchable at the plate last year. If they really are gambling the next several years on the fact that he might raise his average (let's say a lot, to .240), I suspect many Cardinals fans will exercise their right not to watch, period.
BENFRED: He was, and it should be said clearly, one of the worst players in MLB last season. Factor in his contract and no-trade clause, and it looked even worse. Factor in the injuries (back-to-back seasons with foot problems) and the decline in speed (for a player whose speed is a big part of his game) and there are some real reasons for concern here. The Cardinals have more knowledge than we do about Fowler's recovery, his mentality, his mind set. But there's a lot of hope cooked into this.
Another thing: If we know anything about Fowler by now, it's that he pays attention to what is said about him by the fans and by the team. I'm not saying if this is right or wrong. Each guy handles it differently. With that in mind, the Cardinals have nothing to lose by making Fowler feel good and valued and supported. If he stinks in spring, that tune could change. That tune could even change before, though the Cardinals seem set in this plan. Actions always speak louder than words. Keep that in mind.
The Cardinals have nothing to lose by pumping up Dex — other than getting ripped apart on Twitter. They don't care about that.
CARDINALS IN THE SAME BOAT AS LAST YEAR?
COMMENTS: Trading for Goldschmidt is great. But, playing O'Neill and Fowler in right field is not going to make this team any better. With other salaries coming off the books in the next year or two, the Cards can afford Harper and have a solid right fielder for years to come. With Ozuna throwing rainbows for another year and Bader's bat a question mark, the Cardinals are in the same boat as last year. Heck, there's no reason to believe that Goldy will come back after this year anyway
BENFRED: Lots to hit on here.
1. Trading for Paul Goldschmidt is great. He's a great player. He's an annual MVP candidate. I think the Harper lust has overshadowed how good he is, and that's a shame, and I say that as someone who has pulled and campaigned for the Cardinals to sign Harper.
2. Playing O'Neill and Fowler in right field might not make this team better. But it might. Saying that definitively today is impossible. That's not being an apologist. It's just fact.
3. Of course the Cardinals can afford Harper. They can afford any player. Full stop. Doesn't mean they will. A 10-year contract of that magnitude for a player they are unfamiliar with gives them significant pause. If the market changes, maybe they revisit that interest. But I have to think someone will be willing to get desperate for Harper, and the Cardinals have decided they're not going to do that.
4. The Cardinals' future has never been this uncertain. That also offers some flexibility. They could move to extend Goldschmidt and/or Ozuna. They could go after free-agent Arenado or Rendon. Flexibility is not a bad thing. The Yankees might wish they had a little more now looking down the barrel of the Stanton contract. Buzz here is they are not thrilled with their one-year return there.
AVOIDING FAN BACKLASH?
QUESTION: Any chance the Cardinals are trying to stay out of the Harper/Machado hype to avoid another bridesmaid situation and the fan outrage that would go along with it?
BENFRED: I don't think they worry much about fan outrage, to be honest.
I do think they are being very careful about how they talk about Fowler, who they feel has a better chance of succeeding if surrounded by good vibes and support. Time will tell on how that theory plays out.
Saying what they say about Fowler does not mean they might not show interest in Harper -- IF (big if) his market changes. If he's willing to talk shorter year commitment, the Cardinals might get in that conversation.
Look around. Long is the list of teams making it known they are variations of "out" or "hesitant" or "standoffish" on Harper. It's negotiating. But ultimately I do think the Cardinals will not be willing to go where another team goes for him.
It's like taking $50,000 to buy a $75,000 car. You might walk out of there with it, but not if somebody next to you is willing to pay $85,000 or even $55,000.
GYORKO AND J-MART: WHO STAYS, WHO GOES?
QUESTION: I'd keep J. Martinez and look to deal Gyorko, but the Cards are leaning the other way. Munoz can cover Gyorko's duties, and J-Mart is a lethal pinch-hitter. What gives here?
BENFRED: Trading Gyorko or Munoz is still a possibility. Something has to clear up somewhere on the bench if they are going to add a LH bat.
The comments about Martinez are, in part, spin, right? Cardinals want it known he's available. Part of that is because he's the most appealing trade candidate of those three, to an American League team.
The value of Gyorko is he can play every infield position. You would not want him at shortstop for a long time, but he can fill that hole in a pinch. And he offers a RH-hitting complement to Carp at 3B and Wong at 2B.
WHO WILL BACK UP MOLINA?
QUESTION: Is Francisco Pena the most likely backup catcher, or do you think the Cardinals look elsewhere?
MOLINA: Ideally they would like the backup catcher to hit lefthanded, but this might be the hardest position to sell to free agents. Backups want to play. Molina never rests. A Pena return is not out of the realm of possibility. Likely, the Cardinals will have to settle for a backup who is happy to have a job, period. If something happens to Molina, they might have to go the short-term solution route until Andrew Knizner is ready.
WAINO'S ROLE IN 2019?
QUESTION: How do you view Wainwright's role this season? Does he come out of the bullpen and transition to a starter if there is an injury? Or is he locked in as a starter from day one?
BENFRED: He is the definition of not locked in. That's why the contract he got has incentives for starts and relief appearances.
See what he can do. See what others can do. Go from there. It's not the definite answer fans want, but it really is how the Cardinals are examining things at this point.
If he's healthy and effective, the smart bet would be on the rotation. That's where he wants to be.
HOW LONG CAN THE CARDS WAIT ON FOWLER?
QUESTION: So the Cardinals are committed to Dexter Fowler's success in RF … for now. How long will that last? Will it drag through the entire season because, because like Cecil, they're on the hook for too much money?
BENFRED: Thank you. THIS IS THE REAL QUESTION. If Fowler stinks in spring training, does manager Mike Shildt say, enough. There could be an interesting dynamic between Shildt and the FO here if this does not work. At what point does he push back on what the FO wants to work? Will he?
I'm one of the few, I think, who does not understand the rush to deal Jose Martinez for anything other than a really nice return. With Goldschmidt in front of him and Harrison Bader to his right, he would be better protected than ever before. I'd much rather have him in my lineup unless Fowler flashes during spring.
Another thing: As adamant as Mo was about optimism toward Fowler, he did concede he will be moving down in the order until he climbs his way up. I don't think Shildt bats Fowler second, is what I'm saying. Those projected lineups are off, in my opinion.
HERE'S WHAT REALLY NEEDS FIXING
COMMENT: Harper's numbers don't come close to Albert's first seven years. I would not sign this guy for 10 years. Cards should get the bullpen straightened out and see what they have in right field before they sink more than a quarter-billion dollars on one player.
BENFRED: I agree the bullpen is the big question mark moving forward. Gotta get more strikeouts. Gotta get at least one lethal lefty.
I think Harper is a special player, a rare opportunity. I think he could wind up playing first base as he ages, so that limits some of my defensive concerns about him. But I don't think that not signing Harper, with Goldschmidt in hand and cautious optimism about an extension, that the Cardinals will cease to exist. They blew it by not going after Scherzer, but they didn't crumble because they didn't.
SHOULDN'T 'MO' AT LEAST MEET WITH HARPER?
QUESTION: Wouldn't it behoove 'Mo' to at least meet with Harper to show interest? Would that "interest" help if the market starts to slip?
BENFRED: John Mozeliak said he did not have any meetings with players set up this week. Actually, he didn't say that. He was asked if he had any meetings set up with players this week, and he shook his head, as to indicate no, he did not. This was the end of the line when we attempted Harper-specific questions, because he refuses to talk about free agents in specifics. This is why, for those who ask on Twitter, you see questions that try to establish some direction-- as opposed to point-blank Harper questions. It's not an attempt to not be blunt. It's an attempt to get the only type of answer he will provide. For example, Monday night he was asked if the Fowler pledge meant the Cardinals don't have interest in a brand name free-agent corner outfielder. He declined to answer, saying he knew it would be traced to a certain player. And on the dance went.
Another option to consider: We don't know what Harper wants. He gets to pick and choose which teams he went with. The interest of the Cardinals and the interest of Harper will be two important details to nail down when both sides finally talk, but I imagine by then the attention will have shifted elsewhere.
WHY CLAIM AN ORIOLES CAST-OFF?
QUESTION: Why did we claim relief pitcher Ryan Meisinger? Seems like pretty soon we will have to drop someone from the 40 man roster since we still need a backup C, LH bench bat and at least one LHP for the bullpen. If we keep Meisinger, who gets booted?
BENFRED: They liked his strikeouts and that he has options. Just a depth add. The Cardinals liked the potential of him more than they were interested in participating in the Rule 5 draft. Yes, more roster maintenance is on the way. The Cardinals are going to look to make some trades. That could clear spots. The roster is in flux right now, clearly.
GIVE SOMETHING BACK (HINT: CASH!) TO THE FANS?
COMMENT: I'm OK with not signing Harper, but if the Cards payroll is less than last year, how about the Cardinals show the fans their gratitude by reducing ticket and concession prices by the same percentage as the payroll reduction? All I hear is how much money the team has, yet they won't make a big free-agent plunge. So give some of your multi-millions back to those who foot much of the bill anyway.
BENFRED: Don't bank on it. (Get it?)
Forgive me for injecting some context, but what team has made the big free agent plunge this winter? The Cardinals have made the best move in baseball this offseason, and it's really not that close. They traded replaceable depth for Paul Goldschmidt.
Harper and Machado have not signed, unless I missed it, and I think they are only going to sign with two of 30 teams, if they don't wind up playing together. This winter meetings has been defined by inactivity, not a flurry of free agents leaving the board.
If you put the Cardinals moves, to this point, in context with the league, they have been aggressive.
Maybe let them see how they finish off their moves?
TODAY'S LIVE CHAT FROM VEGAS
Bring your Cards and Hot Stove League questions and comments to a live chat at 11 a.m. Wednesday with Post-Dispatch baseball writer Derrick Goold in Las Vegas.
Photo: Derrick Goold (left) greets Brent Burton and Alex Burton (right) at a "Sports On Tap" event sponsored by the Post-Dispatch last June at the Missouri Athletic Club.
Keep up with the latest Cardinals coverage from our award-winning team of reporters and columnists.